Hanoi is home to many significant bridges playing an important role in ensuring traffic connection and promoting economic development between Hanoi and other areas. Most of the bridges in Hanoi such as Chuong Duong bridge, Vinh Tuy bridge, Nhat Tan bridge are all crossing over the Red river. Besides that, Long Bien bridge - the French-built construction in the colonial period, the The Huc bridge in Hoan Kiem lake - the symbol of Hanoi culture,... are the rich-valued marks of Hanoi.
I - Top 3 Hanoi bridges: iconic symbols of the city's culture & history
1 - The Huc Bridge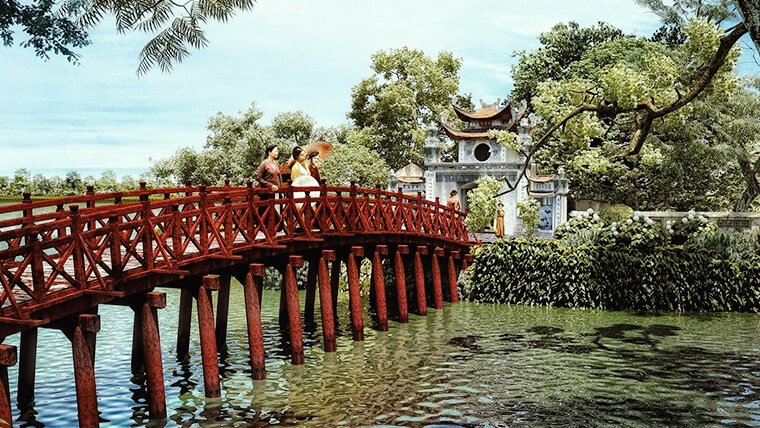 The Huc bridge in Hoan Kiem lake - Source: Didauchoigi
The Huc bridge, also known as Red bridge or Hoan Kiem lake bridge was built in 1865 during the reign of King Tu Duc in the heart of Hoan Kiem lake, with the aim of connecting Ngoc Son temple to the shore. This famous bridge in Hanoi was built to the east - the direction of the sun, with the meaning of receiving oxygen, as a prayer for luck and happiness. Currently, along with the Ngoc Son temple and Turtle tower, The Huc bridge is considered as a symbol of the spiritual culture of the Hanoi people.
This Hanoi bridge has a curved shape like a shrimp, including 15 spans with 32 round wooden pillars. The deck is paved with boards of equal length and width. In addition, the handrail and handles on both sides of the bridge are painted crimson. This color gamut is the image symbolizing life, happiness, and luck in the beliefs of East Asian.
2 - Long Bien Bridge - top famous Hanoi bridges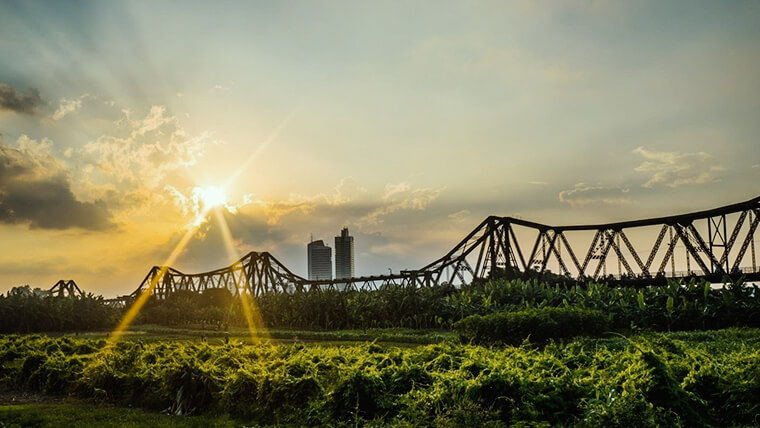 Long Bien bridge - Source: Hanoioldquarte
Long Bien bridge was built from 1898 - 1902 by the French with the purpose of serving the circulation of goods and traffic from the Northern Delta area to Hai Phong province. This bridge in Hanoi has a length of 1682m, including 19 spans. This famous steel bridge is 4.75m wide and the middle area is for trains, the two sides are for pedestrians, motorbikes and cars with a width of more than 3m.
In the past, Long Bien bridge was bombed 10 times, damaging 7 spans and 4 large pillars. After that, it was repaired and still plays an important role in traffic connection and economic development of Hanoi. Unlike Hanoi bridges, this is the only bridge in Vietnam that the driver needs to go on the left.
Through many ups and downs, the Long Bien bridge is still as strong as an iron dragon across the Red river. It is not simply a bridge that is over 100 years old, but is also considered a witness of history. Long Bien bridge is also the ideal sunset-watching spot in Hanoi - where you can take in the scenery on both sides of the river and take iconic photos of Hanoi.
3 - Thang Long Bridge
Thang Long bridge is located 10km northwest of Hanoi city center. It is 5,000m long & is one of the most famous Hanoi bridges. The main part across the river is 1,688m long with 15 steel beam spans. This bridge in Hanoi consists of 2 floors, the upper deck serving car & truck, the below floor serving motorbike, bicycle and train.
In addition to the meaning of transportation and transportation of goods, Thang Long bridge is also a testament to the Vietnam-Soviet friendship relationship. Initially, the bridge was built by China in 1974, but then the Soviet Union provided grants in the form of non-refundable to complete the final items. And on May 9, 1985 the project was officially put into operation.
II - Top 4 Hanoi bridges associated with economic development
1 - Chuong Duong Bridge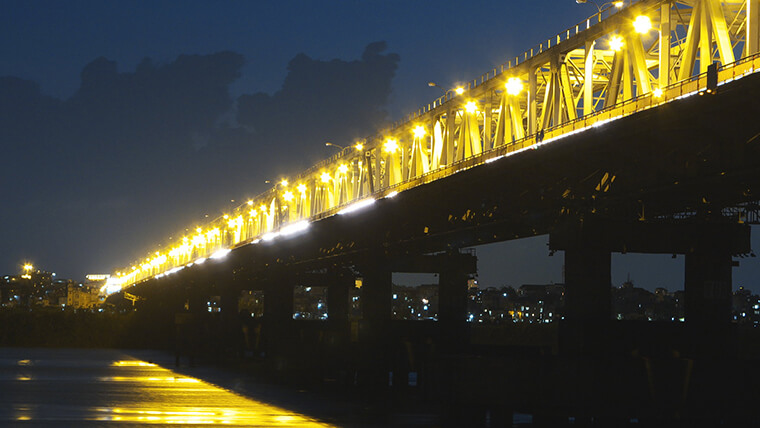 Chuong Duong bridge - Source: P,A,S,M
Chuong Duong Bridge was built in 1983 to solve traffic congestion on Long Bien bridge and Thang Long bridge. This famous bridge in Hanoi is constructed and completed by a team of architects and workers in Vietnam.
- The main bridge consists of 21 spans: 11 steel spans; 10 concrete spans.
- Length: 1,230m.
- Load: H30.
- Load distribution: the bridge is divided into four lanes for two-way traffic, in the middle, there is a 5m wide wing on each side. The outermost has a lane for motorbikes 1.5 m wide.
2 - Thanh Tri Bridge - top famous Hanoi bridges
Thanh Tri Bridge is one of the most important bridges in Hanoi built in the early years of the 21st century, with the aim of connecting Hoang Mai district with Long Bien district. as well as completing the road traffic system for the Hanoi - Hai Phong - Quang Ninh axis. The main bridge is 5,084 m long with a total length of more than 12,000m. This Hanoi bridge surface width is 33m, divided into 6 lanes, including 4 lanes, and the allowed highest speed is 100km/h.
3 - Vinh Tuy Bridge
The bridge was started to build on February 3, 2005 and was officially inaugurated and put into use on September 26, 2010.
On January 9, 2021, Vinh Tuy bridge phase 2 was started construction and is expected to be completed in 2022. This is a pre-stressed reinforced concrete box girder structure bridge, multi-span continuous bridge diagram. This bridge in Hanoi is designed with 2 lanes for motor vehicles, 1 lane for buses, and 1 lane for mixed traffic. The traffic volume is about 35,000 vehicles/day.
Total length is about 3,690m. The bridge over the river is 2,690 m long. The main bridge is arranged with a series of spans 990 m long and 38 m wide. This is supposed to be the bridge
4 - Top Hanoi bridges: Nhat Tan Bridge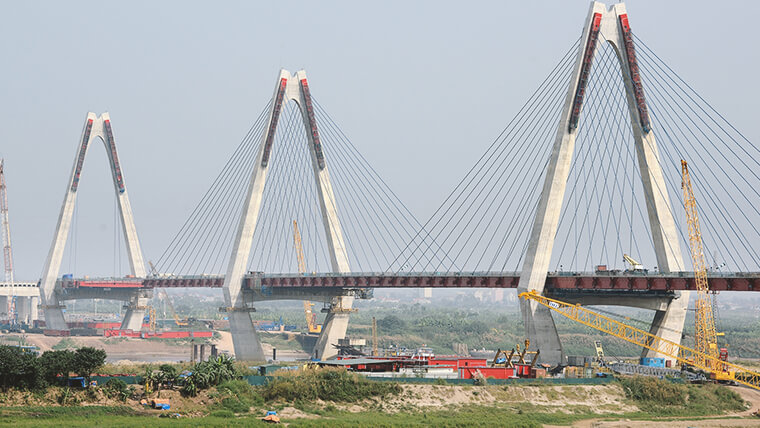 Nhat Tan bridge - Source: Skyscrapercity
Nhat Tan bridge is undertaken by leading Japanese engineers, was started on March 7, 2009 and was inaugurated and put into operation on January 4, 2015. Nhat Tan bridge connects Tay Ho district with Dong Anh district.
This Hanoi bridge is designed with 5 spans of cable stays, this is a symbol of Figure 5 doorway. The bridge deck is 43.2m wide with 8 lanes. In these 8 lanes, it is divided into 4 lanes for motor vehicles, 2 lanes for motorbikes, 2 lanes for buses, and roads for pedestrians. In the evening, Nhat Tan bridge is lit by shimmering lights, reflected down the Red River's bed into a beautiful frame.
That is a top list of the most famous Hanoi bridges which has its own role in the development of economic and historical values as well.