Quy Nhon Vietnam is a worth-visiting city in the central region. You can take a beach vacation to the pristine beaches such as Ky Co beach, Queen beach, beautiful islands such as Hon Kho island, Cu Lao Xanh island,... or visit the peaceful Hai Minh village and enjoy the fresh seafood & local dishes.
I - Where is Quy Nhon Vietnam?
Location
This is a large coastal city in Binh Dinh province - South Central Vietnam. It is located 1065km north of Hanoi, 650km south of Ho Chi Minh city and 322km from Da Nang city.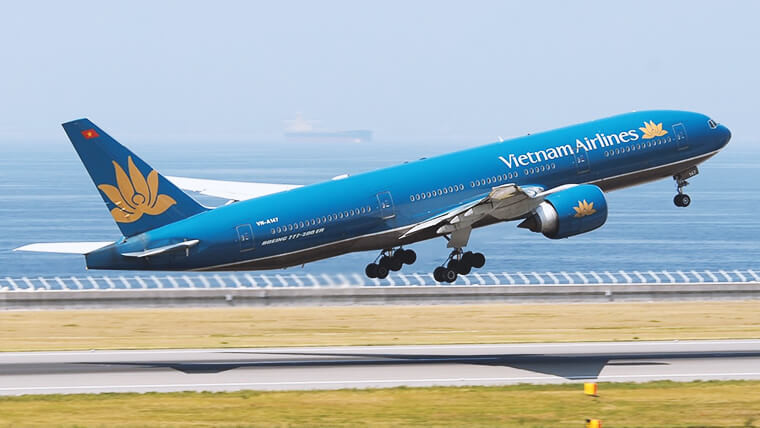 Flight in Vietnam - Source: Divui
Quy Nhon Vietnam weather
This city has two distinct seasons: the dry season from March to September and the rainy season from October to February next year. In addition, from April to September, this city is also influenced by the dry and hot southwest wind, bringing in the typical hot and dry weather in the South Central region.
May to September is the best time to visit Quy Nhon, as the weather is not affected by storms or other extreme weather events.
People, culture and history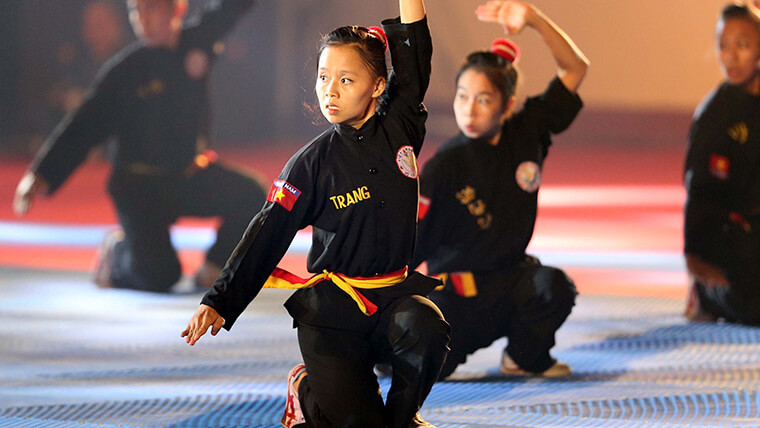 Traditional martial arts - Source: Internet
This place is the land of lyrical poems and traditional martial arts of Vietnam and is associated with the classical Vietnamese opera (hát tuồng), founded by the ancestor Dao Duy Tu. The land carries a strong Cham culture in harmony with Kinh culture, forming the diversity of this city culture.
II - How to get there?
From Da Nang
Da Nang to Quy Nhon flight, train or bus? You can take a train or a bus. If traveling by train, you will travel from Da Nang Station to Dieu Tri Station with fares ranging from about $7.33 to $9.49. There are bus stations such as Duong Hong, Kim Lien, Hoang Long, etc., with fares from $7.33.
From Nha Trang
From Nha Trang to Quy Nhon, you can bike or take a bus. There are some bus companies you should refer to such as Hoang Long Bus, Lien Hung Bus, Luong Phap Bus with ticket price ranging from $6.47 to $8.19.
From Dalat
The Da Lat to Quy Nhon bus is the fastest and most convenient means of transportation. Some car companies you can refer to are Thanh Thuy, Quoc Bao, Phuc Thuan Thao, etc., with fares from $9.49.
From Ho Chi Minh City
How to get to Quy Nhon from Ho Chi Minh City? you have 3 ways to travel to this beach city: plane, train or bus. Flight tickets range from $20.27 to $86.24. If you want to go by train, there are many North-South trains crossing Binh Dinh every day and stopping at Dieu Tri Station, with fares ranging from $21.56 to $34.5.
Bus is also a convenient and easy means to travel since it is available on a daily basis. Some bus companies you can refer to are Mai Linh, Hoang Dung, Hoa Nho, Long Nguyen, Loc Phat, etc., with prices from $8.62 to $12.9.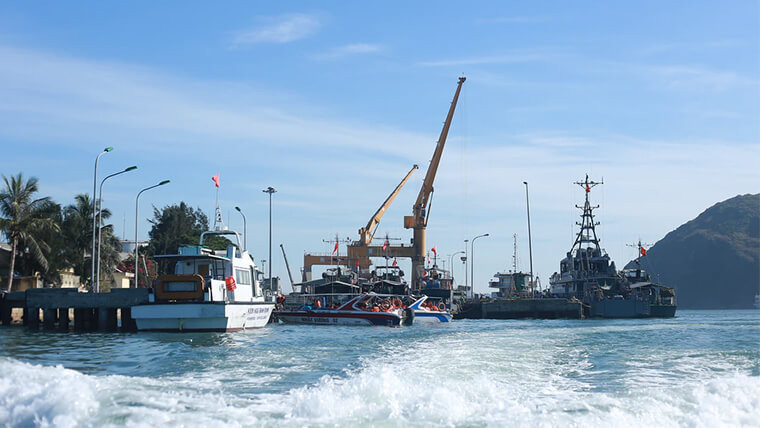 Beautiful Quy Nhon - Source: Le Porcs
III - What to see?
1 - Quy Nhon beach Vietnam
Vi Rong Cape
Vi Rong Cape is a rock jutting out of the sea, shaped like a dragon, located in Tan Phung Village, My Tho Commune, Phu My District. Here, you can climb up to the summit to watch the surrounding scenery or explore the cave beneath the sea. The blue water followed by the white waves rushing ashore and touching the rocks will make you so excited that you will always want to come back again.
Queen Beach
Queen Beach in Quy Nhon, located about 3km southeast of the city center, is considered one of the most beautiful beaches in the city. The beach also has a wild and charming beauty of majestic nature. Smooth pebbles and waves rushing to the white shore create a unique beauty that attracts visitors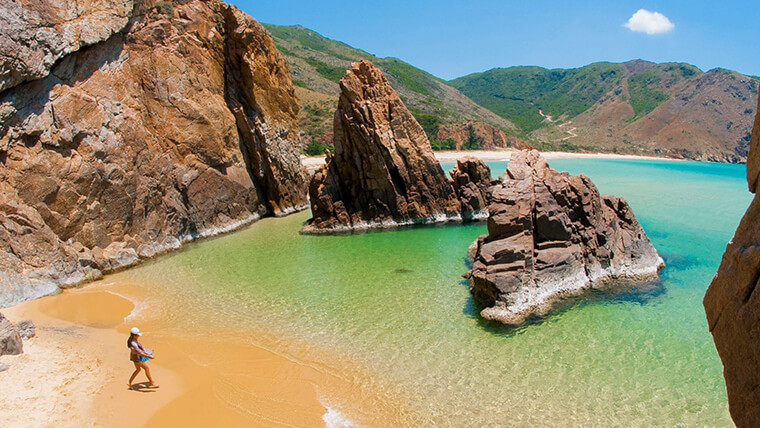 Ky Co Beach - Source: Quynhonland
Ky Co Beach
Ky Co Beach Quy Nhon Vietnam is located 20km southeast of the city center. The sea water is cool and shallow so you can immerse yourself in the sun. In addition, there are fancy rock caves emerging at low tide, suitable for visitors to visit and explore.
Dry Island (Hon Kho Island)
Dry Island is located in Hai Dong Village, Nhon Hai Commune, about 20km from the city center. The island has a pristine natural landscape with long and fine white sand beaches and rocky mountains jutting out of the sea, which is so romantic and attractive.
2 - Natural landscapes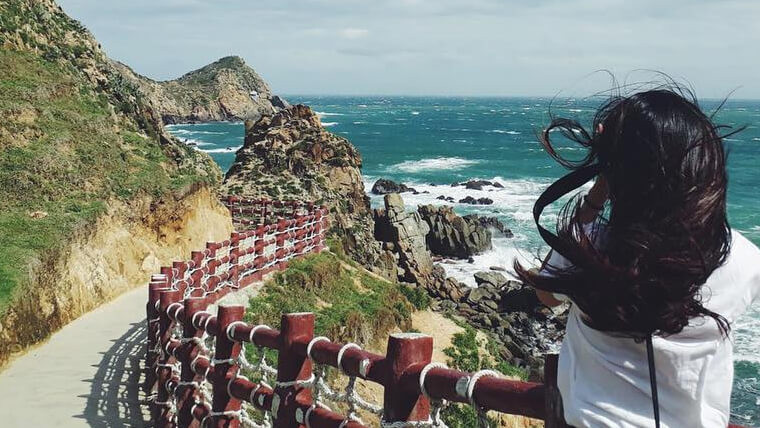 Wind strait - Source: Chudu24
Wind Strait (Eo Gio)
Eo Gio - One of the best Quy Nhon attractions to visit, located in Ly Huong Village, Nhon Ly Commune, is a collection of high rocky ridges, bending into a strait that draws the wind inward. Coming here, you can immerse yourself in the sun and wind of Central Vietnam, feeling the cheerful shout of the sea water. The place also possesses the second largest number of canary caves in Vietnam, preceded by Nha Trang.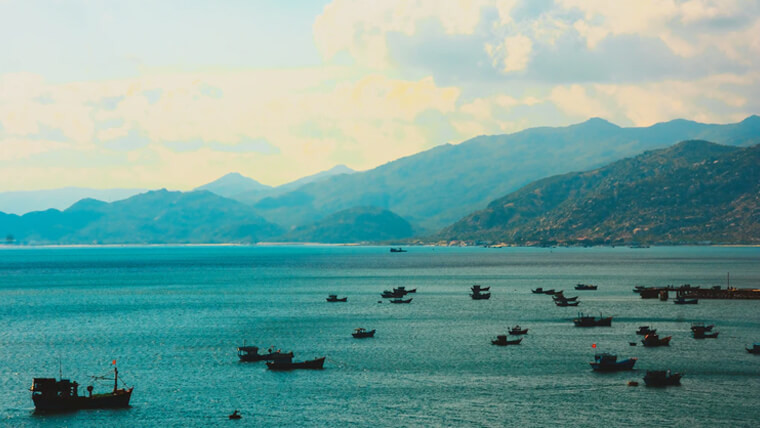 Cu Lao Xanh Island - Source: Nguyen Davide
Cu Lao Xanh island
Cu Lao Xanh Island is located in Xuan Dai Bay, Nhon Chau Commune, Quy Nhon City, with an area of 365ha and a population of about 3200 people. It is a peaceful island, with harmony between inhabitants and nature. The people are gentle and sincere, which is a significant plus point that attracts tourists.
Ghenh Rang Tien Sa
Located in Ghenh Rang Ward, about 3km from the city center, Ghenh Rang Tien Sa is like a fairyland on Earth. Recognized by the Ministry of Culture and Information of Vietnam as a National Relic in 1991, Ghenh Rang Tien Sa in Quy Nhon city is associated with the legend of a couple who loved each other but could not be together. It is rumored that the girl turns into an angel, visiting her lover whenever lightning flashes.
3 - Cultural and historical sites
Son Long Pagoda
Son Long Pagoda (or Ham Long Pagoda) is located at Thuan Nghi Village, Nhon Binh Ward, Quy Nhon Vietnam. The architecture is quite impressive with stone pillars carved in the shape of 7 dragon heads surrounding a person who is sitting in Padmasana Lotus Pose. The statue of a man in Padmasana Lotus Pose is said to have been built in the 13th century by the Cham people.
Long Khanh Pagoda
The 300-year-old pagoda located at 141 Tran Cao Van Street, Le Loi Ward, was built by Zen master Duc Son for the Chinese community living there. After many times of restoration, the pagoda is now completed and is one of the most famous Quy Nhon attractions attracting lots of Buddhists to visit and celebrate Buddha's ceremony.
The architecture bears the imprint of the Chinese people, designed in the shape of the word "mouth" in Chinese. On the back is a bronze statue of Duc The Ton, which is 1.5m high, and when you cross Tam Quan, there is a 17m high Amitabha statue standing on a lotus.
Binh Dinh Museum
The museum, located at 26 Nguyen Hue Street, Quy Nhon city is a place to store and display historical and cultural artifacts of the Binh Dinh people through many historical periods. With many documents and historical artifacts, the museum is the place for tourists who are passionate about learning the country's history and culture over thousands of years.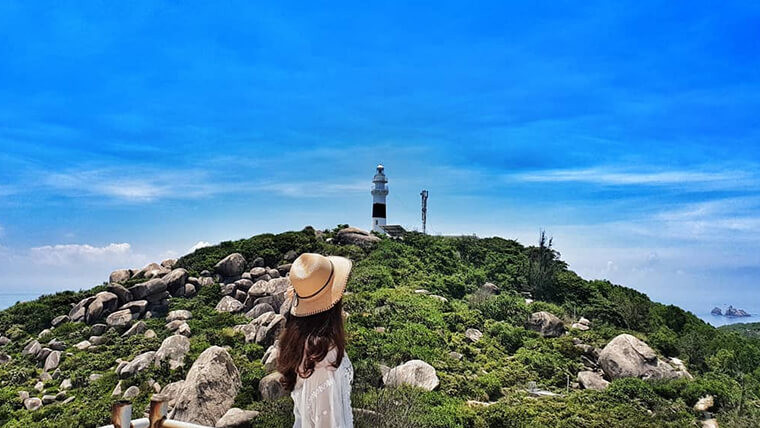 Ancient lighthouse - Source: Quynhonland
Cu Lao Xanh Lighthouse in Quy Nhon
Located in Nhon Chau commune, this construction was built in 1890 with a combination of European Gothic architecture and Eastern indigenous architecture. The lighthouse serves to locate Cu Lao Xanh for ships and help those who operate in the two waters of Binh Dinh and Phu Yen determine the direction when they go to sea. The 16m high lighthouse is built of rock and is one of the 30 largest lighthouses in Vietnam.
The Twin Towers
The Twin Towers, also known as Hung Thanh Towers, are located at the corner of Tran Hung Dao Street, Dong Da Ward, Quy Nhon Vietnam. The towers' campus occupies an area of about 6000m2 with a patch of green grass and trees, bringing a sense of closeness to nature. The Twin Towers are the remnants of the 8 clusters of Cham towers in Binh Dinh province, a relic of the religious character and the imprint of the Cham people in Central Vietnam. The Twin Towers consist of two towers: a large tower 20m high and a smaller tower 18m high, located adjacent to each other like a couple.
Han Mac Tu Grave in Quy Nhon Vietnam
Han Mac Tu was a poet in the Vietnamese free poetry movement, the founder of "crazy" or "disorderly" poetry. His grave is located on the premises of the Ghenh Rang scenic area on Thi Nhan hill and at the foot of the grave is Queen Beach. Around the grave are green grass, flower gardens and shady gardens. The scenery is charming like the writing style of the late poet
4 - Hai Minh Fishing Village
This is another popular tourist point of Quy Nhon attractions, Hai Minh Fishing Village is located on Phuong Mai Peninsula, Hai Cang War. It attracts tourists by its mysterious, wild and equally lyrical beauty. Entering the fishing village, you will feel the pace of life being slowed down, the atmosphere is quieter, leaving the cheerful cries of people in their daily work. Here you can also visit the relics that represent ancient beauty such as: Tam Toa Mountain, the remains of a rampart, the ancient temple under Tam Toa Mountain, etc
IV - Things to do in Quy Nhon Vietnam
1 - Enjoying cuisine
Sweet Soup
You can enjoy various types of sweet soup such as Lotus Seed Sweet Soup, Fruit Sweet Soup, Jelly Sweet Soup, etc in this city. Famous places to enjoy this special soup are: Nho Sweet Soup (134 Ngo May), Lien Sweet Soup (72A Tran Cao Van), Nut Sweet Soup (246 Nguyen Thi Dinh), Bean Sweet Soup (254 Tang Bat Ho) in various types.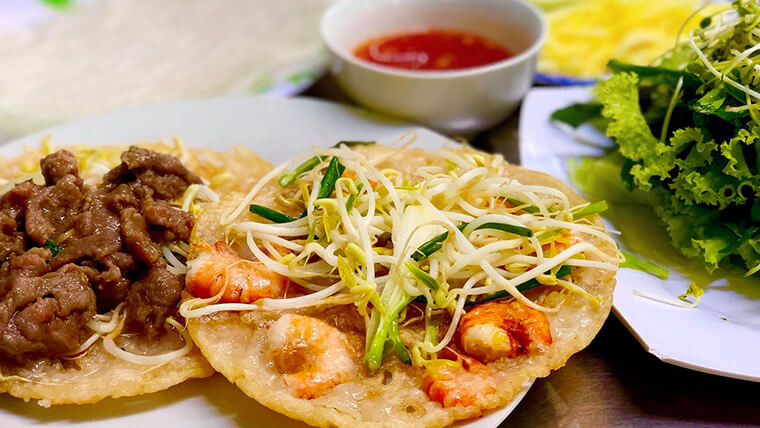 "Jumping" Shrimp Pancake - Source: VnExpress
"Jumping" Shrimp Pancake in Quy Nhon city (Banh xeo tom nhay)
This is a familiar Vietnamese dish but local people creatively make pancakes from fresh shrimp. The sauce served with the pancake has a very unique taste. The crispy golden crust is eye-catching and makes everyone crave it. You can go to the streets of Dinh Bo Linh, Hoang Hoa Tham, Xuan Dieu, etc, with only $0.65 to $2.16/portion for a delicious pancake.
Fish Ball Noodle Soup
As a typical dish that you can not miss in your food tour in Quy Nhon Vietnam. Fish Noodle Soup looks simple but diners will remember it forever. The dish includes fish balls, vermicelli, bone broth, served with vegetables and the traditional fish sauce in Central Vietnam. Fish Noodle Soup stalls on Nguyen Hue Street are very famous for their delicious taste, priced from $1.08 to $1.29 per bowl.
Quy Nhon city is considered as a culinary wonderland with countless fresh seafood such as steamed crabs, steamed king crabs, snail dishes, lobsters, etc. To enjoy various delicious seafood dishes, go to Ngoc Han Cong Chua street or go to Bong Bang Restaurant (148 Hung Vuong), Thuy Kieu Snail (5D Tang Bat Ho), Hai Sy Fresh Seafood (35B Nguyen Hue), etc., with prices ranging from $1.29 to $8.63 for one person.
To enjoy delicious dish, you can consider the following Quy Nhon restaurants: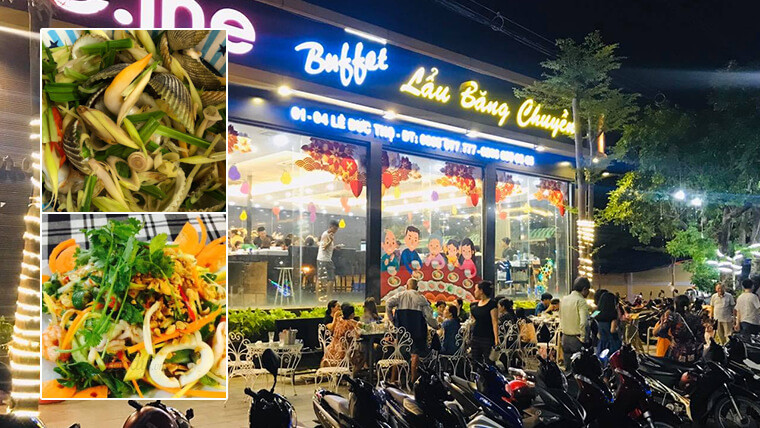 Cine Quy Nhon Restaurant - Source: Internet
Cine Restaurant
With large space design, there is a large dining room for groups and outdoor guests. Here, visitors can enjoy the specialties of the sea prepared in many different styles.
Address: No.1 An Duong Vuong, City center
Price: $8.6/dish
Tre (Bamboo) Restaurant in Quy Nhon
With quite a luxurious space and Western-style interior, Tre Restaurant is known to tourists for its pure Vietnamese dishes, Western dishes with Vietnamese style. In addition, guests can also enjoy dishes made at their own table.
Address: Ghenh Bang Ward, Bai Dai, City center
Price: $13 - $43/dish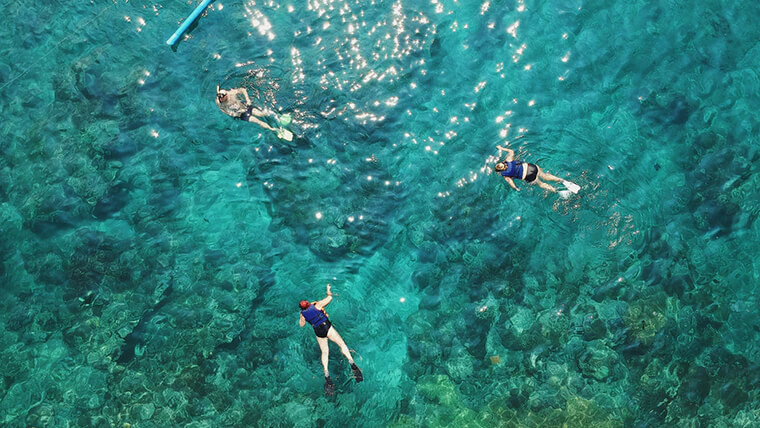 Diving tour - Source: Taylor Simpson
2 - Swimming and diving
Swimming, diving and watching coral are the most popular activities in Quy Nhon City Vietnam. Especially in Cu Lao Xanh, there is a rich coral system, close to the shore where most visitors choose to dive. The price of a diving tour will depend on the tourist company you choose, but the price fluctuates around $30.19/person.
3 - Shopping
If you want to buy some souvenirs, you can go to: Dry Seafood Market, Area 6 (Vo Lai Street, Ngo May Ward), Dam Fresh Seafood Market (Hoang Hoa Tham Street, Thi Nai Ward), Afternoon Market Area 2 (No.110 Nguyen Hue Street, Tran Phu Ward), Quan Tran Market (Ton Duc Thang, Ly Thuong Kiet Ward), Night Market (Nguyen Tu Street).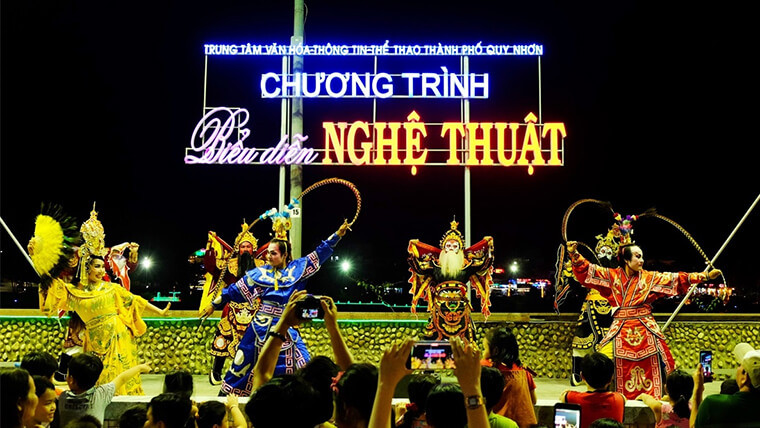 Nightlife in Quy Nhon - Source: Vnexpress
4 - Quy Nhon nightlife
Nightlife here is no less bustling and vibrant compared to big cities like Hanoi or Ho Chi Minh City since the city has 3 large squares: Nguyen Tat Thanh Square, Quang Trung Square and Chien Thang Square. In addition, going to the outdoor Coconut Tree Bar, Surf Bar, which is located on the beach, you can sip a glass of wine and some snacks, or go to bustling Route 77 Club, Food Night Market, Ngo Van So Street Food.
With all activities and attractions above, we suggest a typical Quy Nhon city tour as:
Day 1: Hai Minh Fishing Village, Dry Island, Surf Bar
Day 2: Ham Tu Fish Market, Wind Strait, Ky Co Beach
Day 3: Ghenh Rang Tien Sa - Han Mac Tu Grave, Long Khanh Pagoda, Queen Beach
Day 4: Cu Lao Xanh Lighthouse, Dam Market, The Twin Towers
V - Quy Nhon accommodation
1 - Quy Nhon hotel system
Seagull Hotel
This hotel is located in one of the most beautiful streets of the coastal city, 12km from Dieu Tri Station and 37km from the airport. You will be impressed by the design in modern European architecture with full modern amenities.
Address: No.489 An Duong Vuong street, City center
Room rate: from $39
Hotline: 0256 3846 377
Muong Thanh Hotel - luxury hotel in Quy Nhon Vietnam
The outstanding design of this hotel is a harmonious combination of classical East Asia and modern style. This place will bring visitors the most comfortable moments of relaxation in this coastal city.
Address: No.2 Nguyen Hue street, Le Loi ward, City center
Room rate: from $50
Hotline: 1900 1833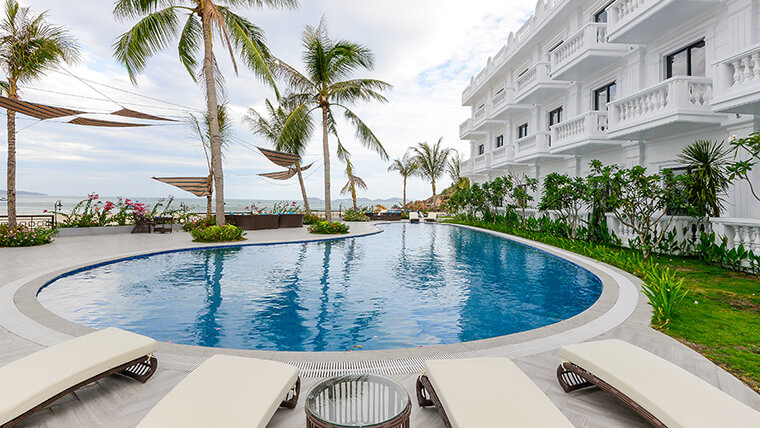 Seaside Boutique Resort Quy Nhon - Source: Fantasea
2 - Resorts in Quy Nhon
Seaside Boutique Resort
This is a 5-star resort and is also the perfect picture on the beach, luxurious and impressive. With modern neoclassical design style, especially with beautiful sea view rooms, it will give visitors as warm and comfortable as when at home.
Room rate: from $86.74/night
Address: NR 1D, Bai Bang 2, City center
Casa Marina Resort Quy Nhon Vietnam
Address: NR 1D, Area 1, Ghenh Rang Ward, City center
Features: 15km from Queen beach, 25 minutes drive from Twin Towers, is a charming place to stay with a blue beach filled with sunlight. With a unique architectural design and quiet space, it gives visitors new experiences when you want to find the sea and immerse yourself in the sun and wind.
Room rate: $71/night
3 - Homestay in Quy Nhon
Rong Homestay
With a bunk bed design, close familiar space, cozy decor, Hollow Homestay is a great choice for those who want to find a place to stay.
Room rate: from $9.84
Address: No.278/3 Nguyen Thai Hoc, City center
1984 House
Classical architecture, modern phase, beautiful space, nostalgic art, architecture, interior will give visitors an unforgettable impression.
Room rate: from $19.39 /night
Address: No.37B Phan Boi Chau, City center
Quy Nhon map



Quy Nhon map
This destination is a land with a long history, beautiful landscapes and romantic beaches. Come to the land to experience and explore the majestic and poetic landscapes along with the unique specialities here. It is hoped that this Quy Nhon travel guide is helpful to you.