Sofitel Legend Metropole Hanoi Hotel is located at 15 Ngo Quyen Street, Ly Thai To Ward, Hoan Kiem District. Within a radius of 500m from the hotel, there are many famous attractions of Hanoi such as: Hanoi Opera House, Hoan Kiem Lake, Museum of Vietnamese History,... If you travel to Hanoi by plane, please contact the hotel in advance for airport pick-up assistance.
Contact info:
- Hotline: 024 3826 6919
- Email: h1555@sofitel.com
- Website: https://www.sofitel-legend-metropole-hanoi.com
I - Quick view about Sofitel Legend Metropole Hanoi history
This building was constructed in 1901 and is one of the best 5-star hotels in Hanoi. It contains 364 rooms that are organized logically into two distinct areas: the Historical Wing with French architecture and the Opera Wing with neoclassical style. Furthermore, this hotel is the location of several major heads of state conferences, most notably the February 2019 summit between President Donald Trump and President Kim Jong Un.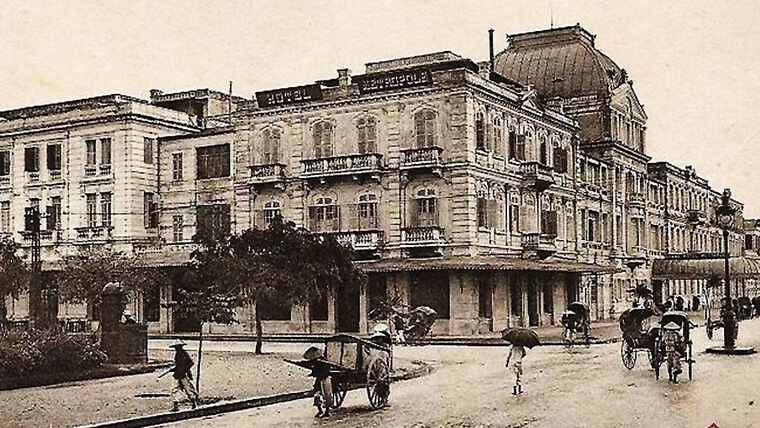 Source: Internet
II - Room types in Sofitel Legend Metropole Hanoi
1 - Rooms in the Historical Wing area
Luxury room
Covering an area of ​​32m2, the Luxury room is designed in a classic French style combined with wooden furniture with Indochinese influences in the colonial period. The room is equipped with two queen beds or double beds with necessary amenities.
Grand luxury room
The Grand luxury room type has an area of ​​37m2, possessing a delicate Asian space with shiny Vietnamese silk curtains, porcelain lamps and rice paper lanterns mounted on the wall. This type of room is equipped with a Sofitel MyBed bed and an extra rollaway bed upon request
Graham Greene room
Located on the second floor of Sofitel Legend Metropole Hanoi Hotel, Graham Greene has a spacious area of ​​up to 70m2, designed in classical French style mixed with Indochinese influences, reflected in the space and exquisite interior furniture.
Charlie Chaplin room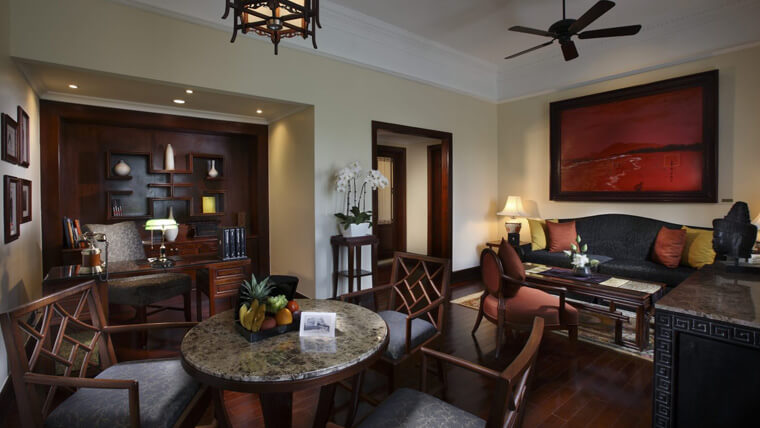 Charlie Chaplin room - Source: Sofitellegendmetropole
Located in the 3rd-floor area of ​​the hotel, Charlie Chaplin's room impresses with a cozy, private romantic space with an area of ​​​​70m2 divided into bedroom space and living room combined with a spacious dining table. The bathroom is equipped with a Jacuzzi and a standing bathtub to help you have a great time relaxing and resting.
Somerset Maugham room in Sofitel Legend Metropole Hanoi Vietnam
Offering unobstructed views of the hotel grounds, Somerset Maugham is the perfect room for guests who want to experience a royal aristocratic atmosphere in a large, comfortable space. Covering an area of ​​70m2, Somerset Maugham room has a separate area: bedroom, living room with desk, dining room and fully equipped bathroom
2 - Room in the Opera Wing area
Premium room
Premium rooms with an area of ​​​​32m2 are decorated with bright and elegant furniture systems with ironwood floors and open design, combined with French windows to bring an ideal space with bold architectural style neoclassical.
Grand Premium room
The Grand Premium room in Sofitel Legend Metropole Hanoi has an area of ​​48m2 with sophisticated and luxurious space. The room is furnished with a Sofitel MyBed king-size bed with an extra rollaway bed upon request and a gorgeous bathroom with a French bath.
Prestige room
The Prestige room, with an area of 64m2, consists of a bedroom and a living room with a desk built in a luxurious and elegant neoclassical style. The room has a Sofitel MyBed king-size bed and, upon request, an extra rollaway bed.
Grand Prestige room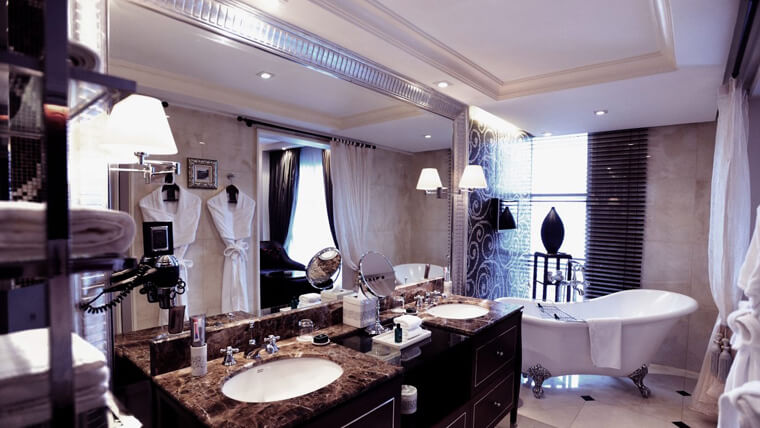 Grand Prestige room - Source: Sofitellegendmetropole
The entire soul of the Sofitel Metropole Hanoi appears to have belonged to GRAND PRESTIGE rooms. With the remarkable space 176m2, the room is fully equipped with many high-end quality facilities such as a surround sound stereo system from Digital Bose, a wide plasma TV, a fully furnished lounge with library and office area, Sofitel MyBed king-size bed, separate Spa room and dining room for 8 guests. The bath section includes a French bath tube with the bath interiors designed by Hermès.
III - Sofitel Legend Metropole Hanoi restaurants & bars
1 - Restaurant system
Le Beaulieu restaurant
Le Beaulieu restaurant - Source: Sofitellegendmetropole
Le Beaulieu is well-known for its delectable French signature dishes, which are beautifully displayed in terms of flavor and presentation. The interior of the restaurant is designed with granite floors and pillars, as well as a large chandelier in a gray color scheme, which creates a pleasant atmosphere similar to a typical French restaurant. When guests come for dinner, they will be able to watch a fantastic live culinary show in the middle of Le Beaulieu Metropole Hanoi.
Opening time: 11:30am - 2:30pm & 6pm - 10:30pm
Price: From 250,000 VND / dish ($10.83)
Vườn hương vị (Spice garden) restaurant
Vuon huong vi, or Spice Garden in English, focuses on Vietnamese cuisines with a range of delicacies such as pho, bun cha, banh cuon, or a variety of seafood, allowing foreign travelers to enjoy Vietnam's distinctive cuisine in the beautiful setting of the swimming pool and green space.
Price: From 250,000 VND / dish ($10,83)
2 - Bar spots in Sofitel Legend Metropole Hanoi
Le Club Bar
Le Club Bar owns a large space and a menu with various choices of drinks and snacks such as afternoon tea, chocolate snack or beautiful cocktails. Moreover, the guest will have time to relax with a Jazz concert from Tuesday to Sunday every week.
Open time: 6am - 9pm
La Terrasse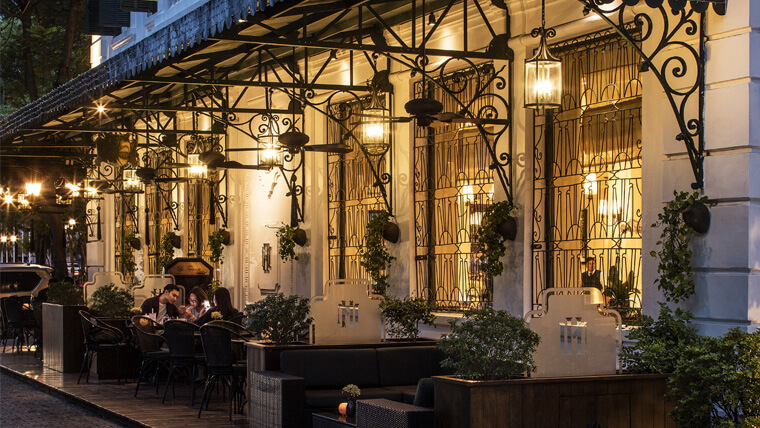 La Terrasse - Source: Sofitellegendmetropole
La Terrasse's design was inspired by many outdoor coffee shops on Paris streets and was decorated with many characteristic patterns from the door bars, roofs, and lighting systems are embellished with the green color of vines.
Angelina
Angelina Metropole Hanoi is the place to go if you want to try some Whisky or one of the skilled bartender's unique drinks. Angelina also provides a variety of popular dishes created by chef Aurelien Hoguet, who has over ten years of experience working in Michelin-starred restaurants across the world.
Open time: 4pm - 9pm
Bamboo Bar
The neon system attached on pillars and crossbars of Bamboo Bar reflected on the wooden ceiling which made stunning visual effects. Bamboo Bar specializes in serving light meals including ice cream, dessert, juice, tea, Vietnamese coffee and cocktails,...
Open time: 6:30am - 11pm
IV - Other services in Sofitel Legend Metropole Hanoi Hotel
1 - Metropole Arcade high-end shopping mall
Metropole Arcade is a shopping paradise with the presence of a series of luxury brands in the world such as Patek Philippe, Bottega Veneta, Hublot, S&S Knightsbridge, Hermès, Chopard… Honor is where Hermès built Setting up the first store in Vietnam, the Metropole Arcade branded shopping mall with contemporary design and historical beauty at the hotel is definitely an ideal stop for brand lovers.
2 - Health care complex with swimming pool, gym, spa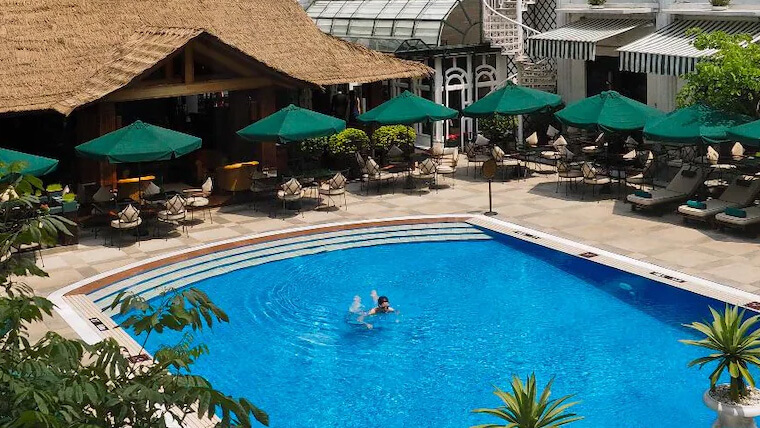 Swimming pool - Source: Agoda
Sofitel Legend Metropole Hanoi Vietnam deserves a 5-star rating because it offers a variety of luxurious amenities, such as an outdoor swimming pool with a heat control system, to meet the demands of all guests. Furthermore, you can simply access the Sofit gym by Sofitel hotel from the pool. There are a variety of gym equipment and professional PTs in Sofitel. Likewise, Le Spa Du Metropole, which has a view of the swimming pool and offers a range of massage and health care services, will provide the best experience for your stress-free vacation.
3 - Conference and event room in the Metropole Hanoi Hotel
Thang Long room
Thang Long room, with a capacity of 120 people, is the hotel's largest meeting space, ideal for international conferences, gala events, and cocktail parties. The space is separated into two distinct sections with passionate personnel and class facilities and is designed in a classic, beautiful European design.
Dong Do room
Dong Do room has a 48m2 space and numerous relevant functions, making it a perfect space to host internal meetings, shareholder meetings, interviews, or as a waiting room for VIP guests.
La Veranda room
La Veranda in Sofitel Legend Metropole Hanoi, with an impressive area of up to 148m2 and a maximum capacity of 150 guests, is the most classy conference and exhibition space at the Sofitel Metropole Hanoi hotel, with a trendy space, using chestnut tones, Subtle indigo, and mahogany brown as the main colors and views of the swimming pool and lush green gardens.
L'Orangerie room
L'Orangerie has a gorgeous European conservatory design. This conference in Sofitel Metropole Hanoi Hotel is situated in the center of a beautiful garden, has an area of 73m2 and is excellent for organizing private meetings, dinner parties, or birthday celebrations.
Le Balcon room
Le Balcon is a 100m2 outdoor garden that is ideal for elegant outdoor dinner parties or romantic weddings.
When visiting Vietnam's capital, Metropole with its abundance of premium facilities and 5-star quality is always the ideal choice for many guests. You cannot go wrong with Sofitel Legend Metropole Hanoi Hotel if you want a relaxing holiday in a luxury setting.