Vietnamese nightlife is no less lively and bustling. Join us to walk through several cities in Vietnam to discover the beauty of Vietnam at night.
It is undeniable that Vietnamese nightlife is so bustling in big cities where there are lots of young people and tourists spend night time to experience and have fun outdoors.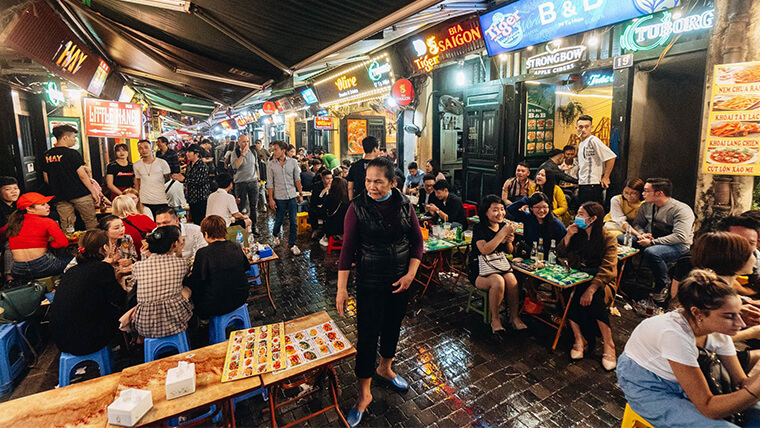 Ta Hien street in Hanoi is always crowed at night - Source: Kenh14
In contrast, the countryside is quieter. Everywhere covered a quiet, serene, peaceful beauty. People often see the image of adults chatting and sipping a cup of tea on the porch, children playing together in the moonlight beside the village bamboo.
1 - Vietnamese nightlife in suburban and countryside: quiet and peaceful
A characteristic of the countryside in Vietnam is serenity. The people's life is often linked to farming activities. Therefore, when the night comes, people often choose to talk with their families over dinner, drink tea and enjoy the fresh breeze and take a rest soon. This habit of people living in the rural areas has been maintained through generations.
Lack of night entertaining activities in the rural areas, however, coming to the Vietnamese countryside on special occasions such as village festivals, Mid-Autumn Festival, Vietnamese Lunar New Year,... you will experience an extremely new night-time atmosphere.
2 - Vietnamese nightlife in urban area: lively & worth experiencing
The top attractive cities like Hanoi, Saigon, Danang, Hoi An, Nha Trang, Phu Quoc are the most bustling and vibrant places to experience the nightlife of Vietnam. These places offer lots of interesting things to do and see at night. You can stroll around the streets for food or shopping, enjoy the night party and vibe at local bars & clubs, night markets are definitely must-visit spots for fun and food.
Hanoi walking street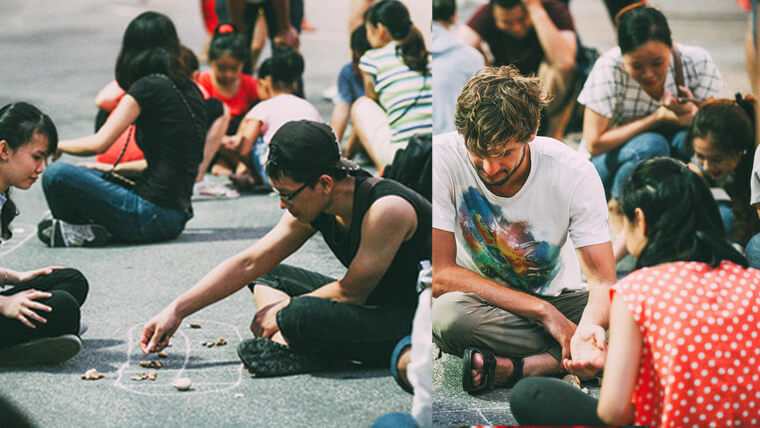 Folk games at Hanoi walking street - Source: Kenh14
When coming to Hanoi, you should spend an evening walking and having fun on the walking street. Every weekend night, the walking street turns into another vibe - more lively and enchanting. You can stroll around Hoan Kiem Lake and Hanoi Old Quarter nearby to experience interesting activities such as playing folk games, listening to street art music, drawing portraits, and taking beautiful pictures.
For interesting nightlife in Vietnam, do not forget to enjoy some street food at street food stalls such as dry beef salad, Trang Tien ice cream, fried rolls, spring rolls and noodle soups.
Ta Hien street in Hanoi
Exploring Vietnamese nightlife will not be complete if you miss visiting the beer street. Ta Hien beer street is the most bustling night street in Hanoi. The sound of people talking and laughing, music, the sound of glasses touching, the smell of delicious food and countless beers make this small street become the busiest & most bustling center of the old town.
The food stalls and street vendors serving countless dishes, make the atmosphere become more lively. Street food on the sidewalk is a typical symbol of this street. You can grab lots of incredible cheap and yummy food when walking along the small streets.
At night, the bars and pubs full of young people are absolutely on the top recommended places to be in for a lively & exciting evening. Ta Hien, Ma May and Hang Buom streets - home to a wide range of bars & pubs, is the entertaining hub in Hanoi.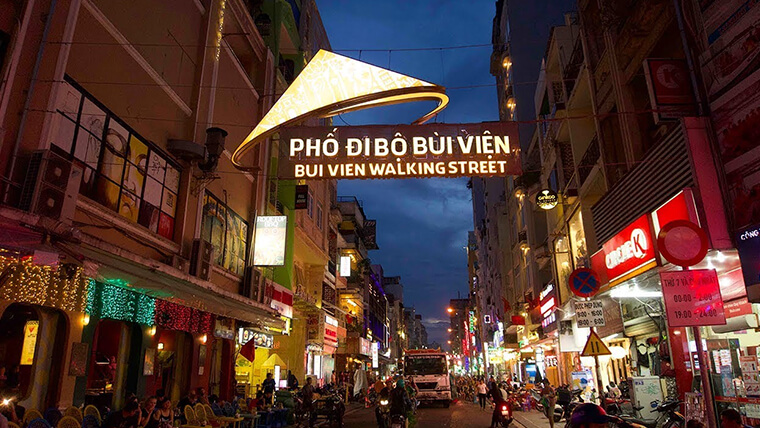 Bui Vien Street is a popular nightlife of Vietnam - Source: Zai Tri
Bui Vien street in Ho Chi Minh City
Ho Chi Minh City is the best place for nightlife in Vietnam. Coming here, do not miss Bui Vien Walking Street located in the center of District 1 Ho Chi Minh City - a famous dining place attracting a large number of young people. Bui Vien Walking Street has many interesting activities such as art performances on the sidewalks, folk games such as jumping rope, eatery, tug of war,... Bui Vien is also famous for massages, haircut services and exotic street food.
Admiring and experiencing the nightlife vibe through the local trading activities in bustling cities like Saigon is a great thing to do. The food carts and stalls filled with dishes such as stir-fried corn, baked potatoes, quail eggs, juices, fruits roaming all the streets of the neighborhood, creating an exciting scene.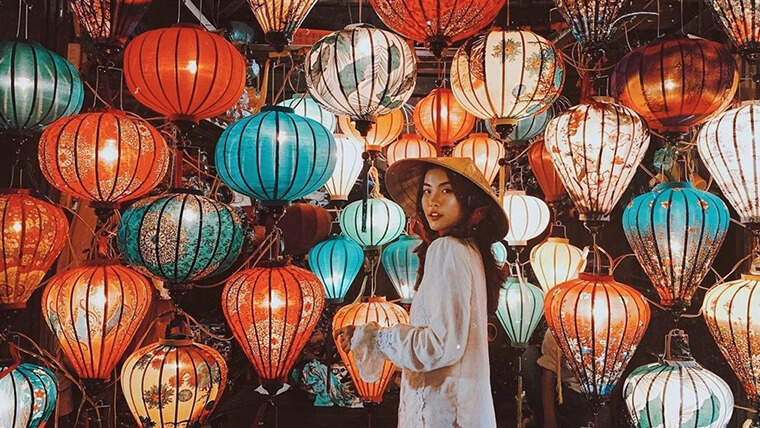 Night market in Hoi An - Source: Le Ha Truc
Visiting the night markets
Night markets - best place to see how the locals run their business to meet life standards and to experience Vietnamese nightlife. Most tourist cities have night markets (every night or some are only held on weekends). The goods in the night market are also plentiful such as clothes, shoes, household items, local specialties and handicraft items. One of the best things to pick up at night markets is food. Local foods with diverse flavors & attractive colors are the worthwhile reasons for taking many people to these places.
Things to do at night in coastal cities
In the coastal cities such as Nha Trang, Vung Tau, Phu Quoc, Halong Bay, aside from enjoying night beach scenes, it is more exciting to take a night squid fishing tour, having fun at night parties along the beaches or at night cruises.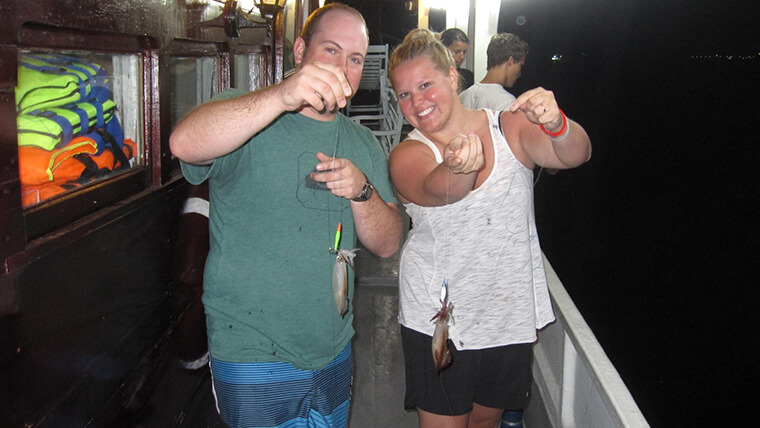 Night squid fishing - top nightlife in Vietnam - Source: Internet
3 - Vietnam nightlife tips
- Before planning your evenings, check the timing of the places you want to visit.
- Should not miss to enjoy beers and street food in Vietnam at night
- When shopping at the night market, you should not take the first price offered by the seller. You should haggle a bit
- Vietnamese young people are so friendly, fun and love to make friends, so that Vietnam nightlife is so attractive and exciting for singles.
- Vietnam nightlife prices depend on what you do and where you go.
In general, Vietnamese nightlife in every place is different, depending on the culture and living habits of the people there. However, no matter how loud, busy or peaceful, quiet, Vietnam always brings you different joys at night. This is also a good time to sit back, share our chaos of life and prepare for an energetic new day.