The mountainous province of Cao Bang is typically well-known for the critical historical relic of Pac Po, the majestic Ban Gioc waterfall amidst the high mountains and vast river, and the complex of pristine caves together with rich cultures of ethnic minorities, etc. All of these factors contribute to the huge attractiveness to thousands of visitors to come and explore this graceful province.
I - Where is Cao Bang Vietnam?
This mountainous province is located in the Northeast of Vietnam, bordering China to the North and the Northeast, Bac Kan province and Lang Son province to the south, Tuyen Quang province and Ha Giang province to the West, about 280km from Hanoi city center.
- The total area: 6.690,72km2
- Administrative units: 1 city (Cao Bang city) and 9 districts (Hoa An, Thach An, Nguyen Binh, Bao Lac, Bao Lam, Ha Lang, Ha Quang, Trung Khanh, and Quang Hoa).
- Postal code: 21000
- The nearest airport: Noi Bai International Airport - about 230km away
II - How is the Cao Bang weather?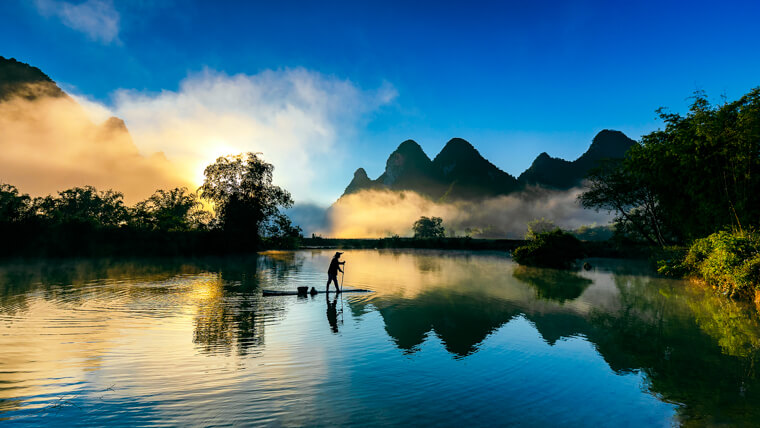 Source: locationscout
This province is characterized by a tropical climate, typical of the climate of the continental highland with 4 seasons in a year, but summer and winter are the most obvious with low rainfall. Rain and storms usually happen from May to August with an average rainfall of 1,500mm, the highest average annual temperature of about 40°C, and the lowest of 0°C annually. The hottest month is July and the coldest one is January.
Cao Bang Province boasts its distinct beauty in each season with the unique natural scenery of mountains, waterfalls, and streams; therefore, the best time to travel to the province depends on individuals' interests and feelings.
It seems more suitable to come here in the autumn from August to September when the weather is favorable with cool fresh air and little rain, appropriate for sightseeing. If you get here from October to December, you can admire buckwheat flowers and wild sunflowers in full bloom, covering the entire area, and creating breath-taking scenery.
Otherwise, at the end of the spring, Cao Bang weather is not too cold, nor too hot, and you have a chance to immerse yourself in the impressive apricot and plum forests. In the winter, the area in the north of this province usually experiences the phenomenon of snowfall due to the extremely low temperature, therefore you have an opportunity to "hunt white snow" here.
III - The best routes to visit Cao Bang Vietnam
This province has a very large area with a myriad of tourist attractions and there are three main routes that feature the most outstanding and impressive spots in the province:
1 - Cao Bang city - Ban Gioc waterfall
This is the route to the East of the province, where you get to admire the spectacular karst landscape, experience traditional craft villages, join in folk festivals and immerse yourself in the rustic, tranquil pace of life of locals such as the Tay, Nung, Dao, and San Chi,...
Ban Gioc waterfall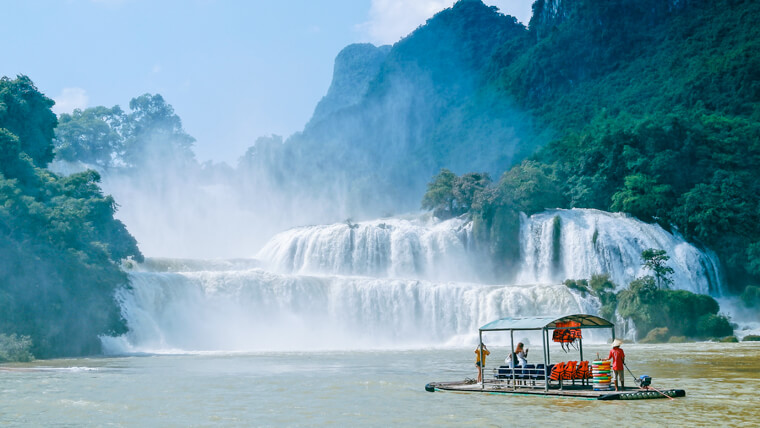 Ban Gioc waterfall - Source: vnexpress
Ban Gioc waterfall in Cao Bang Province Vietnam is the most beautiful waterfall in Southeast Asia and the fourth largest in the world. Water from a height of 70m pours down through numerous layers of limestones, creating incredible white foams. There are some small islets with green trees splitting the water into three streams, which look like three white silk bands.
One of the must-try experiences when visiting this Cao Bang waterfall is kayaking on Quay Son river to admire the extraordinary scenery of water pouring down into the immense river. The kayak runs along the river, weaving through the ravines, rocky cliffs, large slopes, mossy rocks, or forests and mountains surrounding the vast golden paddy fields.
- Location: Dam Thuy commune, Trung Khanh district - about 83km from Cao Bang city center
- Entrance fee: 45,000 VND / person ($2)
Phat Tich Truc Lam Ban Gioc pagoda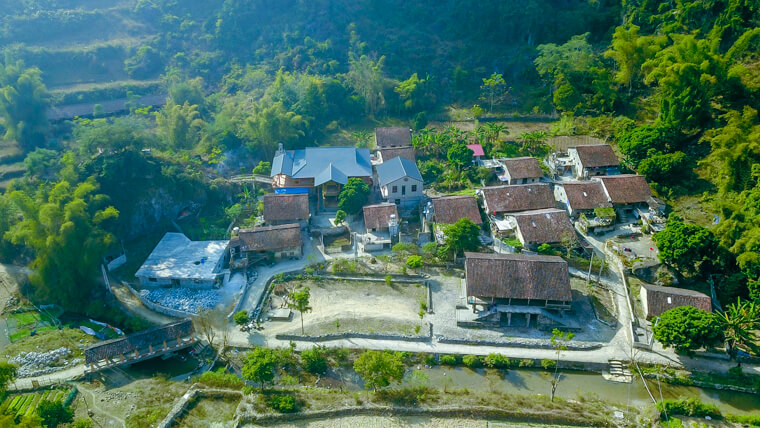 Phat Tich Truc Lam pagoda - Source: @gaoongdia
The very first pagoda built at the Northern Vietnam - China border has an area of 3ha, overlooking Phia Nham mountain. Its architectural style is typical of the Vietnamese one with ironwood as the main material and a tiled roof. The highlight of the pagoda is a bronze bell named Dai Hong Chung Thien Bao, which is 1.5ton heavy.
- Location: Dam Thuy Commune, Trung Khanh District, about 700m from Ban Gioc waterfall
Nguom Ngao cave
Nguom Ngao cave in Cao Bang Vietnam is over 2.100m long with three main entrances, namely Ban Thuan, Nguom Lom, and Nguom Ngao. Inside the cave features numerous stalactites, and high stone cliffs of various shapes and sizes, which will impress you at first glance.
- Location: Dam Thuy Commune, Trung Khanh District, about 3.8km from Ban Gioc waterfall
- Ticket: 45,000 VND/ adult ($2); 25,000 VND/ kid ($1)
Khuoi Ky stone village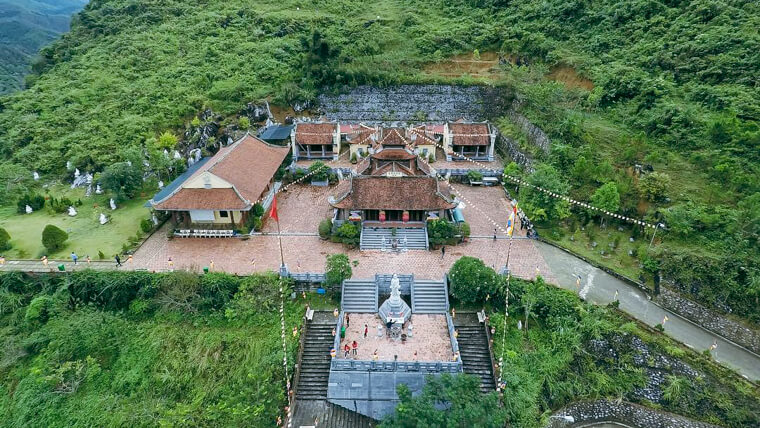 Over 400-year old stone village - Source: vietnamtourism
Khuoi Ky stone village in Cao Bang Province is located in the complex of Ban Gioc tourist site, on the way to Nguom Ngao cave. It consists of 14 stone-stilt houses in an area of about 10,000m2, leaning against stone mountains and facing the Khuoi Ky stream. The village is famous for its name and the practice of worshiping "Stone God" in the border area. Until now, Khuoi Ky village is still a sacred area where material and spiritual values have been passed down from generation to generation.
- Location: Dam Thuy Commune, Trung Khanh District, Cao Bang Vietnam - about 2.8km from Ban Gioc waterfall
Thang Hen lake
This lake is well-known as the most gorgeous ecotourism area in Northeast Vietnam. It is located on a high hill, 1000m above sea level. The complex of Thang Hen consists of 36 freshwater lakes with a diamond shape, and a total width of 100 - 300m, length of 500 - 1000m, and depth of 10 - 40m. The water surface is likened to a jade-colored glittering mirror, surrounded by the green forest canopy of the mountainside.
- Location: Quoc Toan Commune, Tra Linh District - about 30km from Cao Bang city center
Phia Thap incense village
The village is situated at the foot of Pha Hung mountain, outstanding with the picturesque scenery and impressive traditional culture with the long-standing incense-making profession. You can better understand the special materials and the procedures to make scented incense here.
- Location: Quoc Dan commune, Quang Uyen district
Doi cave (Bat cave)
Doi cave in Cao Bang Province was recognized as a national scenic spot by the Ministry of Culture, Sports and Tourism of Vietnam. It is located halfway up a mountain in Lung Sum village. The cave has been kept untouched, attractive with interesting and colorful stalactites, and many small lakes, together with the "Golden and Silver Waterfall".
- Location: Dong Loan commune, Ha Lang district, about 86km from Cao Bang city
Ma Phuc pass
Ma Phuc pass is located at an altitude of 700m above sea level with a length of 3.5km, winding around two limestone mountain ranges facing each other, which look like two prostrating horses. It is the most beautiful pass in this province, which features the most dangerous roads in Vietnam.
- Location: Cao Xuyen Hamlet, Quoc Toan Commune, Tra Linh District, Cao Bang Vietnam
Pac Rang village
The village is located in the lush green valley, facing small paddy fields, surrounded by majestic rocky mountains and lush primeval forests. The soul of the village is the tradition of blacksmithing. When visiting the community-based tourist site of Pac Rang, you can experience forging knives and other tools firsthand, participate in the process of making a durable garment and enjoy the special traditional dishes of the village.
- Location: Phuc Sen commune, Quang Hoa district
2 - Cao Bang city - Pac Po cave
On the Journey to the "roots" of the UNESCO Global Non Nuoc Cao Bang Geopark to the North of the province, you will get to historic sites and other destinations such as De Doong temple, Nguom Boc cave, Keo Yen valley, and special historical relic site of Pac Po, etc.
Keo Yen valley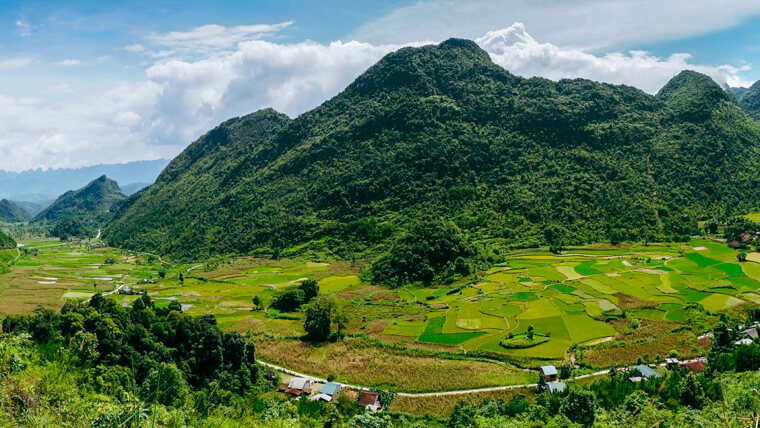 Keo Yen valley - Source: @phạm khoa
The valley is relatively narrow in the Northwest, gradually expanding in the Southeast. The valley has great geological heritage value because the entire valley, slopes, and peaks of the Keo Yen are from limestone formed about 300 million years ago. Keo Yen valley in Cao Bang Vietnam also features typical "stone culture" in which everything here is formed and made of stone such as majestic rocky mountain ranges, rocky cliffs, rocky houses, etc.
- Location: Keo Yen commune, Ha Quang district
De Doong temple
De Doong temple or Giang Dong temple, originally to worship the "River" God, then the "Rock" God, Buddha, and Mother Goddess. The temple is famously sacred, so on the 1st and 15th of the lunar calendar, people often come here to worship and pray for good luck.
- Location: De Doong village, Hong Viet commune, Hoa An district
Nguom Boc cave
Nguom Boc cave in Cao Bang province Vietnam is located on the Western slope of a large mountain, at an altitude of more than 10m above the foot of the mountain. It has a total area of about 500m2 with a large dome-shaped mouth opening to the West. Many stone artifacts of prehistoric people were found on both sides of the walls near the cave's entrance, which is scientific proof of the existence of the early Neolithic period 10,000 years ago.
- Location: Hong Viet commune, Hoa An district
3 - Cao Bang city - Phia Oac national park
This is the Western route of Non Nuoc Cao Bang UNESCO global geopark. Things to see in Phia Oac park:
Kolia tea plantation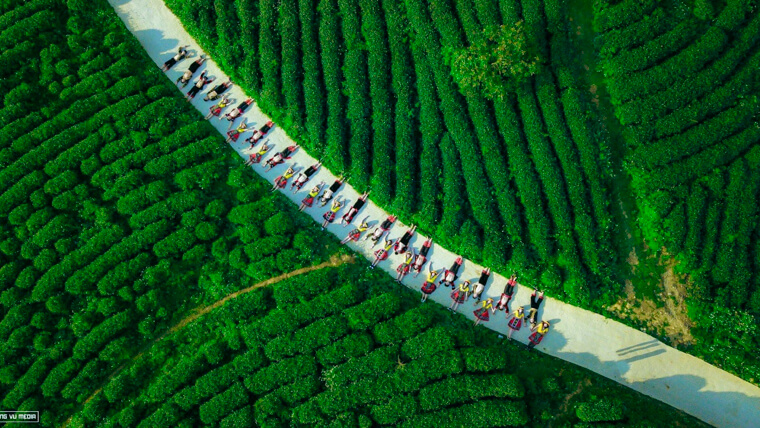 Kolia tea hill - Source: @dulichsinhthaikolia
The tea plantation was constructed and developed in 2011 by Kolia Co., Ltd. Kolia plantation not only provides high-quality tea and fresh agricultural products but also becomes an eco-tourist site with many services such as a flower garden, sightseeing place, overnight guesthouse, theater, and physical therapy,...
- Location: Phia Den hamlet, Thanh Cong commune, Nguyen Binh district, Cao Bang Vietnam
Khuoi Khon hamlet
With unique customs and habits, imbued with its own identity and preserved almost intact, the community tourist attraction of Khuoi Khon hamlet has attracted a large number of tourists. You can immerse yourself in the pristine untouched natural landscape and enjoy the typical culinary culture here. You can also ask to stay overnight in the local' stilt house, join in their daily life such as embroidering, sewing, feeding livestock, and participating in cultural activities with friendly and hospitable local people.
- Location: Khuoi Khon hamlet, Kim Cuc commune, Bao Lac district, Cao Bang province Vietnam
- Ticket: 20,000 VND/person ($0.9)
Hoai Khao ancient hamlet
Hoai Khao is a community-based tourism village, developing in association with preserving and promoting the cultural identity of ethnic minorities, reflected in the well-preserved house architecture, sophisticated silver carving, traditional weaving,... The unique practices and cultures as well as the special cuisine of the Dao Tien people in Hoai Khao ancient hamlet of Cao Bang Vietnam are attractive to numerous visitors to discover.
- Location: Hoai Khao hamlet, Quang Thanh commune, Nguyen Binh district
Tinh Tuc hanging valley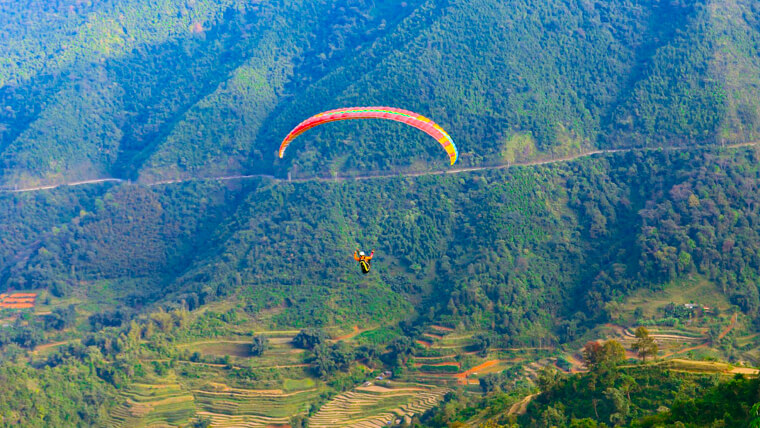 Tinh Tuc hanging valley - Source: caobang.gov
The valley, which is 4km long and around 1km wide, is a special karst terrain, featuring high hills and steep limestone cliffs. This is an ideal place for paragliding because you can see the majestic beauty of the mountains, valley, and lush green garden in Phia Bo village.
- Location: Tinh Tuc town, Nguyen Binh district
Dao Tien people's Embroidery Workshop
The Dao Tien women in Cao Bang Province have always preserved and developed traditional brocade embroidery and pattern printing with beeswax. The brocade embroidery products here not only express the unique culture but also the beliefs of the locals.
- Location: Na Chan hamlet, Hoa Tham commune, Nguyen Binh district.
Phia Oac mountain peak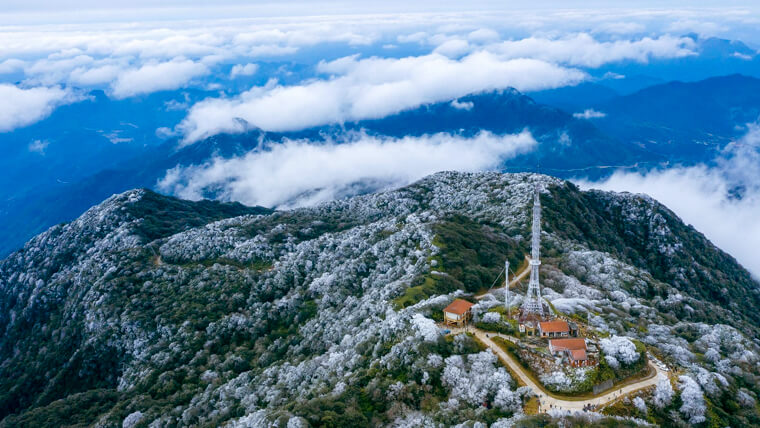 Snow in Phia Oac - Source: @caobanghong
Phia Oac is located at an altitude of 1,931m above sea level, making it the rooftop of Cao Bang Vietnam and the Northeast of Vietnam. It has "stolen" the hearts of tourists with the poetic natural scenery of primitive forests, reserve areas, national parks with an area of more than 300,000ha, large-scale salmon farming areas,...
Because of the high altitude and humidity, the phenomenon of snowfall and ice usually happens in Phia Oac mountain peak in Cao Bang Province, especially in January and February. The temperature can even fall to -2°C, making the mountain peak, tree branches, and the grass be covered with white ice.
- Location: the communes of Thanh Cong, Quang Thanh, and Tinh Tuc town in Nguyen Binh district
IV - More information for tourists to Cao Bang Vietnam
1 - How to get from Hanoi to Cao Bang Vietnam?
Limousines and buses are the most popular choices. The below bus operators pick you up in the heart of Hanoi and drop you off at the city center of Cao Bang. You should contact them in advance to know the specific schedule, thereby confirming the most suitable pick-up and drop-off point. You can refer to the following bus and limousine
Kim Dung Travel Limousine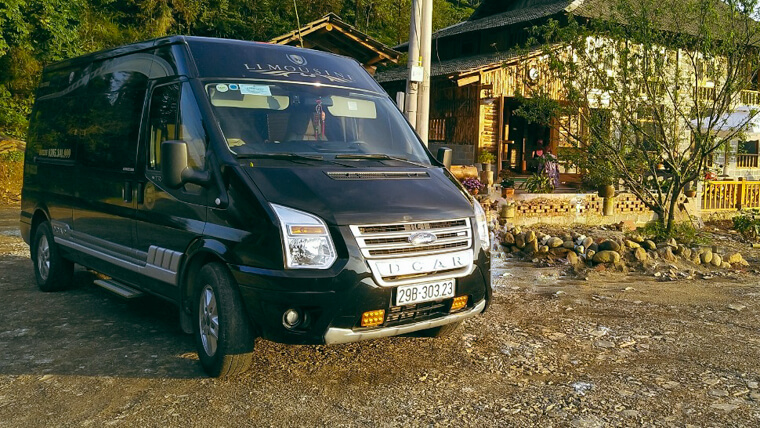 Kim Dung Travel Limousine - Source: vexere
- Departure time: 6:30 am, 3:30 pm
- Price: 260,000 - 280,000 VND / ticket ($11.5 - 12.3)
- Contact: 0782 416 115 or 0782 416 114
Minh Quan Limousine Travel
- Departure time: 6 am, 2 pm
- Price: 280,000 - 300,000 VND / ticket ($12.3 - 13.2)
- Contact: 19006772
Thanh Ly Bus
- Departure time: 8:30 pm, 9:15 pm, 9:45 pm
- Price: 200,000 VND / ticket ($8.8)
- Contact: 0782 416 115 - 0782 416 114
2 - Homestays & hotels in Cao Bang Vietnam
Homestay is the most popular choice here and you can easily find homestays in the community-based tourist sites. Here are some great homestays and hotels in Cao Bang city center
Max Boutique Hotel
Three-star International Max Boutique Hotel offers a relaxed stay every time with new, large well-equipped rooms with a broad view of the city. The restaurant here is very large, providing a wide array of food, including vegetarian food.
- Address: No.117 Vuon Cam street, Hop Giang ward
- Rate: from 520,000 VND/room/night ($22.4)
- Contact: 0839 781 555
Cao Bang Eco Homestay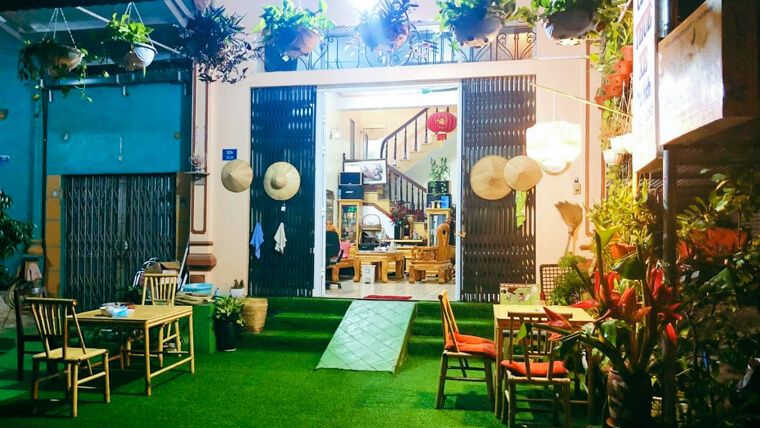 Cao Bang Eco Homestay - Source: booking
The homestay is decorated with flowers and green trees, which creates an airy and fresh atmosphere. The rooms are neat, clean, and cozy with windows to make the whole space bright with sunlight. There is also a sunbathing area and a tennis court.
- Address: No.24, street 3/10, Hamlet 23, Song Bang ward
- Rate: 250,000 VND/room/night ($10.8)
- Contact: 0868 252 168
Primrose Homestay Cao Bang
This is a budget-friendly guest house, offering a seating area in the rooms and kitchenette, and a large balcony. The rooms are elegantly designed with a background of white color, wooden furniture, and decorative lights.
- Address: No.18 Hong Viet street, Hop Giang ward
- Rate: 230,000 VND/room/night ($10)
- Contact: 0983 994 869
Sunny hotel Cao Bang Vietnam
Sunny Hotel consists of 75 3-star rooms, equipped with modern facilities, suitable for both leisure travelers and businessmen. The courteous and professional staff bring you the most satisfying services.
- Address: No.40 Kim Dong street, Hop Giang ward
- Rate: 600,000 VND/room/night
- Contact: 0206 382 8888
Saigon - Ban Gioc resort
A 4-star standard resort with a total area of 31.15ha consists of 53 luxuriously designed bedrooms, a restaurant, and a conference room, serving local cuisine as well as Asian and European dishes. The resort in Cao Bang is designed with a modern style, which is a combination between the natural landscape and the culture of the indigenous peoples.
- Address: Street 206, Ban Gioc hamlet, Dam Thuy commune, Trung Khanh district - 400m from Ban Gioc waterfall
- Rate: from 700,000 VND/room/night ($30.2)
- Contact: 0915 414 228
3 - The best specialties in Cao Bao province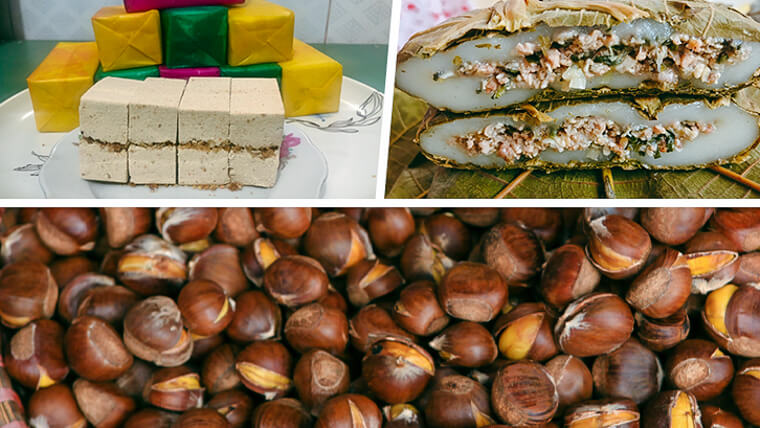 Local specialties - Source: @ducquy
Some of the greatest food that you should not be missed when coming to this mountainous province are:
Trung Khanh chestnuts
Trung Khanh chestnuts here have a special and distinctive flavor because of the fertile soil. This treat is only sold in October and November, so remember to pick up a couple of kilograms as a gift for your family and friends.
Banh trung kien (Ant-egg cake)
This unique cake is created by the Tay ethnic people in Cao Bang Vietnam with the main ingredient of the eggs of black ants which are collected from non-toxic ants' nests on trees. The main ingredients of the Banh trung kien include glutinous rice flour, minced pork, dried onion, grounded peanuts, green onion,... The cake is wrapped with "va" or fig leaves. The best time to enjoy the cake is in April and May, the breeding season of the black ants.
Banh khao or Khao cake (Pẻng cao in the local language)
According to our Cao Bang travel guide, Banh khao originated from the Chinese people with the main ingredient of high-quality glutinous rice and white sugar (or finely ground brown sugar). The fillings of the cake consist of roasted peanuts and sesame, boiled, diced, and marinated fatty meat. The cake has a rich flavor of peanuts and sesame, a greasy taste of fatty meat, and a sweet taste of sugar combined with the aroma of glutinous rice flour.
Xoi tram (black Chinese olive glutinous rice)
This kind of glutinous rice impresses diners with its rich, sweet, and greasy taste of black Chinese olive seeds. This is a specialty of Cao Bang Vietnam, recognized as one of 100 typical specialties of Vietnam by the Vietnam Record Association. Xoi tram is flexible, fragrant, and has a beautiful pinkish purple color. The spicy taste of pepper, and ginger, the aroma of the fillings, and the greasy taste of the meat blend with each other to create a special and irresistible dish.
Rau Da Hien (Erythropalum scandens Blume)
This kind of vegetable usually grows in the rocky mountains of Cao Bang. Despite being a wild vegetable, it is very rare and can be only harvested from February to July in the lunar calendar. The way of stir-frying Da Hien is almost like stir-frying water spinach. It can be stir-fried with thinly sliced beef, pork, chicken intestines,...
4 - Getting around Cao Bang Province
The most suitable means of transportation for traveling here is by motorbike. Motorbike rental fee is about 150,000 VND/day ($6.5). Here are some motorbike rental agencies you can refer to:
Cao Bang motorbike for rent
- Address: No.211 Kim Dong street, Group 32, Hop Giang ward, Cao Bang city
- Contact: 0918 281 444
Cao Bang motorbike rental shop
- Address: No.24, Group 23, Song Bang ward, Cao Bang city
- Contact: 0868 252 168
Phuong Hai motorbike rental shop
- Address: No.159 Kim Dong street, Hop Giang ward, Cao Bang city
- Contact: 0915 356 995 or 0984 284 901
5 - Cao Bang Vietnam map
With three main routes in the Non Nuoc Cao Bang UNESCO global geopark, you have a chance to discover the spectacular natural landscape of this mountainous province, experience unique indigenous culture, enrich your knowledge of Vietnam's history, and amazing gastronomy of the locality.