I - Top ideal resorts in Hanoi
1 - Tan Da Spa Resort
Located in the middle of the lush green tourist areas of the land of Ba Vi mountain, Tan Da Spa Resort is a famous resort known to many people by the ancient Vietnamese cultural space, Spa services, mineral baths with hot mineral water flowing from Thanh Tan Vien mountain.
Tan Da Spa Resort is designed in an air-open space with a peaceful ambiance. All rooms, restaurants and service systems are located along the clear and green Suoi Bon lake. Stilt houses and floating houses with unique architecture are the highlight of Tan Da Spa Resort. The resort also offers single and couple bike rental services for visitors to explore the fresh surroundings.
- Location: Van Hoa commune, Ba Vi district, Hanoi city
- Contact: 024 33 88 10 47 or sales@tandasparesort.com.vn
- Room rate: 1,600,000 - 2,300,000 VND/ night (~ $69 - 100)
2 - Melia Ba Vi Mountain Retreat - luxury resort in Hanoi Vietnam
An exclusive plush resort located in the middle of the mysterious Ba Vi mountain range with great panoramic views of evergreen forest landscape. This resort is a perfect fusion of French colonial architecture and nature-friendly surroundings. A holistic design and an oasis of meditation to help restore peace, relaxation and holistic healing. This eco-friendly resort features an exceptional organic garden and sustainable amenities. Fresh and organic ingredients contribute to creating a rich and flavorful food.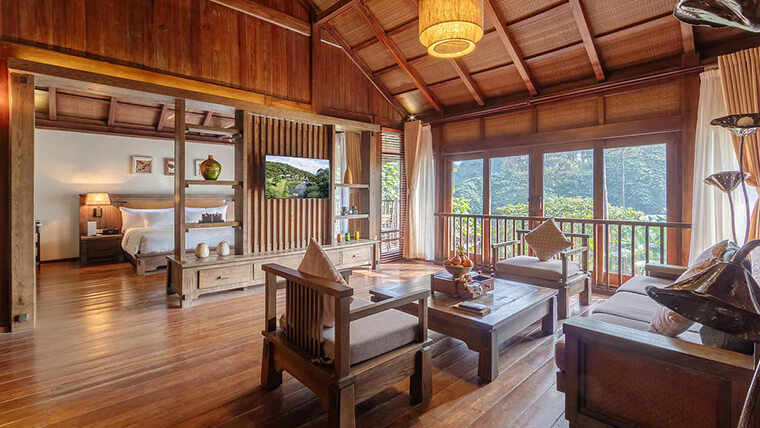 Melia Ba Vì Mountain Retreat - Source: Melia
- Location: Milestone 600m, Ba Vi National Park, Ba Vi District, Hanoi City
- Contact: 0243 200 9999 or info@meliabavimountain.com
- Room rate: 2,500,000 VND/ night (~ $107.75)
3 - Family Resort Ba Vi
Family Resort Ba Vi is one of the best resorts in Hanoi. Completely different from the bustling life of the city, Family Resort is surrounded by low hills and fresh lakes with a cool & pleasant climate all year round. Family Resort is located quietly near the romantic pine forest with peaceful and poetic scenery. From here, you can visit the Son Tay Ancient Citadel, Thay Pagoda and the Tan Vien Temple.
Family Resort offers mountain specialties, resort services such as local sauna, outdoor swimming pools, fishing, billiards, table tennis, badminton, tennis and folk games,...
- Location: Mai Hamlet, Yen Hoa Commune, Ba Vi District, Hanoi City
- Contact: 0964 20 35 35 or familyresort88@gmail.com
- Room rate: 600,000 - 3,500,000 VND/ night (~ $25.86 - 150.86)
4 - Paragon Resort
Surrounded by a charming landscape of streams, mountains and forests, this Hanoi resort is one of the largest and most attractive entertainment resorts near Hanoi. Tennis, volleyball, swimming, zipline sliding, archery, climbing are the best outdoor activities available here.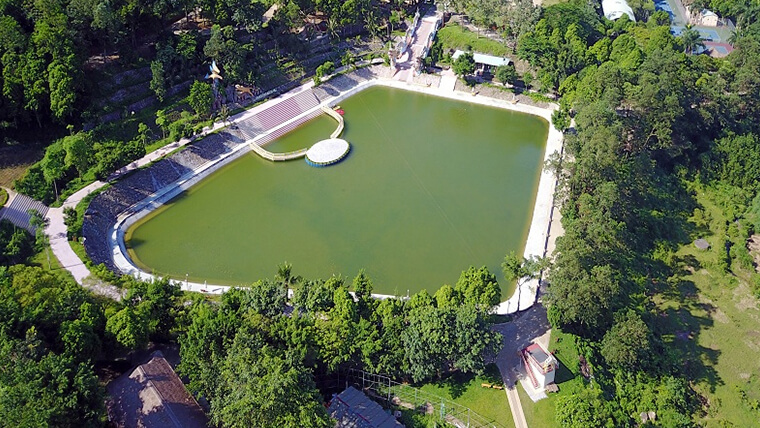 Paragon Resort in Hanoi - Source: Paragonresort
- Location: Muong Chau village, Van Hoa commune, Ba Vi district, Hanoi city - 55 km from the center of Hanoi inner city to the west
- Contact: 088 17 88 99 or info@paragonresort.vn
- Room rate: 1,950,000 - 2,340,000 VND/ night (~ $84.05 - 100.86)
5 - Xanh Villas Resort & Spa
The resort is a harmonious combination between modern living space and green living space. Built in isolation with the surrounding green garden, the Green Villas with 4 classes of villas has an elegant design & open space. The Xanh Restaurant in the resort offers unique dishes from Asian and European cuisine. Moan Cafe in this Hanoi Vietnam resort is a perfect spot to watch the sunset while sipping a hot coffee.
Some of the resort's entertainment areas include May Spa (top of the largest and most professional standard Korean spa in Hanoi), Moan Kids & Moan Farm (Indoor playground, providing intellectual games have been tested to be safe for children), activities close to nature such as tree planting, tree caring,..; Moc Camp (overnight camping area).
- Location: Mieu hamlet, Tien Xuan commune, Thach That district, Hanoi city
- Contact: 0243 200 5138 or salesteam@xanhvillasresort.com
- Room rate: 1,500,000 - 3,125,000 VND/ night (~ $65 - 135)
6 - Thao Vien Resort - Hanoi resort 5 star
Located in Son Tay district, about 40km from the Hanoi city center and only 1 hour drive to the west, Thao Vien Resort welcomes you with a natural & air-open space filled with flowers and trees. This is a great place for those who are looking for a resort near Hanoi that can meet all needs of leisure, culinary, conference and entertainment with international standards.
The bedroom system here is divided into six zones:
- Communal area: the rooms in this area are designed in the form of stilt houses; the first floor is used for events, karaoke; the second floor is used for rest. This area is suitable for guests traveling in groups. However, the rooms are not equipped with air conditioning, but rather with ceiling fans.
- Small Quarter Area: this area consists of two adjacent rows of red tile roofs houses and surrounded by lots of trees recreating a typical vibrant neighborhood of Vietnam with a drinks counter at the beginning of the entrance.
- Hill neighborhood area: Being inspired from the northwest terraced rice fields, this area has small houses with a red tile roof adjacent to each other in a terraced form. The rows of houses share a large red brickyard offering guests the natural view to the rice field and green vegetable garden.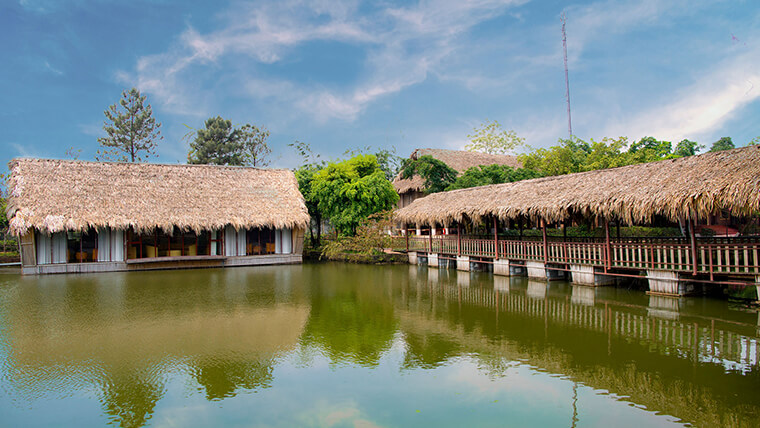 Thao Vien Resort - the best resort in Hanoi - Source: Thaovienresort
- Small neighborhood area: The small houses in this area are constructed by laterite bricks and modern amenities creating a peaceful, cozy and romantic ambiance. This area is quite suitable for couples.
- Rose garden neighborhood area: This area consists of two blocks, each of which is built as a three-compartment house with the red-tiled front porch and backyard. Each room has two single beds in size of approximately 50m2. Having a rose garden with many ancient rose trees from 30 to 40 years old.
- Floating houses on the water zone: The palm-roofed houses in this area are firmly built on a wide lake directly opposite the "Small neighborhood". Every house has two bedrooms, one with a double bed and the other with two single beds.
Also, there are other amusement parks in this resort such as lawn skiing area, cycling area, camping area, 4-season herbal swimming pool, basket boat rowing area,...
- Location: Trung Son Tram commune, Son Tay district, Hanoi
- Contact: 024 3 902 88 99 or thaovienresort@gmail.com
- Room rate: 2,000,000 VND/ night (~ $86.2)
7 - Asean Resort & Spa - 4 star resort in Hanoi
The unique terrain surrounded by the Ninh Khieu River makes this resort appear as a green and isolated peninsula. ASEAN Resort & Spa consists of a complex of villas and hotels with rooms designed and built in the style of brick houses and equipped with standard 5-star furniture.
ASEAN Resort & Spa has a large outdoor playground offering games such as grass skiing, roller skating, tug-of-war, Ferris wheel, bamboo dancing, football, couple cycling, swimming, etc.
The restaurants are the best places to enjoy and appreciate life with appealing dishes from different cuisines around the world, especially the world-famous beef dishes, such as Australian beef, Argentine beef.
- Location: No. 21A Hoa Lac Street, Binh Yen Commune, Thach That District, Hanoi
- Contact: 024 33 68 86 88 or sales@aseanresort.vn
- Room rate: 1,650,000 VND/ night (~ $71.12)
8 - Flamingo Dai Lai - the best resort near Hanoi
Located right next to the large crystal lake of Dai Lai, Flamingo Dai Lai resort is the ideal place to get close to nature and refresh your mind & body as well.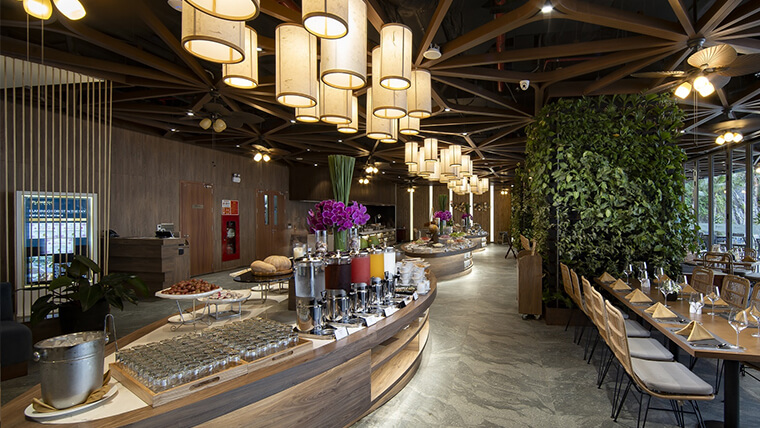 Flamingo Dai Lai - Source: Flamingoresorts
There are many types of villas here, such as high-rise villas, terrestrial villas, and presidential villas, which are modernly designed and fully equipped with standard 5-star facilities. The restaurant & bar chain offers delicious dishes with exquisite beverages.
Playing modern games in indoor playgrounds; swimming in four-season swimming pools; kayaking, sailing on the green Dai Lai lake; relaxing at the Hanging Gardens of Babylon; admiring artworks at the Art in the Forest museum,.. are all available at Flamingo Dai Lai.
- Location: Dai Quang village, Ngoc Thanh commune, Phuc Yen town, Vinh Phuc.
- Contact: 032 902 9669 or sales@flamingogroup.vn
- Room rate: 1,500,000 VND/ night (~ $64.65)
II - Hanoi beach resorts
There are no beaches in Hanoi so you can visit Sam Son town in Thanh Hoa province (170 kilometers), Cat Ba island (144 kilometers), or Ha Long Bay (156 kilometers) for nice beaches. Here are some of our suggestions for nice beach resorts with great services and tons of interesting things to do.
1 - In Thanh Hoa Province
The majority of resorts in Thanh Hoa province are found along the coastline or near Sam Son beach. The distance between Hanoi and here is about 170 kilometers or about 3 hours traveling by car.
FLC Samson Beach & Golf Resort - 5-star resort
This is a top place for a beach vacation which includes a private beach, swimming pool, golf course, zoo, restaurant, and other modern amenities.
- Location: Ho Xuan Huong street, Sam Son town, Thanh Hoa province
- Contact: 0237 878 8888 or resa@flcsamson.com.vn
- Room rate: 1,800,0000 - 3,400,000 VND/night (~ $78 - 147)
2 - Best beach resorts near Hanoi in Cat Ba island
Cat Ba Island Resort & Spa - 4 stars resort
You can fully enjoy Cat Co beach's stunning scenery from the resort or experience the benefits of plush facilities & services at bars & restaurants, sauna & spa, outdoor swimming pool.
- Location: Cat Co 1, Cat Hai District, Cat Ba Town, Cat Hai District, Hai Phong
- Contact: 0255 368 86 86 or sales@catbaislandresort-spa.com
- Room rate: 1,200,000 - 2,000,000 VND/ night (~ $52 - 86)
Nam Cat Island Resort - 4-star resort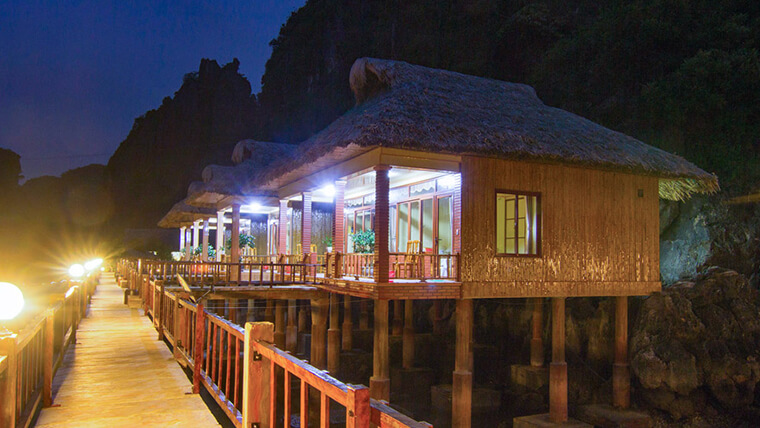 Nam Cat Island Resort - Source: Catbabay
The resort is uniquely designed with brown wooden interiors and large sea views. Interesting activities such as kayaking, sunbathing, beach games are offered to all guests staying here.
- Location: Cat Hai, Ben Beo, Cat Ba island, Hai Phong.
- Contact: 0225 6578 392 or namcatisland@gmail.com
- Room rate: 1,100,000 - 1,500,000 VND/night (~ $47 - 65)
3 - Beach resorts near Hanoi in Halong Bay
Vinpearl Resort & Spa Ha Long - 5*
Situated on Reu Island, it has a lush campus with a large flower garden, two outdoor swimming pools, tennis courts, a four-season indoor pool. This is one of the best resorts in Halong thanks to its high-end facilities and prime location. The hotel, in particular, provides a breakfast, lunch, and dinner buffet with a diverse menu and a wide selection of delicacies made from delicious seafood.
- Location: Reu Island, Ha Long City, Quang Ninh Province
- Contact: 0203 3556 868 or res.VPRSHL@vinpearl.com
- Room rate: 3,300,000 - 5,300,000 VND/ night (~ $142 - 228)
Premier Village Ha Long Bay Resort - 5*
The luxury resort has a prime location right next to Bai Chay Beach. Each villa in the resort is designed with modern amenities and has an outdoor swimming pool, a separate garden system. Staying here, you can feel the "salty taste" of the sea in the air, watch the sunrise or take part in some beach games.
- Location: No. 09, Ha Long Street, Bai Chay Ward, Ha Long City, Quang Ninh
- Contact: 0203 2239 999 or info@premiervillagehalongbay.com
- Room rate: 2,000,000 - 2,500,000 VND/ night (~ $86 - 108)
Above is a list of the best resorts in Hanoi, Vietnam with good quality, received a large number of positive reviews from travelers on Tripadvisor, Booking, Agoda,...