Hanoi is the capital of Vietnam with an area of 3,324.92 km2. Hanoi shares borders with Thai Nguyen and Vinh Phuc in the north, Ha Nam, Hoa Binh in the south, Bac Giang, Bac Ninh and Hung Yen in the east, Hoa Binh and Phu Tho in the west.
Hanoi is surrounded by land, therefore, it has no beaches. However, there are a lot of beautiful beaches near Hanoi that attract a lot of tourists. Those beaches are nice places to visit and enjoy seafood. Stretching along the beaches, there are many rustic fishing villages, at which you can buy cheap seafood and enjoy the finest fresh food.
Here below are top beaches that you can visit in one or several days.
1 - Sam Son beach - one of the best beaches near Hanoi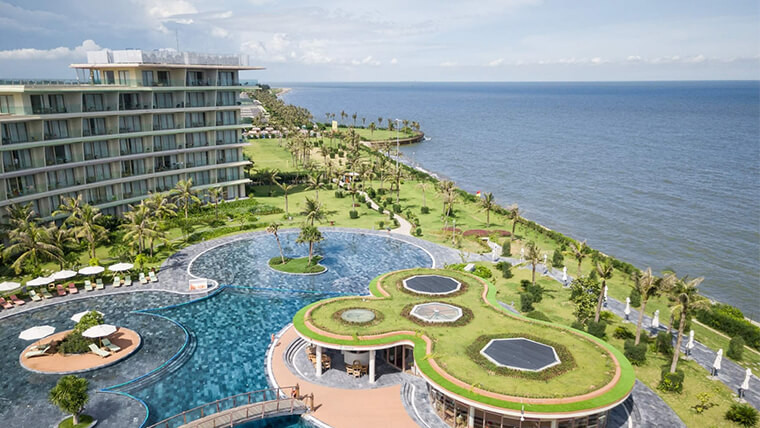 Sam Son beach Vietnam (Source: Flc-travel)
The distance from Hanoi to Sam Son beach in Thanh Hoa province is about 170km. Taking a limousine with prices from 180,000 - 220,000 VND is highly recommended.
- Limousine getting to this beach near Hanoi:
+ Dai Nam limousine:
Thanh Hoa Office: No.251 Truong Thi street, Dien Bien Ward, Thanh Hoa city
Hanoi office: C86 - No.153 Truong Trinh street, Hanoi
+ Van Anh limousine:
Thanh Hoa Office: No.31 Trieu Quoc Dat street, Dien Bien Ward, Thanh Hoa City.
Hanoi office: No.194 Giai Phong street, Phuong Liet Ward, Thanh Xuan District
- Train:
It takes about 150,000 - 250,000VND by train to Thanh Hoa. Then, you need to take a taxi to Sam Son beach through a distance of 20km.
Sam Son beach, a popular beach near Hanoi, has long been famous for its golden sandy beach, high waves and clear & blue water. You can enjoy fresh seafood at super affordable prices or visit a seafood market, fishing village and explore how the locals make their living.
Sam Son beach resorts are the best places to stay here. Some top beach resorts are FLC Luxury Sam Son Resort or FLC Luxury Hotel Samson.
2 - Do Son beach - amongst the greatest beaches near Hanoi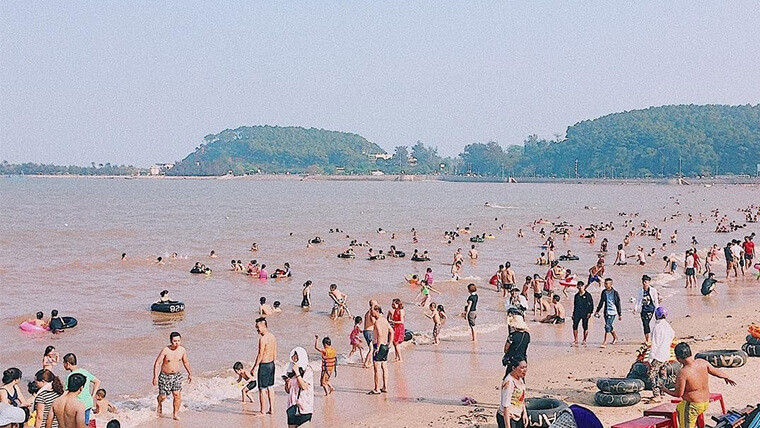 Do Son beach (Source: Liberzy)
About 120km from Hanoi, Do Son beach in Hai Phong is quite convenient to get to. When travelling from Hanoi, you can choose a train or bus.
- Traveling by bus:
The buses to Hai Phong are very diverse, mostly departing from Gia Lam bus station with prices ranging from 70,000 to 150,000 VND. From Hai Phong city, continue to take a taxi to Do Son beach.
- Traveling by limousine:
Booking a limousine to this top beach near Hanoi is highly recommended. High-class Limousine services at prices from 200,000 - 250,000 VND, going directly to Do Son beach is an ideal choice.
Some limousine: Hai Yen limousine (0989525526), Dcar Limousine (1900575725).
Coming to Do Son, tourists have the opportunity to experience the beautiful beach, pristine Hon Dau island and enjoy the delicious seafood.
3 - Tuan Chau beach near Hanoi
Tuan Chau beach (Source: Vnexpress)
Tuan Chau Island in Ha Long, considered as the jewel of Ha Long tourism, is about 120km from Hanoi. Traveling by bus or limousine to Tuan Chau takes about 2.5 hours with a price of about 250,000 VND.
Tuan Chau beach in Halong is a nice choice for those who are looking for beaches near Hanoi. Tuan Chau beach has pure beauty, with white sand stretches, the clear blue sea water with reflections of the sky.You will have the opportunity to try water sports: canoes, windsurfing and kayaking. Also, you should not miss the crocodile or lion circus performances, and eye-catching water music shows.
4 - Bai Chay beach near Hanoi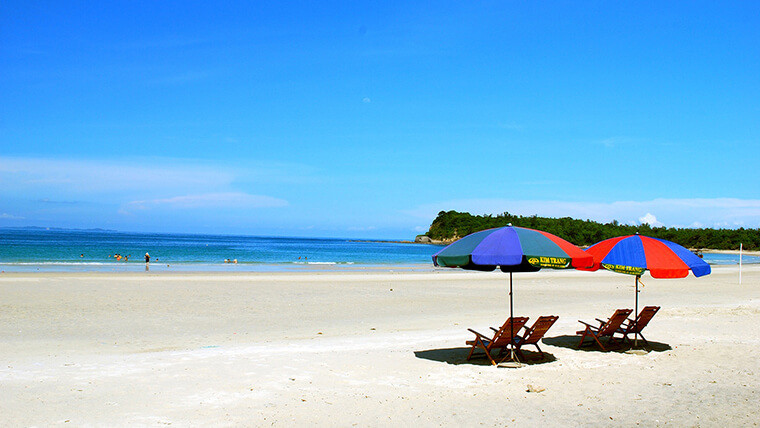 Bai Chay beach (Source: Wyndhamhalong)
Bai Chay beach Vietnam which is located in Ha Long City, Quang Ninh Province, 150km from Hanoi. You can take a limousine service to get here in 2.5 hours. You could experience traveling to Bai Chay by Hai Au Seaplane. The flight departs from Noi Bai airport to Tuan Chau port with a flight time of 45 minutes. From Tuan Chau port, you take a taxi to Bai Chay beach.
Bai Chay, another best beach near Hanoi, is the largest beach in Ha Long City. Despite being an artificial beach, Bai Chay beach stretches for more than 1000m with green pine trees, creating a peaceful and wild beauty.
You can participate in other interesting activities such as exploring the night market, Bai Chay Ancient Town; experiencing amusement activities at Sun World Park Ha Long, and admiring Halong bay.
5 - Cat Ba Island beach - one of the top beaches near Hanoi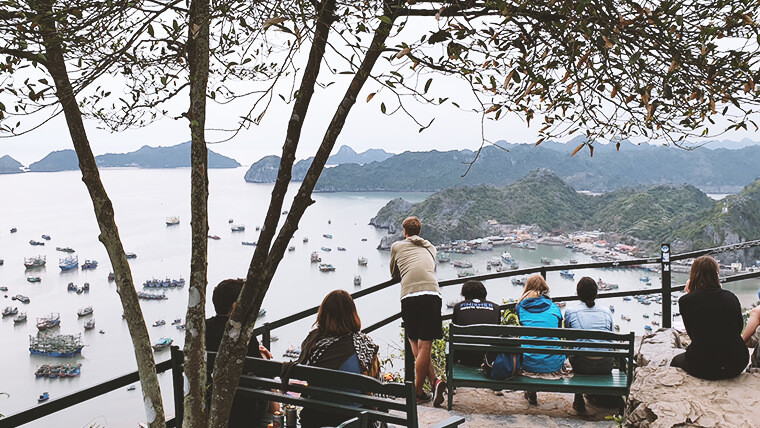 Cat Ba island beach (Source: Vietvisit)
Cat Ba Island is a famous tourist island, located in Hai Phong province. The distance from Hanoi to Cat Ba Island is about 160km, which is the reason why Cat Ba island beaches are in the list of "beaches near Hanoi".
Traveling from Hanoi to Cat Ba Island takes about 4 hours by bus. Cat Ba Express bus:
- Contact: 0848 244 999
- Bus ticket price: 280,000 VND / way
Cat Co Beach, located on Cat Ba Island is famous for its pristine beauty, surrounded by winding mountains. The famous activity in Cat Ba Island is the experience of soaking yourself in the clear blue water of Cat Co beach. You can try kayaking, or having enjoyable moments on Cat Ba Monkey Island beach and Lan Ha Bay.
Those above beaches near Hanoi are really some perfect choices for tourists to enjoy summer vacation.