Beer in Hanoi with its special taste and diverse types is one of the best things to try when you travel to the capital city of Vietnam.
I - Origin and price of beer in Hanoi
1 - Origin
In Hanoi, there are several types of beer. Craft beer which was introduced to Vietnam from abroad decades ago has become one of the most favorite beers of young people. The Bia Hoi - local beer is loved by lots of Hanoians because it has light taste and a cheap price. You can have a cup of Bia Hoi at bia hoi junction Hanoi or beer streets.
Egg beer was created by a Hanoian named Nguyen Chi Hoa who is well-known as the owner of Giang cafe. In the 90s, he created a new strange recipe by putting eggs in beer and surprisingly it tastes terribly incredible. Afterwards, the egg beer became a must-try beverage for many foodies.
2 - Price of beer in Hanoi
Normally, the price of craft beer is more than 43 USD / barrel while egg beer ranges from $1.73 to $2.16 a cup. Besides, Bia Hoi is the cheapest beer in Hanoi which costs about $0.43 - 0.52 / cup which is acceptable for anyone's pocket.
II - Best beer in Hanoi
1 - Craft beer
The figure that distinguishes craft beer from regular beer is the creative brewing recipes. Producers can add several ingredients and combine their own liking to taste the new and attractive beer. Craft beer has many familiar natural flavors such as mint, passion fruit, apple cat, ginger, cinnamon, passion fruit, licorice, rose, or jasmine.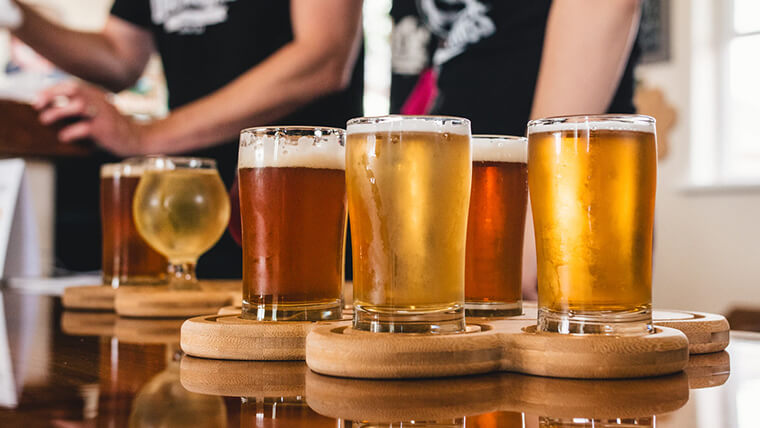 Jasmine craft beer - Source: Meritt Thomas
2 - Fresh beer Hanoi
It is not pasteurized and sterilized by the Pasteur method before being bottled or canned. Moreover, it must be stored in a cool environment ranging from 2 to 4°C which will keep its inherent rich and original taste.
The fermenting period of brewing of fresh beer is twice as long as bia hoi Hanoi and also has higher sugar content. On the other hand, this kind of beer is not pasteurized, so it retains its original taste without much modification.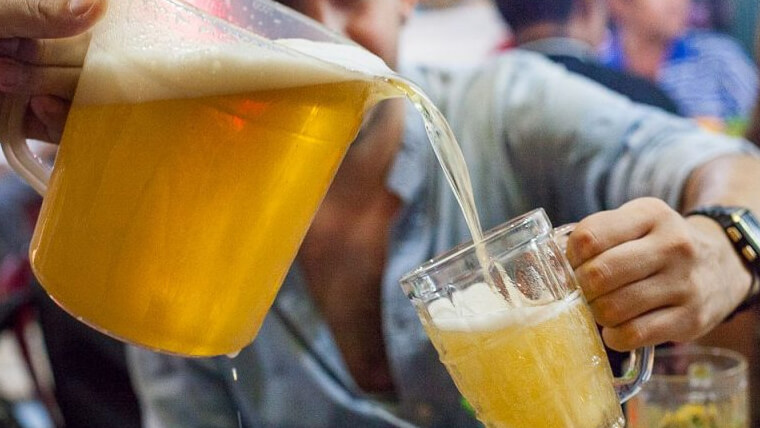 Fresh beer - Source: Bestpricetravel
3 - Egg beer Hanoi
Egg beer, created by a Hanoian, is a unique combination of beer and eggs. Egg yolk after being whipped up will be mixed with sugar and butter which makes it sweet, and then topped with a cold beer. Thus, we have a cup of egg beer - a specialty of Hanoi.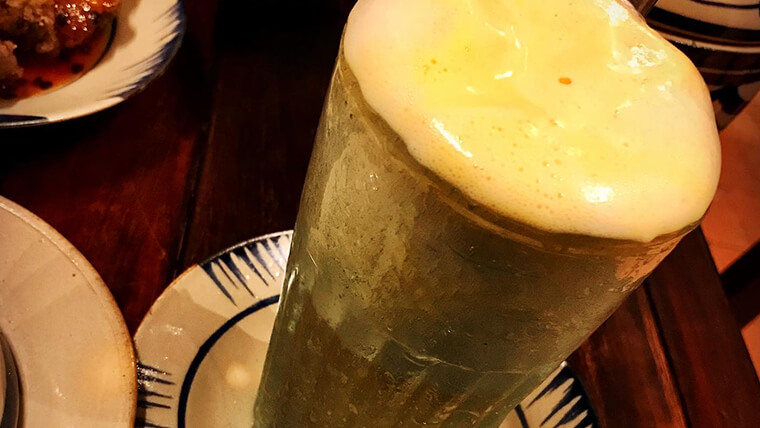 Egg beer - Source: Fb Minhmat
4 - "Hanoi beer" brand
This is a product of Habeco enterprise which has more than 60 years of development. This branch was officially launched in 1991 and became the first canned beer product of Habeco brewery in Hanoi. Habeco has achieved a series of achievements such as the First Class Labor Medal in 2000; Top 10 strong brands in Vietnam in 2005; Famous brand cup in 2004 in Madrid and so on. This beer brand is the pride of Hanoians.
III - How & where to enjoy beer in Hanoi?
For a very long time, Hanoians have had a beer-drinking culture and normally enjoyed drinking beer on several occasions. Usually, beer bottles are most preferred in the hot summer weather, or on holidays such as Vietnamese New Year, family gatherings, and weddings.
Vietnamese people often enjoy beer in the late afternoon after finishing a work-hard day. Beer lovers consider beer in Hanoi as a soulmate.
Hanoians often drink beer with boiled peanuts, rice cakes, dried beef, and spring rolls. Drinking beer with ice is a habit of people here. "1-2-3 Dzô" is the way to cheer up and start a Vietnamese beer party.
1 - Hanoi beer street
A lot of Hanoians love sitting on the sidewalk and sipping a beer while sharing daily stories with their friends. The most famous beer street located near Hoan Kiem Lake is Ta Hien Street (or bia hoi junction Hanoi). It not only attracts diners with the fresh taste of beer but also by the bustling atmosphere of Hanoi.
Bia hoi corner old quarter Hanoi or beer street is the most famous place to enjoy various kinds of beer. This street is filled up with simple restaurants, toad seats, and hundreds of people crowded around the shops to enjoy beer at night.
Huyen Linh beer shop (41 Luong Ngoc Quyen), Old town beer shop (18 Ta Hien) are the great places to have cheap beer Hanoi old quarter & good dishes.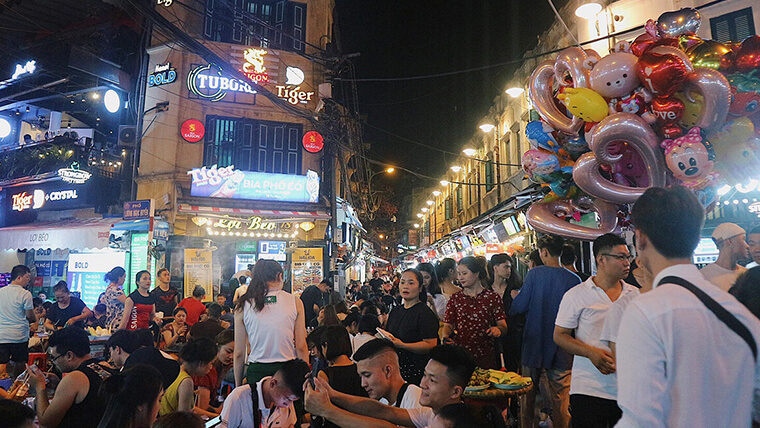 Ta Hien street at night - Source: VnExpress
2 - Popular Pubs
Top pubs for having a beer party in Hanoi:
- 100 beer garden Hanoi:
Address: No.68 Lane 238 Au Co, Quang An, Tay Ho, Hanoi
Opening hours: 4pm - 0am
Contact: 0357 724 112
- New Gentry Beerhouse
Address: No.7 Hang Manh street, Hang Gai, Hoan Kiem, Hanoi
Opening hours: 5pm -11pm
Contact: 098 896 08 15
- Legends beer Hanoi:
Address: 4th floor, No.1 Dinh Tien Hoang street, Hoan Kiem, Hanoi
Contact: 024.3936.0345 - legendbeer@legendbeer.com.vn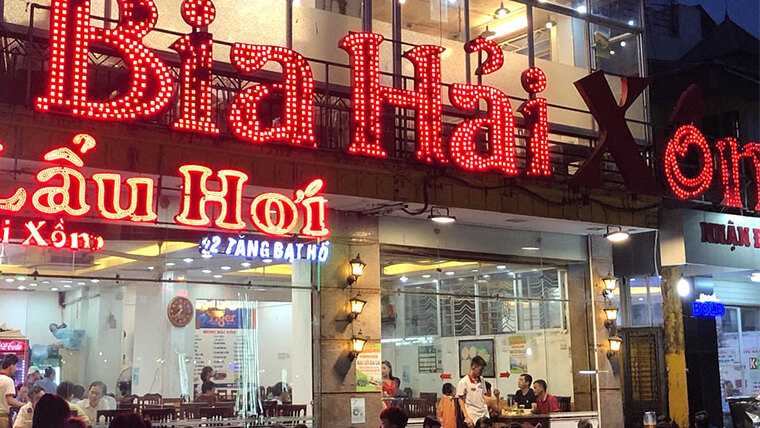 Brand of Hai Xom beer - Source: Hanoitoplist
3 - Famous places for local craft beer in Hanoi
The top beer houses to enjoy craft beer:
- Pasteur street brewing Hanoi (No.1 Au Trieu, Hoan Kiem)
- Evenstar craft beer pub (Lane 21 Pham Ngoc Thach street, Dong Da district)
4 - Beer tour
Having a beer tour with local guides and new friends is an amazing experience in Hanoi. For more, you can take part in a motorbike tour riding around city to visit and explore the best things of the city.
- Hanoi Beer Tour:
Address: No.18 Au Trieu street, Hang Trong, Hoan Kiem, Hanoi
Contact: 093 149 62 48
That is a quick look at beer in Hanoi & beer culture as well as suggested places to enjoy beer. If you have the opportunity to travel to Vietnam, especially to the capital of a thousand years of civilization, try to experience Hanoi's beer culture at least once!
Related keywords: beer corner hanoi; beer street hanoi old quarter; bia hoi corner old quarter hanoi; craft beer hanoi old quarter