The Hanoi Train Street refers to a section of railway running through residential areas, appearing in many places of Hanoi. Some of the most famous streets where the train passes through are Kham Thien Street, Le Duan Street, and Phung Hung Street.
Hanoi Train Street is a unique and fascinating attraction in the city, where a railway line runs directly through a residential area. The houses and shops on either side of the tracks are built just inches away from the passing trains. Visitors can witness the daily life of the local residents, who have adapted to living in close proximity to the railway and even have to wait for trains to pass before crossing the street. The area also offers great photo opportunities, as the trains pass by at a slow speed. It is a one-of-a-kind experience that offers a glimpse into the unique blend of culture and transportation in Hanoi.
I - Hanoi Train Street history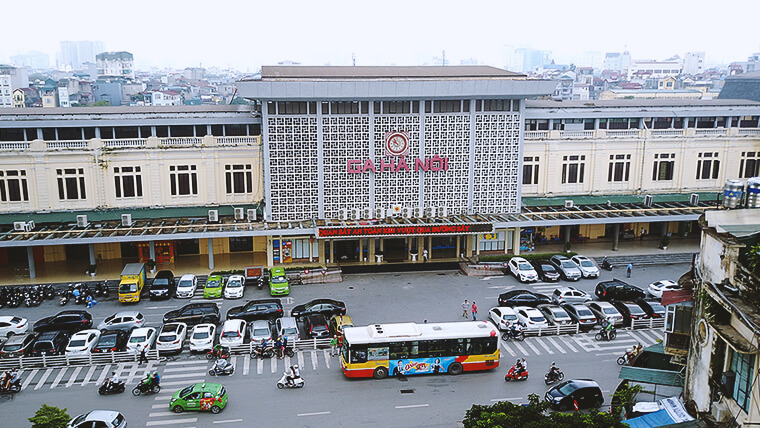 Hanoi train station - Source: Vnexpress
In the French colonial period, a long railway system was built to transfer goods and passengers from North to South and from Hanoi to seaport in Hai Phong Province. Over 100 years old, this railway system is still in operation and is one of the most popular forms of transportation in Hanoi.
Today, Hanoi Railway Station (formerly known as Hang Co Station) is an important transport hub in Hanoi. From here, you can catch a direct train to Lao Cai City, Hai Phong City, Thanh Hoa City, Hue City, Danang City, Ho Chi Minh City,... with 2 zones:
- Zone A: No. 120 Le Duan Street, Hoan Kiem District
- Zone B: No. 01 Tran Quy Cap Street, Van Mieu Ward, Dong Da District
There used to be a time when coffee shops along the Hanoi Railway Street were a favorite form of drinking in Vietnam. Customers were really fascinated with the heart-stopping experiences when sipping a cup of coffee while suddenly a train crossed their face. However, the coffee shops next to the train street Hanoi closed in 2019 by the government to ensure a safe traffic corridor. These days, you just can come here to check-in and take some photos along the streets and see the train go through. It is still a nice experience at which you have a chance to explore more about the local life along the train street.
Train street Hanoi timetable:
- Weekends: 6am; 9am; 11.20am; 3.20pm; 5.30pm; 6pm; 7pm; 7.45pm; 8.30pm; 9pm; 11pm
- Weekdays (from Monday to Friday): 7pm; 7.45pm; 8.30 pm; 10pm
Note: To see the train going through the street, you should be ready at the train street 15-30 minutes before the timetable.
II - Life on two sides of the Hanoi Train Street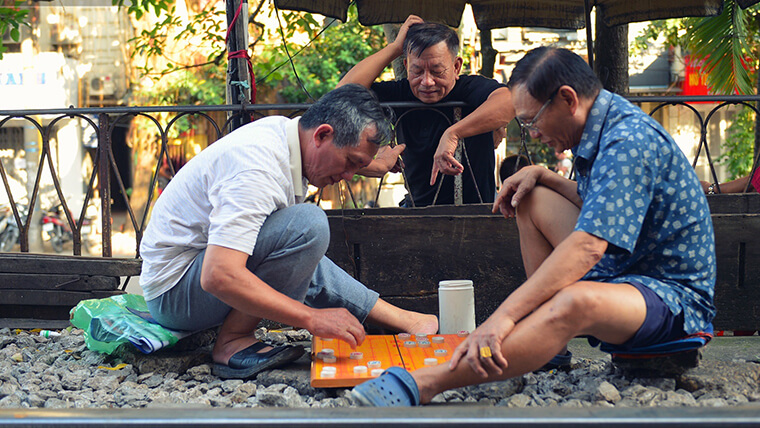 Life along the train street in Hanoi - Source: Kenh14
The train street is a special unique feature of Hanoi, where the residents always have to face the danger right at their doorstep. There are more than 10 trains passing by daily while the Hanoi railway tracks are only about 1-2m away from people's houses, many without a barrier or alarm system to ensure safety. Also, the streets in this "railway village" are only large enough for pedestrians or motorbikes, while cars cannot access, leading to difficulties for people to travel.
Because of the limited living area, people near the Hanoi Train Street have to do chores mostly outside and on the train tracks, from drying clothes to washing dishes, cooking,… This resulted in another special feature of the railway village that cannot be found anywhere else - "Everyone shouts together". When hearing the whistle from afar, residents have the habit of looking to see whether there are children or anyone standing near the railway and then shouting to remind each other. That's why even though it's very dangerous, the number of Hanoi Train Street accidents in the village is low.
Despite living in a confined space with the noise and vibration of trains passing by, the people here are determined to stay here and live as if they were anywhere else in the capital. Surrounded along the railway line are old houses, preserving a part of memory, a beauty that is ancient, rustic, and simple in the old Hanoi… Because people have spent their whole lives in the Hanoi Train Street, everything from the whistle of the train to the dust and dirt had all become familiar. Adults still cook and chat, children still play freely and restaurants still attract a lot of customers. All activities still take place slowly and calmly, regardless of the presence of the railway line.
III - What to eat around Hanoi Train Street?
Trying a variety of delicious dishes and drinks without worrying about the price was, and still is, an interesting thing to do when visiting Hanoi railway street, despite the government's ban. Up to now, some shops still operate with the requirement that you cannot sit close to the railway as before and must stay inside the shops' separate space.
Hanoi train street cafes are always crowded. Sitting right by the railway, watching the train pass by, sipping a cup of Hanoi coffee, chatting, and enjoying the authenticity, you will feel the very interesting and special emotions that can not be found anywhere else. However, there are some quite strict regulations (only sitting indoors, not encroaching on the sidewalk, not approaching the tracks,...) to ensure your own safety. You should ask for more information and tips from shop owners.
Xom Tau Cafe (Train Town)
Coming to the Hanoi Train Street, you can come to Xom Tau Cafe to achieve the unique feeling of sitting and drinking coffee in a small shop right next to the train road and watching the trains pass by the door. This shop is designed with the characteristics of the old Hanoi space, preserving the fragments of the past that are still left.
- Location: The intersection of Kham Thien and Le Duan Street
- Price: 8,000 - 30,000 VND/drink ($0.35 - 1.32)
- Operating hours: 8am - 10pm
- Fanpage: facebook.com/xom.tau.33/
Indochina Station Cafe
Outside this cafe is the Hanoi Train Street that has gone through time and becomes mossy, while the cafe itself is decorated like a train compartment of a few decades ago. Besides the view, Indochina Station Cafe also attracts customers with delicious and diverse drinks, one of which is egg coffee with a unique taste from pure coffee and greasy eggs. Another highly appreciated drink is iced milk coffee which is also prepared differently to suit the taste of foreigners.
- Address: No.5A Tran Phu Street, Hang Bong Ward, Hoan Kiem District, Hanoi
- Price: 10,000 - 70,000 VND/drink ($0.44 - 3.08)
- Operating hours: 8am - 10pm
- Fanpage: facebook.com/cafeGaDongDuong/
Pho Bo Railway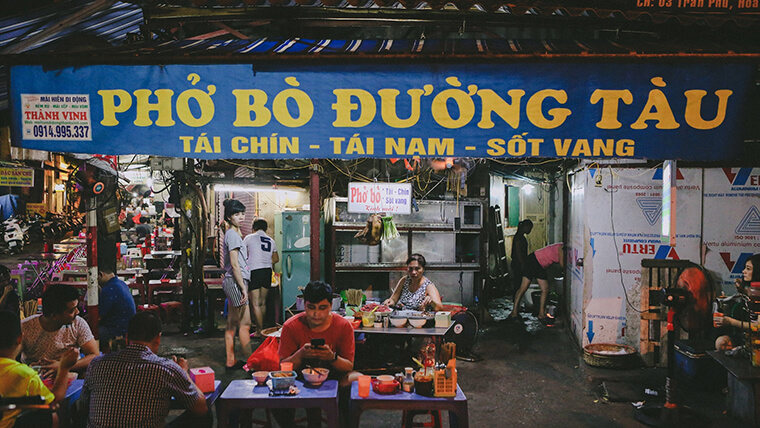 This is a nice restaurant on the Hanoi Train Street - Source: Le Minh Son
This restaurant brings you many delicious foods, especially a bowl of Hanoi pho with Scallion hanging on crampons, thick and heavy ceramic bowls, aluminum ladles, etc. all of which make anyone coming here feel peaceful, especially at night.
- Address: No.3 Tran Phu Street, Hang Bong Ward, Hoan Kiem District, Hanoi
- Price: 20,000 - 50,000 VND/serving ($0.88 - 2.2)
- Operating hours: 6pm - 4am
- Fanpage: facebook.com/Phở-bò-đường-tàu-số-3-trần-phú-102291098091834/
Ms. Hien - Bun Oc Railway (Vietnamese snail rice noodle)
Sitting on the sidewalk near Hanoi Train Street, this restaurant is a bit small, but the owner is extremely friendly and their signature dish - snail noodle - is very delicious. One bowl is very large, full of carefully prepared snails in different sizes, soft and sweet beef, meat rolls, and golden fried tofu.
- Address: No.11A Le Duan Street, Van Mieu Ward, Hoan Kiem District, Hanoi
- Price: 30,000 - 300,000 VND/person ($1.32 - 13.17)
- Operating hours: 7am - 10pm
- Fanpage: facebook.com/Bún-Ốc-Cô-Hiền-230147584341080/
Hot Pot - Grill Railway
Hot Pot - Grill Railway near Hanoi Train Street is also worth a try. Located right on the spacious and airy terrace of a house on Le Duan Street, this restaurant specializes in serving Hot Pot & Grill buffets with delicious and quality side dishes. Barbecue here comes in 3 combos, each plate full of beautifully marinated and very tasty meat. Because it is grilled with charcoal, the meat here smells good and attractive.
- Address: No.298 Le Duan Street, Trung Phung Ward, Dong Da District, Hanoi
- Price: 50,000 - 400,000 VND ($1.32 - 13.17)
- Operating hours: 5pm - 5am
- Fanpage: facebook.com/LauNuongDuongTau/
Hanoi Train Street is one of the most fascinating spots and is visited by many tourists whenever they visit Hanoi. Come here to see the normal life of people along the sides of the train street and have a chance to see the train go through dynamic streets.