Hanoi, the thousand-year-old capital of Vietnam, attracts tourists by its ancient & modern beauty. The city is a paradise for visiting cultural & historic relics, enjoying the most authentic Vietnamese cuisine, experiencing the long-standing cultural values and shopping as well.
Strolling along the old streets, and visiting the local markets or dropping off at the antiques, you can find tons of nice things to buy in Hanoi. Follow vietnamtrips' travel guide to get more useful information about the best things & best places to buy local products & try famous food in Hanoi.
I - Dong Xuan market - the best shopping in Hanoi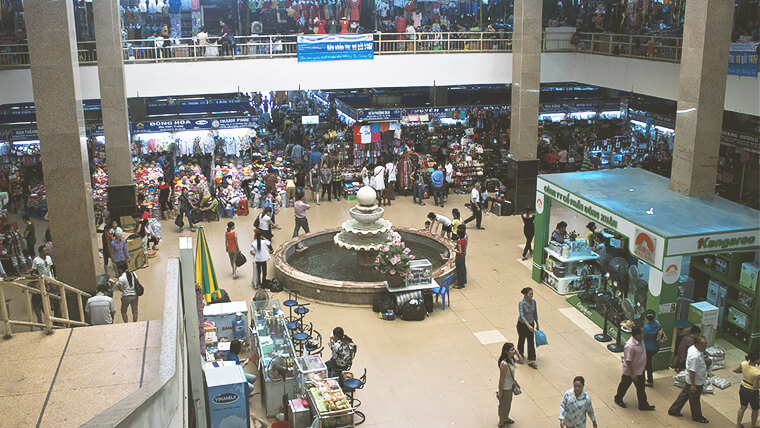 Dong Xuan market - Source: Matyas Rehak
Convenience stores, supermarkets or shopping malls are great places for quick shopping. However, to have more experience about the local culture & lifestyle, the markets are the best places to visit where you find lots of local products and exotic food. Dong Xuan market - the largest and busiest traditional market located in the north of Hanoi Old Quarter is highly recommended.
- Location: No.1 Dong Xuan street, Hoan Kiem district
- Opening hours: 5am - 6pm
- Night market: 6pm - 0am on Friday, Saturday, and Sunday
Located in Hanoi Old Quarter, Dong Xuan market, the best place for shopping in Hanoi has a history of hundreds of years consisting of 3 floors selling various kinds of goods:
- The first floor: clothes, shoes, accessories, and electronics
- The second floor: If you want to buy some souvenirs from Hanoi, this floor is an ideal place with fabrics, brocade, silk, and so on.
- The third floor: Children's clothing area
The day market provides all kinds of commodities from food to fabric and souvenirs. At weekends, the night market is open to sell more specialties and items for tourists. This is really an ideal place for shopping and a great food tour in Hanoi at night.
II - Other places for shopping in Hanoi
1 - A guide for shopping in Hanoi Old Quarter
The Old Quarter is the busiest area in Hanoi city center where you can see hundreds of souvenir shops and specialty stores. Each street in the Old Quarter is famous for one typical item. Here below are the most famous street for shopping:
Hang Ma Street - Traditional handicrafts and decorations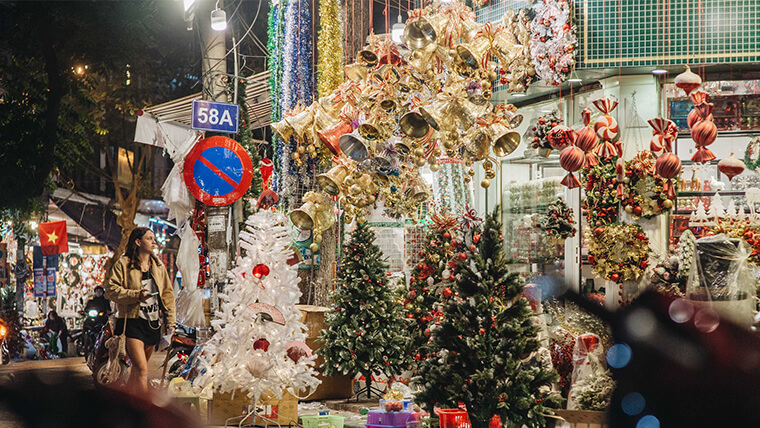 Hang Ma street on the occasion of Christmas - Source: Kenh14
Stretching from Hang Duong street to Phung Hung street with a length of 340m, Hang Ma street is one of the most colorful & bustling streets in Hanoi, especially on special holidays like the Mid-Autumn Festival, Lunar New Year, and Christmas,... with lots of decor items. When experiencing Hanoi Old Quarter shopping at Hang Ma street, you have a chance to experience the cultural identity of Vietnamese through the traditions of consuming.
Hang Gai Street - Silk products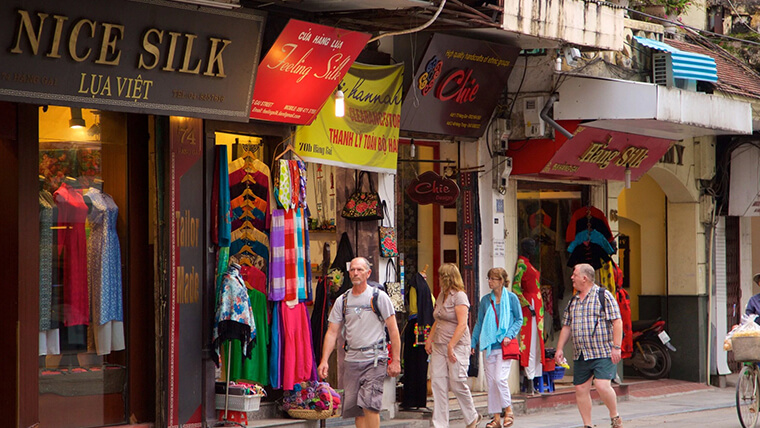 Hang Gai street is known as the "silk street" in Hanoi - Source: Expedia
If you are wondering where to go shopping in Hanoi then do not hesitate to visit Hang Gai street. Located between Hang Bong street and Cau Go street, Hang Gai street is well-known as a silk street with unique products woven by talented craftsmen. There are lots of shops and galleries selling Vietnamese silk products such as clothing, fabric and souvenir items.
Hang Da Street - Leather products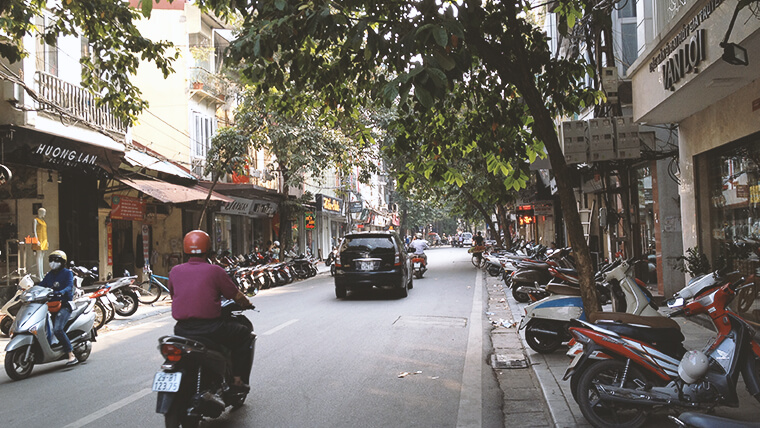 Hang Da street - Source: Wikimedia
From 900m from Hoan Kiem Lake, Hang Da street is less than 250m long. This best place for shopping in Hanoi is very famous for leather goods and other kinds of products such as fruit, household appliances. And Hang Da commercial center (Hang Da plaza) is an ideal place for shopping as well as enjoying Hanoi food.
- Location of Hang Da commercial center: Hang Da street, Hoan Kiem district
- Opening hours: 10am - 8pm
- Website: http://hangdaplaza.com.vn
2 - Top 4 best convenience stores for shopping in Hanoi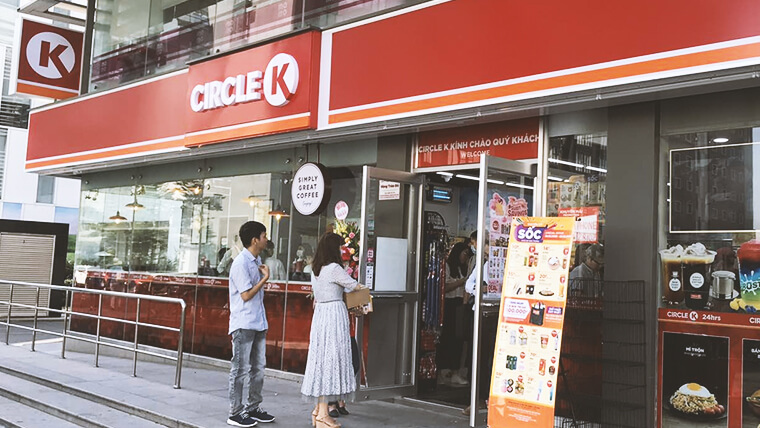 A brand of Circle K in Hanoi - Source: Circlek
There are 4 popular convenience stores in Hanoi: Circle K, Vinmart+, Family mart, Guardian, and Shop & Go, all of which open all year round, including holidays. There are a wide array of items in these stores such as foods and beverages as well as personal items, etc. Particularly, Circle K is open 24/7 for night-owls to discover vibrant nightlife in Hanoi.
3 - Top 5 best shopping malls for the best shopping in Hanoi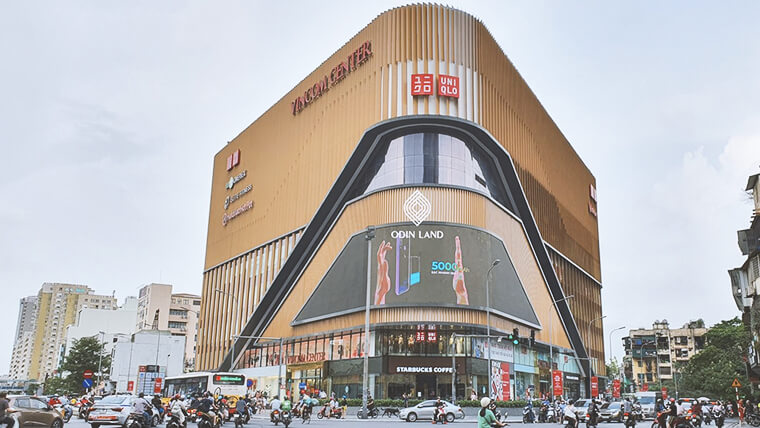 Vincom Center - Source: Odinland
Vincom Center
If you do not know what to buy in Hanoi then you can visit Vincom center where you can find lots of luxury stores, supermarkets, food courts and entertainment complexes. The Vincom system in Hanoi city including Vincom Center Metropolis, Vincom Center Ba Trieu, Vincom Center Nguyen Chi Thanh, Vincom Center Pham Ngoc Thach, and Vincom Center Tran Duy Hung,...is top shopping malls in Hanoi.
Aeon Mall
A famous Japanese commercial brand that entered the Vietnam retail market in 2015, is one of the greatest shopping places in Hanoi. It is a combination of department stores, supermarkets, entertainment, and food services. Aeon Mall has 150 booths supplying diverse sorts of products. You can visit Aeon Mall in Long Bien district or Aeon Mall in Ha Dong district.
Trang Tien Plaza
Trang Tien Plaza is another amazing place for shopping in Hanoi. Consisting of 6 floors, this plaza is a landmark construction built by the French in 1901. This place is a gathering place of 50 famous international brands in fashion & accessories such as Burberry, Cartier, Louis Vuitton, Gucci, Rolex.
- Address: No.24 Hai Ba Trung street, Hoan Kiem district, Hanoi
- Opening hours: Monday to Friday: 9:30am - 9:30pm, Saturday, Sunday and public holidays: 09:30 - 22:00.
Lotte Center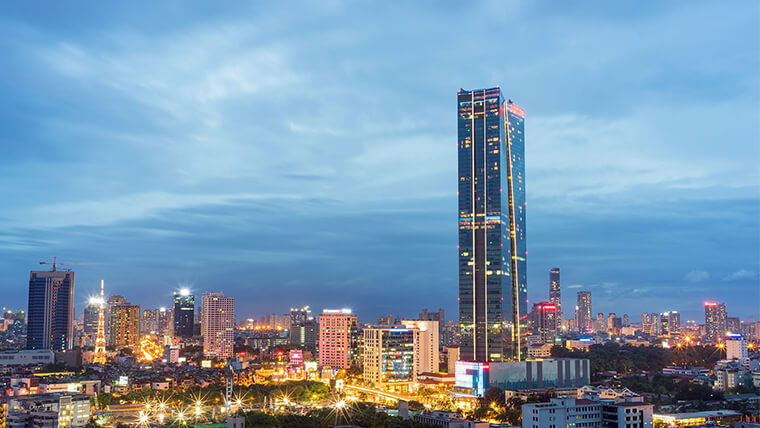 Lotte Center - Source: Shutterstock
Located in the Lotte tower - the 3rd tallest building in Vietnam, the Lotte commercial center is set from the first floor to the sixth floor offering lots of things to buy in Hanoi from food, and household appliances to other necessities.
- Address: No.54 Lieu Giai street, Cong Vi ward, Ba Dinh district, Hanoi
- Opening hours: 9:30am - 10pm
The Garden Shopping Center
The Garden Shopping Center - the largest commercial center in Vietnam with an area of up to 27,000 m2, and 6 floors for shopping and food. The B1 area is a supermarket and is a nice place for shopping in Hanoi. G area is international brand cosmetics - restaurant - cafe, the first floor is jewelry and fashion for women; the second one for men's fashion - children's toys, the third floor is household appliances & furniture, and the fourth floor is food & drink - sports - the cinema complex.
- Address: Me Tri street, My Dinh ward, Nam Tu Liem district, Hanoi
- Opening hours: 9:30am - 10pm
4 - Top 3 traditional craft villages for best souvenirs from Hanoi
For a local handicraft product shopping experience, you should not miss these craft villages in Hanoi:
Bat Trang ceramics village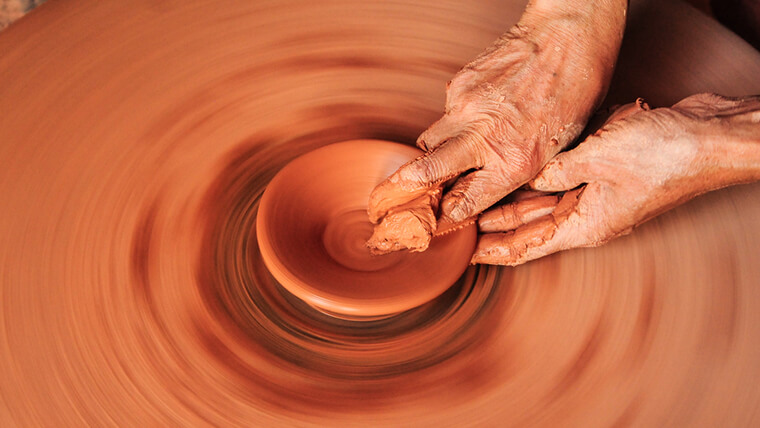 Bat Trang is one of the most famous villages in Vietnam - Source: VnExpress
Located in Bat Trang commune, Gia Lam district, Bat Trang ceramic village has existed for about 500 years and is a top-rated place for shopping in Hanoi. This is one of the most famous traditional villages in Vietnam which remains a pottery-making tradition. Bat Trang ceramic products are highly appreciated for their quality and types.
Bat Trang pottery village is an ideal place to shop in Hanoi where you can also experience the pottery-making process, joining & self-making some items under the guideline of professional craftsmen.
Van Phuc Silk Village
Van Phuc Silk Village is a well-known silk making village in Vietnam. This thousand-year traditional silk village is located in Ha Dong district, about 10km from the center of Hanoi. Van Phuc village still preserves its traditional identities with various embroidery patterns, impressive details, symmetrical lines, and durable quality to make the high quality silk products, which are interesting things worth to buy in Hanoi.
Dong Ho Painting Village
Dong Ho is one of the most ancient and long-standing Vietnamese painting villages, which is located in Bac Ninh province (about 25km from Hanoi). The craft village was recognised as the national intangible cultural heritage site. Artists use traditional printing techniques to create several categories including worship paintings, congratulatory paintings, historical paintings, comics, proverbial paintings, landscape paintings and daily life paintings.
III - Tips when shopping in Hanoi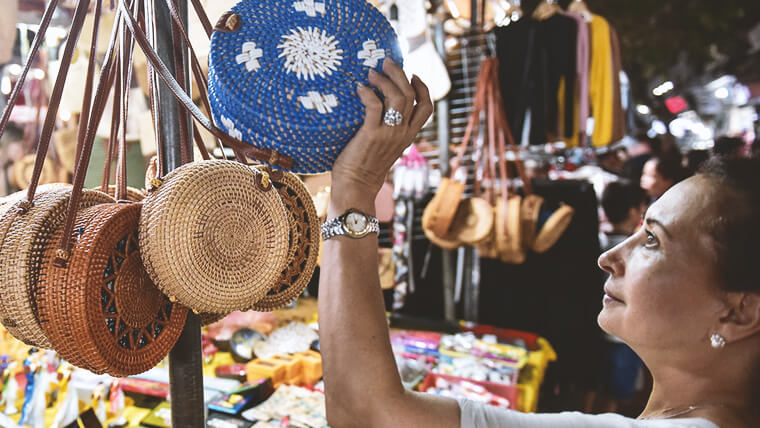 Tourists shopping in the street - Source: Vietnamnet
- Taking a taxi or walking to explore the most shopping places in the Hanoi Old Quarter to enhance your shopping places.
- Remember to research before buying some valuable products.
- Trying to negotiate to get a better price, especially when you tend to buy more than one item. However, you should not bargain in the early morning, or when you are the first customer.
- Note for exchange rate: 1USD = 23,200 VND
- Cash is very convenient when shopping at the local markets.
This article is to answer the questions: what to buy in Hanoi, what should I buy in Hanoi, where to shop in Hanoi Vietnam, what are the best places to shop in Hanoi… It is obvious that shopping in Hanoi Vietnam is the top thing to đo besides sightseeing or exploring the cuisine. Hope this guide is helpful to you when visiting Hanoi, Vietnam.