Hanoi, the capital city of Vietnam, is a vibrant and bustling metropolis that offers a wealth of shopping opportunities. Whether you're looking for unique souvenirs, traditional handicrafts, or trendy fashion items, there is something for everyone in Hanoi's many markets, boutiques, and shopping malls. Strolling along the old streets, and visiting the local markets or dropping off at the antiques, you can find tons of nice things to buy in Hanoi. In this article, we'll take you on a tour of the best places for shopping in Hanoi, as well as provide tips for bargaining, navigating the city, and finding the best deals.
I - Top things to buy in Hanoi
Source: Internet
Before we dive in, let's explore the charm of Hanoi by discovering the top things to buy in this vibrant city.
- Traditional Vietnamese Clothing: You can find a variety of traditional Vietnamese clothing in Hanoi, including the iconic "ao dai" (long dress). These can be found in various markets and shops throughout the city.
- Vietnamese silk products: Hanoi is known for its silk products, including silk scarves, ties, and clothing. Hang Gai Street is famous for silk products.
- Lacquerware: Lacquerware is a traditional Vietnamese handicraft that involves coating wooden items with layers of lacquer to create a glossy, durable finish. You can find lacquerware in various shops and markets throughout Hanoi.
- Coffee: Vietnam is known for its delicious coffee, and you can find a variety of coffee shops and markets selling coffee beans in Hanoi.
- Ceramic and Pottery: Hanoi is home to several pottery villages, where artisans create beautiful ceramic and pottery pieces. You can find these in various markets and shops throughout the city.
- Handmade Crafts: Hanoi is home to several markets selling handmade crafts, including jewelry, bags, and accessories. The Dong Xuan Market is a popular spot for handmade crafts.
- Vietnamese Conical Hat: Also known as "non la," this traditional hat is made from palm leaves and is a popular souvenir for visitors to Hanoi.
- Paintings: Hanoi is home to several art galleries and markets selling paintings by local artists. You can find a range of styles, from traditional to contemporary.
- Hanoi local food: Hanoi is famous for its street food, and you can find a variety of delicious snacks and meals in the city's many food markets and stalls.
II - Top local markets for shopping in Hanoi
1 - Dong Xuan market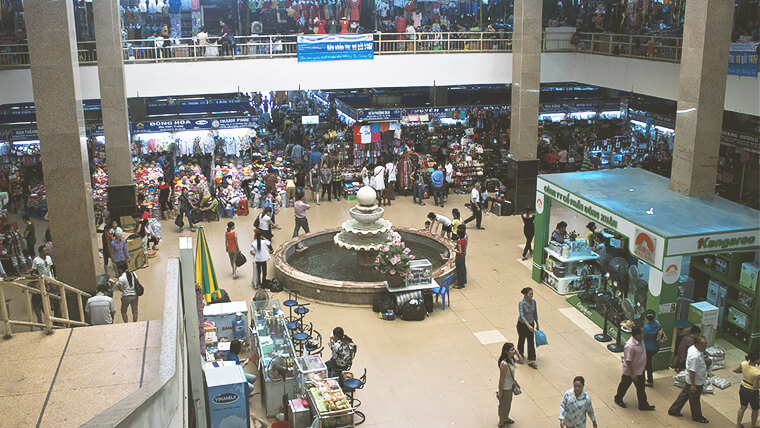 Dong Xuan market - Source: Matyas Rehak
Convenience stores, supermarkets or shopping malls are great places for quick shopping. However, to have more experience about the local culture & lifestyle, the markets are the best places to visit where you find lots of local products and exotic food. Dong Xuan market is the best place for shopping in Hanoi, with a history of hundreds of years consisting of 3 floors selling various kinds of goods:
- The first floor: clothes, shoes, accessories, and electronics
- The second floor: If you want to buy some souvenirs from Hanoi, this floor is an ideal place with fabrics, brocade, silk, and so on.
- The third floor: Children's clothing area
This is the largest and busiest traditional market located in the north of Hanoi Old Quarter, with the day market providing all kinds of commodities from food to fabric and souvenirs. At weekends, the night market is open to sell more specialties and items for tourists, an ideal place for shopping and a great food tour in Hanoi at night.
- Location: No.1 Dong Xuan street, Hoan Kiem district
- Opening hours: 5am - 6pm
- Night market: 6pm - 0am on Friday, Saturday, and Sunday
2 - Hanoi weekend night market
Source: Vntrip
In addition to Dong Xuan market, there are also many other places where you can experience shopping in Hanoi on weekend evenings. The most famous is the Hanoi Old Quarter night market, located on a street stretching 3km from Hang Dao Street, cutting through Hang Khoai and Hang Giay. This is considered the busiest market in the city with more than 4000 stalls selling a variety of products, from clothes, shoes, to handicrafts. Visiting the Old Quarter night market, you can also explore the beauty of culture and art here, enjoy special cuisine with all kinds of specialties.
- Opening hours: 6pm - 11pm on weekends - Friday, Saturday and Sunday.
3 - Secondhand market in Hoang Hoa Tham street
If you want to experience a different type of shopping in Hanoi, this antique and second-hand market on Hoang Hoa Tham street is the place you cannot miss. Located deep in an unnoticed alley, this place is characterized by a faint scent of incense floating, melodious classical music and small smoky cups of coffee. With an area of only 400m2, this market will take you back in time with a variety of items from all periods. You can see from the brass bowl, the subsidized era oil lamp, to the mifa bicycle, the Soviet clock, the ancient handmade enameled ceramic plate, and so on.
This antique market on Hoang Hoa Tham street is a space often held on weekends for antique enthusiasts in general, and antique watch enthusiasts in particular. There are countless shops selling hundreds of watches and clocks, each of which contains a memory of the past that even if you have no need to buy, the seller here still enthusiastically explains it. This is a place not only for shopping in Hanoi for exciting antiques, but also for you to learn about the ancient cultural values of this country.
- Address: No.654 Hoang Hoa Tham Street, Vinh Phu Ward, Tay Ho District
- Opening hours: Weekends on Saturday and Sunday.
4 - Gioi Market - top flea market in Hanoi
Coming to shopping in Hanoi, you cannot ignore one of the most unique markets in this city - Gioi market. Also known as Hoa Binh market, this place is the oldest temporary market that has existed since 1954, selling all kinds of accessories even no longer manufactured. What sets this place apart from other markets in Hanoi is its "only selling fake products" title - it's not easy here to actually buy cheap and good stuff. However, this place still attracts many people to buy in the hope of "finding the gold in sand," successfully buying really valuable items at surprisingly cheap prices.
- Address: No.33 Thinh Yen Street, Hue Street Ward, Hai Ba Trung District
- Opening hours: 8am - 7pm
III - Top places for shopping in Hanoi Old Quarter
The Hanoi Old Quarter is the perfect place to start your shopping adventure. This historic district is filled with narrow streets and alleyways lined with shops and vendors selling everything from street food to clothing, jewelry, and souvenirs. Each street in the Old quarter is famous for one typical item. Be prepared to bargain hard and keep an eye out for pickpockets. Here below are the most famous street for shopping:
- Hang Ma Street - Traditional handicrafts and decorations
Stretching from Hang Duong street to Phung Hung street with a length of 340m, Hang Ma street is one of the most colorful & bustling streets in Hanoi, especially on special holidays like the Mid-Autumn Festival, Lunar New Year, Christmas,... with lots of decor items. When experiencing Hanoi Old Quarter shopping at Hang Ma street, you have a chance to experience the cultural identity of Vietnamese through the traditions of consuming.
- Hang Gai Street - Silk products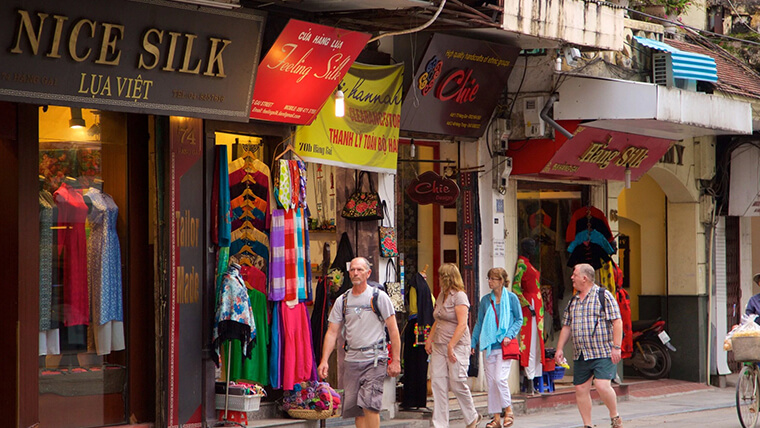 Hang Gai street is known as the "silk street" in Hanoi - Source: Expedia
If you are wondering where to go shopping in Hanoi then do not hesitate to visit Hang Gai street. Located between Hang Bong street and the Cau Go street, Hang Gai street is well-known as a silk street with unique products woven by talented craftsmen. There are lots of shops and galleries selling silk products such as clothing, fabric and souvenir items.
Hanoia - best place for lacquerware products
If you are interested and want to shop in Hanoi for lacquer products, this is a brand and address that you cannot ignore. Hanoia has skilled artisans who, with dedication, persistence and craftsmanship, create special products of technical and aesthetic innovations. Coming here, you can buy lacquer products with new materials such as mache, pearl, silk, ceramic and glass, with more than 500 color effects and shades.
- Address: No.56 Ly Thai To Street, Trang Tien Ward, Hoan Kiem District
- Opening hours: 8:30am - 8pm
- Website: hanoia.com/
Hang Da Street - Leather products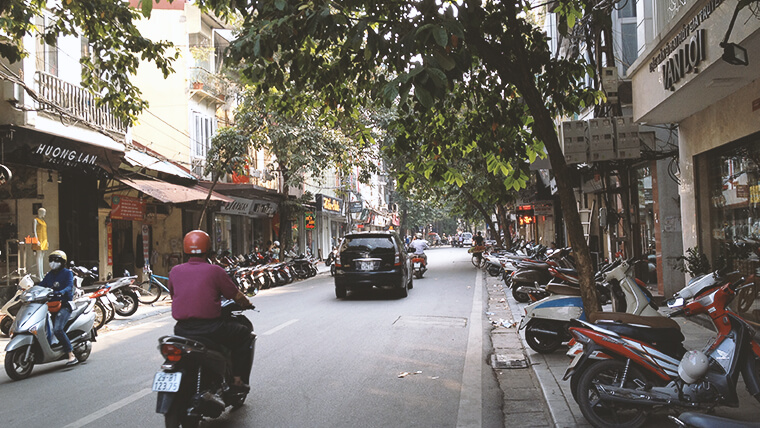 Hang Da street - Source: Wikimedia
From 900m from Hoan Kiem Lake, Hang Da street is less than 250m long. This best place for shopping in Hanoi is very famous for leather goods and other kinds of products such as fruit, household appliances. And Hang Da commercial center (Hang Da plaza) is an ideal place for shopping as well as enjoying Hanoi food.
- Location of Hang Da commercial center: Hang Da street, Hoan Kiem district
- Opening hours: 10am - 8pm
- Website: hangdaplaza.com.vn
Collective Memory
Also known as The House of Curios, this is an interesting shopping spot in Hanoi for those who want to find something to bring back after the trip to give to friends or relatives. Collective Memory is a gift shop selling unique souvenirs and crafts, many of which are created by experienced designers and imbued with local identity.
- Address: No.12 Nha Chung Street, Hang Trong Ward, Hoan Kiem District
- Opening hours: 10am - 7pm
- Website: collectivememory.vn/
IV - Top convenience store & malls for a quick shopping in Hanoi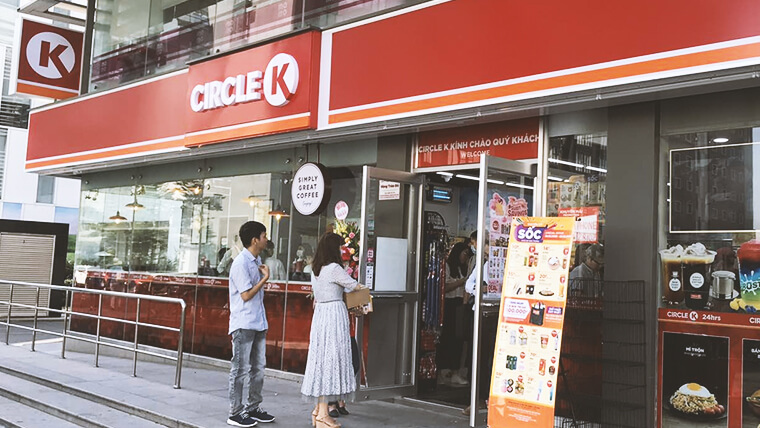 A brand of Circle K in Hanoi - Source: Circlek
Not only can you find the top popular convenience store chains like Circle K, Winmart, Family mart, 7-Eleven, and MiniStop in Hanoi, but the city also boasts a plethora of large shopping malls where you can find everything you need. From fashion to electronics, these malls offer a variety of products and services that cater to locals and tourists alike. Here below are top 5 best shopping malls for the best shopping in Hanoi: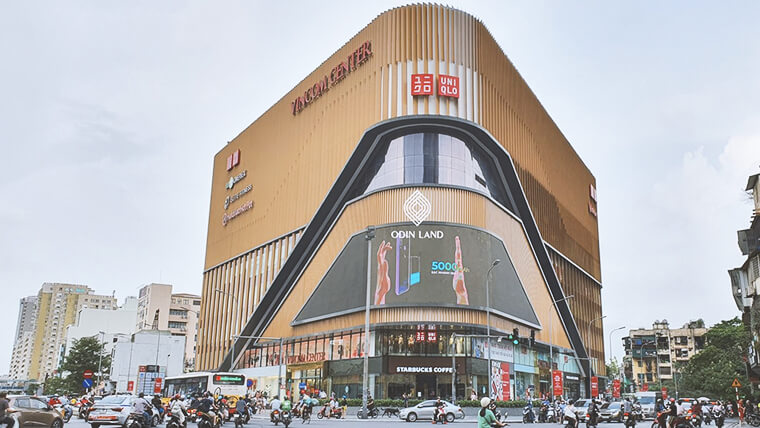 Vincom Center - Source: Odinland
- Vincom Center: This is one of the most well-known shopping centers in Hanoi, with a wide variety of stores selling everything from luxury brands to everyday essentials.
- Lotte Center Hanoi: This is a modern shopping mall with multiple floors of shops, restaurants, and entertainment options. It's also home to a cinema and an observation deck with panoramic views of the city.
- Trang Tien Plaza: Located in the heart of Hanoi's Old Quarter, Trang Tien Plaza is a high-end shopping mall with a focus on fashion and luxury goods.
- Royal City Mega Mall: This is a large shopping complex with more than 200 stores, as well as a cinema, indoor ice-skating rink, and bowling alley.
- Times City Mega Mall: This is another massive shopping center with a wide variety of shops, restaurants, and entertainment options, including a water park and indoor amusement park.
V - Shopping in Hanoi suburban at famous traditional craft villages
Hanoi, the capital city of Vietnam, is known for its rich cultural heritage and traditional crafts. The city is home to several traditional craft villages that have been passed down through generations. Here are some of the most notable traditional craft villages in Hanoi: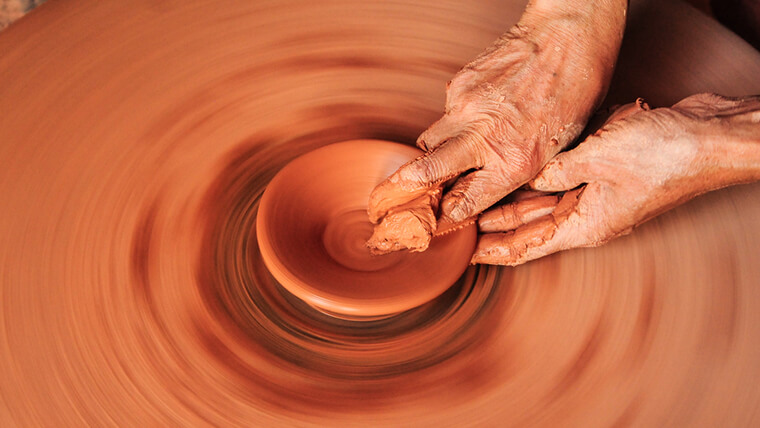 Top most famous villages in Vietnam - Source: VnExpress
Located in Bat Trang commune, Gia Lam district, Bat Trang ceramic village has existed for about 500 years and is a top-rated place for shopping in Hanoi. This is one of the most famous traditional villages in Vietnam which remains a pottery making tradition. Bat Trang ceramic products are highly appreciated for their quality and types.
Bat Trang is an ideal place to shop in Hanoi where you can also experience the pottery making process, joining & self-making some items under the guideline of professional craftsmen.
Van Phuc Village is a well-known silk making village in Vietnam. This thousand-year traditional silk village is located in Ha Dong district, about 10km from the center of Hanoi. Van Phuc village still preserves its traditional identities with various embroidery patterns, impressive details, symmetrical lines, and durable quality to make the high quality silk products, which are interesting things worth shopping in Hanoi.
Dong Ho is one of the most ancient and long-standing Vietnamese painting villages, which is located in Bac Ninh province (about 25km from Hanoi). The craft village was recognised as the national intangible cultural heritage site. Artists use traditional printing techniques to create several categories including worship paintings, congratulatory paintings, historical paintings, comics, proverbial paintings, landscape paintings and daily life paintings.
4 - Chuong conical hat village
To shop in Hanoi for the best and most standard conical hats, nothing is more suitable than coming to the traditional hat making Chuong village. Located in Chuong My district, about 30km from the city center, this is the residence of a community next to the Day River, famous for its diverse and sturdy cone hat products. Chuong village still retains the beauty of a traditional craft village, with a market held on fixed days every month - the price is about 50,000 - 70,000 VND for a conical hat ($2.13 - 3).
VI - Insider tips when shopping in Hanoi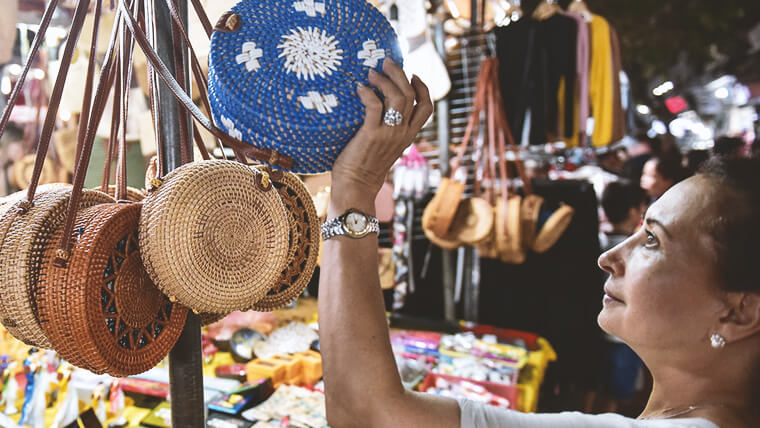 Tourists shopping in the street - Source: Vietnamnet
- Bargaining: To get a better price, bargaining is advisable, especially if you plan on purchasing multiple items. However, it's best to avoid bargaining early in the morning or when you're the vendor's first customer. In many of the markets and street vendors in Hanoi, bargaining is expected. Don't be afraid to haggle with the vendors to get a better price. It's all part of the fun and can lead to some great deals.
- Authenticity: When shopping for souvenirs in Hanoi, it's important to make sure they are authentic. Many vendors sell cheap imitations of traditional items, so be sure to do your research and only buy from reputable sellers. You can also ask for a certificate of authenticity to ensure you're getting the real deal.
- Cash: While many places in Hanoi do accept credit cards, it's always a good idea to carry cash when shopping. Some smaller vendors may not accept cards, and bargaining is usually done in cash. Note for exchange rate: 1USD = 23,500 VND
- Timing: If you're planning on visiting the night markets, be sure to go early. The crowds can be overwhelming later in the evening, and you'll have a better chance of finding the best deals if you arrive early.

Hanoi's shopping scene offers something for everyone, from traditional markets to modern malls, with unique souvenirs, local handicrafts, and high-end fashion brands. Whether you're a seasoned shopper or just looking for a unique souvenir, Hanoi has it all. Soak in the vibrant culture of Hanoi and take home a piece of the city with you. With so many shopping options to choose from, we hope this article has provided you with a comprehensive guide to make the most of your happy shopping in Hanoi.