It is obvious that massage in Hanoi is one of the top things to do for relaxing that you can find easily on any street. There is a wide range of services from moderate with inexpensive wellness centers in Hanoi Old Quarter, to the luxurious body treatment & massage services at the luxury 5 stars hotels in Hanoi city center. Enjoying a mind & body retreat through a traditional massage to a quality therapy session is the best thing to do in Hanoi after a day of the fullest experience.
I - Popular massage in Hanoi Vietnam
1 - Foot massage Hanoi
Best foot massage Hanoi - Source: Spaarima
In the concept of Chinese medicine, each area of the body is related to a position on the soles of the feet. If the feet are strong, the whole body is healthy. Foot massage helps the circulation and blood circulation to the heart more easily, also relaxes the feet and helps soften the skin of the feet.
2 - Body massage in Hanoi
Body massage is a simple way to help you completely dispel the fatigue in the body. Thanks to the physical impact, it stimulates the muscles to quickly recover, improves blood circulation and helps dispel stress and fatigue. In addition, full body massage also helps smooth, strong skin by impacting and stimulating collagen production.
3 - Thai massage Hanoi
Thai massage in Hanoi is a popular relaxation massage therapy. Thai acupressure massage helps circulation and helps the body to be healthier. That is the reason why Thai massage has great effects to help relieve stress, fatigue and quick recovery of health.
4 - Blind massage Hanoi
Offering visitors with affordable price and attentive service. The diligence and thoughtfulness of the staff always make customers satisfied. Some places for having Bind massage in Hanoi Vietnam:
- Traditional Massage: No.29 Hong Ha street, Hoan Kiem district
- Hoang Kim Blind Massage: Alley 639 Hoang Hoa Tham street, Ba Dinh district
- Midori Spa: No.66 Ngo Quyen street, Hoan Kiem district
5 - Home massage Hanoi
Customers of massage services at home are often those who do not have time or are at home with a familiar and comfortable space. Massage services at home are priced from 1,300,000 - 1,600,000 VND / 60 minutes ($57-70).
Massage Tai Nha:
- Contact: 0904 319 899 - 0904 319 899 (Ms.Ut)
- Open hours: 8am - 11pm
II - The best massage in Hanoi City
Hanoi - one of the oldest capital cities in the world, has lots of fantastic things to offer tourists. And, after a day of fully exploring top tourist spots & corners of the city, dropping off for a massage is definitely one of the best things to do in Hanoi. It will be a great time to relieve all the tiredness, and recharge your mind & body. Let's check out top places for a Hanoi vip & budget massage here:
1 - Oasis Hotel - top 5 Hanoi massage places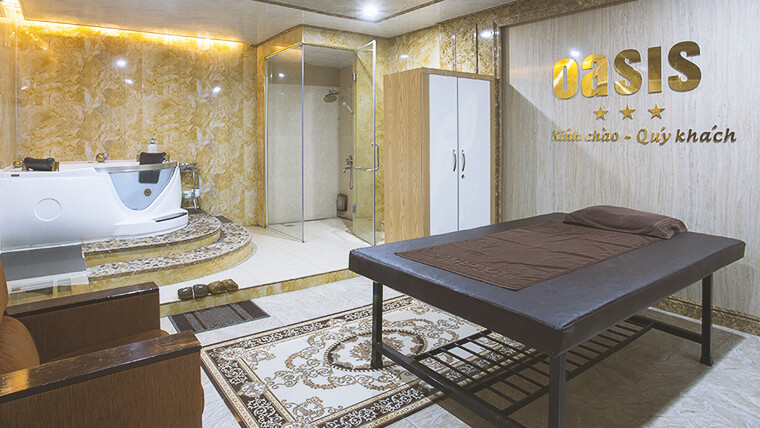 Body to body massage Hanoi in Oasis Hotel - Source: Oasishotel
Massage service at Oasis Hotel offers you the best-relaxed experience. The hotel has more than 40 massage and sauna rooms equipped with modern equipment. Oasis Spa offers a massage service which is a harmonious combination between the Japanese and Vietnamese Massage therapy. The natural ingredients and the attentive methods at Oasis Hanoi massage are used to relax your body and spirit.
- Address: No.19 Lang Ha Street, Ba Dinh District
- Price: 500.000 - 1,000,000 VND / 2 hours ($22 - 44)
- Hotline: 0243 5143 888
2 - Top massage in Hanoi: Fortuna Hotel
Located on the 17th floor of the hotel, Spa De Palace in Fortuna Hotel is a quality spa room equipped with a shower, whirlpool, and sauna. This is a quiet and peaceful place for you to experience a good massage. Experienced therapists with unique treatments will bring you the most relaxing moments.
- Address: 6B Lang Ha Street, Ba Dinh district, Hanoi
- Price: 300,000 - 1,000,000 VND / 2 hours ($13 - 44)
- Hotline: 024 3831 3333
3 - Hanoi Hotel
If you are finding a nice place for a massage in Hanoi then do not skip Hanoi Hotel. The Fixx Spa service at Hanoi Hotel has modern space, amenities and good services, it also has a team of professionally trained and experienced massage technicians to help you have moments of relaxation.
- Address: D8 Giang Vo, Ba Dinh district, Hanoi
- Price: 500,000 - 1,00,000 VND / 2 hours ($22 - 44)
- Hotline: 0888 831 158
4 - Huong Sen Massage Hanoi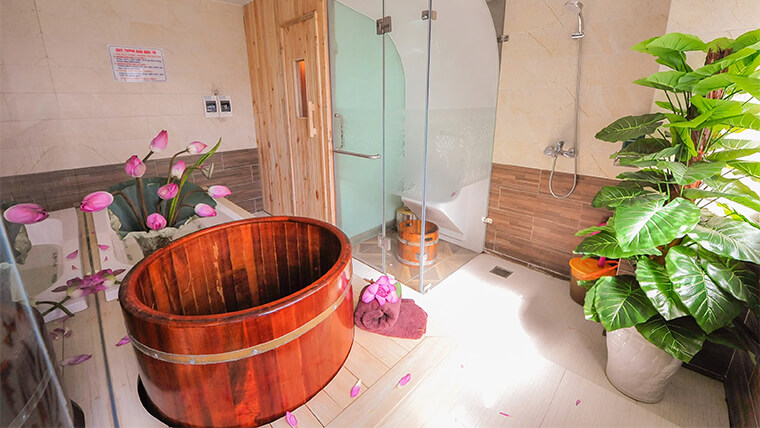 Huong Sen is one of the best Hanoi massage places - Source: Huongsenhealthcare
Huong Sen is a great place to experience massage in Hanoi that is popular with both locals and international tourists. With professional staff, luxurious space, and modern facilities, Huong Sen spa & massage offers guests the experience of soaking in the Red Dao's wooden tubs, quality saunas & massage therapy. This is really one of the worth-trying nightlife in Hanoi.
- Address: No.78 Yen Phu Street, Tay Ho District
- Price: 300,000 - 500,000 VND / 75 - 120 minutes ($13 - 22)
- Hotline: 035 318 3888
5 - Sen Tai Thu - Hanoi vip massage
An ideal place for a relaxing & vip massage in Hanoi with a variety of service packages suitable for all tastes and all needs of visitors. In particular, there are many therapies good for neck & back pain,... Some experiences that visitors can try are: salt stone sauna, herbal bath,...
- Address: No.49 Thai Thinh Street, Thinh Liet Ward, Dong Da District
- Price: 200,000 - 500,000 VND / 35 - 120 minutes ($8.6 - 21.55)
- Hotline: 0906 169 926
Hopefully, with the information that we have synthesized and analyzed, you have a better understanding of massage in Hanoi. If you have any questions about Hanoi tourism, let us know!