In the list of hundreds and thousands of dishes of traditional Vietnamese culinary culture, Hanoi cuisine is famous for its diversity in ingredients and sophistication in processing. Along with beef pho, grilled turmeric fish stir-fried with dills & green onion (Cha Ca La Vong or Hanoi-style grilled fish) is highly recommended as a must try dish in Hanoi. Vietnamese cha ca is a bit complicated in cooking, but the taste is so incredible and worth-trying to all gourmets. So, what makes this dish special, let's check it out on the post below.
I - The origin of Vietnamese cha ca
To talk about the origin of this specialty of Hanoi, we have to go back to the French colonial period, in the 19th century. At that time, living at 14 Hang Son Strete, Hanoi, the Doan family had the secret of making delicious grilled fish dishes that were often used to treat their guests.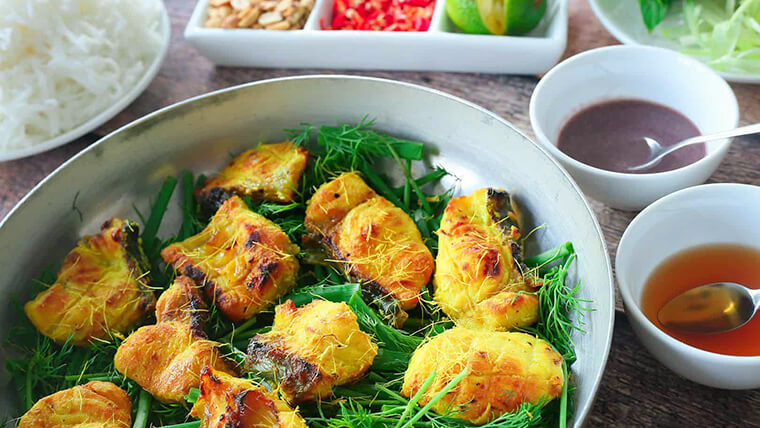 Vietnamese cha ca is favored by many tourists - Source: bestprice
In the grilled fish restaurant of the Doan family, there is a statue of Mr. La Vong (another name of Jiang Ziya - a prominent military advisor in Chinese feudal history) sitting and fishing, a symbol of a talented person waiting for his time to do great things. After that, the grilled fish restaurant of the Doan family changed its name to Cha Ca La Vong restaurant, and the name of the restaurant also became the name of the dish that is remembered forever. Over time, Hang Son Street was renamed Cha Ca Street as it is now, reminiscent of the traditional dish of the Doan family.
II - How does Vietnamese cha ca taste?
Vietnamese turmeric fish with dill is a sophisticated dish, requiring high skills and carefully selected ingredients to make the most authentic dish. The main indispensable ingredient of this dish is fresh hemibagrus (a genus of catfish) because it has few bones, sweet flesh, and a very unique aroma. Previously, the Doan family also used Anh Vu fish caught at the confluence of Bach Hac river (Viet Tri city - Phu Tho Province), but this fish is seasonal, very rare, and expensive. Therefore, easier-to-find fishes such as catfish or snake-head fish will be used to make Vietnamese cha ca.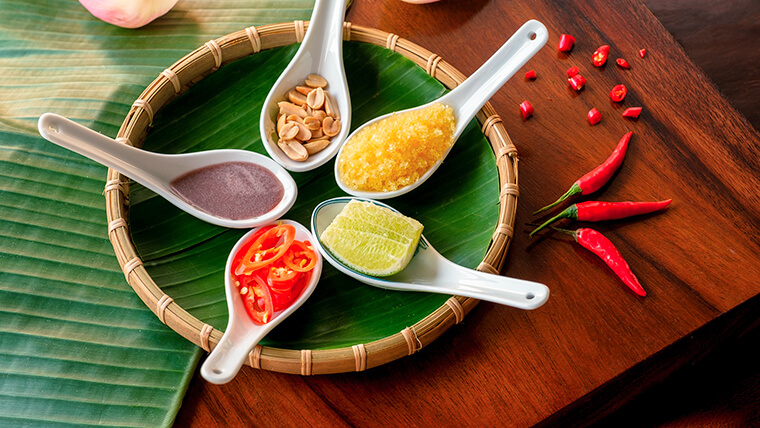 Seasoning for Cha ca La Vong - Source: @chacadevuong
The fish needs to be cleaned and its meat is carefully filtered from the sides, thinly sliced​​, and marinated with galangal, turmeric, batch rice, pepper, and shrimp paste in a special esoteric way for 2 hours. The marinated fish meat will be clamped on a bamboo pair or a griddle covered with a layer of fat to prevent sticking, and then grilled on charcoal. The griller must continuously fan the fire and turn the griddle over so that the fish meat is evenly golden on both sides and has an attractive aroma.
Vietnamese cha ca should be eaten when it is hot, usually with dill, thinly sliced ​​green onion, vermicelli, grilled rice papers, roasted peanuts, coriander, and basil. There is also shrimp paste, which is whipped with a mixture of fresh lemon juice, fat, sugar, white wine, and chili, with a little Ca cuong essential oil (Lethocerus indicus essential oil) added. If you can't eat shrimp paste, you can replace it with fish sauce, but it will more or less make the taste of Cha ca La Vong Hanoi less flavorful.
When it's time to eat Vietnamese cha ca, the cook will pour the grilled fish into a pan of boiling fat on the charcoal stove in the middle of the dining table, not with cooking oil due to the lower temperature which is less delicious. Onions and dill are also added and stirred until cooked, then put in a bowl with vermicelli and vegetables, sprinkled with roasted peanuts and shrimp paste. When eaten, the unique aroma of shrimp paste blends with the sweetness of grilled fish, the freshness of vegetables, and the fleshy taste of roasted peanuts.
Another way to eat Vietnamese cha ca is to put grilled fish, onions, and vegetables in a bowl, then pour boiling fat on top and use it immediately. This method is often served with baked rice paper and should be done just enough to eat, otherwise, the fish will lose its heat as well as taste. Some people even put vermicelli into the pan and quickly stir it with fish, dill, and scallions and then pour it into a bowl, which is very hot and delicious but quite fatty. Due to the high-fat content, when eating Vietnamese turmeric fish with dill, it is often accompanied by chopped fresh onion stalks soaked in diluted vinegar. This dish can be served with wine and is suitable for cold weather, and for hot weather, beer is recommended.
III - Top 4 best places to enjoy Vietnamese cha ca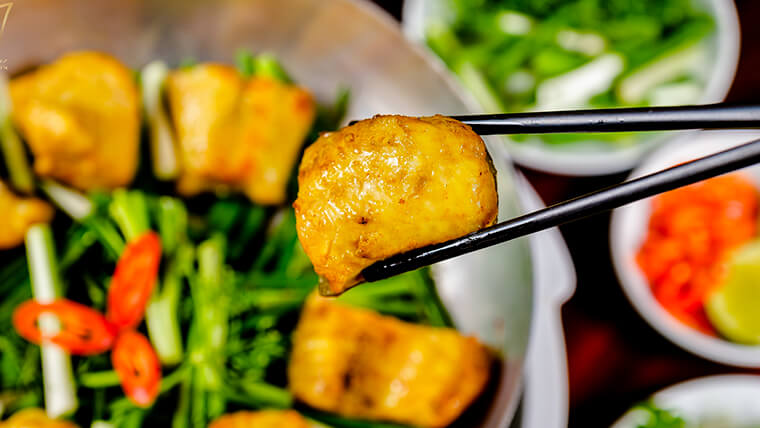 This is one of the most famous restaurants in Hanoi - Source: @chacadevuong
Here are some famous restaurants that serve delicious Hanoi turmeric fish with dill with the original flavor that you can refer to:
1 - Cha Ca La Vong Restaurant
After 150 years of establishment and development, Cha Ca La Vong Restaurant still retains its traditional flavor. This place has become a familiar destination for those who are on a culinary discovery journey when visiting Hanoi.
- Address: No.107 Nguyen Truong To Street, Quan Thanh Ward, Ba Dinh District, Hanoi
- Price: 30,000 - 110,000 VND / portion ($1.33 - 4.86)
- Opening hours: 8am - 11pm
2 - Cha ca Thang Long Restaurant - top places to enjoy Vietnamese cha ca
Visited by a lot of foreign tourists as well as Hanoians, this Hanoi grilled fish restaurant is located in the Old Quarter with a very airy space. Here the fish's skin is kept intact by the chefs, so the grilled fish has a certain crunchy and unusually delicious taste.
- Address: No.19-21 Duong Thanh Street, Cua Dong Ward, Hoan Kiem District, Hanoi
- Price: 140,000VND / portion ($6)
- Opening hours: 8:45am - 10:30pm
- Website: chacathanglong.vn
3 - Cha Ca Kinh Ky Restaurant
Cha Ca Kinh Ky restaurant has existed for quite a long time with a luxurious space of elegant and airy dining rooms, along with Vietnamese cha ca with a typical flavor of the ancient period. In addition, the restaurant also serves many other extremely attractive dishes made from fish such as Lang fish head hot pot or Kinh Ky crispy fish hotpot.
- Address: No.41 Huynh Thuc Khang Street, Lang Ha Ward, Dong Da District, Hanoi
- Price: 50,000 - 110,000 VND / serving ($2.2 - 4.86)
- Opening hours: 9am - 10pm
4 - Cha Ca Lao Ngu Restaurant
People come to Cha Ca Lao Ngu restaurant not only because of the small space decorated cozy with the traditional style of old Hanoi but also because of the delicious menu - the Vietnamese turmeric fish with dill here is made from catfish that is both greasy and has soft meat.
- Address: No.171 Thai Ha Street, Lang Ha Ward, Dong Da District, Hanoi
- Price: 50,000 - 110,000 VND / serving ($2.2 - 4.86)
- Opening hours: 10:30am - 2pm & 5:30pm - 9:30pm
From rustic to high-class dishes, Vietnamese cuisine is always diverse and specially attractive. As one of the dishes that can be said to be the quintessence of this cuisine, Vietnamese cha ca or Chả cá Lã Vọng is a famous specialty in Hanoi, with bold traditional features that can satisfy anyone.