Lao Cai Vietnam is a province in the North of Vietnam, bordering its north with China. The west of this province borders Lai Chau Province while the South adjoins Yen Bai province and the East boundary is adjacent to Ha Giang province.
- Total area: 6.364,02km2
- Population: 705.600 people (2018)
- Main tribal groups: Hmong, Dzao, Tay, Giay, Thai
- Administrative units: Lao Cai City, Sapa Town, Bao Thang District, Van Ban District, Bao Yen District, Bac Ha District, Bat Xat District, Muong Khuong District, Xi Ma Cai District.
I - How to travel from Hanoi to Lao Cai Vietnam?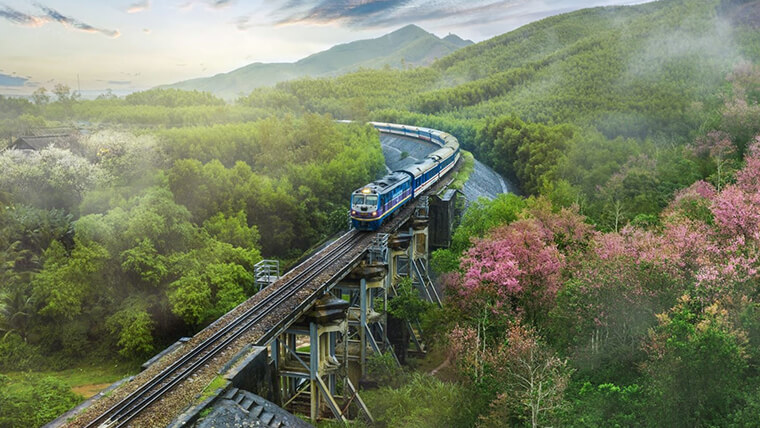 Traveling by train is an amazing journey - Source: Hong Lua
This province is about 286km to the northwest of Hanoi and traveling by train or limousine is the most popular choice.
1 - Traveling by train
- Departure: Hanoi railway station - No.120 Le Duan Street, Dong Da District, Hanoi
- Arrive: Bao Ha railway station - Bao Yen Ward, Lao Cai City
- Travel time: 8 hours
- Train ticket price: from $6 - 12
- Booking train ticket at agencies: Oriental Express Train, King Express Train, New Livitrans Express, Violette Train, and Victoria Express.
- For further information, please visit: https://dsvn.vn
2 - Traveling by bus from Hanoi to Lao Cai Province
Travel time is about 6 hours and you can refer to some bus service providers below:
Sapa Limousine VIP
- Pick-up point: building No.2 Tran Quy Kien Street, Dich Vong Ward, Cau Giay District, Hanoi at 6:30am and 7am
- Drop-off point: Bao Ha Commune, Lao Cai City or Sapa Town
- Contact: 0987 67 22 78
- Fare: 330,000 VND/person ($14.22)
En Vang Limousine
- Pick-up point: No.2 Nguyen Hoang Street, Nam Tu Liem District, Hanoi at 6.30am and 7:15am
- Drop-off point: Sapa Bus Station or Sapa Stone Church in Sapa Town
- Contact: 0835 62 09 09
- Fare: 320,000 VND/person ($13.8)
Sao Viet sleeper bus
- Pick-up point: No.7 Pham Van Dong street, Bac Tu Liem District, Hanoi
- Drop-off point: No.333, Ga Square (Pho Moi), Lao Cai City
- Frequency: 12 trips/ day from 5.30am to 00:00am every day
- Contact: 1900 6764
- Fare: 370,000 VND/person ($16)
Ngan Ha sleeper bus
- Pick-up point: My Dinh Bus Station, My Dinh Ward, Nam Tu Liem District, Hanoi at 6.50am, 0pm, 9pm, 10pm
- Drop-off point: No.577 Dien Bien Phu Street, Sapa Town
- Frequency: 12 trips/day
- Contact: 1900 88 86 84
- Fare: 250.000 VND/person ($10.77)
II - How is the weather in Lao Cai Vietnam?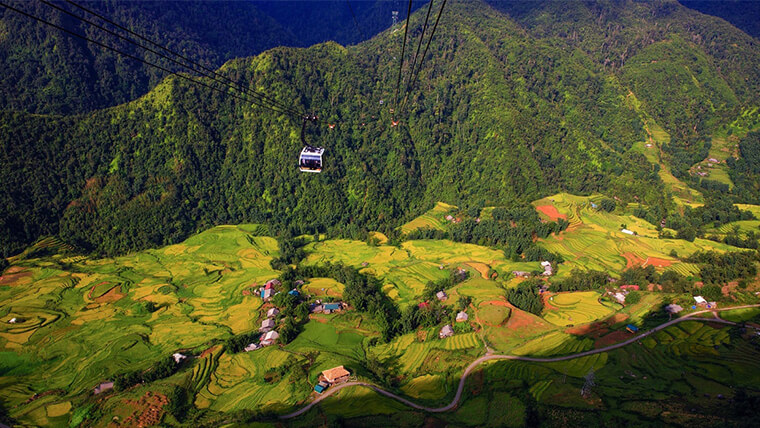 There are 4 seasons (spring, summer, fall and winter). The summer is not so hot, while in the winter, the climate is strongly affected by winter cold & dry winds. The extreme weather phenomena such as frost and frozen, or snowy, seriously affect the daily life of the locals and the tourism activities as well.
Temperature:
- Annual average temperature: 22 - 24oC
- Lowest temperature: below 0°C
Humidity: 75 - 90%
Precipitation: 1700mm
Other characters of the weather:
- Snow: In the winter, the weather is strongly affected by the northeast monsoon and drizzles create the snow.
- Fog: the dense foggy days last from late December to February.
Temperature and rainfall by month in Lao Cai Province Vietnam (statistics in 2018):
| | | |
| --- | --- | --- |
| Month | Temperature (°C) | Rainfall (mm) |
| 1 | 15.7 | 22 |
| 2 | 17 | 33 |
| 3 | 20.7 | 53 |
| 4 | 24.2 | 129 |
| 5 | 27 | 171 |
| 6 | 27.9 | 239 |
| 7 | 27.9 | 302 |
| 8 | 27.5 | 355 |
| 9 | 26.3 | 222 |
| 10 | 24 | 153 |
| 11 | 20.2 | 54 |
| 12 | 17 | 27 |
| Average/Total | 23 | 1.764 |

So when is the best time to visit Lao Cai Vietnam?
- From January to March: This time is the ripe rice season. You can choose to go sightseeing in Y Ty Commune in Bat Xat District and then return to Sapa to rest. Y Ty cloud hunting season is always an attractive topic for young people but it depends a lot on the weather as well as luck, around March-April is a good choice. The Lao Cai weather at this time is a bit chilly, little rain, not too humid so if you want, you can climb Bach Moc Luong Tu Mountain.
- From August to September: This is time for beautiful plum blossoms, but the weather is a bit cold and the humidity in the air is high sometimes. Usually, it is most appropriate to travel to Lao Cai Vietnam around April - August to relax, as at this time of the year the weather is mostly sunny, you just need to pay attention to avoid rainy and windy occasions.
- From October to November: Dry season time for trekking and sightseeing.
- From December to January: In order to catch the snowfall in Sapa, you should pay attention to the year-end weather forecast. There is no fixed time frame, but depending on the year, there may be strong cold spells which result in a high possibility of snow.
III - Top 9+ attractions in Lao Cai Vietnam
The topographic division here is extremely complicated, with high mountains or low hills often divided by valleys or rivers. It is this difference in elevation and terrain differentiation that helps this province have many majestic and magnificent natural landscapes. In order to be convenient for sightseeing, exploring and conquering difficult pass roads, motorbikes are the most suitable means of transportation.
Motorbike rental price: 150,000 - 450,000 VND/day ($6.5 - 19.4).
Some motorbike rental shops in Lao Cai City Center:
366 Rent Motorbike
- Address: No.366 Khanh Yen Street, Pho Moi Ward
- Contact: 0888 36 09 99
Motorbike rental in Lao Cai - Viet Son
- Address: No.13 Kim Thanh Street, Kim Tan Ward
- Contact: 0919 21 79 71
Viet motorbike rental
- Address: No.346 Nguyen Hue Street, Pho Moi Ward
- Contact: 0962 90 63 93
Flamingo Motorbike
- Address: No.52 Phan Dinh Phung Street
- Contact: 0866 68 04 54
1 - Sapa Town - the most outstanding attraction in Lao Cai Vietnam
This "modest", quiet land conceals a myriad of miracles about nature and people, which highly attracts tourists globally. Sapa is characterized by majestic landscape with the harmonious combination of high mountains, and green forests, which creates a picturesque scenery.
The west of Sapa town is Hoang Lien Son mountain range, covered by fog every early morning. There are many attractive sites in Sapa Lao Cai like Silver Fall, May Bridge, Muong Hoa Valley, Cat Cat Village, etc. Besides, Sapa is also renowned for bustling fairs every Saturday night in H'Mong people, Dao people, Giay people. All of these fascinating factors make this place an ideal destination for people who are interested in discovering wild nature, customs, and lifestyles of these peoples.
2 - Bat Xat District - the ocean of clouds in Lao Cai Vietnam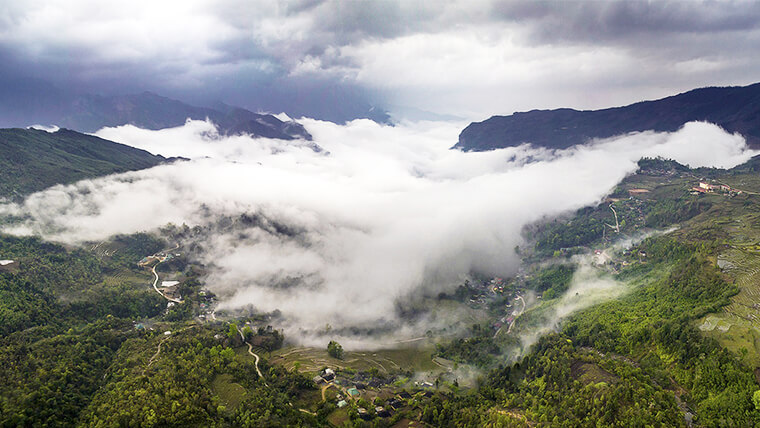 Bat Xat District - Source: VnExpress
Bat Xat is a highland district, sharing a border with Jinping district (China) in the North, Sapa in the South, Phong Tho district (Lai Chau, Vietnam) in the West and Hekou Town (China) in the South - about 11 km away from Lao Cai City. Bat Xat is a must-go spot for travelers who are fond of exploring nature and conquering mountain peaks such as Nhiu Co San and Ky Quan San.
Nhiu Co San mountain - 2,965m high mountain
This mountain belongs to Sang Ma Sao commune, Bat Xat District, Lao Cai Province, which makes this peak in the top 8 highest mountains in Vietnam. The temperature here is much lower than other mountainous areas, sometimes it reaches 0ºC and sleet can occur at any time.
This is an ideal place to "hunt" clouds as people would have the opportunity to admire mysterious forests submerged by mesmerizing sea of clouds and frost. The best time to visit Nhiu Co San Lao Cai is from October to March, when you can satisfy your passion of hunting clouds, flowers, and snow.
Ke Quan San mountain - 3,046m high mountain
Ky Quan San mountain is the fourth highest peak in Vietnam. Ky Quan San also called Bach Moc Luong Tu is the highest mountain in the range with a similar name, which is situated between Lai Chau and Lao Cai Province.
To reach the top of Bach Loc, you have to hike a 30-kilometer track in forests, going through numerous terrains such as clear hills, bamboo forests, and moss-covered cliffs. Although to hike to the top of the mountain is extremely challenging, it is a rewarding experience that you will never regret in your life.
Y Ty rice terrace
Rice terrace stands at the foot of Fansipan Mountain in Y Ty Commune, Bat Xat District, Lao Cai Vietnam. Y Ty is one of the most tourist attractions, especially in September when terraced rice fields are swamped by the bright yellow color of the crop.
However, if you would like to awe glistening green grass of these fields, let's visit Y Ty at the beginning of the rainy season when the rain has just started to fall down and water has been channeled into the terraces, which creates the stunning picture of nature in this rustic but charming area.
Coming to Y Ty Lao Cai, you will be strongly impressed by the beauty of terraced fields with golden brown color of the new land, the green of rice seedlings. The blue sky reflects its colors on the sparkling water surface. There are beautiful small shacks like in fairy tales interspersed with terraced fields, where people can take a rest after hard working time in the fields. Besides, The tents of the Ha Nhi people and Hmong are also the emphasis to decorate the whole "picture" of The Pa Valley, making it more robust.
Stone-paved Pavi pathway
The unspoiled almost 100 year-old Pavi pathway connecting Phong Tho District, Lai Chau Province and Bat Xat District, Lao Cai Province is hailed as a new promising trekking route of Vietnam. The stone path is located in the middle of a great forest with many historical and cultural sediments. On the way of exploration, you will go through a village, primeval forests, poetic bamboo forests, and waterfalls, etc.
To conquer the pathway, you will trek from the village of Sang Ma Pho, Lai Chau Province and then cross the forest where the pathway is almost unspoiled and well-preserved. Conquering the Pavi pathway in Lao Cai Vietnam, the trekker after passing the moss-covered rocky path will finally get to the old French airport at the foot of Nhiu Co San Mountain, which is also the end of the exciting journey.
If you are a nature lover and desire to jump in the time machine to come back to the past, this ancient stone pathway Pavi is the best choice for you.
Muong Hum market
Muong Hum market is located in the center of Muong Hum Commune, Bat Xat District, Lao Cai Province, 45 km away from Sapa. Muong Hum fair convenes every Sunday from about 7 a.m to 2 p.m with the participation of Ha Nhi people, Hmong people, Giay, Dao, Han. Here they can meet, communicate and trade many things from vegetables, food, clothes, or even exquisite gifts as souvenirs. The most noticeable feature of Muong Hum fair is maybe the colorful stalls filled up with textiles, fabric, ribbons. Coming to Muong Hum market in Lao Cai Vietnam, you have a chance to admire the colorful costumes of ethnic minority girls and women with many other accessories. The locals go to the hustling and bustling fair not only for business demands but also to have fun or even find out their love, therefore, it can also be regarded as an amusing festival for the young.
You can book a private car or taxi from Sapa Town to Muong Hum market, which takes about an hour and a half.
3 - Bac Ha District - land special markets in Lao Cai Vietnam
From Sapa Town, you can take a one day tour to visit Bac Ha District which is famous for unique fair and tribal trading activities.
Bac Ha market - one of the most famous fair market in Vietnam
Bac Ha Sunday Market is one of the hustling, colorful and lively markets in Vietnam, displaying all types of products from handmade to machine items including essential items, jewelry, dresses, brocade, etc. Thang co - H'mong's traditional dish, made from horse meat, pork, cow meat and their organs, is the most popular dish here.
Hoang A Tuong palace - a beautiful and unique historical relic
Hoang A Tuong Palace is located on high and dry land in the center of Bac Ha District, Lao Cai Province. The palace is perched on a large hill to the southeast, an ideal position following Feng-Shui theory. On both sides of the palace are mountains and face is a stream and massive mountain. The palace is designed in the combination of Asian and European architectural style, and functions as the fort to protect the tribal mandarin's family (Hoang A Tuong). Especially, behind the palace is a solid and secretive escaping tunnel. Hoang A Tuong Palace is obviously a must-visit spot in Lao Cai.
On the western side of the palace, laurels motifs are embossed on entrance gates, which symbolize happiness and prosperity. Besides, the palace is also decorated with arched railing doors, elegant pillars, round balustrades, staircases and tiled hallway. The main house has 2 stories and the main side is decorated with elaborate patterns. There are 2 parallel sentences on both sides. The palace attaches the historical and aesthetic values, which makes it an indispensable destination when coming to Bac Ha District.
Tien cave - one of the most outstanding attractions in Lao Cai Vietnam
Tien Cave is located in Bao Nhai Commune, Bac Ha District, about 6km on the poetic Chay River. To get to Hang Tien, you will go across Chay river by boat, viewing primeval forests, sheer cliffs in different shapes, and flowing water from cliffs on both sides, creating a picturesque setting. Then, a huge cave just like a glorious maze with various mysterious shapes appears in dim light. Moreover, there are huge sparkling-ancient towers-like stalactites combining with cool water streams, which create a magnificent scene, an airy and cool space.
4 - Si Ma Cai District - land of buckwheat flowers
Si Ma Cai District is situated in the Northeast of Lao Cai Province Vietnam, about 95km away from Lao Cai City. Si Ma Cai is considered as Sapa's twin with pure beauty of nature. Although Simacai has stayed unspoiled and kept its wilderness, it is still a tourist attraction that people flock to this area every year to discover the pristine vine of the district, especially standing in awe of the land of buckwheat flowers.
Buckwheat flowers
Admiring the beautiful buckwheat is one of the most interesting things to do in Lao Cai Vietnam. The blooming season starts exquisitely at the end of every Autumn. Lu Than commune is highly known for immense twenty - hectare hills of colorful buckwheat flowers, which make people fall in love from the very first sight. The shade of pink and purple mingles with fresh air and majestic mountains make a strong impression on tourists.
Can Cau market
Can Cau market is located in Can Cau Commune, Si Ma Cai District, Lao Cai Province, about 100km away from Sapa City, 15km away from the center of Si Ma Cai District.
Can Cau Market is held every Saturday from 6am until midday, for ethnic peoples such as H'mong, Phu La, Black Dao, Tay and Nung get together to buy, sell and display a variety of colorful items and tribal products.
Coming to Can Cau market in Lao Cai Vietnam, you have the chance to see an amazingly colorful picture. Everyone puts on their traditional costume of green checked headdress and multi-colored stitched garments. You can not miss the chance to take a photo of ethnic minorities' colorful stalls or hire traditional costume in Can Cau Market to indulge yourself in the hustling atmosphere and gain experience as local people.
5 - O Quy Ho Pass in Lao Cai - Top four greatest passes in Northwest Vietnam
O Quy Ho Pass is situated in Tam Duong District, Lai Chau Province and one third of Sapa Town. The pass is one in four great mountain passes in northwest Vietnam. It is also listed in the top 5 most daunting ones in Vietnam's northwestern region. O Quy Ho is also known as the Hoang Lien Son pass as the pass is located on Highway 4D across Hoang Lien Son range, connecting two provinces: Lao Cai and Lai Chau with each other. The pass is also called "Cloud" pass as it is always surrendered by clouds.
The pass is characterized by risky roads, a deep abyss and high mountains, which challenge any adventurous drivers. But when conquering the pass and reaching the top, you will receive a massive present which is majestic scenery of white clouds and spectacular mountains and endless sky with the grooming green fields and endless tracks around the mountains below.
IV - Other information about Lao Cai tourism
1 - Top 3 best food to try
Your trip cannot be fully enjoyed if you miss the "cuisine" of unique dishes in ingredients, cooking and enjoyment that you can only find here:
Muong pork - Or "Cắp Nách" pork
It is a little strange when hearing this dish - "Cap nach" pork, also called Muong - Sapa pork, is a mountainous specialty. The name stems from small size and the light weight of 10 to 20 kg, which leads to the fact that people can carry the pig under the armpit ("Cap nach" in English means "carry under the armpit"). If you visit Lao Cai Vietnam, don't forget to sample this specialty which will definitely impress you right from the first try. It is a home pig but raised in the field or in the forest, so its meat is very tasty, fatless, tender but sweetish.
Price 100,000 - 300,000 VND/ dish ($4.3 - 13)
Salmon hot pot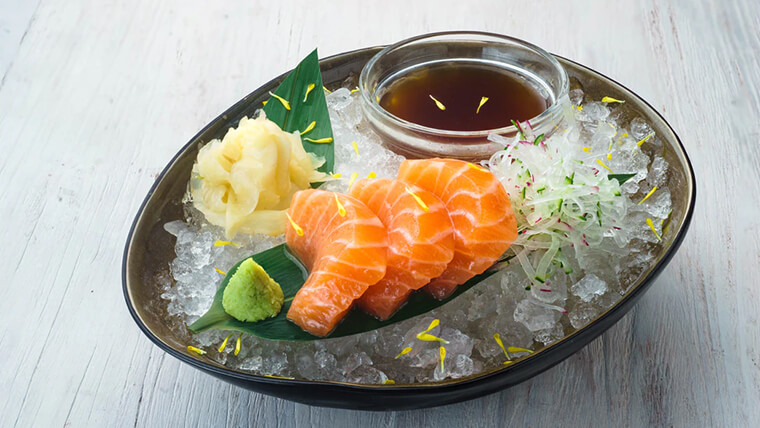 Salmon hot pot - Source: David Fedulov
Salmon hot pot has long been a famous delicacy in Sapa, Lao Cai, attracting many tourists not only in Vietnam but also international ones. The harmonious mixture of various southwestern spices makes Sapa Salmon hot pot has its own flavor.
The ingredients of a common salmon hot pot include salmon, tomato, carrot, pumpkin flower, kohlrabi, water spinach, cilantro, banana flower, water lily, tamarind, lemongrass, chili, etc.
Salmon hot pot in Lao Cai Province is juicy, easy to eat, not fatty and people will never get bored with it. In the chilling winter, it is enjoyable and exciting to enjoy the steaming salmon hot pot. Therefore, this dish is usually considered as the best choice for cold winter days.
Price: 80.000 - 175.000 VND/serving ($3.5 - 7.5)
Thang Co - strewed horse meat and organs
At first sight, this name may cause curiosity for people who have never been to Lao Cai Vietnam. Thang Co is a traditional food of H'Mong people with the combination of stewed horse meat and horse organs which is usually sold at markets. To add more fragrance to the spot, you can use corn and some spices such as ginger, tangerine peel, anise, lemon leaves, lemongrass, etc.
All ingredients are prepared, mixed with each other and simmered in hours to soak up the spices. It is more exciting for you to enjoy Thang Co with Bac Ha corn wine or San Lung wine.
Price: 100.000 - 330.000 VND/serving ($4.3 - 14.2)
2 - Lao Cai restaurants
You can choose from the following restaurants to enjoy delicious dishes such as:
Good Morning View Restaurant
The restaurant specializes in serving Vietnamese dishes, especially delicious local dishes. - Address: No.333 Muong Hoa street, Sapa town
- Contact: 0977 62 08 42
- Price: 15,000 - 150,000 VND/ dish ($0.21 - 2.15)
Aira Sapa Restaurant & Bar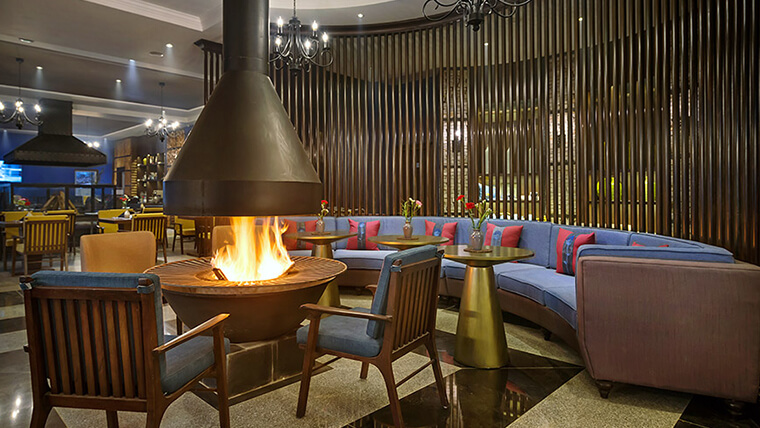 Aira Sapa Restaurant & Bar - best Lao Cai restaurant - Source: Airaboutiquesapa
Both Vietnamese & Western dishes are served here.
- Address: No.30 Hoang Lien street, Aira Boutique Hotel, Sapa town
- Contact: 0214 3772 268
- Price: $8.5 - 22/ dish
Moment Romantic Restaurant
Outstanding dishes are: steamed fish, Salmon hotpot, stewed horse meat and offals.
- Address: No.01A Thac Bac street, Sapa town
- Contact: 0982 88 49 65
- Price: 50,000 - 150,000 VND/ dish ($2.15 - 6.46)
3 - Some hotels in Lao Cai Province
Duc Huy Grand Hotel
- Address: No.72-74, Tran Hung Đao street, Bac Cuong district
- Contact: 0214 3833 229
- Room rate: 1,000,000 - 2,000,000 VND/night ($43 - 86)
Nobita Homestay Bac Ha
- Address: Residential group of Bac Ha 5, Bac Ha town
- Contact: 0888 61 36 66
- Room rate: 70,000 - 100,000 VND/night ($3.01 - 4.3)
Heaven Gate Hotel O Quy Ho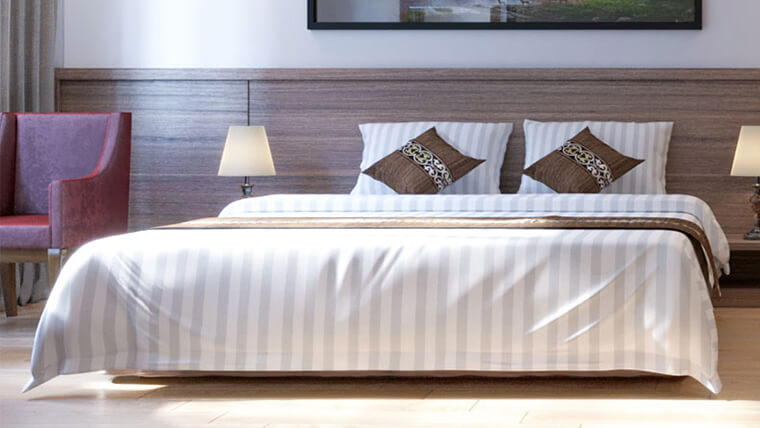 Heaven Gate Hotel O Quy Ho - Source: Heavengatehoteloquyho
- Address: Ta Giang Phinh village, Heaven gate area, Sapa town
- Contact: 0969 99 62 99
- Room rate: 700,000 - 2,200,000 VND/night ($30.17 - 95)
4 - Lao Cai border
Its border gate is an international border gate connecting Vietnam with China's Ha Khau border gate through the Ho bridge spanning the Nam Thi River.
Visitors who want to move through China's Ha Khau border must prepare a passport - Chinese visa or customs clearance.
The visa application procedure is approved at the Embassy of the People's Republic of China in Vietnam
- Location: No.46, Hoang Dieu Street, Dien Ban Ward, Ba Dinh District, Hanoi
- Fee: $60
- Approval time: 04 working days (excluding Saturday and Sunday).
5 - Local tribes
Lao Cai Vietnam is the main residence of more than 20 ethinic groups, of which the King accounts for 86,83% of its population; together with other ethinic minorities such as: Pa Di, Giay, Dao, H'mong, Tay, Nung, Ha Nhi, Thai, Khang, La Chi, La Han, San Chay, Hoa, Bo Y, Kho Mu, Lo Lo, Muong, Ngai, San Diu,... Those ethnic groups living together create one of the most impressive & unique hub of culture in Vietnam. The most important festivals of local people include: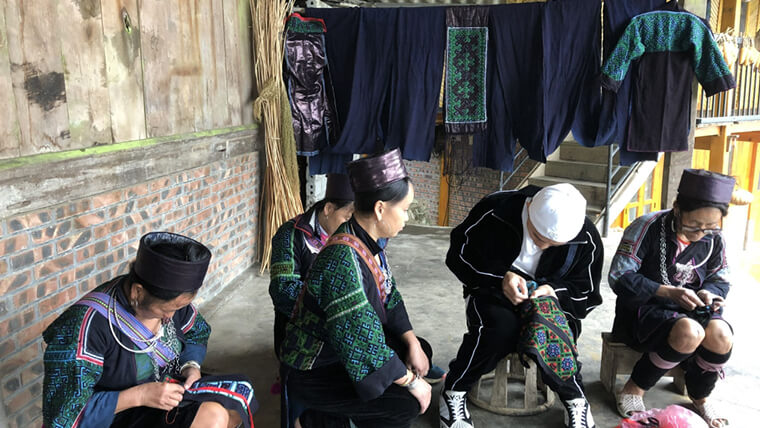 H'mong Lao Cai - Source: VOVTV
H'mong people: Popular for its Gau Tao (Blessing) festival on the fourth of January every lunar year.
Tay people: Long Tong (Go down field) Festival occurs on the fifth or fifteenth of January every lunar year.
Dao people: Dancing festival occurs on the first and second of January every lunar year.
Thai people: Cave playing festival occurs from the eleventh to thirteenth of January every lunar year.
6 - Lao Cai map
The mountains and forests of the Northwest - Vietnam always contain many interesting cultural experiences, magnificent natural sceneries, and unique indigenous cuisine. All have constantly attracted visitors to Lao Cai Province Vietnam. The information introduced above is hopefully to give travelers a better understanding about this destination before visiting.