I - What is the Hilton Hanoi Opera address?
The hotel is located at No.1 Le Thanh Tong street, Phan Chu Trinh ward, Hoan Kiem district, right next to Hanoi Opera House & Hanoi Old Quarter and about 25km from Noi Bai international airport. Constructed in 1993, it is regarded as one of the important witnesses of history since it has gone through several ups and downs with Hanoi. Aside from historic value, real estate also has architectural value.
Note: Hilton Hanoi Opera Vietnam provides an airport shuttle service at Noi Bai international airport with an extra of about $25/way. You should contact them for booking in advance if you have a need. Contact information:
- Hotline: 024 3933 0500
- Email: hanoi.opera@hilton.com
- Website: https://www.hilton.com/en/hotels/hanhitw-hilton-hanoi-opera
II - The unique architecture of the Hilton Hanoi Opera hotel
Hilton is one of the most beautiful structures in Hanoi, featured by Renaissance architecture. Although it is a leading 5-star hotel in Hanoi, you can enjoy comfort and pleasantness as if you were staying in your own house when accommodating here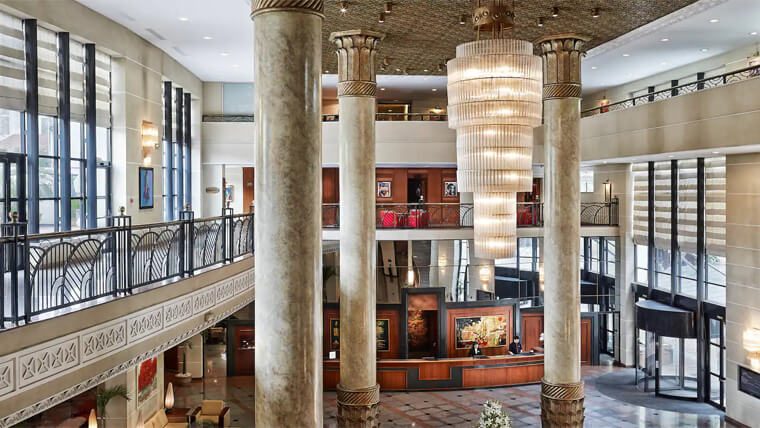 The space inside the hotel - Source: Hilton
Generally, the outer hotel has a curvy design which is so unique. Entering it, you may be impressed by the grand hall with the combination between French style and Southeast Asian style: tall ceiling, stone pillars sculpted with delicate patterns, the ceiling additionally decorated with many details inspired by Vietnamese art handicrafts.
Hilton Hanoi hotel Vietnam is 7-floor tall and includes 269 rooms constructed synchronously in French design. Chambers are decorated reflectively between red and green with simple, exquisite furniture, creating a warm and luxurious atmosphere, all of which have city views or views facing Hanoi Opera House.
Room types at Hilton Hotel:
- King Hilton Deluxe: from 1,700,000/room/night ($73.79)
- Twin Hilton Deluxe: from 1,700,000/room/night ($73.79)
- King Hilton Executive: from 2,450,000/room/night ($106.34)
- Twin Hilton Executive: from 2,450,000/room/night ($106.34)
- King Hilton Executive Suite: 3,700,000/room/night ($160.6)
III - Services at Hilton Hanoi Opera hotel
1 - Bars
JJ's Sports Bar
Its space is very sporty since it is adorned with images of famous football clubs in the world. Together with that, an LED display system, a pool table and dartboard form a diverse, class recreational space. The menu of the bar is abundant with the highlight of imported beers and Vietnamese cocktails.
- Opening time: 0pm - 1am
- Price: 100,000 - 3,000,000 VND/dish ($4.34 - 130.22)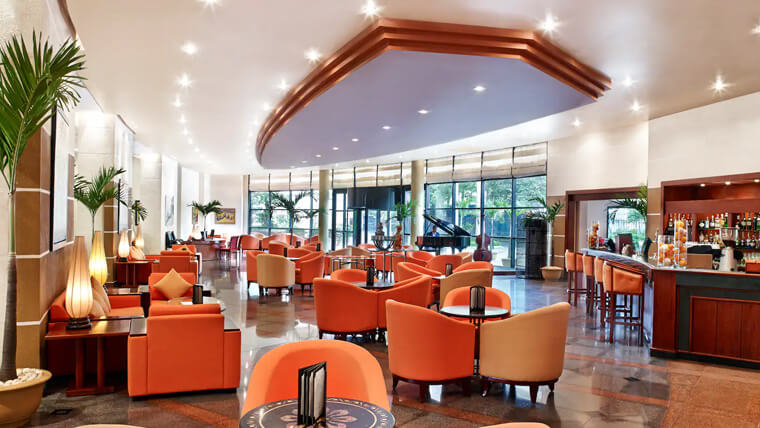 Lobby Lounge in Hilton Hanoi hotel - Source: Hilton
Lobby Lounge
With a large space and a view overlooking busy streets, Lobby Lounge is located on the first floor of the Hilton hotel. You can approach here to sip an afternoon tea, get pleasure from the melodious sound of the piano or have light meals with delicious cakes.
- Opening hour: 7am - 10pm
- Price: 50,000 - 100,000 VND/dish ($2.17 - 4.34)
2 - Hilton Hanoi Opera restaurants
Ba Mien Restaurant
The restaurant is a mixture between rusticity and modernity. Its theme color is green. The whole space is decorated with banana trees - a kind of plant that is very familiar in rural Vietnam and colorful lanterns inspired by those in Hoi An. It specializes in specialties of everywhere all over Vietnam, particularly dishes with the fresh flavor of the North, amazing spices of the South and the delicacy of the Central.
- Opening time: 6am - 10pm
- Price: 50,000 - 300,000 VND/dish ($2.17 - 13)
The Bakery at Hilton Hanoi Opera hotel
The Bakery will bring you a warm, sweet atmosphere with various, new types of cakes accompanied by an aromatic cup of tea or Vietnamese coffee.
- Opening time: 7am - 9pm
- Price: 50,000 - 500,000 VND/dish ($2.17 - 21.7)
Chez Manon restaurant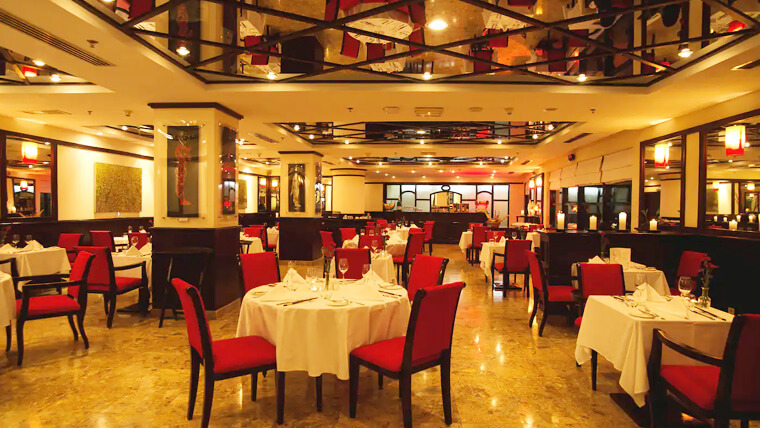 Chez Manon restaurant - Source: Hilton
The eatery has a luxury space with the light color as the predominant color combined with a system of mirrors attached on the ceiling and either side, resulting in a reflective effect and making the space seem larger and airier. Chez Manon at Hilton Hanoi Opera 5* has a direct view facing Hanoi Opera House - an outstanding tourist destination in Hanoi. The strength of this restaurant is international dishes, classical Mediterranean foods as well as high-quality meats which are provided with the view to bringing the best eating experience for customers.
- Opening time: 5pm - 10pm
- Price: 100,000 - 550,000 VND/dish ($4.34 - 23.87)
3 - Healthcare service at Hilton Hanoi Opera hotel
The healthcare system here is very varied. You can strengthen your body at the fitness center, bathe in a jacuzzi, relax with dry saunas or experience an outdoor pool and professional spa therapy helping you release all tiredness after a long day visiting.
4 - Conference, event organization
There are 19 functional meeting rooms with a total area of 800 m2 in which the largest one is 525m2 large, integrated with a system of modern equipment for the sake of conference and event holding, the capacity of up to 600 guests for great buffets and 350 guests for banquets.
Hopefully, the above information about Hilton Hanoi Opera Hotel will give you one more wonderful option of accommodation and resort for your memorable trip to Hanoi.