Discovering the cuisine of the night market has long become one of the top things to do in Ho Chi Minh City that bring to tourists lots of wonderful experiences about the local lifestyles, culture, and cuisine. The night markets with countless unique & eye-catching products, souvenirs, food, and tourists make a perfect night tour around the city. So what are the best nights markets in Saigon that you should not miss out, lets check out through this post.
1 - Top 1 night markets in Saigon: Ba Chieu night market
Built on a large area in Binh Thanh District in 1942, Ba Chieu Market is one of the busiest markets in Saigon with the main gate on the front of Phan Dang Luu Street. There are 8 main selling areas and 1,479 business stalls, which is a place specializing in trading a variety of items from clothes and shoes to fruits, fresh and dried foods at extremely reasonable prices. This Saigon night market is a special culinary paradise with all the famous delicacies such as chicken sticky rice, vermicelli, grilled vermicelli, etc.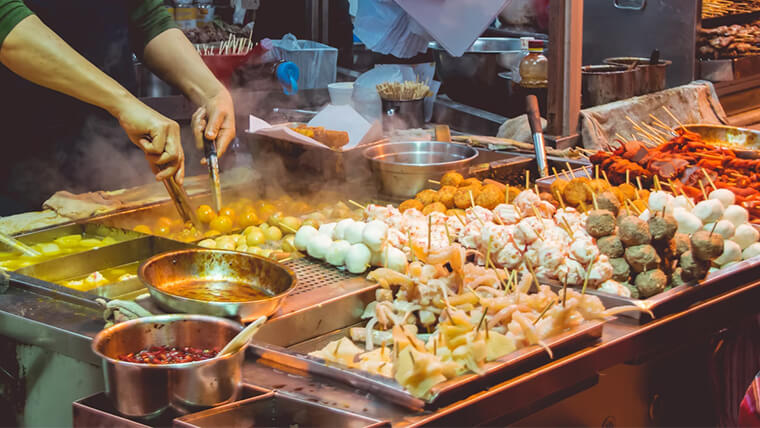 A food hub like other night markets in Saigon - Source: Vernon Raineil Cenzon
More specifically, coming to Ba Chieu market in the early afternoon, you can enjoy the delicious banh chung, banana cake, pineapple leaf molded cake served with irresistible greasy coconut milk. Ba Chieu night market is also a place to visit for many people who want to buy goods in large quantities and at cheap prices. The market's goods are highly appreciated for its richness and diversity from clothing, to shoes, bags, hats…, which makes Ba Chieu one of the most worth visiting Saigon night markets.
- Location: No.40 Dien Hong Street, Ward 1, Binh Thanh District
- Opening hours: 5pm - 12am
2 - Top 2 night markets in Saigon - Ben Thanh night market
Ben Thanh market is one of the oldest markets in Saigon with an age of more than 100 years, the ideal places for tourists to visit and shop, especially to discover local cuisine at night. The most prominent architecture of Ben Thanh night market is the tower with 4 clocks facing 4 directions, placed on the main gate. There are also 12 side gates created to bring convenience for people visiting the markets, which are eye-catchingly decorated with unique relief paintings such as cows, swans, rays, bananas, and so on.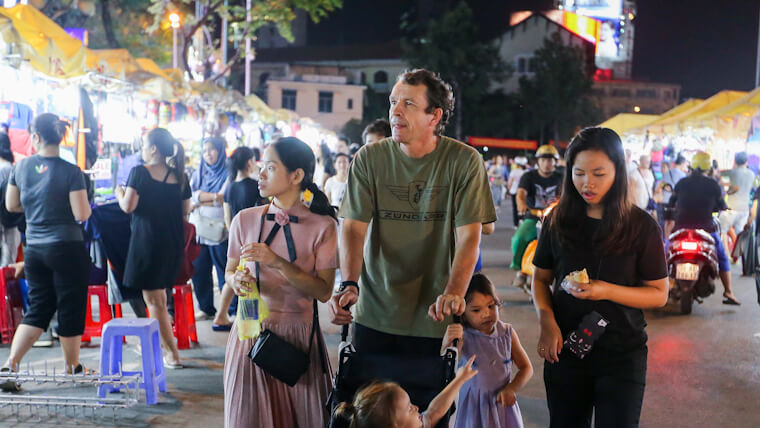 One of the largest night markets in Saigon - Source: VnExpress
Ben Thanh night market is also the name of a specific market on the left side of the traditional market, where you can find stalls selling from handicrafts with embroidery, paintings, ceramics, to souvenirs, clothes, and shoes. Especially, the diverse culinary in this Saigon night market will surely charm you with a wide range of dishes, all of which have different tastes, affordable prices publicly listed. You can try grilled ribs, chicken and spring rolls, beef with guise leaves, seafood, beer and other specialties such as Nam Bo beef noodle soup, Hue beef noodle soup, Quang noodles, Nam Vang noodle soup,...
- Location: No.13 Phan Chu Trinh Street, Ben Thanh Ward, District 1
- Night market Ho Chi Minh opening hours: 7pm - 11pm
3 - Binh Tay night market - top oldest night markets in Saigon
Binh Tay night market - Source: Internet
Binh Tay market, also known as Lon Moi market, was built in the 20s of the twentieth century on a land area of more than 1.7ha. This famous Saigon night market was designed with classical Asian style architecture with curved roof corners with dragon and phoenix motifs, sophisticated patterns.
At night, Binh Tay market becomes even more prominent and shimmering under the bright red lanterns. Just like during the day, you can freely shop for hot items such as clothes, bags, home appliances,… Prices of goods are not the same at every stall, so you need to know how to bargain or go with a local to buy a quality item that is worth your money. You also should save some space in your stomach to taste Vietnamese dishes such as bamboo shoots with vermicelli, boiled duck, wet cake, hot porridge and fried rice.
- Location: No.57A Thap Muoi Street, Ward 2, District 6
- Opening hours: 7pm - 10pm
4 - Top 5 night markets in Saigon: Ho Thi Ky market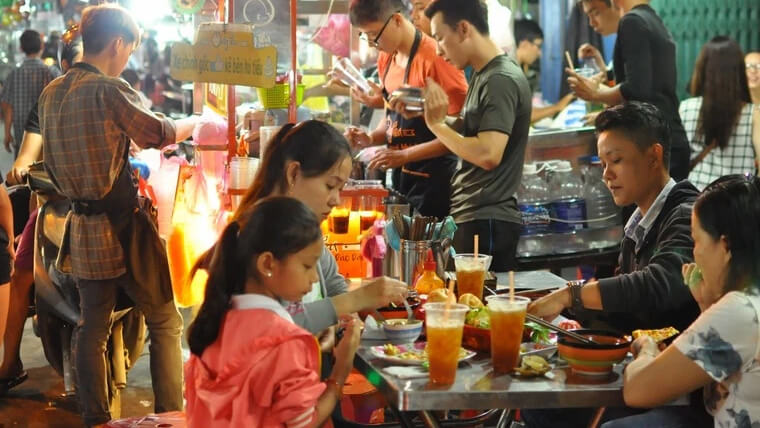 Paradise of flowers in Saigon - Source: Internet
Built in 1987 with the age of more than 30 years, Ho Thi Ky night flower market is the largest wholesale flower market in Saigon. This is one of a few night markets in Ho Chi Minh city that specializes in selling flower arrangements and flower baskets already arranged from bamboo and rattan.
Coming here, you can easily come across hundreds of flowers as diverse as chrysanthemums, marigolds, gerberas, auspicious, phalaenopsis, roses, sunflowers, lilies and many other beautiful flowers in Vietnam. They are mainly imported from famous flower growing localities in Vietnam, especially Dalat, the city of flowers. Many people who haven't gone to this night market in Saigon yet may mistakenly think that it only sells flowers, but in fact, there is a food court located in the inner alley.
- Location: Alley 52 Ho Thi Ky Street, Ward 1, District 10
- Opening hours: all day
5 - Tan Dinh night market - top best night markets in Saigon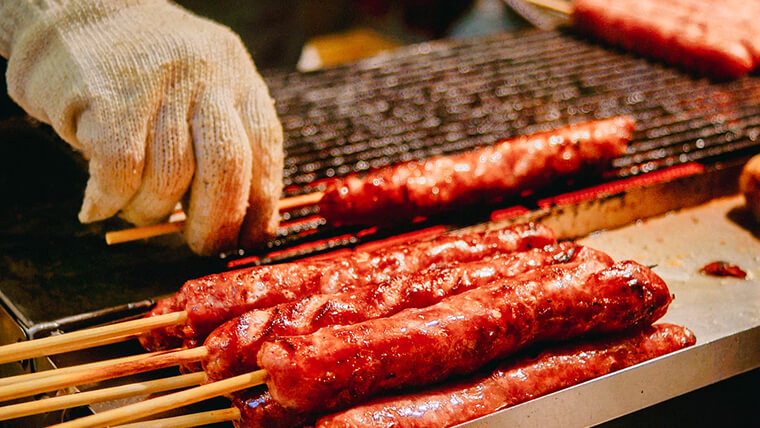 Top food night markets in HCMC - Source: Jasrelle Serrano
Among top most famous places to visit in Ho Chi Minh city, Tan Dinh church & Tan Dinh market are recommended as must-visit sites. Dubbed the "market of the rich", Tan Dinh Market was built in 1926 with an ancient architectural style, bearing the historical vestiges of the city. Tan Dinh market stands out on a street corner of the city with 4 outstanding-looking main doors. The front one is designed with three bell towers, two on either side and one in the middle, which still uses the old bell from years ago. One thing for you to recognize from afar is the antique clock mounted in front of the gate. As one of the oldest night markets in Saigon with impressive architecture, this is truly a worth-visiting spot in District 1 Saigon.
During the day, this is a place for people to buy fabrics and clothes, while Tan Dinh Night Market is an attractive and bustling culinary destination with the presence of many delicious Saigon dishes. Like other night markets in Ho Chi Minh City, here, you can try out some tasty Saigon street food such as noodle soup, rib porridge, night broken rice, frog porridge, chicken sticky rice and sweet soups at an affordable price. Sitting at a sidewalk eatery or vendor, you can enjoy both the food and the atmosphere of Saigon nightlife.
- Location: No.336, Hai Ba Trung Street, Tan Dinh Ward, District 1
- Opening hours: 7pm - 3am the next day
6 - Hanh Thong Tay market
Unlike most other night markets in Saigon, the most prominent and main type of products in this place is clothing with the latest updated designs, making it to be considered a fashion shopping paradise. In addition to being diverse in both products, designs and quality, goods offered by Hanh Thong Tay market have very low prices, sold by easygoing and cheerful people, so you can freely bargain. This market also sells many favorite Vietnamese snacks such as mixed rice paper, mango shake, fried pellets, fresh fruit, sweet soups, skewer meat, and so on, which are displayed on trolleys and rickshaws
- Location: No.10/2 Quang Trung Street, Ward 11, Go Vap District
- Opening hours: 6pm - 7am
7 - Ky Hoa night market in Saigon
Formed in 2003, this is one of the famous "cheap for commoner" night markets in Saigon, with more than 250 stalls meticulously arranged neatly. Ky Hoa Night Market is a place that mainly sells ready-made clothes and fashion accessories, jewelry, accessories and souvenirs at extremely affordable prices. In particular, in the large space of this place, there is also a food court with many dishes to satisfy the needs of diners. This is a famous night market in Ho Chi Minh city with a large number of visitors up to 2,000 people per night, especially on holidays or traditional Lunar New Year of Vietnam.
- Location: Cao Thang extended Street, District 10
- Opening hours: all day
Exploring the famous night markets in Saigon has long become one of the favorite activities of many tourists when coming to vibrant, bustling Saigon regardless of day or night. How about you? After reading this article, you must surely want to go and enjoy delicious food at these night markets, so what are you waiting for without picking up your backpack and traveling to Ho Chi Minh city?