Located in the Southwest of the country in the Mekong Delta, Kien Giang Vietnam is a coastal province sharing a 56km border with Cambodia to the North, Can Tho and An Giang provinces to the East and Southeast, Ca Mau and Bac Lieu cities to the South, and the Gulf of Thailand to the West. With a total area of 6346.3km2, it consists of more than 100 large islands, of which Phu Quoc island accounts for 573km2. The province has 15 districts and towns, in which the main cities are Ha Tien, Rach Gia and Phu Quoc island…
I - Top 10 most outstanding tourist spots in Kien Giang Vietnam
1 - Phu Quoc island - largest island in Kien Giang province
Phu Quoc island - Source: vnexpress
The Pearl Island of Phu Quoc is considered the largest island of Vietnam, a true tropical paradise located in the Gulf of Thailand. It boasts a myriad of pristine untouched sandy beaches, world-class recreational park of VinWonders Phu Quoc and secluded charming islands, and a system of chic hotels and luxurious resorts, etc., which brings about the most exhilarating experiences. Bai Dai or Long Beach is recognized as one of the most attractive beaches on the planet by a prestigious magazine Forbes. Other breath-taking beaches in Kien Giang Vietnam that are famous worldwide can be mentioned as Bai Sao (Star Beach), Bai Truong, and Bai Khem, etc.
The highlight of this extraordinary island is Hon Thom cable car, the world's longest cable car system with a length of 7.899,9m which connects you from An Thoi to Hon Roi, Hon Dua and finally Hon Thom island. From the heigh, you have a 360 degree vista of pristine old jungles, entirely clear blue sea crashing against the golden sand beaches. You can indulge yourself in the paradise of entertainment in VinWonders Phu Quoc, Vietnam's largest theme park divided into 6 zones in 12 different themes, providing you with hundreds of fascinating games and experiences.
2 - Ha Tien city in Kien Giang Vietnam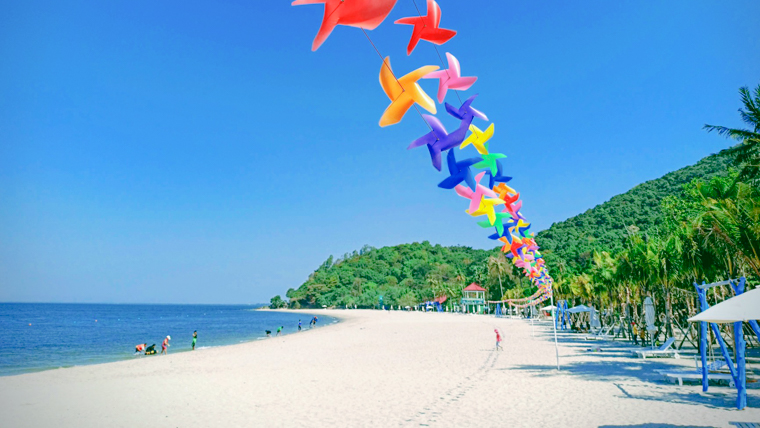 Ha Tien city - Source: thamhiemmekong
Ha Tien is a small town in the Northwest of Kien Giang province, well-known with the stunning natural landscapes and cultural, historical sites. The must-visit place is Da Dung mountain, also known as Chau Nham, meaning "the mountain of pearl" - the symbol of the beauty, grandeur and majesty of Ha Tien. The mountain consists of many different caves, each of which has unique beauty and attractions with numerous stalactites and stalagmites in various sizes and eye-catching shapes.
Thach Dong (Thach cave) is another popular tourist attraction in Ha Tien for such a long time. With a height of around 80m, you can admire the panoramic views of Kien Giang Vietnam and a part of Cambodia. Inside the cave features plenty of multi-shaped stalactites, particularly it includes an ancient Buddha temple named Tien Son. Besides, Ha Tien also owns many spiritual constructions with distinctive architectures and cultural, religious values.
3 - U Minh Thuong National Park
U Minh Thuong national park - Source: @vinh quách tấn
U Minh Thuong National Park in Kien Giang province is the fifth Biosphere in Vietnam recognized by UNESCO and the second largest one in Vietnam. With an area of around 21,122ha, the park stretches in two communes of An Minh and Minh Thuan Bac (U Minh Thuong). Tourists can discover the ecosystem of flooded tropical forests and rare peat swamps in Kien Giang Vietnam.
The biodiversity is characterized by more than 250 vascular plants, 32 species of mammals, 188 species of birds, and 64 species of fish, etc,. The area is also home to ethnic minorities of the Kinh, the Hoa and the Khmer peoples with unique traditions and customs. The boat ride discovering the National Park gives you an insight into the diverse flora and fauna of the forest as well as the lifestyles and cultures of local peoples.
4 - Rach Gia city
Rach Gia is one in four "key" urban areas in the Mekong Delta and the only city in the Mekong Delta located along the shore, which appeals to travelers by a wealth of beautiful natural landscapes, "awe-inspiring" unique architecture and amazing cuisine.
In Rach Gia Kien Giang Vietnam, you will feel like you got lost in the new, weaving streets lined with high-class villas, coastal parks, amusement parks, stylish restaurants, cafes and glitzy bars, which bring you relaxing moments. It would be a huge shortage if visiting Rach Gia city of Kien Giang province without discovering relics and landscapes right in the heart of the city such as Nguyen Trung Truc communal house, Vinh Hoa communal house, Tam Bao pagoda, Quan De pagoda, and Kien Giang museum, etc. Visitors can broaden knowledge about the culture of the ethnic peoples of the Hoa, the King, and the Khmer.
5 - Tho Chu archipelago
Tho Chu island - Source: Nhân Nguyễn
Tho Chu, also known as Tho Chau archipelago, consists of many pristine unspoiled smaller islands such as Tho Chu, Green island, Cao Cat, Nhan, Kho, Tu and Keo Ngua. One of the most attractive beaches on this pristine island in Kien Giang Vietnam is Ngu beach (Bãi Ngự), boasting the transparent, blue seawater, poetic, silvery white sand and the wild, pristine surrounding scenery of primitive forests.
Among top most exciting things to do here is snorkeling for watching colorful corals at Quyet Tien beach featuring around 99 various species of corals. Besides, other activities such as fishing, camping, sightseeing the rustic fishing villages on the island are also highly recommended. The Tho Chu archipelago of Kien Giang province is eminent for not only beautiful beaches, poetic natural landscapes but also heroic history of the Nation in the period of Cambodian genocide from 1975 to 1979.
6 - Hon Son island in Kien Giang Vietnam
Hon Son island, also known as Rai Ca island (Otter island), belongs to Ha Tien bay, between Nam Du island and Hon Tre island. With a total area of 11.5km2, the island is surrounded by 6 extraordinary beaches, including Thien Tue beach, Bai Bac beach, Bai Bang beach, Xep beach, Da Chai beach and Nha beach. The island also features many majestic and grandiose mountain pinnacles, of which the most typical one must be Ma Thien Lanh at an altitude of 450m above the sea level. Get closer to the local culture through the visit to the palace of the Fisherman God (Dinh Ông Nam Hải). The pristine Untitled Waterfall (Thác nước không tên) or Lai Son boat wharf is an extremely beautiful place for photographing as well as immersing in the peaceful atmosphere.
7 - Nam Du archipelago - one of the best islands in Kien Giang Vietnam
Nam Du island - Source: Nguyễn Tiến
Nam Du archipelago has become a very appealing tourist spot for backpackers, including 21 islets, of which 11 ones are inhabited while the others remain absolutely untouched. It stretches along An Son commune and Nam Du commune of Kien Giang province, boasting the immense turquoise sea, imposing mountains rising amidst the vast ocean, spectacular rock cliffs, long stunning beaches and endless evergreen primeval forest, which is the reason why it is compared to Halong Bay - "New Wonder of the World".
The most stunning islands consist of Hon Lon island, Hon Dau island, Hon Ngang island, Hon Mau island, and Hai Bo Dap island. Numerous interesting activities can be joined on the Nam Du island of Kien Giang Vietnam such as trekking and hiking, snorkeling, admiring splendid sunrises and sunsets, fishing and foraging. In addition, don't forget to pay a visit to temples and pagodas, typically Mieu Ba Chua Xu and Ngu Thanh Mieu temples.
8 - Hon Tre island
Among numerous islands in Kien Giang province, Hon Tre is a small island in Kien Hai district with a limited area of nearly 500km2, possessing diverse natural landscapes: forests, mountains, islands and beaches, etc. There are two largest mountain peaks in the North and South, of which the highest one is around 400m above the sea level, featuring ancient primeval forests, home to a number of wild animals. Numerous attractive spots to visit are Bai Chen, Dong Dua, Duoi Ha Ba, Da Dai, Son Linh Dong, and many other orchid gardens such as Ba Chua Xu temple, Ong Nam Hai palace, and Ba Thuong temple, etc.
9 - Hai Tac island (Pirate Island of Kien Giang Vietnam)
Pirate island - Source: vnexpress
The unique, strange name of the island raises the curiosity of most tourists about this island. It is also called Ha Tien archipelago with an area of up to 251ha, including 18 islands, of which the largest one is Hon Tra Lon island. On the wild, charming islands, you can soak up in the cool, clear water, play on endless smooth sandy beaches or snorkeling to explore the special marine creatures and colorful corals.
When traveling to Hai Tac island in Kien Giang province, It's a great idea to ask for an overnight stay in the locals' house to try to "turn into" a true fisherman, following them to experience squid fishing or catching squid, craps, oysters, shrimp, etc. Just let your hair down while watching splendid sunset at the beach and enjoying the ultimate comfortable and serene ambience!
10 - Ba Lua archipelago in Kien Giang Vietnam
Ba Lua archipelago is located in Kien Luong district, comprising around 40 islands but only ten of them are inhabited. Most islands are still kept intact with picturesque natural scenery, cool fresh air all year round, perfect for traveling and vacation. They are named after its shapes and local legends such as Ngang island, Mangrove island, Goad island, and Pig island (Hon Heo island) etc. of which the most famous one is Hon Heo island, the largest one with primeval forests, sandy beaches, pebble beaches and rustic fishing villages.
Besides, three Hon Dam islands in Kien Giang province (including Dam Duong island, Duoc island, and Gieng island) stand next to each other, creating a lagoon in the middle. Dining experience is absolutely a should-not-miss part on your trip to Ba Lua archipelago, where you can find a wide variety of fresh seafood and irresistible local cuisine.
II - Should-to-know things when traveling to Kien Giang Vietnam
1 - Weather and ideal time to travel
Ba Lua island - Source: Long Hoang
There are two distinct seasons in Kien Giang, which are the dry season and the rainy season. The former lasts from November to April next year when clear water, calm sea and cool, pleasant atmosphere are perfect factors for leisure travel and sightseeing. The rainy season starts from May to October with high rainfall, which leads to less crowded tourists and much cheaper services, suitable for those who are looking for a secluded and quiet space.
2 - Should-try dishes in Kien Giang Vietnam
Herring salad - Source: mustgo
The delectable specialties are a huge factor to make the attractiveness of Kien Giang province. There most typical dishes you must try once traveling here are:
- Herring salad: this dish is a typical brand of Kien Giang's cuisine. The fresh, soft herring filets mixed with onion and grated coconut, carrots, fried minced garlic, cilantro, roasted peanuts, and wild vegetables which creates a slightly sour and sweet taste. Lingering spicy dipping sauce is absolutely the soul of this delicacy, making the herring more intense and flavorful.
- "Cá nhám dầu" sour hotpot with turmeric and lemongrass: Cá nhám dầu is a typical species of fish in Kien Giang Vietnam, which is really rare and hard to find in seafood markets. Fish meat has a delicious taste and high nutritions, which can be cooked into different dishes, of which the most tasty one is sour hotpot. Turmeric and lemongrass lessen the fishy smell of sea fish. Diners first feel a bit sour, spicy, sweet broth and irresistible aroma of turmeric and lemongrass, the sweetness of fresh sea fish spreading throughout the tongue.
- Crab cake soup: is in the top list of the most delicious dishes in Kien Giang province whose broth is cooked from dried shrimp, meat, pork bones and mackerel head. Fish loaf is made of fresh mackerel meat, mixed well with pepper, garlic, onion, and fish sauce, then braised. The bowl of crab cake soup is topped with a big sentinel crab and cilantro. Diners can savor the sweet, fatty sentinel crab, supple yet tough mackerel loaf and the crispy, attractive white noodles.
3 - Transportation in Kien Giang Vietnam
Airports:
Kien Giang is the only province owning two airports (Rach Gia airport and Phu Quoc airport):
Rach Gia airport
- Address: No.418 Cach Mang Thang Tam street, Vinh Loi ward, Rach Gia city, Kien Giang
- IATA code: VKG
- ICAO code: VVRG
Phu Quoc International Airport
- Address: group 2, Duong To hamlet, Duong To commune, Phu Quoc district, Kien Giang province
- IATA code: PQC
- ICAO code: VVPQ
Boat wharfs in Kien Giang Vietnam
Source: superdong
Rach Gia boat wharf
- Address:3 tháng 2 street, Vinh Thanh ward, Rach Gia city, Kien Giang
- Main routes: Rach Gia - Nam Du island, Rach Gia - Phu Quoc - Tho Chu, Rach Gia - Hon Tre - Lai Son - Nam Du, Rach Gia - Hon Son, Rach Gia - Hon Tre.
Ha Tien boat wharf
- Address: Kim Du street, Group 1, To Chau ward, Ha Tien city, Kien Giang
- Main routes: Ha Tien - Phu Quoc, Ha Tien - Pirate island.
Bai Vong boat wharf (Phu Quoc)
- Address: Bai Vong hamlet, Ham Ninh commune, Phu Quoc district, Kien Giang province
- Main routes: Phu Quoc - Rach Gia, Phu Quoc - Ha Tien
Road
Taxi brands in Kien Giang Vietnam:
- Mai Linh taxi Phu Quoc: 0297 397 9777 or 0297 399 7799
- Sasco Phu Quoc taxi: 0297 376 7676 or 0297 398 2982
- Phu Quoc taxi: 0297 375 7575
Bus stations in Kien Giang province
Rach Gia bus station
- Address: No.206A Nguyen Binh Khiem street, Rach Gia city, Kien Giang
- Contact: 0297 386 2274
Ha Tien bus station
- Address: Alley 51, To Chau ward, Ha Tien city, Kien Giang province
- Contact: 0773 668 866
4 - Kien Giang Vietnam map
Kien Giang Vietnam in Southwest Vietnam leaves an indelible imprint on tourists's minds thanks to its breath-taking natural scenery, tranquil atmosphere and the hospitality of local people. For more details about traveling in Vietnam, let's visit our website Local Travel Idea to embark on our virtual tours along the stunning S-shaped country.