With an area of 4.18 km², District 4 Ho Chi Minh City is shaped like a triangle, divided into 15 wards named by numbers including 1, 2, 3, 4, 5, 6, 8, 9, 10, 12, 13, 14, 15, 16 and 18. Surrounded by rivers and canals, it borders Thu Duc City to the East, District 5 to the West, District 8 to the South, District 7 to the Southeast, and District 1 to the Northwest. This district also has many exciting attractions that you cannot miss such as:
Nha Rong Wharf - an important site in District 4 Ho Chi Minh City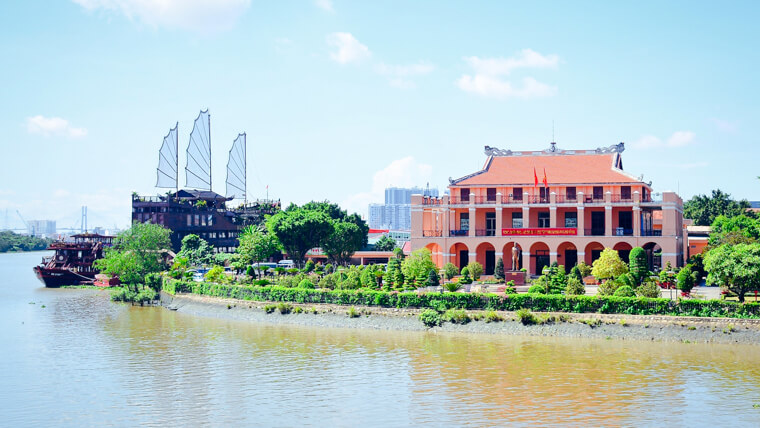 It possesses a charming landscape right on the Saigon River's bank - Source: vietgoing
Referring to District 4 Saigon, it is impossible to ignore the historic Nha Rong Wharf, where Uncle Ho started his journey to find a way to free Vietnam from colonization. This work was built in 1863 in the Western style, but with two large green glazed terracotta dragons adorning the moon at the top of the roof. Nha Rong Wharf has now been remodeled and renovated, including main sites such as Ho Chi Minh Museum, Uncle Ho's Monument, the water fountain, and the harbor campus.
With an area of more than 1,500m2, the museum consists of 3 floors and 7 galleries, displaying many documents, artifacts, and pictures recording the revolutionary activities of President Ho Chi Minh during the resistance war.
- Address: No.1 Nguyen Tat Thanh Street, Ward 12, District 4 Ho Chi Minh City
- Ticket price: 20,000 VND / person ($0.86)
- Contact: 028 3940 2060
- Opening hours: 7:30am - 11:30am (morning) & 1:30pm - 5pm (afternoon)
- The site closes on Monday
Xom Chieu Church in District 4 Saigon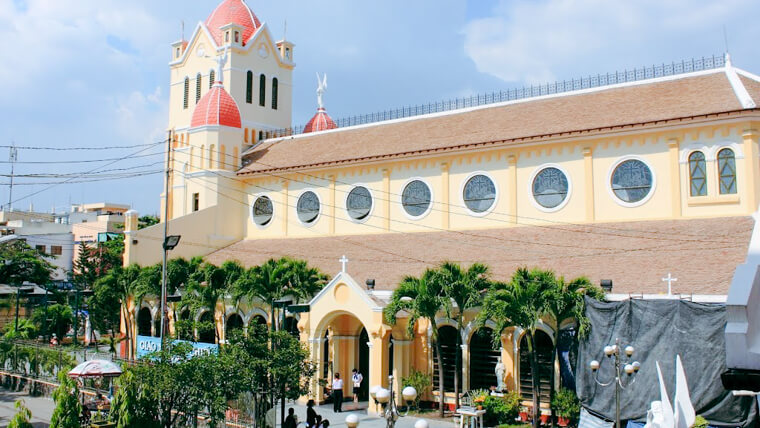 This is ancient architecture of nearly 100 years of age - Source: giothanhle
This work was organized to build in 1922 by Bishop Quinton, and inaugurated on Sunday, November 29, 1925. It was originally made according to the French - Japanese style, with a height of 30m and an area of 500m2. In 1954, in order to have enough room for parishioners, Pastor Paul Nguyen Van Bo filled up two ponds on the side to widen each side of the church by 4m. Since then, it has been repaired and restored many more times, notably in 1976, 1998, and 2015.
Xom Chieu Church in District 4 Ho Chi Minh City today has many changes compared to the original, but still preserves the ancient architectural features. There are still 14 Stations of the Cross and some images, and statues from the time this construction was inaugurated. It creates a unique beauty for the Xom Chieu People of God community, being an eloquent sign of the longevity of this ancient parish in the heart of the Archdiocese of Saigon.
- Address: No.92B/20 Ton That Thuyet Street, Ward 16, District 4
- Mass time:
+ Daily: 4:45am & 5:30pm
+ Sunday: 4:45am, 6am, 7:15am, 4pm, 5:30pm & 7pm
- Contact: 3839 2763 - 09181 44400
Located right next to the church is Xom Chieu Market, open from 4pm to 10pm - one of the most bustling places to eat and play in Saigon. You can easily find attractive snacks here, enjoying Pha Lau, mixed rice paper, various kinds of sweet soups, mussel noodles, snail bowl,...
Long Buu Pagoda - an ancient Pagoda in District 4 Ho Chi Minh City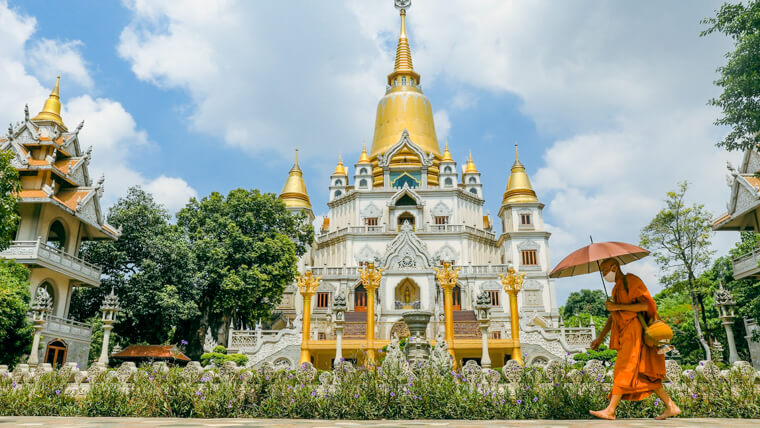 Long Buu Temple was built in 1970 - Source: ivivu
Long Buu Pagoda is one of the largest spiritual sites in District 4 Saigon, attracting many visitors thanks to its unique architecture. Up to now, this work has been restored many times, resulting in a relatively large area with the ancient landscape, but still styled towards modern appearance. The pagoda was built in the traditional architectural style of Northern pagodas, with a multi-storey roof decorated with dragons and red-brown tiles.
The solid and massive Tam Quan Gate of the pagoda harmonizes the sacred atmosphere of Buddhism and the disruptive features, with graceful dragon carvings. The main hall of Long Buu Pagoda is decorated with an ancient bronze bell, and many Buddha statues. On the campus, there is also a flaming red stupa consisting of 5 floors, carved with delicate natural motifs. On the annual Buddha's Birthday celebration, flower lights are decorated throughout the temple grounds, creating an even more beautiful sacred scene.
- Address: Khanh Hoi Street, Ward 5, District 4 Ho Chi Minh City
- Opening hours: 6:30am - 9pm
Vinh Hoi Church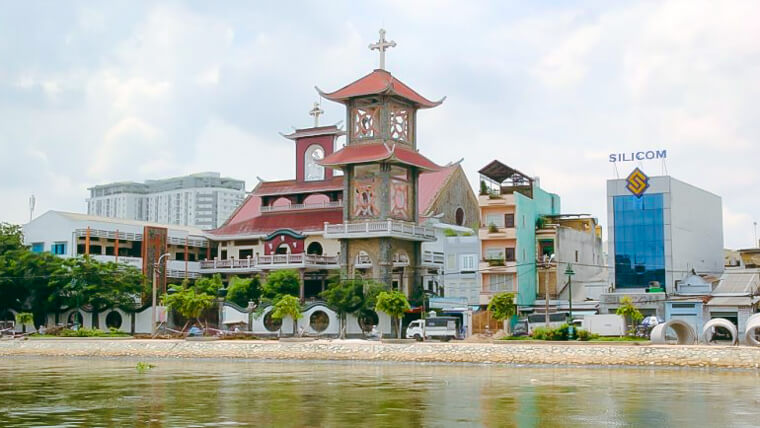 Vinh Hoi Church was established in 1966 - Source: giaoxugiaohovietnam
Experiencing time and destruction, this work was rebuilt in 1993 according to the East - Asian style, similar to a Vietnamese communal house with a curved roof. This architecture is quite unique and different from other churches in Vietnam, very prominent that can be seen from far away.
Discover the impressive architecture of Tan Dinh church in Saigon
The church is also located in front of the Ben Nghe Canal, so it is very airy and poetic, attracting many parishioners and tourists. This work is not deep but wide in width, outside there is a tower about 9 floors high with a large cross on the top. Vinh Hoi Church also has a free industrial sewing class, 3 education classes, and a clinic giving medicine for charity.
- Address: No.158 Ben Van Don Street, Ward 6, District 4 Saigon
- Mass time:
+ Daily: 5am & 5pm
+ Sunday: 5am, 7am, 3pm, 5pm & 7pm
Vinh Khanh Food Street - the food paradise in District 4 Ho Chi Minh City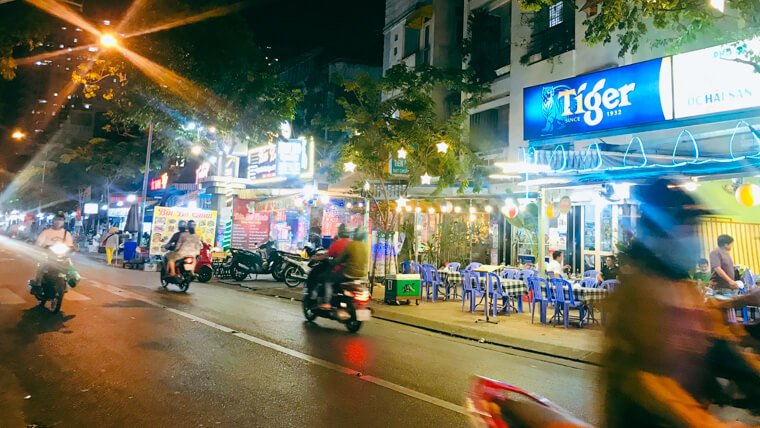 It is famous for its dense concentration of diverse eateries - Source: thanhnien
Coming here, you will be stunned by the number of dishes with affordable prices, ranging from grilled dishes, hot pot, snacks, sweet soups, ice cream,... In particular, snails are considered a "specialty" of this culinary street, processed in many ways to create different flavors. Try grilled red snail with satay or fried fat snail with tamarind, you will be captivated by the fresh ingredients that are seasoned to your taste with the heirloom recipe.
You also shouldn't miss the opportunity to try other incredible Saigon street food such as beef with potato, dried squid with fish sauce, dried fish with mango salad,… Coming here, you can also enjoy singing performances from street artists. The irresistible aroma of the dishes blends into the bustling atmosphere, promising to bring you a feeling of joy and relieve fatigue.
- Address: No.40 Vinh Khanh Street, Ward 8, District 4
- Opening hours: 6am - 9pm
Although District 4 Ho Chi Minh City is not as flashy as other areas, it is home to many important historical and religious architectures. In addition to the addresses introduced above, you can also visit other attractions such as Mong bridge, Saigon train, Khanh Hoi park, Bich Hoa street,... District 4 Saigon promises to bring you peaceful experiences in the midst of the noisy city, with beautiful check-in corners.