Vietnam is a country with a coastline of over 3,000km, so the construction of seaports is also very important to life, economy, ... Ho Chi Minh City is no exception, this place is central to many large and small seaports associated with the development and history of the country
I - History of Saigon Port Vietnam
Saigon Port was built in 1860 under the French colonial period, with the original name of Saigon Commercial Port. The port is located along the Saigon River, about 83 km from the sea. The total area of ​​the port is 24.31 ha, the port length is over 3.2 km, with 21 bridges, 27 buoys. This is the largest seaport in Vietnam, including a system of many other small ports that are:
- Ham Nghi area, located on the right bank of Saigon River. The area is 4km long with 3 piers for domestic ships.
- The Nha Rong area is at the old location, located along the Tau Hu river. This area has 3 piers for foreign ships.
Khanh Hoi area, 1250m in length, includes 11 piers for foreign ships.
- Cho Ca area includes 3 piers and 2 wharves.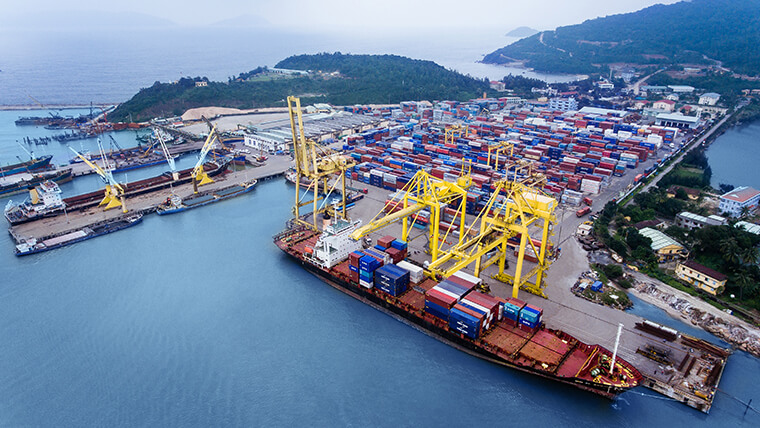 Source: Zing
The location of Saigon Port lies along the major rivers: Saigon River, Nha Be River, Nga Bay River and Soai Rap River. Port operation function is used to make general berths such as transporting bulk cargoes, dry goods, ... and passengers.
This port is the trading place for customers in large areas including the Southeast and the Mekong Delta. The port has the capacity to provide cargo handling and logistics services, rescue services, mechanical repair, logistics, and customs warehouse leasing.
II - The Saigon or Ho Chi Minh port system
Currently, this port is directly managed and operated by Saigon Port Joint Stock Company. Implementing the Government's planning and the development orientation of Ho Chi Minh City, besides the achieved projects, this port continues to be invested and built more Saigon - Hiep Phuoc port in Nha Be district.
In addition to expanding the scale of the port, Saigon Port has joint ventures with large international corporations such as PSA of Singapore, SSA Marine Seattle of the US, APM Terminals of Denmark, ... deploying investment, construction, operating 3 deep and modern container ports in Cai Mep - Thi Vai. This group of ports is considered as a potential international transshipment hub, a key gateway for the Southern of Vietnam and Cambodia.
Cat Lai Port in Vietnam
The port is an important port of Saigon Vietnam which is managed and operated by Cat Lai Port Joint Stock Company. The port has a scale of 216 m, with many specialized container wharves, including the B7 wharf. Cat Lai port is capable of receiving a total tonnage of up to 30,000 DWT (about 2,5000 TEU). B7 pier has a length of 80m, is able to bear a load of up to 2,200 DWT, and is used to serve domestic water services. Modern equipment such as cranes K.E, Kocks, Liebherr, Kalmar 6 + 1, Mijack 3 + 1 with 6.2 hectares of cargo yard operating 24/24 serving all needs of customers.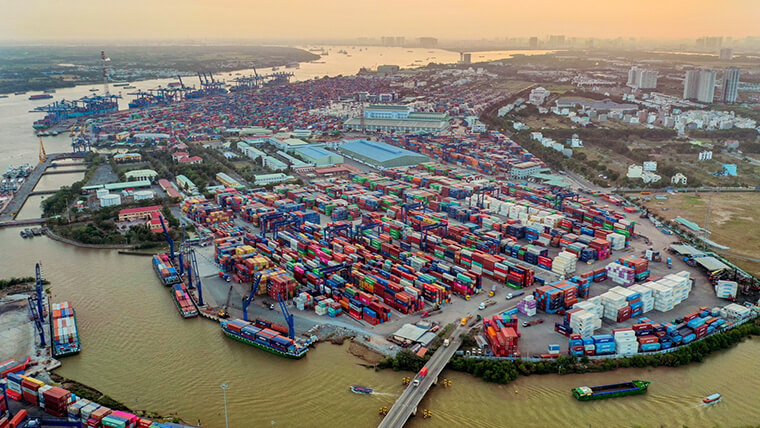 Cat Lai port in Saigon - Source: Vietship
Cat Lat port also constantly invests in tractors to meet the international transport service supply, improve business efficiency and gradually stabilize production.
Hiep Phuoc Port
Hiep Phuoc Port is managed by Hiep Phuoc Tan Cang Port Joint Stock Company, in the group of seaports number 5. The port is located strategically in the South of Saigon and the East Vietnam Sea. The port is the place to collect, gather and clear goods in the South and surrounding areas. The main goods here are agricultural products and general groceries. Besides, the modern logistics system is also focused on investment, construction and development here.
Ben Nghe port
Another main port of Saigon Vietnam located in Saigon river is managed and operated by Ben Nghe Port One Member LLC. The port has a total area of ​​up to 32.22 hectares, 45 nautical miles from the pilot point in Vung Tau.
The port can handle a gross tonnage of up to 36,000 DWT. Ben Nghe port has convenient transportation, including road and river. As a result, Ben Nghe Port holds an important position in the circulation, import-export of goods and domestic goods in Vietnam.
Nha Rong Port - Khanh Hoi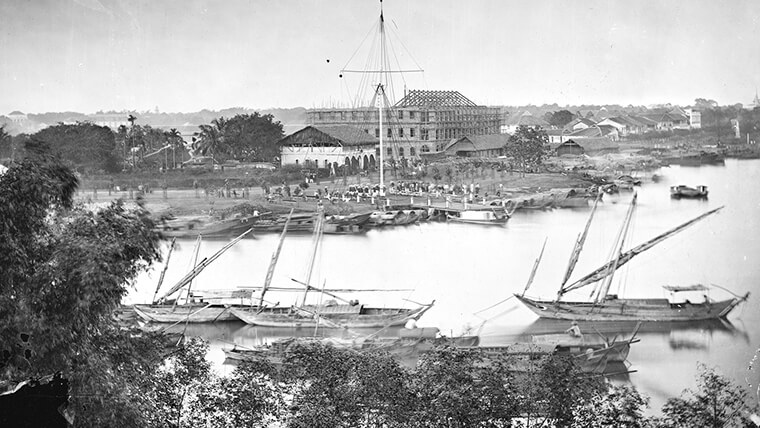 Nha Rong port - Source: Wellcome Library
Also known as Nha Rong harbor, located in District 4 of Saigon, the port was built in 1863 during the French colonial period. In addition to exploiting and circulating goods, Nha Rong harbor is also a historical relic of Vietnam. This place used to be the French transport headquarters in Saigon. At the same time, it is also the place where Ho Chi Minh got off the French ship to work as a kitchen assistant to go to Europe, paving the way for the national liberation revolution in Vietnam.
However, at present, Nha Rong - Khanh Hoi port is relocating to do a super project.
Sai Gon new port (Tan Cang port)
This port belongs to Ho Chi Minh port network which is managed and operated by Saigon Newport Corporation. Specialized ports to exploit seaport services such as cargo handling, logistics, maritime, rescue, rescue, pilotage, real estate, office buildings, military, civil, transportation multimodal, ... Tan Cang port is the place that provides the most convenient and best logistics services today.
Tan Thuan port
As one of 10 branches and units under Saigon Joint Stock Company, Tan Thuan Port can meet all needs of loading and unloading, transporting goods and providing other maritime services.
Currently, Tan Thuan port is equipped with many modern facilities, equipment, and high-tech management programs. As a result, this place has become one of the main ports of Saigon over the years.
It can be said that Saigon port or Ho Chi Minh port is like a dragon struggling in the Far East, the gateway to the world for 75% of the exported goods of the three Indochina countries today. Moreover, this is also an interesting stop for tourists who love daily life in Vietnam.