Binh Tan district doesn't have as many amusement parks and tourist areas as compared to other neighbors. However, with diversity in resident composition, both ethnically and religiously, this is an ideal destination for believers and visitors who would like to experience spiritual culture and find peace for the soul.
1 - Ut Phuong sports fishing area in Binh Tan district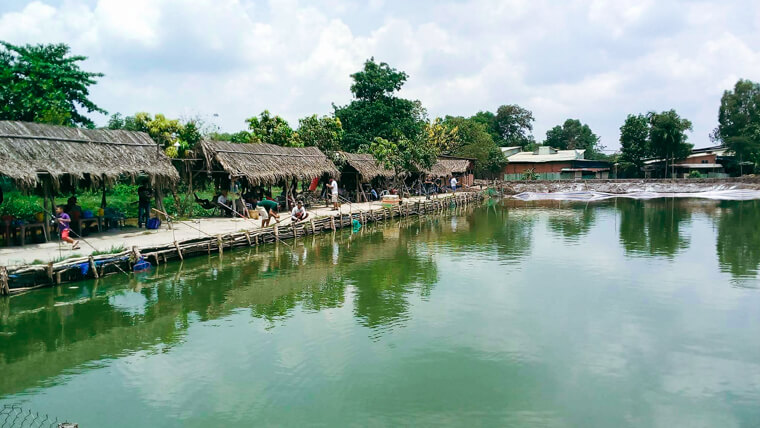 Tourists at the Ut Phuong sports fishing area - Source: @hocaucautphuong
People often immediately link Ho Chi Minh city to the image of a dynamic, hectic urban center with frequent traffic jams and emissions. However, that is just what is going on in the core area, if you drive outwards to suburban districts like Binh Tan district, you will find a totally contrary scene. Everything here seems tranquil and idyllic just like any other countryside all across the country.
Ut Phuong sports fishing area is classified into several private thatched huts. Each visitor wanting to try this activity will be arranged a single hut in order to ensure the stillness for the shared atmosphere. Fish here are great in both number and quality. One thing special at Ut Phuong sports fishing area in Binh Tan district is that they are guaranteed not to be fed or adopt any trick to make them immune to the bait. Therefore, guests leaving Ut Phuong sports fishing area are mostly satisfied with the service and experience that they have had here.
Not only is it a pure fishing pond, but it is also a favorite restaurant of many local folks. The signature dishes of the dinner are Vietnamese chicken (a kind of chickens that are raised outdoors to find food by themselves) and snakehead. Moreover, this destination sometimes holds competitions which are the thing making it attractive to clients. The high-value awards along with the fair-play spirit impresses people and makes it loved.
- Address: No.78B Kenh so 1 street, Tan Tao A ward, Binh Tan district Ho Chi Minh city
- Contact: 0903117619
2 - Hue Nghiem Pagoda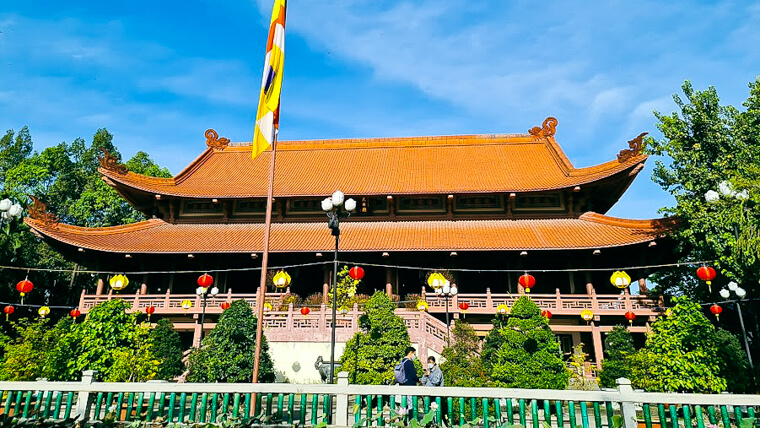 Hue Nghiem pagoda - Source: googlemap
Hue Nghiem Pagoda is one of the spacious temples of Binh Tan that attracts a large number of pilgrims every year. The pagoda was enlightened by monk Thich Thien Hoa in November 1962. To enter the campus, pilgrims must pass through the three-door gate. With ancient architecture imbued with Buddhist culture, the gate of Hue Nghiem pagoda in Binh Tan district has deep brown tones, built with ancient wooden materials. The tiled roof is dotted with dragon motifs winding in each corner. At the top of the roof is a yellow spiral tower rising high with the meaning of prosperity. Along the columns and all couplets at the gate are written in the traditional Confucian style. The carvings on each door are not too fancy, reminding pilgrims of the popular sculptural style that often appeared in ancient temples.
You may need: An overview of District 3 Ho Chi Minh city
After many times of restoration and repair, the main hall of Hue Nghiem pagoda in Binh Tan district now has an area of 600m2, including two storeys, the upper storey and the lower storey. Each storey is the worship place of different Buddhas. Particularly on the lower storey, in the middle of the area is a precious wooden Buddha statue of 4m70 in height, 9 tons in weight. Besides, inside the main hall area, there is a door carved with 12 zodiac animals and The Eight Vajra Deities with artistic and cultural values ​​recorded in the Vietnamese record book.
Sam Hoi hall in Hue Nghiem pagoda in Binh Tan district Ho Chi Minh city worships the statues of the Cuu The Di Da, symbolizing the nine human qualities, in which there are 8 wooden statues of equal size placed in vertical rows. The remaining Amitabha Buddha statue which is 8m in height, 16 tons in weight is placed in the middle. Each statue looks lively as if it has a soul.
Hue Nghiem Pagoda currently owns the following records: is the temple having the tallest wooden statue of Amitabha Buddha; The temple has a set of padauk doors engraved with the largest set of The Eight Vajra Deities and the 12 zodiac animals.
Address: Do Nang Te street, An Lac A ward
3 - Binh An Pagoda - an outstanding attraction in Binh Tan District
This is an ancient pagoda of Ho Chi Minh city as well - Source: googlemap
Binh An pagoda was built in 1936, not only as a sacred worshiping Buddha place, but also a shelter for disadvantaged and unfortunate lives. The pagoda includes the main hall, a church, a guest house, a house for lonely old people and children, and a classroom. Although Binh An pagoda has a rather small area, it is just enough to show the solemnity of the temple and warmth of a family. Perhaps, the beauty of Binh An pagoda in Binh Tan district Ho Chi Minh city does not come from the appearance of the works but from the overflowing love stemming from the people's hearts here.
Like the name of the pagoda (Binh An means peace in Vietnamese), this place is strangely peaceful. The jealousy and greed has no room in Binh An pagoda. There is only the harmony of the helpless elderly and naive children abandoned by their family and relatives. All of them are living under the peaceful roof of the temple, a common house, where the love is shared.
Currently, the house charity of Binh An Pagoda in Binh Tan district is nurturing 55 helpless elderly people and 24 children from 6 months to 20 years old. The good deed that the nuns and the monks of the pagoda have done touches the hearts of numerous philanthropists and the local authority. Every year, this place welcomes many groups of kind people visiting and giving gifts to miserable lives here.
Address: No.4395/1 Nguyen Cuu Phu street
4 - Tu Hanh pagoda in Binh Tan district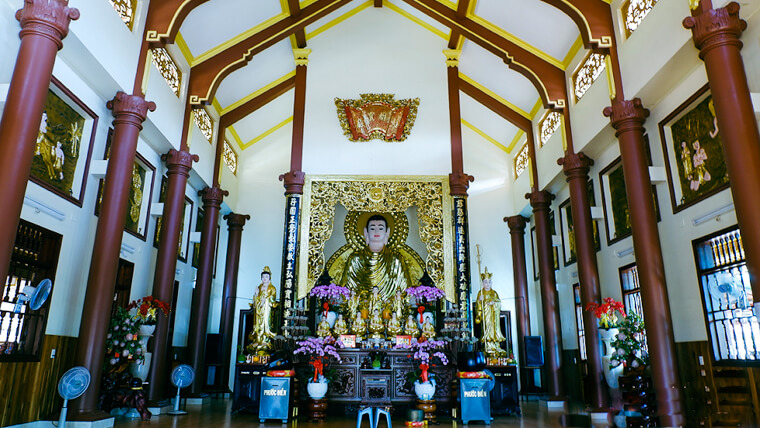 Tu Hanh pagoda - Source: anvietnam.net
Tu Hanh Pagoda is located in a fairly large area. It follows the style of ancient Northern pagoda architecture characterized by simple carvings but still manifesting the sacred beauty of the religious work. Apart from the main components of a temple such as the main hall, Guanyin worship hall, Buddhist statues, tomb towers, etc, the temple spends a lot of space to make room for the outcast people who are living here. The rest of the land becomes a common yard, a flower garden with ornamental plants, creating a harmonious living space between people, nature and Buddhism.
Tu Hanh pagoda in Binh Tan district is well known for its Buddhist worship rites and practical charity activities. Currently, the pagoda is taking care and nurturing 87 orphans and 37 helpless elderly people. The unfortunate people who come here are all taken good care of by monks, nuns and Buddhists. The elderly who are bed sick and no longer have the health to work will receive acupuncture, medicine and someone to handle their daily activities. Those who are still healthy can do chores in the temple such as sweeping the yard, picking vegetables, and looking after the kids.
Charity work Tu Hanh pagoda in Binh Tan district has been going on for more than 15 years. Right from the early days, the pagoda has adopted children who have been abandoned after birth. Some miserable children carry congenital diseases such as heart disease, polio, Down syndrome, and are affected by Agent Orange. Although the budget of the temple is modest, anyone who enters the door of this common roof is offered the best possible conditions.
It is undeniable that Tu Hanh pagoda in Binh Tan district Ho Chi Minh city is a pagoda with large scale and beautiful architecture. But that appeal has been overshadowed by the beauty that comes from the soul of the people here. In a quiet space with the faint scent of incense, the innocent laughter of children mixed with the sound of temple bells and chanting is so heart-touching, isn't it?
Address: No.392/1 Kinh Duong Vuong street, An Lac ward
You may need: Binh Tan district map
Contrary to the conception that Ho Chi Minh city is associated with crowds, noise and fast-paced lifestyle, the above-mentioned destinations in Binh Tan district certainly give you another shade of this metropolis, safe and sound and tranquility. Hope that one day, when you have an occasion to set foot in this area, you will drop into some of them and have memorable experiences.