Established in 1926, when the supply of domestic goods was still scarce, the Tan Dinh market was one of the very few places where people could find anything they wanted. Supply small while demand high resulted in the fact that prices of commodities here were always higher than the average. That's why nowadays Saigon people often call it "the market of the rich". Currently, although it is still diverse in the number of goods, the prices are significantly reduced to be the same as other markets in this city.
I - Where is Tan Dinh market located?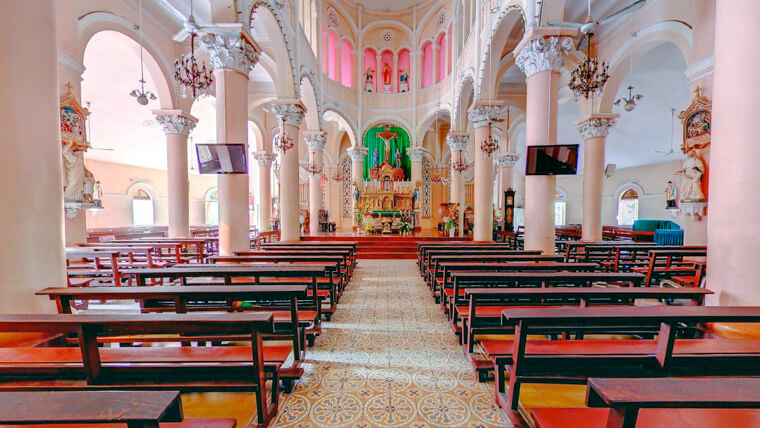 Tan Dinh church - Source: giothanhle
The market is situated in District 1, Ho Chi Minh city. With a large area, it has 4 gates on 4 different streets, of which Hai Ba Trung street is where the main gate lies and also the border of District 1 and District 3.
Moreover, the market is opposite Tan Dinh church or the Pink Church, which is a notable check-in point for many tourists. When visiting this nearly 100 years-old Tan Dinh market, don't forget to drop by this amazing church to take some pictures.
Tan Dinh is an indoor market which can provide foods and a variety of products for the daily needs of almost every family in Tan Dinh ward. The opening time is from 5 am to 5pm. However, with some goods like food, clothes, the stalls can open until late night. The market is bustling at all times, especially on some occasions such as Tet holiday, Christmas,...
However, streets surrounding the market are relatively narrow and have a lot of traffic. The thieves can take advantage of chaos to take action. Therefore, you should take good care of your property when getting around here.
II - What to experience at Tan Dinh market Saigon?
1 - Top food to try at the market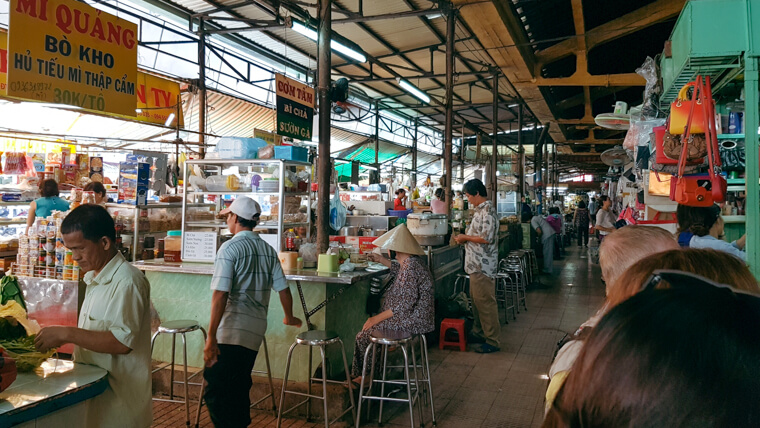 Tan Dinh food market - Source: Chris Serravalle
The food court in this market is well known for a lot of food stalls with a lifespan of up to half a decade. They appeared and existed along with the history of the market. Almost all of them had no obvious name or decent signboard but the quality of food was what made their brand name. Gourmets from all over the city are reckless for long distances to reach this market, just to taste dishes.
Because space for a booth in Tan Dinh food market is very modest, if you come for food, please minimize your things as much as possible. One more thing is that a majority of food stalls in Tan Dinh market feature a written menu. Instead, the seller displays all the ingredients for customers to realize. This is a common thing for local people but a challenge to foreign visitors like you guys. You should learn some simple sentence clauses to ask them, for example: Đây là gì thế? /dɤ̆ĭ1 la2 zi2 t'e5/ (What is it?), Bao nhiêu tiền? /baw1 ɲiəu1 tiən2/ (How much?), Cho tôi một suất /cɔ1 toi1 mot6 suot5/ (Give me one).
After your order, the shop owners will process the dish in front of you. This way, you will know how a Vietnamese delicacy is made. Top dishes that you should not miss are sweet gruel at Mrs.Di Muoi food stall, noodle at Giang Lam Ky food stall, and dish coffee (coffee served in dish).
2 - Shopping at Tan Dinh market in Ho Chi Minh City
The market is likened to a heaven of products of all types, ranging from vegetable, meat, fruit to dry things, clothes, footwear, accessories, and particularly spare fabrics. Spare fabrics are the materials of fashion shops and garment factories that are unused then sold by weight rather than by square.
"Unused" doesn't mean low quality. Good tailors or DIY people often take time to find in the spare fabrics shop with fine texture, unique pattern and color to make items which seem no less than products from big brand names.
Like other traditional markets in Vietnam, goods in Tan Dinh market are usually without price tags. That's why shoppers are advised to ask for a price before deciding to buy anything. Besides, traders would rather you paid in cash, Vietnam Dong (VND) - the offical Vietnamese curency - because other payments cause them trouble in liquidity.
3 - Night market
The market in the daytime is crowded with mothers and grandmothers but when the night falls, it is the favorite rendezvous of the youth, particularly the night owls. Everyday, from late afternoon, food stalls and vendors on streets surrounding Tan Dinh market start setting up tables, ovens and raw materials to welcome eaters. There is no definite opening hour. Normally shops open from 5 pm to 7 pm and close when all ingredients run out, it can be 10pm, 11 pm or even 3 am next day.
The most famous dish in Tan Dinh night market is frog porridge on Nguyen Huu Cau street. A standard portion includes a small pot of braised frog and a white rice porridge. The frog is soft and tough, a bit spicy and salty while the rice porridge is sweet and fragrant with the scent of sesame.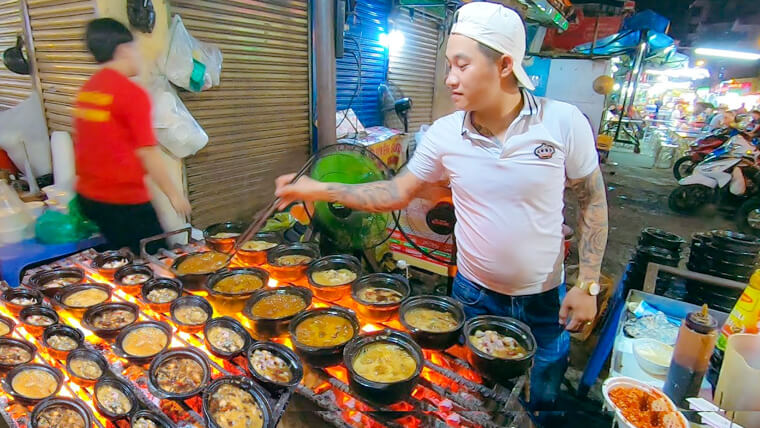 Frog porridge in Tan Dinh market - Source: Phạm Dũng
When serving, the eater will drop the frog and scoop some gravy into the porridge, nibble the meat and sometimes take some spoon. This dish is delicious in a very strange way, but you can't stop eating it. A portion of frog porridge like this costs about 60,000 VND ($2.6).
Besides, steamed sticky rice with chicken 25,000 VND ($1.1)/dish, crab soup (35,000 VND (1.5)/dish) and porridge with pork rib 25,000 VND ($1.1)/dish are try-worthy as well. Although their prices are higher than those sold in the daytime and those in other places, their taste is undeniable. Therefore, no matter how many restaurants in this city are opened and closed, those in Tan Dinh night market are still firmly surviving and thriving over time.
III - History and architecture of Tan Dinh market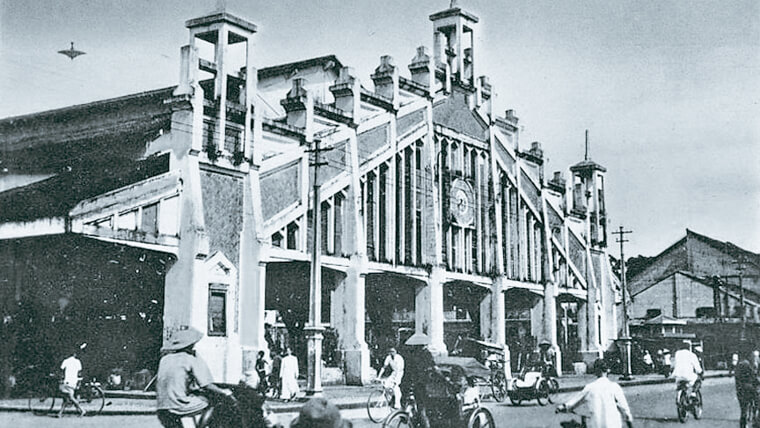 Old image of the market - Source: nhactrinh
From the front, the market looks no less than a pagoda in Thailand because of the yellow triangle roof with 3 bell towers, one at the top and two at two edges. Nearly 100 years have gone but this structure still preserves its original shape.
At first, the market had both indoor and outdoor areas. Afterward, all the vendors outside had to move inside. Therefore, each booth is only 1.5 m wide at most and the space seems extremely jam-packed. In some parts, the aisle is so narrow that customers have to slither amongst commodities to shift.
Throughout the long history from the establishment to presence, not a single day goes by without the operation of Tan Dinh market, except one, on April 30, 1975, which was the Reunion Day of Vietnamese people. That time, when hearing of the victory of the Southern army, traders all spent a day off staying home, celebrating the important event of the country.
Tan Dinh market is definitely one of top most famous attractions in Saigon with lots of food stalls known for a long term still sell hot cakes. Tourists coming here will receive nice care from shop owners even if they don't buy. No longer a commercial center for big pockets, it has become one of the places gathering affordable goods in Ho Chi Minh city.