District 6 is located in Southwest Ho Chi Minh City, bordering Tan Phu District and District 11 to the North, District 5 to the East, District 8 to the South, and Binh Tan District to the West. With a total area of 7.14km2, District 6 Ho Chi Minh City accounts for 0.34% of the natural area of the entire city, consisting of 14 wards in total from ward 1 to ward 14 with 74 streets and 1311 residential groups.
District 6 in Ho Chi Minh City is well-known for bustling markets, traditional handicraft villages, and the system of spiritual architecture as well as Vietnamese conventional art performances. Below are the most impressive tourist sites in District 6 that are highly recommended to you.
1 - Binh Tay Market - the best attraction in District 6 Ho Chi Minh City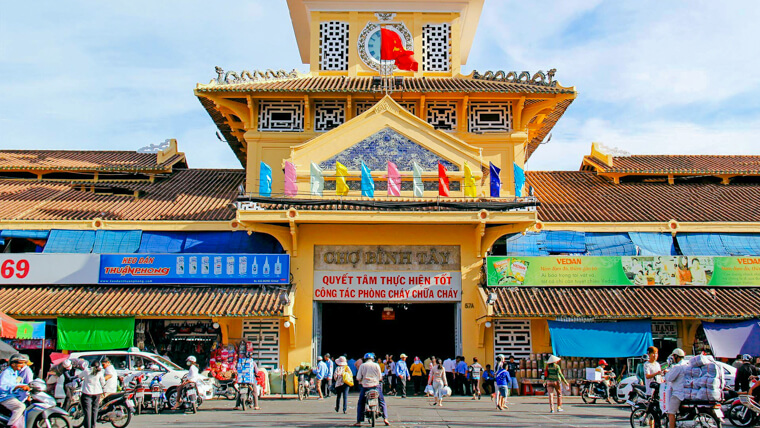 Binh Tay Market - Source: saigonese.vn
Binh Tay Market or Cho Lon Moi (literally: big market) is located in the center of the largest Chinatown in Vietnam, built-in 1928 and donated to the city government by a Chinese named Quach Dam. Here, you can find an extensive range of products from seafood, meat, poultry, vegetables, and fresh fruits in the region and across the country. In addition, there is an assortment of lacquerware, textiles, and handicrafts sold in bulk in this market.
Binh Tay Market in District 6 Ho Chi Minh City was ordered and invested by a Chinese man so it has an Asian style but was built according to modern French techniques. Seen from above, it looks outstanding with mossy red tiles with cascading designs and walls painted in nostalgic yellow with delicately designed decorative patterns. Possessing an open and spacious space, Binh Tay Market has 12 auxiliary gates and 1 large main gate located on Thap Muoi Street, which was designed similar to the typical architecture of Vietnamese temples. The tower of the market has 4 faces, each face is fitted with a large clock, similar to Ben Thanh Market. The front of the tower has a bas-relief of jade green earthenware inlaid with two dragons adorning a pearl, while the roof corner and the top of the tower are decorated with embossed dragons.
The most unique feature of Binh Tay Market in District 6 Ho Chi Minh City is a spacious and airy courtyard in its middle, where the altar and statue of Mr. Quach Dam, who was vital in building the market. Around the market, there is a lotus pond with fish, statues of Qilin, a dragon spraying water, and a few stone benches for guests to rest their feet.
Binh Tay Market is open from about 2am to 10pm, characterized by a chaotic and hectic space with crowds of people exchanging goods. The market is divided into two main parts including the outside wet market street and the inside section. The outside section is mostly located along Phan Van Khoe Street, District 6 Saigon, selling all kinds of Vietnamese and Chinese food, meat, seafood, vegetables, and fruits. In addition, there are processed food stalls, as well as restaurants serving delectable local dishes and take-away food, at very affordable prices. The inside section of the market is packed with stalls selling dried and preserved ingredients, a vast quantity of dried fruits and nuts, all sorts of herbs and snacks. Besides, it is also well-stocked with numerous vendors selling all kinds of Vietnamese clothes and cookware.
Address: No.57A Thap Muoi Street, Ward 2, District 6
2 - Tuyen Lam Pagoda in District 6 Ho Chi Minh City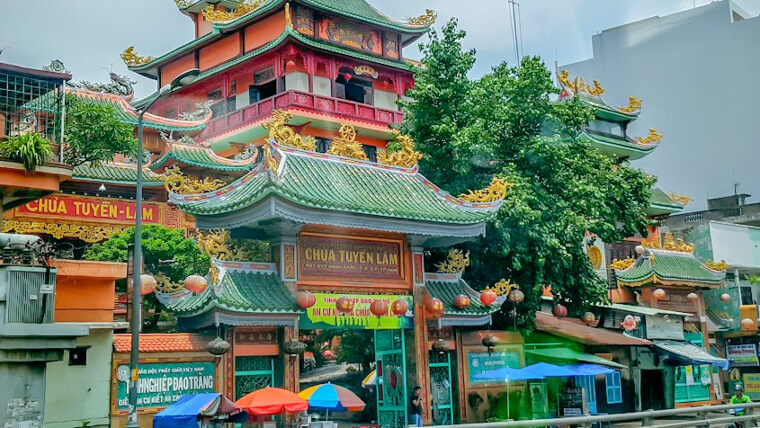 Tuyen Lam Pagoda - Source: Googlemap
Used to be a small leaf-walled pagoda, Tuyen Lam pagoda was constructed in 1858 by Buddhist monk Thich Thien Tin, is now an attraction spot in Ho Chi Minh City. Over the years, it was rebuilt and restored and has become a splendid spiritual site of the city.
The pagoda was built according to the ancient pagoda architecture of Northern Vietnam, combining some elements of the Chinese pagoda architectural style. It consists of 3 rows of similar closed square houses with multi-layer and curved roofs which have a jade color. The main color of Tuyen Lam Pagoda in District 6 Ho Chi Minh City is bright red, the outstanding feature of Chinese pagodas. The unique three-door gate is characterized by a 2-story tiled roof with columns engraved with many parallel sentences in Chinese. In the middle of the moderate yard featuring many green trees is a shrine placing two lion statues. The modern and spacious main hall features an exquisitely carved worshiping place with the Buddha Shakyamuni in the center.
Address: No.887 Hong Bang Street, Ward 9, District 6
3 - Chinatown in District 6 Ho Chi Minh City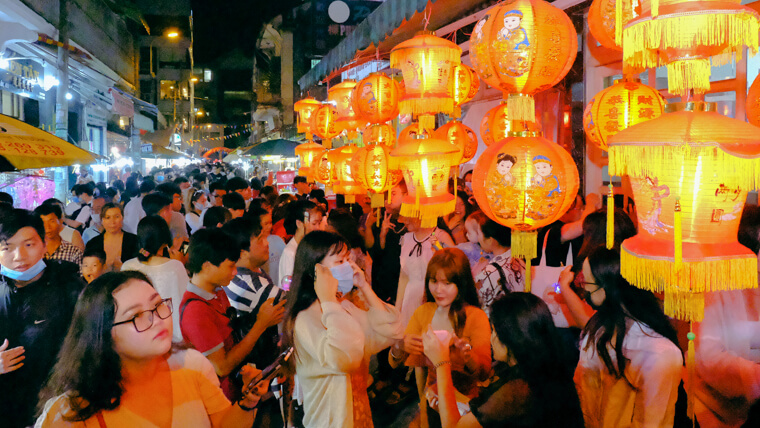 A corner of Chinatown - Source: afamily
As a place with a large concentration of Chinese people, Chinatown, also called Cho Lon (big market), covers a large area including District 5, District 6, District 10, and a part of District 11. If you go along the Te canal, you will find a very different area compared to the rest in Ho Chi Minh City, like a low note in a piece of bustling music. This place features many unique cultural, culinary, and architectural features of the Chinese people, who are mainly from Chaozhou and Fujian.
Coming to the Chinatown in District 6 Ho Chi Minh City, you easily encounter rows of Chinese-style houses and restaurants selling Chinese cuisines like dumplings, fish noodle soup, sate noodle soup, Chinese fish porridge, etc. Walking in the space of old and mossy buildings, apartments, small houses,... as well as wet and chaotic markets, you will be covered by the peaceful fragrant scent of incense, the passionate smell of traditional Chinese medicine,… Under the high-hanging red lanterns swaying in the wind, there is the tinkling sound of people talking but not in Vietnamese. It was as if someone had cut a piece of ancient China and placed it in modern District 6 Ho Chi Minh City.
4 - Giac Hai Pagoda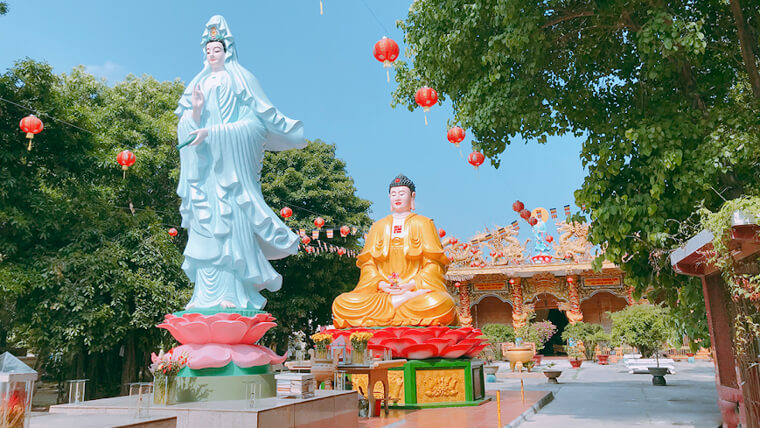 Giac Hai Pagoda - Source: anvietnam
Not far from Tuyen Lam Pagoda, Giac Hai Pagoda is a famous place where many residents visit to worship and pray for good luck and health on special occasions. It was established around the end of the 19th century with the old name of Giac Son pagoda, then renamed as Giac Hai as people know it today. After many times restoration in 1991, 1995, and 1997, currently, the pagoda of Giac Hai is a historical site of the city. It is actually a rectangular house with double sloped roofs. Giac Hai Pagoda in District 6 Ho Chi Minh City consists of 4 stupas in the campus and 5 areas: the main hall, the lecture hall, the East hall, the Eastern lobby, and the Western lobby. The facade of the pagoda has a door and 2 windows, on both sides of the wall features 8 windows on which feature a circular mirror. On both sides of the entrance emboss two meandering dragons facing each other. There are 10 round cement columns embossed with the shape of brilliant yellow dragons, which divide the hall into three compartments. There is a Buddha altar and the main hall is decorated with sophisticated bronze incense burners, flanked by Buddha statues and lotus flower vases. In Giac Hai Pagoda in District 6 Ho Chi Minh City, there are also many ancient wooden statues such as Ngu Hien statues, statues of Buddha Shakyamuni, four Bodhisattvas Avalokiteshvara, and Manjushri, etc.
Address: No.45 Hung Vuong Street, Ward 6, District 6
5 - Tu An Pagoda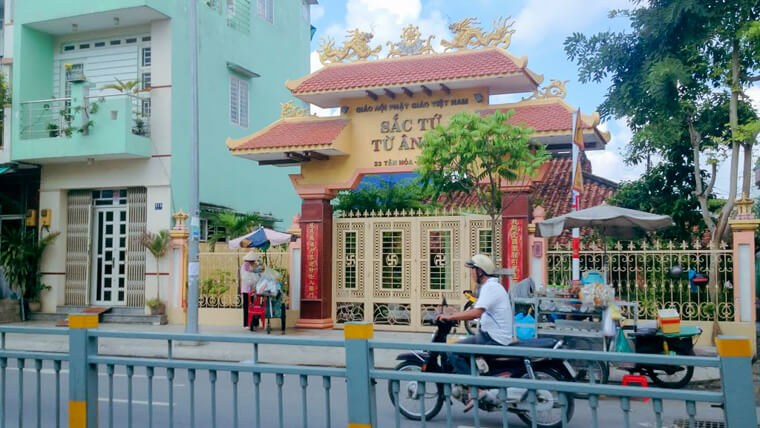 Tu An Pagoda - Source: mapio
Tu An Pagoda is the new "version" of Tu An Pagoda or Sac Tu Tu An in District 1, constructed in the 18th century because it was burned in the French invasion. The "new" pagoda is located in District 6, erected in 1870 in order to preserve the religious lineage and keep the remnants of the old temple. There are still quite a few horizontal paintings and couplets from many different places. Although the new one in District 6 Ho Chi Minh City is characterized by relatively moderate architecture, it still has many precious artifacts including two red-painted wooden paintings with golden carved patterns, two wooden carved tablets of the Patriarchs, and hundreds of scriptures, laws, and treatises in Chinese and Nom from previous centuries of which the most valuable is the collection of the book of the Five Families of the Sect, the first set of books referring to Buddhism in Gia Dinh (an old name of Ho Chi Minh City) and Southern Vietnam.
Address: No.23 Tan Hoa Street, Ward 14, District 6
District 6 Ho Chi Minh City is a worth-visit destination for those who would like to get closer to the multi-cultures, lifestyles or the spiritual life of people in the city in general and locals in the district in particular.