Located in the northeast of Ho Chi Minh City, Binh Thanh District is a gateway of the city with an important strategic position. The northeast of the district borders District 2 and Thu Duc District, the west-northeast bordering Go Vap District and Phu Nhuan District. This district was ranked in the list of 40 most impressive places in the world by Time Out magazine with side-by-side food stalls, high-end restaurants, coffee shops, vibrant bars, etc, which creates a completely lively atmosphere.
- Binh Thanh District postal code / zipcode: 72300
- Area: 2,076 ha
- Population: 464,394 people
- Administrative units: 20 wards (ward 1, ward 2, ward 3, ward 5, ward 6, ward 7, ward 11, ward 12, ward 13, ward 14, ward 15, ward 17, ward 19, ward 21, ward 22, ward 24, ward 25, ward 26, ward 27, ward 28).
I - Top #7 attractions in Binh Thanh District
1 - Ba Chieu market
Ba Chieu market was constructed on a large area in 1942, is now one of the most bustling markets in Ho Chi Minh City. The main gate is in Phan Dang Luu Street, opposite the market is Le Quang Dinh Street. Surrounding the market are gold shops, of which the most outstanding ones are located at Dien Hong Street. From the day of establishment, this is the place for goods exchange at affordable prices, serving the needs of many Saigonese.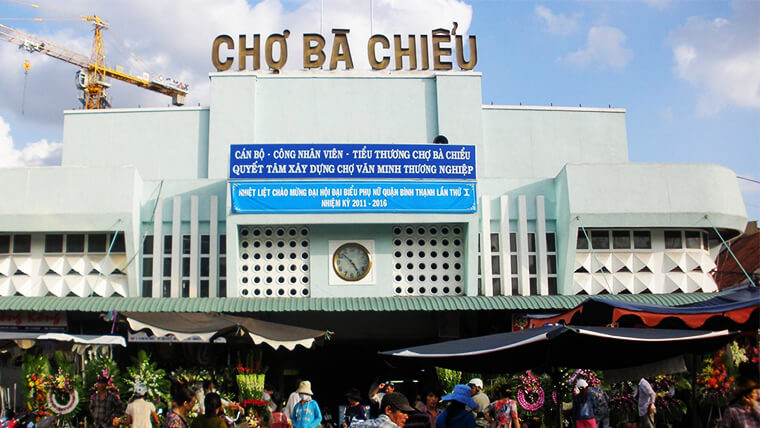 Ba Chieu market - Source: Internet
The market is an attraction in Ho Chi Minh City to visitors and a shopping center for the locals in Binh Thanh District and neighboring areas. Currently, there are 1,479 stalls selling all the stuff such as housewares, clothes, shoes, essentials, and especially second-hand items. At night, the market is more vibrant with a wide array of restaurants, selling limitless scrumptious street foods and local cuisines such as chicken steamed glutinous rice, Vietnamese honeycomb cake (bánh bò), banana cake, bánh đúc lá dứa (Pandan rice cake), bún mắm (Vietnamese fermented fish noodle soup), etc., making it a paradise of food in Binh Thanh District HCMC. You can easily pick up a couple of items for yourself at very affordable prices or simply stroll around to enjoy the hustling atmosphere inside the market.
- Location: No.40 Hong Bang Street, Ward 1
- Working hours: 6am - 10pm
2 - The mausoleum of Ong Ba Chieu (Lang Ong Ba Chieu)
The mausoleum of Ong Ba Chieu located next to Ba Chieu market is the oldest and largest spiritual and cultural architectural work in Binh Thanh District as well as in Ho Chi Minh City. This is a complex of temples and tombs with an area of 18,500m2, featuring 4 gates in 4 directions. Visiting the mausoleum, you are firstly welcomed with the Tam Quan gate in the South, opening to Vu Tung Street.
The main mausoleum consists of 3 parts which are the stele house, the shrine, and the tomb. The stele house was designed as a small temple with brick walls and yin-yang tiles. In front of the stele are a pair of golden cranes riding a turtle, which represents the yin-yang harmony and mutual support among all species.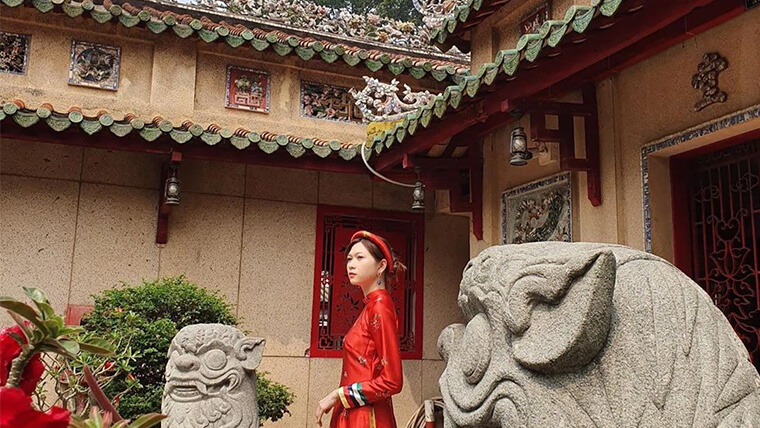 The mausoleum of Ong Ba Chieu is a great attraction in Binh Thanh Ho Chi Minh - Source: Ins @_nguyentrinh94
The tomb area includes two smaller tombs with the shape of a lying turtle. Surrounding the tomb is a thick laterite wall, leading to the yard for burning incense. The shrine area is the most beautiful place on the campus of the mausoleum, which is a place for religious activities, featuring extremely sophisticated patterns of porcelain mosaic, stone, and wood carving. It consists of three parts which are the front hall, the center hall, and the main hall, each of which is separated from the other by a skylight.
Like other spiritual sites in Binh Thanh District Vietnam, you can resort to sortilege to wish for luck and good health. If you come to the tomb on the 29th to 30th July or the 1st to the 2nd August of the lunar year, you will have a chance to join the Ong Ba Chieu Tomb festival. You can take photos with Vietnamese traditional dress (Ao Dai) at the mausoleum, and pray for health and prosperity for the loved ones.
- Location: No.01 Vu Tung Street, Ward 3
- Opening hours: 7am - 5pm
3 - Top tourist sites in Binh Thanh District: Van Thanh Tourist Area
Van Thanh Tourist Village is considered as a "green oasis in the heart of Saigon" with an area of more than 8ha, consisting of a 3.5ha lake, which makes the area an open, fresh, and natural space. Van Thanh tourist area provides types of business such as fully-equipped meeting rooms for conferences. Plus, there are many services for you to have fun with like a swimming pool, tennis court, Dung Dinh coffee, and photography. The cuisine is also a highlight of this tourist area in Binh Thanh District with a myriad of large-scale restaurants, such as Hoa Su restaurant, Trang Do restaurant, Hoa Sen restaurant, Hoa Cau restaurant, and Riverside restaurant Thuy Ta 1 - 21, etc. The garden area, is characterized by large lawns with an area of 1ha, which is appropriate for celebrating weddings, picnics, or outdoor activities. The buffet with the theme "Regional delicious food" promises to amaze you and bring memorable moments.
- Location: No.48/10 Dien Bien Phu Street, Ward 22
- Opening hours: 5pm - 8:30pm on Saturday, Sunday, and national holidays
- Fee: 290,000 VND/ adult ($12.7), 170,000 VND/ kid ($7.5)
4 - Bao Minh pagoda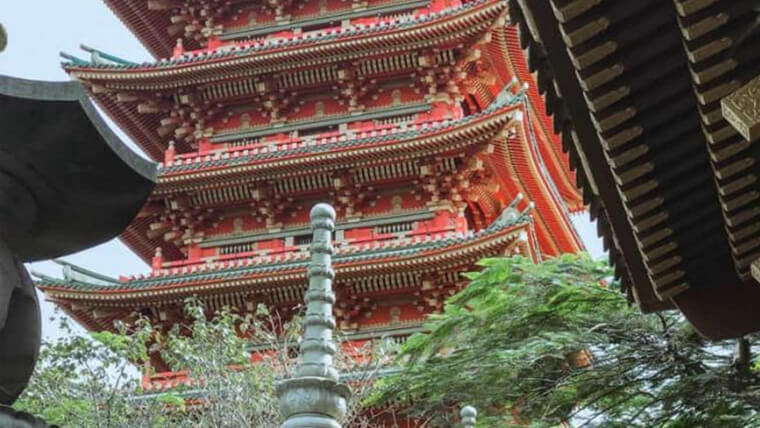 Bao Minh Pagoda - Source: Internet
Bao Minh pagoda is one of the notable spiritual places in Binh Thanh District Ho Chi Minh City, constructed in 1960 with the typical architecture of traditional ancient pagodas in Vietnam. The three-arched entrance gate features red tile roofs stacked on each other. The corners of the main hall's roof are gently curved, decorated with the image of dragon's heads. In the yard, there is a quiet lotus pond, bringing a sense of peace and relaxation. This pagoda in Binh Thanh District is also an open-air shrine of Quan The Am (Bodhisattva), standing on a dragon's head. In front of the entrance of the main hall are 2 large dragon statues painted in bronze and black. Around the corridor of the main hall are words embossed with cement, which represent the meaningful life philosophy. In the courtyard, there are plenty of green trees, which creates a fresh and soothing space, bringing peace deep inside your mind and your body when you visit this pagoda in Binh Thanh District. In the main hall, there is a temple and a large statue of Shakyamuni Buddha. Behind the statue is an image of a bodhi tree painted on the wall. Above the statue (in the hall's ceiling) is an open skylight that absorbs natural light, making the hall in general and the statue in particular shiny and sparkling. On the walls are paintings telling about the life of the Buddha, painted in different shades of dark and light.
- Location: Xo Viet Nghe Tinh Street, Ward 25
5 - #7 attractions in Binh Thanh District: Buu Lien pagoda
The pagoda was built in 1958, outstanding with the main background color of yellow, sophisticatedly decorated with detailed patterns on the pillars, and a wealth of statues that have high architectural and aesthetic values. The red-tiled roofs are curved in the corners with the carved dragons, which is very impressive. The Buddha hall is dignifiedly decorated with the middle place for worshipping Buddha Shakyamuni. The circular stupa on the Buddha's temple has 7 floors, worshiping 49 Medicine Buddhas.
- Location: No.570 Xo Viet Nghe Tinh Street, Ward 25, Binh Thanh District Ho Chi Minh City
6 - Binh Quoi Tourist Area
In Binh Quoi Tourist Area (Binh Quoi tourist village), there are 3 sub-tourist areas including Binh Quoi 1, Binh Quoi 2, and Binh Quoi 3.
Binh Quoi 1
It borders the east of Saigon river with an area of more than 3ha, outstanding with fresh natural landscape together with the rows of coconut trees, numerous orchards, vibrantly green lawns, ponds, and lakes. It is broadly considered the favorite tourist village for letting your hair down and enjoying Southern-style food and beverages. If you are looking for well-equipped meeting and conference rooms, this is an ideal option to consider.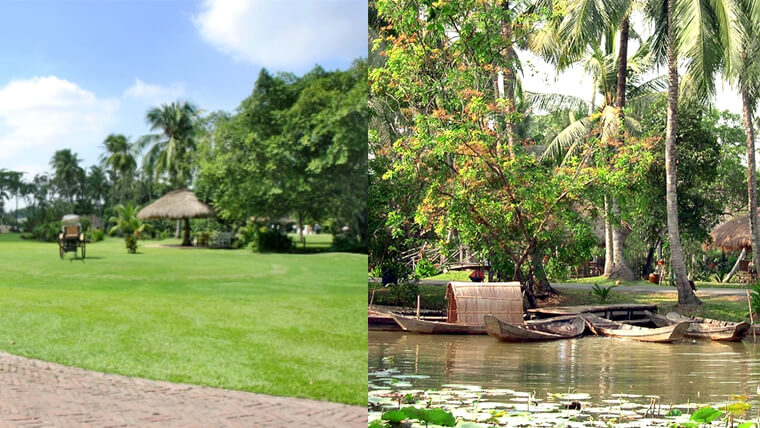 Binh Quoi 1 is an outstanding attraction in Binh Thanh District - Source: Binhquoi
Besides, a variety of services you can find here are folk games, rowing, fishing, cruising along the river, and taking wedding photos and videos. The area is also famous for its cuisines with an array of restaurants such as Hoa Mua, Hoa Sim, Hoa Cau, Bong Lua 1, and Bong Lua 2, with a capacity of 100 to 300 guests, providing Vietnamese delicacies. The garden featuring large lawns with an area of 7000m2 is a wise choice for outdoor weddings, picnics, and many other collective activities in Binh Thanh District Ho Chi Minh City. Especially, there is a "Break fresh ground in the South" themed buffet, serving limitless food and recreational programs.
Binh Quoi 2
It is situated at the end of Binh Quoi street on Thanh Da peninsula, near Binh Quoi 1. The place has an area of 2.5ha, attracting tourists thanks to its green, quiet and pristine space, which also makes it ideal for relaxation. Visiting Binh Quoi 2, you have an opportunity of experiencing 39 grand bungalows full of modern equipment, luxurious Saigon river view restaurants with a capacity of 300 to 500 guests, providing delicious Southern specialties.
Binh Quoi 3
Binh Quoi 3 in Binh Thanh District HCMC also known as Quan Xua, is regarded as an ideal destination at the weekend, located on Binh Quoi Street with an area of 1.6ha, featuring ancient, cozy, and rustic style. The wide village provides a wide variety of captivating activities such as coloring statues, playing seesaw, and playing swings. You can enjoy numerous traditional cuisines of the Mekong Delta as well as Western European specialties.
- Location: No.1147 Binh Quoi Street, Ward 28
- Opening hours: 5pm - 8:30pm on Saturday, Sunday, and national holidays
- Fee: 320,000 VND/ adult ($14); 190,000 VND/ kid ($8.3)
7 - Vincom Landmark 81 in Binh Thanh District
Vincom Landmark 81 is the highest building in Vietnam, which is 461.3m high, including 81 floors and 3 basements. The complex features busy shopping malls, 6-star hotels, and sumptuous apartments. Shopping malls are located from B1 to the 3rd floor, service sector and luxurious apartments from the 4th to the 40th floor, and hotels Vinpearl from the 41st to 76th floor. In the shopping malls, there are a wide array of the world's leading fashion brands and sport accessories, an ideal place for shopaholics.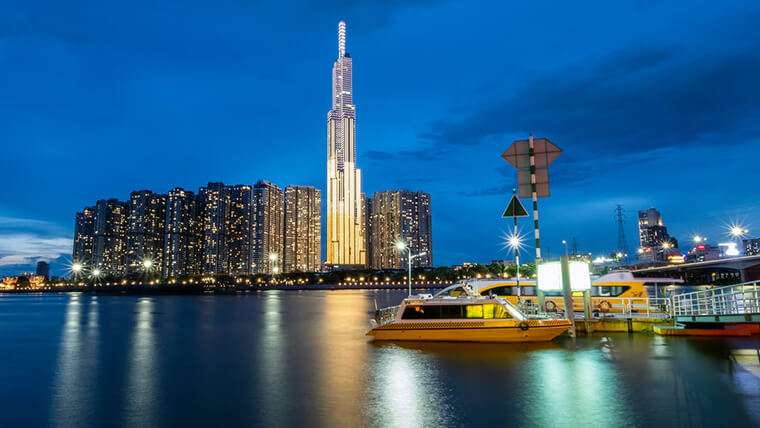 Vincom Landmark 81 in Binh Thanh Ho Chi Minh - Source: Long Bún
Vincom is also a top-class entertainment paradise with interesting activities such as watching movies, skating, recreational activities, etc. Restaurants in Landmark 81 are extremely diverse, serving a variety of specialties and various dishes from all continents worldwide. Capricciosa Italian Restaurant chain, Khao Lao restaurant, Ganh Restaurant, Kichi Kichi Conveyor Belt Hot Pot Restaurant, Gogi House Korean Barbecue Restaurant, Sushi Kei Restaurant, Di Mai Restaurant, and Hue Delights - Hue, etc are some of the prominent ones that can be mentioned in Vincom Landmark 81 in Binh Thanh Ho Chi Minh.
In particular, there is a Skyview observatory on the three last floors, where there is a coffee restaurant named Miwaku Coffee Lounge, and a space for relaxing and having a panoramic view of the whole city.
The tower's design is inspired by the image of conventional bamboo bundles, symbolizing rapid development and national unity. The building looks more glorious at night thanks to the system of light from the bottom to the top with various colors and high-resolution visual effects.
You can freely go into some areas in the tower such as shopping malls, bars, and lounges, but you have to pay a ticket for the Skyview observatory.
- Location: No.772 Dien Bien Phu Street, Ward 22
- Opening hours: 10am - 9:30pm
- Observatory ticket: 810,000 VND/ adult ($35.3); 405,000 VND/ kid ($17.7)
II - Top hotels & apartments in Binh Thanh District Ho Chi Minh City
Below is the list of hotels and apartments in this dynamic district:
1 - Saigon View Residences
The hotel offers separate and convenient apartments with sophisticated interiors and modern amenities such as an indoor swimming pool, sauna, steamed room, and gym. There are deluxe, superior, and executive rooms. All are designed according to four-star hotel standards with spacious living rooms, fully equipped kitchens, and exquisite bathrooms.
- Address: No.117 Nguyen Cuu Van Street, Ward 17, Binh Thanh District HCMC
- Contact: +84 838 404 966
2 - Laverne Hotel Saigon
The hotel is environmentally designed with wooden floors and furniture. The background color is mainly white and every room is decorated with a colorful 3D picture, making the rooms very attractive.
- Address: No.5/24 No Trang Long Street, Ward 7
- Contact: +84 283 841 1368
- Website: http://lavernehotel.vn
3 - New Hampton Hospitality - top hotels in Binh Thanh District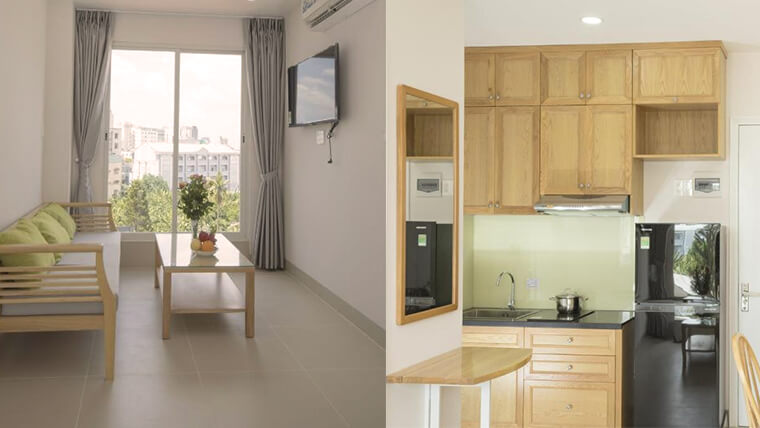 New Hampton Hospitality - Source: Booking
New Hampton Hospitality is about 1.2km from Vietnam National Museum of History, 1.8km from Landmark 81, and about 2km from Tan Dinh Market. The rooms are simply designed and have a cozy space with widely open windows, which makes the rooms airy and fresh every time.
- Address: No.236/29 Dien Bien Phu Street, Ward 15
- Contact: +84 909 350 009
- Fanpage: https://www.facebook.com/Cornelia-Hotel-Apartment
4 - Apartment in Binh Thanh District: Cozrum Homes Premier Residences
Cozrum Homes is located near Diamond Plaza shopping center and Tan Dinh market (2.7km and 2.5km respectively). It has various types of rooms such as studio, apartment-based floor, apartment with balcony, and a one-bedroom apartment. It is large, spacious, airy, and has a modern design. The white background combined with the wooden floors creates a sense of relaxation and environmental friendliness.
- Address: No.04 Nguyen Cuu Van Street, Ward 17,
- Contact: +84 898 555 889
- Website: https://cozrum.com/
5 - Maison De Camille
This is a hidden gem in Ho Chi Minh City as well as one of the most outstanding hotels in Binh Thanh District Vietnam with a Retro French style, offering guests true urban sanctuaries with 18 rooms and 2 suites, divided into four types: Retro reimagined (best-seller room), interconnecting rooms (family choice), Luxury At Your Leisure, and Luxury At Your Leisure with large terrace for privacy. In particular, the hotel features a rooftop playground which not only provides a stunning view of the church but also organizes some interesting games such as Foosball, Dart, or simply unwind your mind on a sun lounger.
- Address: No.174/21 Dien Bien Phu Street, Ward 17
- Contact: +84 283 840 3379
- Website: https://mdecamille.com/
In conclusion, Binh Thanh District is now one of the most attractive places when visiting Ho Chi Minh City, where you can discover the pristine beauty of nature in a couple of villages, tourist sites, and unique architectural pagodas as well as explore the locals' life in the night market, etc. all of which promise give you an amazing experience on your journey. Let's follow our website Local Travel Ideas to get more beneficial information about fascinating destinations in Vietnam.