Located in the center of Saigon, this area of 4.92km2 has a population of 190,375 people (as of 2019), living in 12 wards numbered 1, 2, 3, 4, 5, 9, 10, 11, 12, 13, 14 and Vo Thi Sau Ward. District 3 Ho Chi Minh City is bordered by the districts of 1, 10, Tan Binh and Phu Nhuan, only about 20 minutes by car, equivalent to a distance of 7.5km, to Tan Son Nhat airport. This place was honored to be in the top of the best neighborhoods in the world, with highlights that you can find out in the article below:
I - Best places to visit in District 3 Ho Chi Minh City
1 - Tan Dinh Church - a special church in Ho Chi Minh District 3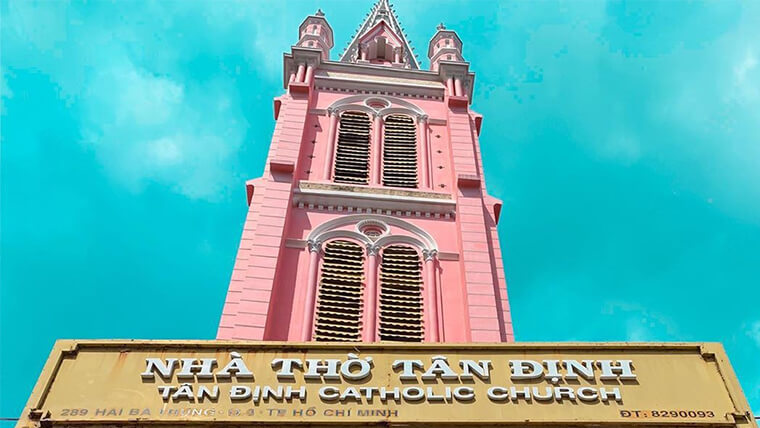 Tan Dinh Church - Source: Ins @itsaliimran
Having a striking pink color, Tan Dinh Church is an attractive stopover, sightseeing and ceremony spot in District 3 Saigon, built with marble materials since the 1870s and inaugurated in 1876. It is designed with ancient French architecture featuring an arched 52.6m high entrance and five bronze bells weighing 5.5 tons, as well as two Gothic column rows inside, creating a sense of superficiality and solidity. Coming here, you can freely walk around and try delicious street food at roadside vendors, as well as take great check-in photos to post on social networks.
- Address: No.289 Hai Ba Trung Street, Ward 8, District 3
2 - War Remnants Museum
For travelers who are interested in history and want to learn about the wars in Vietnam in the past, this is the must-see attraction located in District 3 Ho Chi Minh City. The War Remnants Museum was built in 1975 under the name Exhibition House for US and Puppet Crimes, then it was renamed as it is now in 1995. This museum currently preserves more than 20,000 documents and artifacts, as well as photos and movies of dire remnants related to the war in Vietnam. Coming here, you will get the closest view of the crimes, the cruelty of war and the devastating consequences left behind.
- Address: No.28 Vo Van Tan Street, Ward 6, District 3
- Sightseeing time: 7:30am - 6pm
- Ticket price: 40,000VND/ person ($1.72)
3 - Vinh Nghiem Pagoda
Source: Internet
Built in 1964 and considered as one of the holiest sites in Ho Chi Minh District 3, Vinh Nghiem pagoda has a typical Vietnamese Buddhist design style, with features and motifs from the 20th century. This religious architecture has 3 main parts: the Shanman gate, the Grand Hall and surrounding towers, with a 14m-high stone tower in the campus - the first, tallest and most elaborate one in Vietnam. The massive Shanman gate is a three-way entrance, leading to the typical red-tile curved roof hall.
Walking in, you can see a 7-storey and 40m-high stupa on the left, and a statue of Bodhisattva of the Avalokiteshvara in front. The Grand Hall of Vinh Nghiem pagoda in District 3 Ho Chi Minh City consists of 2 floors, in which the ground floor includes Ancestor veneration house, lecture hall and library,… Meanwhile, the second one has a terrace, Prostate Temple and Kuanyin Tower with meticulously carved decorative features, together with majestic Buddha statues. If you feel tired, you can go to the Temple Abbot area located next to a pure lotus lake to take a rest, breathing in the serene atmosphere.
- Address: No.339 Nam Ky Khoi Nghia Street, Ward 7, District 3
4 - Southern Women's Museum
Built in 1985, Southern Women's Museum is the place where artifacts and documents about Vietnamese women are displayed. This place currently has about 31,360 artifacts, of which are mainly monolithic objects, documentary films and photos. The collections kept in the museum are also diverse, with 11 fixed themes, many regular exhibitions and especially the newly inaugurated 3D room (2020). Some standout collections can be mentioned are Vietnamese ao dai, household appliances in different periods, Central Highland gongs, or the Jewelry collection of Vietnamese women.
- Address: No.200 - 202 Vo Thi Sau Street, Ward 7, District 3
II - Best things to do in District 3 Ho Chi Minh City
1 - Walking around Con Rua Lake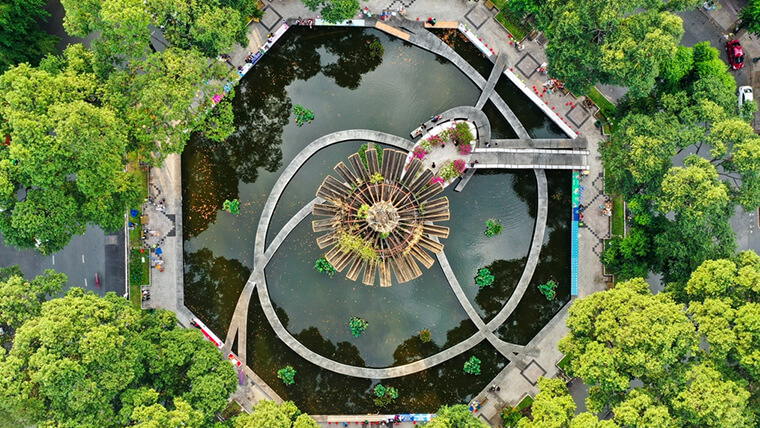 Turtle lake - Source: Zing
Dug in 1790, Con Rua lake is the symbol of Ho Chi Minh City, named "turtle" because looking from above, it is similar to a giant turtle. Walking here after sunset, you can easily admire the beautiful Ho Chi Minh District 3 nightlife, enjoy fresh air and try various tasty street foods. You can find near Turtle lake countless vendors or stalls selling unique dishes with distinctive regional taste such as: pork skin shaking with cheese, mixed rice paper, grilled corn, quail eggs with tamarind sauce, etc. The food here is very cheap, with only about $10, you can eat as much as you want.
- Address: The intersection of 3 streets: Pham Ngoc Thach, Tran Cao Van and Vo Van Tan
2 - Enjoying street food at Nguyen Thuong Hien street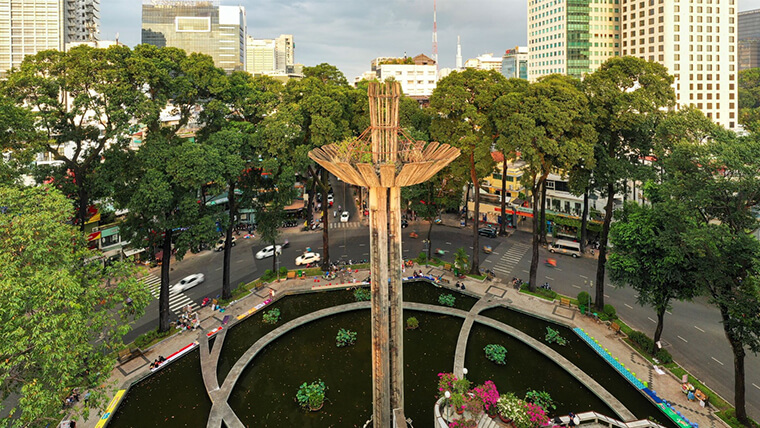 Nguyen Thuong Hien street - Source: Quynh Dan
Nguyen Thuong Hien Street has been known as a paradise of junk food for a long time in District 3 Ho Chi Minh City, making it a must-see destination in District 3 of Saigon. Coming here, you will encounter a lot of street stalls and vendors selling different kinds of famous Saigon street food, attracting many people to enjoy, especially young people. The list of dishes here is long but very cheap, each dish is only about 10,000 - 50,000 VND ($0.4 - 2), from sweet potatoes, cheese toast or sweet rice flan to beef rolls and spring rolls.
3 - Exploring the unique Chantarangsay Pagoda
Built about 70 years ago with typical Khmer architecture, this pagoda has a total area of 4,500m2 divided into 3 main subdivisions: the lake, Buddha-worshiping tower, and house of monks. The whole Chantarangsay pagoda is covered with a distinctive golden brown tone, with the extremely beautiful trio of towers meticulously carved to create exceptional motifs. Inside the architecture are many pictures of Buddha, each of them is a representation of a human spiritual process. At the corners, on the roofs, walls and columns of the pagoda, there are also decorations of the God bird Garuda.
- Address: No.164/235 Tran Quoc Thao Street, Ward 7, District 3.
4 - Shopping in District 3 Ho Chi Minh City
Ban Co Market
Source: VnExpress
This special corner in Ho Chi Minh City District 3 is one of the most popular shopping places for second-hand items lovers in Saigon. The name Ban Co (chess board) of this market came from its structure, which includes many small alleys connected together and dividing the space into numerous squares. Not only selling old things, some market stalls at Ban Co Market also provide a full range of new products from bags, clothes, shoes to backpacks, originating in Vietnam and from all over.
- Address: No.646 Nguyen Dinh Chieu Street, Ward 3, District 3
- Opening hours: 9am - 7pm
Vuon Chuoi Market
As one of the longest markets in Ho Chi Minh City, Vuon Chuoi market offers a full range of items from food, seafood, clothes and shoes. This market in District 3 Saigon is also a culinary paradise with plenty of tasty and colorful dishes sold in rows of stalls jostling together. In addition to hot seafood such as snails, clams and crabs, the market also has dishes with bold indigenous flavors such as rice noodles, banh canh, and so on. The best time to visit this place is in the afternoon (around 3 - 4pm) because it is very crowded in the evening and you will have to stand to eat.
- Address: No.428 Nguyen Dinh Chieu Street, Ward 4, District 3
- Opening hours: 5am - 8pm
III - Hotels in District 3 Ho Chi Minh City
As mentioned above, District 3 is one of the most ideal places to stay for days because there are many interesting things to do and lots of places to visit. Here are some suggestions of nice and convenient hotels in District 3 Saigon to stay.
1 - Ta Maison
The hotel is designed in French style combined with cozy Vietnamese style. From Ta Maison hotel, you can easily travel to other famous sightseeing places such as: Ben Thanh Market (1.5km), Remnants of War Museum (1.4km) and Independence Palace (1.6km). On Tripadvisor, guests who have stayed at Ta Maison left a lot of compliments about the cozy space, full amenities and the friendly attitude of staff.
- Address: No 382/34 Nguyen Thi Minh Khai Street, District 3, Ho Chi Minh City
- Room rate: 570,000 - 900,000VND/night ($24.6 - 38.8)
- Contact: 0988 897 470
2 - Orchids Saigon - Top deluxe hotels in District 3 Ho Chi Minh City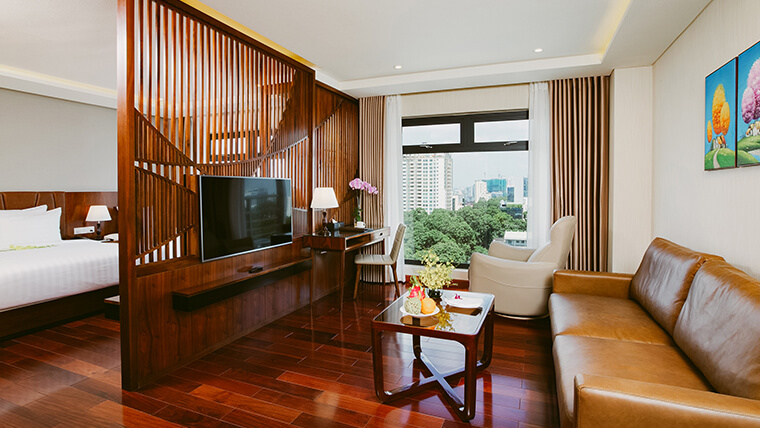 Source: Orchidshotelsaigon
This Saigon District 3 hotel is designed with neoclassical style, accompanied by full facilities such as: indoor swimming pool, restaurant, café and large check-in lobby. From Orchids Hotel, you can also easily reach famous tourist attractions of Saigon such as Independence Palace, Ho Chi Minh Museum, etc.
- Address: No.192 Pasteur Street, Ward 6, District 3
- Room rate: 1,000,000 - 2,000,000 VND/ night ($43 - 86)
- Contact: 028 3636 5222
3 - Mai House Saigon Hotel
Looking out to the poetic Saigon river, this hotel possesses a classy and luxury, but still cozy design with the main colors of white, beige and nude. Mai House - a famous 5-star hotel in District 3 Ho Chi Minh City, offers you a full range of essential amenities, including private bathing yard, swimming pool, gym, restaurant with free European - style breakfast,... You can easily go from the hotel to some attractions such as: Saigon Central Post Office, War Remnants Museum, etc.
- Address: No 157 Nam Ky Khoi Nghia Street, Ward 6, District 3
- Rome rate: 3,000,000 - 4,500,000VND/night ($129 - 194)
- Contact: 0287 303 9000
It can be seen from this article that District 3 Saigon is one of the most attractive destinations in the South of Vietnam, promising to bring many interesting experiences. You will have the opportunity to see impressive architectural, spiritual or cultural works, visit vibrant tourist attractions and enjoy delicious local dishes. With the information provided above, you will definitely be able to tour and explore District 3 Saigon in the most comfortable, simple and memorable way.