Saigon Central Post Office address is no.2 Cong Xa Paris, Ben Nghe ward, District 1, Ho Chi Minh City. In 1886, it started to be built following the design project of architect Villedieu and his assistant Foulhoux. It took 5 years until 1891, for the new headquarters of the Central Post Office to be officially inaugurated.
Notes before visiting:
- Entrance fee: free of charge
- Saigon Central Post Office opening hours: 7am - 7pm from Monday to Friday & 7am - 6pm on Saturday & 8am - 6pm on Sunday
I - The unique & typical architecture of the Saigon Central Post Office
The overall exterior of the post office is a bright yellow building with highly symmetrical architecture, creating a perfect background for beautiful photos. Right in the top center of the building is a large clock that easily catches your attention when you first come here. Above it is a figure wearing a laurel wreath with the name of the building. From the center to the sides are rectangular cells, each engraved with the names of the inventors of the electricity and the telegraph industries.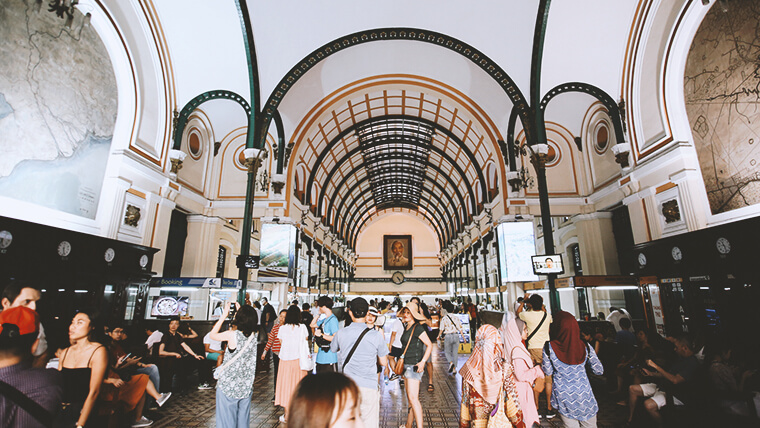 Saigon Central Post Office architecture - Source: Kenh14
Inside the post office, right in the top middle is a photo of President Ho Chi Minh overlooking two straight green iron pillars with wooden chairs, where people can sit and rest while trading and visiting. On each of the walls on two sides of the post office are two skillfully and meticulously drawn Saigon historical maps. Looking up, the ceiling of this Old Post Office Ho Chi Minh city is made in a very sophisticated arched architecture, mixing European style with Asian decoration, you are impressed by the classic and modern beauty of Saigon Post Office. Next to the wall, there are also ancient telephone boxes and mailboxes to help you remember the old times of Vietnam. In addition, you can buy a lot of souvenirs about Saigon and Vietnam at the souvenir stalls in the corridor near the main entrance to the building.
II - What to do at the Saigon Central Post Office?
There are four main activities you can do when you get here, namely:
- You can also create and expand your own stamp collection by choosing for yourself special stamps that are released by the post office of Ho Chi Minh City.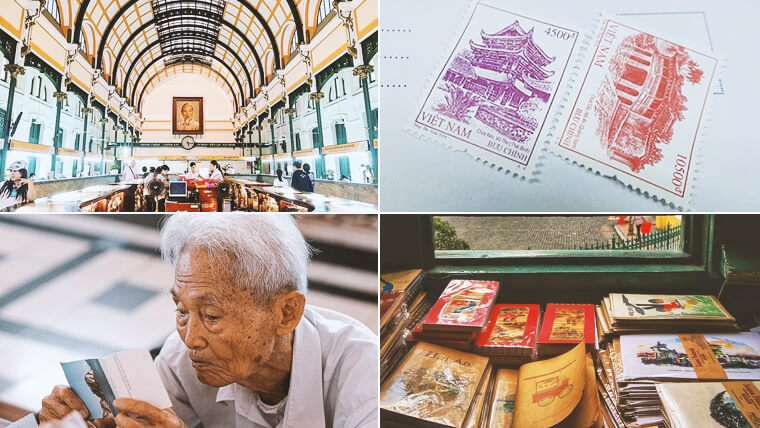 Source: Internet
- It would be a wonderful experience for you to meet Ho Chi Minh City's "last public letter writer" - Mr. Duong Van Ngo. He has been recognized by the Guinness Book of Records of Vietnam as the person who has spent the most time writing letters for those who couldn't. Despite being nearly 90 years old, Mr. Ngo still works 5 days a week, from 8am to 3:30pm. Being fluent in French, English, and Vietnamese, his job is translating and writing letters in those languages. He has a lot of customers who may have been regulars for more than 20 years, but also newcomers, some who don't really need to send letters but just want to keep them for good luck.
- Currently, Saigon Central Post Office provides many important services such as: developing the public postal network, providing public postal services; express delivery at home and abroad; acting as an agent providing telecommunications and information technology services; supply chain management services; postal services, press distribution, ... and many other diverse fields not only in the postal sector.
- There are souvenir stalls across the sites, and you can also buy typical items of the post office such as postcards, figure art paintings, unique handicrafts,... Prices range from 50,000 to 2,700,000 VND/item ($2.2 - 118.61).
- Around the Ho Chi Minh Central Post Office, there are many street foods such as Vietnamese coffee, cotton candy, mixed rice paper, baked rice paper, quail eggs, guava-sugarcane mombin,...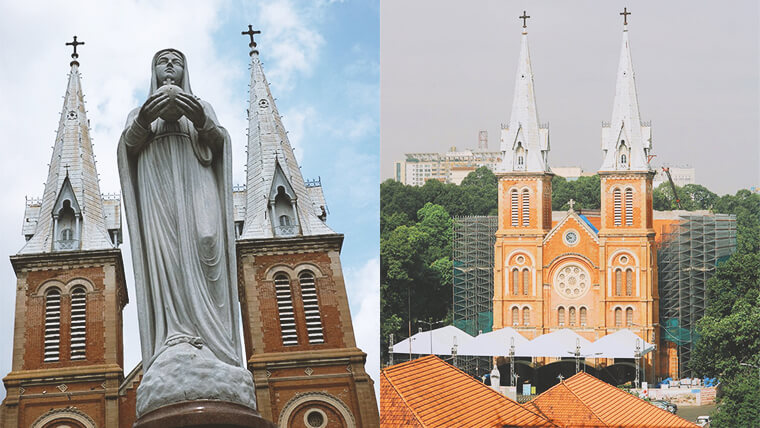 Notre Dame Cathedral - Source: Ins @chupchoetsaigon
Saigon Central Post Office Vietnam is one of the typical buildings of Ho Chi Minh City. This place certainly brings you memories back to an old-time in South Vietnam. After coming here, you can visit the following outstanding attractions in Ho Chi Minh City: Notre Dame Cathedral (14m away), Independence Palace (550m away), Ho Chi Minh Museum (900m away),...