Ho Chi Minh Municipal Theatre started construction in 1898 and it was inaugurated on January 1, 1900. In 1998, on the occasion of Saigon's 300th birthday, this opera house was renovated to keep the original architectural style, and equipped with an artistic lighting system.
I - What is the Saigon Opera House address?
The opera house is located at No.7 Cong Truong Lam Son Street, Ben Nghe Ward, District 1, Ho Chi Minh City - 900m from Independence Palace; 500m from Central Post Office; 500m from Saigon Notre Dame Cathedral. You can get here by the following ways:
Motorbike
You can park your motorbike in the parking lot of the city theater. The parking lot opens from 8am to 10pm.
Bus
The bus routes near the Saigon Opera House Ho Chi Minh City that you can get on 02, 03, 19, 45, 53. (visit https://map.busmap.vn/hcm for more details)
Note: The opera house is open to performances & shows, not for sightseeing.
II - Architecture of the opera house
This opera house was designed by a group of French architects (Félix Olivier, Eugène Ferret and Ernest Guichard) and stands out as an impressive architectural construction following the flamboyant style of the French Third Republic.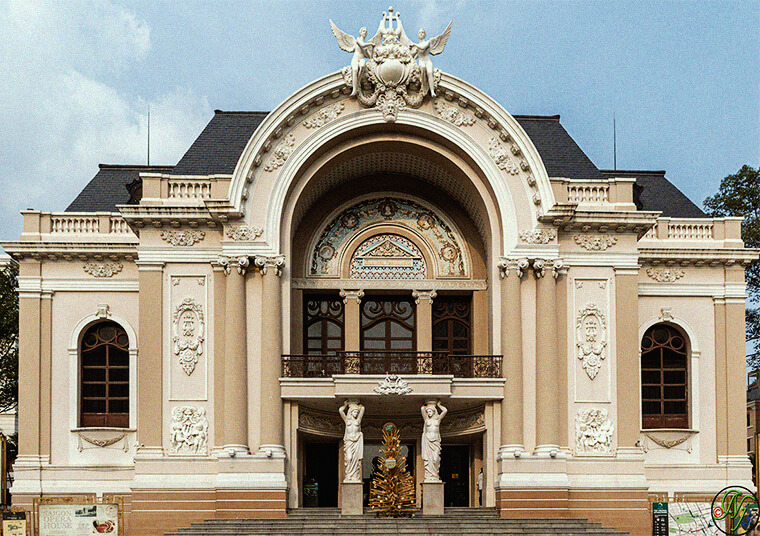 The opera house from outside - Source: Nick Jonh
Saigon Opera House in Ho Chi Minh City is an artistic masterpiece with a skillful combination of architecture and sculpture. From the exterior to the interior, reliefs are the main decorative elements. Particularly, the theater's façade is clearly influenced by the art of the Petit Palais Museum in Paris. The system of arched doorways with a series of raised railings bears bold French classical architecture.
All decorations, facade reliefs and interiors of the Saigon Opera House were painted by a famous French artist like the models of theaters in France in the late 19th century. In addition to the ground floor, there are 2 floors, so the capacity of the theater is up to 1,800 seats. The oval auditorium has 468 seats with great views and an excellent sound experience. The opera house is set to be 2m higher than the ground and is designed with 2 layers of doors, avoiding noise from outside. The interior of the Opera House in Ho Chi Minh City is modernly designed with a full sound and light system.
Many people are wondering: "Is the Saigon Opera a replica of the Hanoi Opera House?"
In fact, the Saigon Opera is not a copy of the Hanoi Opera House, but architecturally they have a "counterbalance". If the Hanoi Opera House is a complete combination of Renaissance architecture, Baroque and Art Nouveau elements, the one in Saigon is designed in the Flamboyant architectural style of the Third Republic of France and Beaux-Arts & Art Deco style.
III - Saigon Opera House programmes & events
There are many interesting & meaningful artistic programs held here and some of those can be mentioned such as:
À Ố Show
AO Show, lasting about 60 minutes, is an interesting show with humorous and delicate stories about rural and urban life in Vietnam, through simple props made from bamboos such as basket boats, bamboo bridges... combined with folk instruments, contemporary dances, acrobatics and beatboxing.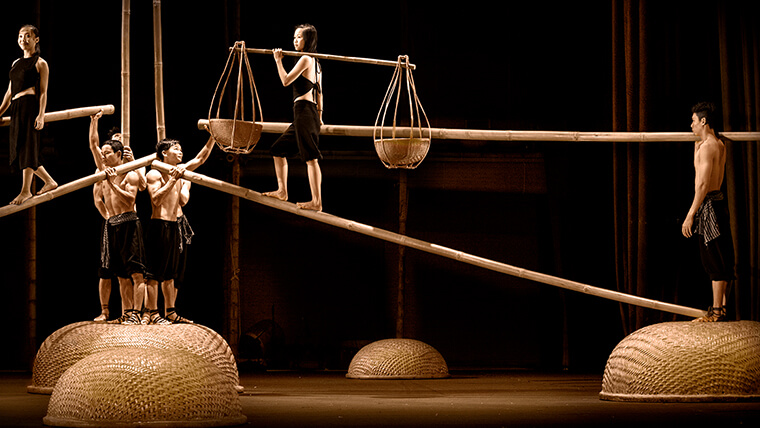 A show in Saigon Opera House - Source: Ticketbox
Opera Gala
Symphonic concerts with legendary tunes from famous composers such as Bach, Mozart, Beethoven.
The Mist
This is an emotional performance that shows a farmer's life from dawn to abundant harvest. Through neoclassical and modern dances skillfully performed by professional performers.
Operas
Legendary classical operas are performed by professional actors & actresses and talented orchestras.
Vietnamese music shows
Music performances and shows about the beauty of Vietnam & Vietnamese through singing, traditional instruments and acting arts.
Notes
- The programs here are not suitable for children under 6 years old
- For checking the Saigon Opera House schedule and opening hours, please access the website of Lune Production (https://www.luneproduction.com/saigon-opera-house) or HBSO (https://ticketbox.vn/HBSO).
- Dress code: the casual dressing is highly recommended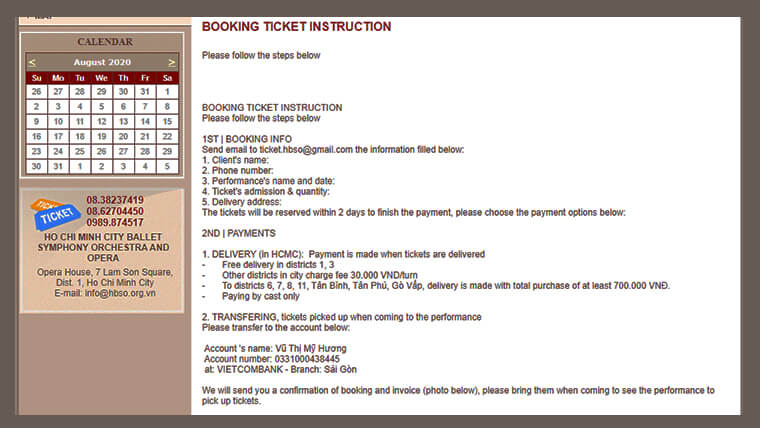 Source: Internet
- Entrance fee is included in the show ticket price.
- The show ticket prices range from 600,000 VND/ticket ($26) and you can buy tickets at:
+ At the HBSO box office: City Theater Basement, No.7 Lam Son Square, District 1, Ho Chi Minh City
+ Contact: (028) 38237419 / Mobile: 0989874517
+ Online booking via the website:https://ticketbox.vn
It is obvious that Saigon Opera House in Ho Chi Minh City with magnificent architecture standing at the heart of the city is a must-visit attraction for enjoying interesting shows and performances.