With a large population, vast terrain, and dense rivers, the best markets in Saigon are as the hubs of culture. With a wide range of markets varying from local markets, night markets to floating markets, underground markets. Each type of Saigon city marketplace has its own specialties and distinguished features to explore. Apart from the most well-known markets such as Ben Thanh, Ba Chieu, Binh Tay, Tan Dinh, An Dong,.. there also exist many underground and Saigon urban flea markets, scattered all over the roads and alleys where you can see and catch lots of interesting things.
Taking a market tour is the best way to explore a diverse culture & lifestyle by enjoying the vibrant atmosphere, savoring the local dishes and taking some specialties home. This list covers some most famous & unique market places in Ho Chi Minh city as a shopping & traveling guide for international tourists to Saigon Vietnam,
I - Top 7 best markets in Saigon
1 - Ben Thanh market
This is among the best local markets in Ho Chi Minh district 1. The market was built in 1912 with an ancient structure that was quite unique with four major gates leading to four directions including North, South, East and West. The subdivision in the market is also effectively designed which makes shopping very convenient. In particular, there are 4 gates with 4 separate types of business goods: South gate is for dry goods and fabrics, the North gate sells fresh flowers and fruit, the East gate of this wholesale market in Saigon displays cosmetics and confectionery while shoes, handicrafts, and souvenirs are sold in the West Gate.
This market is open all day and night. In the daytime, it is so noisy and bustling of trading, while at night it brings the shimmering beauty of the night market with a variety of goods and especially restaurants with thousands of delicious delicious dishes. Ben Thanh market is definitely one of the most bustling night markets in Ho Chi Minh city district 1.
- Address: Le Loi Street, Ben Thanh Ward, District 1, Ho Chi Minh City.
- Opening time: 4am - Late night
2 - Binh Tay market
Binh Tay Market has a rather fancy East Asian architecture with an octagonal shape and 12 main and auxiliary gates. Being considered one of the most beautiful markets, this wholesale market in Saigon holds the second-largest trading hub of the city with 2300 stalls, divided into 5 areas.


Source: Docbao
- The ground floor area is mainly for lamps, pottery pieces, shoes, bags, pictures, aluminum products, cutlery, jewelry, plastic bags, canned goods, jam - fruit ...
- The floor areas are mainly for ready-made clothes and candy
- Tran Binh area is for herbs and spices, seafood, tea - coffee, fruit, fresh flowers.
- Phan Van Khoe area is the center of this Saigon food market with abundant sorts of raw materials such as pork, beef, shrimp, crab, snails, frog, seafood, duck - roast pig, chicken and duck
- Le Tan Ke area is for shrimp - dried fish, grease, beans - flour, rice, vegetables, fresh noodles, eggs, household bamboo, and rattan...
- Address: No.57A Thap Muoi street, Ward 2, District 6, Ho Chi Minh City
- Opening time: 2am - 10pm
3 - Dan Sinh market in Saigon
Dan Sinh Market is a unique one, capturing fully the cultural flavor of Vietnam with several small stalls selling essential aspects standing next to each other. Coming to Dan Sinh market, travelers will have the opportunity to experience the bustling shopping atmosphere as well as the daily life pace of Saigon people. The main item of the market is second-hand products.
In the past, this Saigon city market was a place selling old military equipment of the US military, which keeps reminding travelers of a distant past from the glorious time of Vietnamese ancestors. Furthermore, it also becomes a popular place for antique enthusiasts.
- Address: in the centre of District 1, Ho Chi Minh city.
- Opening time: 7am - 5pm
- Establishment: found in 1954
4 - An Dong market Saigon
An Dong Market has a width of approximately 25,000 square meters divided into three fairly professional business locations namely: An Dong Food Market, An Dong Market, and An Dong Plaza. An Dong Market and An Dong Plaza mainly sell clothing, with a wide range of designs, styles, types, and prices for retail customers and wholesalers. Besides, this Saigon market is famous for plenty of delicious dishes, such as bird's nests, dried snakehead fish, or dried fruit that are very suitable for travelers to buy as a souvenir for family and friends.
- Address: An Dong Site, Ward 9, District 5, Ho Chi Minh City
- Opening time: 7:00 - 18:00 (Some stalls open till 21:00).
- Time of construction: built-in 1951, reconstructed in 1991
5 - Nga market

(Russian market Saigon)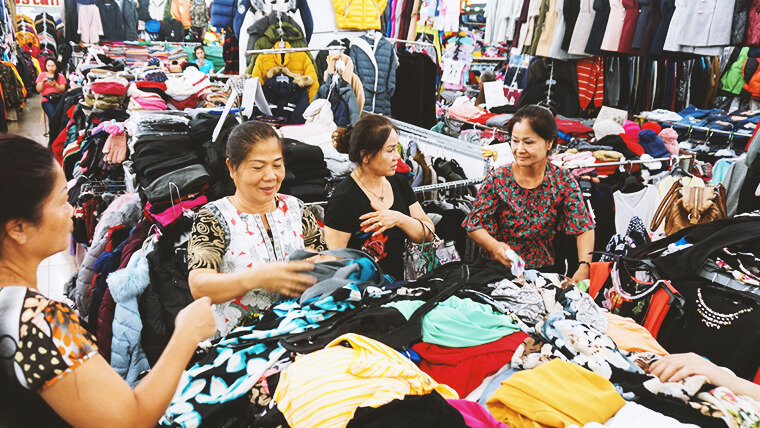 Source: Vnexpress
Nga Market offers travelers the vibe of Russia right after the moment they step into the market gate and see the pictures are plastered on the wall. Moreover, the entrance of the market was designed with tissue modeled on The Tsar's architecture to give travelers the feeling of standing in that land of birch.
This is a famous market in Ho Chi Minh City that not only provides daily necessities for locals but also attracts tourists with more than 200 stalls selling a variety of items. Among which there are significant souvenir stalls displaying products originating from Russia such as watches, dolls, night lights, wine, cosmetics, food..
- Address: No.328 Vo Van Kiet Street, District 1, Ho Chi Minh City
- Opening time: 9am - 7pm
- Establishment: Rusian Market was founded in 2000 by an overseas Vietnamese student once studying in Russia.
6 - Ba Chieu market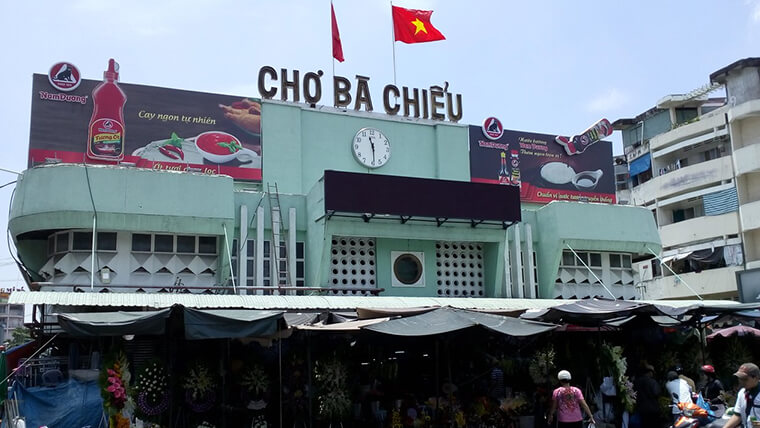 Source: Tripadvisor
Ba Chieu market including approximately 800 business households with 40 categories is a very famous shopping place in Saigon due to its abundance, good quality, and reasonable price. Besides, you are always welcome in this famous market in Ho Chi Minh City no matter whether you purchase more or less. You might always receive a warm smile with very sweet advice from saleswomen.
Moreover, the West's specialties at Ba Chieu market vary from beefcake, fragrant pineapple leaf cake with creamy coconut milk or cast cake, or delicious banana cake can impress any traveler.
- Address: No.40 Dien Hong Street, Ward 1, Binh Thanh District, Ho Chi Minh City
- Opening time: 5am - 5pm
- Time of construction: built in 1942, reconstructed in 1987.
7 - Tan Dinh market -

among the best markets in Ho Chi Minh city
This is the local market that carries the most distinguished flavor of Saigon. Besides, it is close to Tan Dinh church - a tourist attraction that is also quite interesting that you can explore. Most of the people in the market are local people, nevertheless, the goods are extremely plentiful ranging from fabrics, silk, genuine clothes to food items, souvenirs…
- Address: No.48 Ma Lo Street, Tan Đinh Ward, District 1, Ho Chi Minh.
- Opening time: 5am - 11pm
- Time of construction: built in 1926.
II - Other unique markets
Saigon is one of the top city where you can visit and experience lots of interesting things in Vietnam's markets and the lifestyle of local people there.
1 - Saigon Asian market (Asiana Food Town) -

underground market in Saigon
Source: Nld
Asiana Food Town, widely known as the first underground food market in Vietnam, has captured significant features of Asian cuisine with more than 500 delicacies. To get there and enjoy amazing food, travelers need to reach the old parking lot of Sen Hong stage located above.
This is also one of the top night markets Ho Chi Minh at which you can enjoy hundreds of delicious Asian dishes. The food here varies from traditional Vietnamese dishes to Japanese, Singaporean, Indian, or even Lao, and Cambodian. The price is about 20,000 - 50,000 VND / dish ($0.86 - 2.15). The drinks are also very affordable, for example, with only 15,000 VND ($0.65), you will have 1 cup of fragrant cane juice.
- Address: No.4 Pham Ngu Lao Street, District 1, Ho Chi Minh City
- Opening time: 10am - 10pm
2 - Ho Thi Ky market - best Saigon flower market
Ho Thi Ky Flower Market Saigon or the Repatriated Overseas Vietnamese Market flower market full of colorful flowers. They are not only diverse in types and increasingly enchanting but also surprisingly cheap namely sunflower, marigold, and copper money, sand wall, orchids, and roses.
This is one of the most famous Saigon markets where you can find several famous types of flowers from Dalat or the West, even rare species with high prices in the world are available there. When Tet Holiday comes, flower connoisseurs often come to this place to enjoy flowers and choose fresh flowers to decorate their houses.
- Address: No.52 Ho Thi Ky Street, ward 1, District 10, Ho Chi Minh City
- Opening time: 2pm - 8pm
3 - Floating market Saigon Vietnam - The West's flavor inside Saigon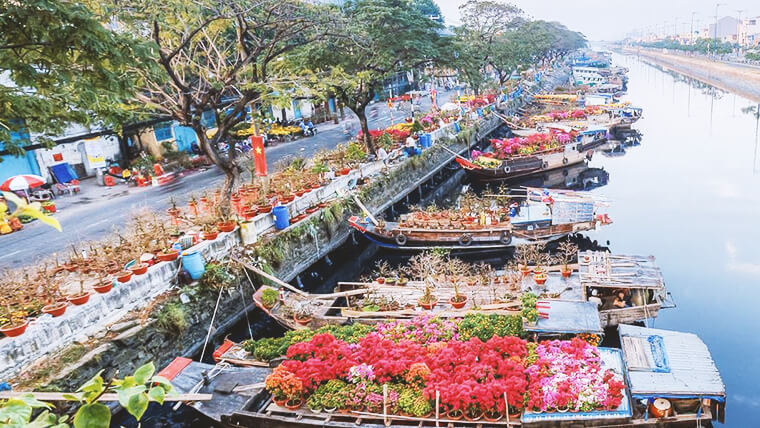 Source: Foody
In Saigon, there are several floating markets on the Saigon River among which the Cai Rang and Cai Be floating markets are the busiest ones. They are widely known as unique landmarks carrying a number of features of the West inside the heart of bustling Saigon.
The special thing about these floating markets in Saigon is that goods are all sold on the boat standing next to each other. The trade and exchange of goods also takes place on the river. Products are mostly from rivers such as fragrant flowers, sweet fruits from the Mekong Delta.
- Address: Around District 8 neighborhood, Ho Chi Minh City
+ Binh Dong Floating Market, District 8, Ho Chi Minh City
+ Phu Dinh Floating Market, District 8, Ho Chi Minh City
+ Kenh Te, Floating Market, District 7, Ho Chi Minh City
- Opening Time: 5am - 5pm
4 - Soai Kinh Lam - one of the most old-aged Fabric Saigon markets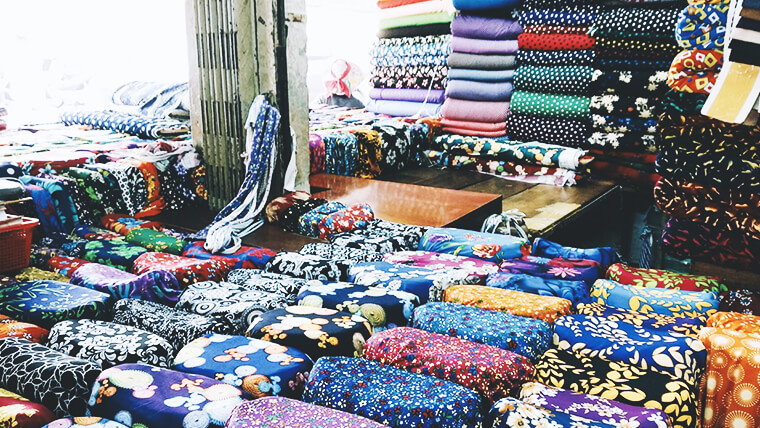 Source: Invinhtuong
Soai Kinh Lam, widely known as the most affordable fabric market with a variety in type, is the favorite shopping place for women when choosing fabric to make clothes. This market includes more than 500 fabric stalls with a full range of fabrics namely chiffon fabric, khaki, and elastic. It is usually bustling from 9am and till when the sun goes down.
At this clothes market Ho Chi Minh, most of the fabric shops are of Chinese descent, they support and help each other in doing business making Soai Kinh Lam market is developing day by day.
The price there also depends on the type, for example, chiffon fabric costs between 150,000 - 180,000 VND / m2 ($6.5 - 7.8), elastic fabric costs only 10,000 - 15,000 VND / m2 ($0.43 - 0.65), rough fabric will be slightly more than 40,000 VND / m2 ($1.7) and fabric to make Ao Dai will have the highest price 200,000 - 600,000 VND / m2 ($8.6 - 26).
- Address: Tran Hung Dao Street, District 5, Ho Chi Minh City
- Opening hours: 8am - 6pm
5 - Antique Market in Cao Minh Cafe campus
To get to this antique market Saigon, travelers need to park their car at the beginning of alley No.311 No Trang Long Street for 5,000 VND / car ($0.22), then walk a few dozen steps to the market. Tickets for the market are about 40,000 VND / person ($1.73). With this ticket, you can exchange for a drink or any dish.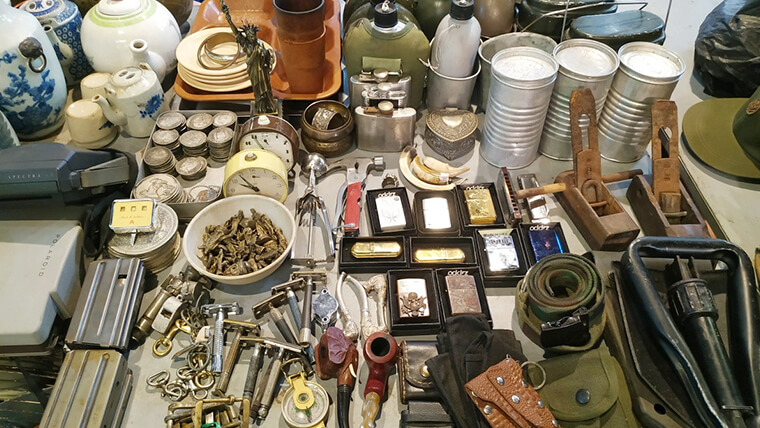 Source: Afamily
The Saigon market is a "paradise" for those who are fond of Vietnamese antiques such as water plunger, copper pot, chicken clock, phonograph, typewriter, egg lamp, chicken iron, porcelain turrets, zippo lighters or classic Mobylette cars. There are about 40 antique stalls on the first floor, and on the second floor is a space for enjoying bold coffee and listening to old music.
- Address: No.311 No Trang Long Street, Ward 13, Binh Thanh District, Ho Chi Minh
- Opening time: 7am - 2pm
- Entrance fee: 40.000 VND / person ($1.7)
6 - Lantern market in Ho Chi Minh Vietnam - Spectacular Mid-autumn Festival
Annually, Lantern Market becomes terribly dazzling with thousands of colorful lanterns during the Mid-Autumn Festival. Coming to this Saigon market at that time, travelers will have the opportunity to experience the Vietnamese festival atmosphere, learn more about Vietnam's culture, as well as enjoy colorful lanterns. Travelers also can take a lantern as a souvenir with the price from 15,000 - 65,000 VND / piece (~ $0.65 - 2.8), then immerse in the enjoyable atmosphere there.
- Address: Luong Nhu Ngoc Street, District 5, Ho Chi Minh City
- Opening time: 9:00 - 19:00 everyday
However, famous markets in Saigon such as Ba Chieu and Ben Thanh or old-aged markets like Dan Sinh and An Dong market still play an important role in daily life of locals. If you have a chance to visit Ho Chi Minh City, get to these markets once to feel the unique features of real life there and gain some amazing experiences that you may never forget.
These markets in Saigon are the best places to visit and experience for interesting memories and food tours.