I - Overview of Saigon food
Saigon cuisine is the crystallization of many cultures, creating delicious and unique dishes of the Southern region. With only a few ingredients, people can process hundreds of different dishes with new flavors. Most of the dishes the southern people eat have a sweet taste of sugar, which is both strange and unforgettable.
During the process of formation and development, the cuisine was influenced by many other culinary cultures such as: the way of seasoning using Chinese spices, the way of cooking French food or the exchange. with Indian cuisine,... Have all blended and created the unique dishes only in this city.
In addition, the culinary characteristic of Saigon people is the sidewalk snacks with the breath of the countryside such as cakes such as beef cakes, baked banana cakes, tapioca cakes. Or the burden of sticky rice is sticky rice with corn, black beans, sticky rice, etc.
II - Best food in Ho Chi Minh to try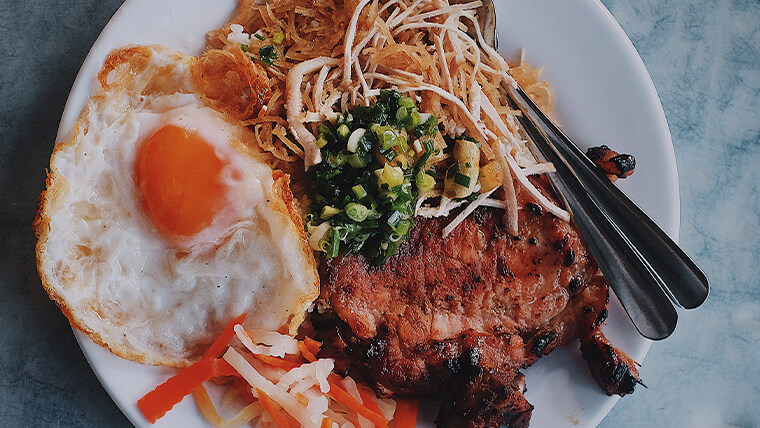 Best food in Saigon are street food which you can find at any streets and corners in the city centre with a "surprising price" for each dish. Visiting here, the best areas to enjoy good foods are district 1, 3,5 where they attract thousands of tourists.
1 - Broken Rice
Referring to Ho Chi Minh city, people immediately think of the first broken rice dish as the best local food in ho chi minh. A plate of broken rice includes many dishes such as broken rice, grilled rib meat, grilled egg, fried egg, sausage, served with a little pickled food. Broken rice dishes are often filled with a layer of onion fat or fat to add more attractive and delicious flavor. Broken rice can also be served with a cup of fish sauce to suit the taste of more people.
- Price: 25,000 - 40,000 VND / plate ($1.7)
- Address:
+ Restaurant: 113 Nguyen Phi Khanh, District 1
+ Minh Long Broken Rice: No. 607 Nguyen Thi Thap, District 7
+ Huyen broken rice: Alley 95 Dinh Tien Hoang, Ward 3, Binh Thanh District
2 - Braised fish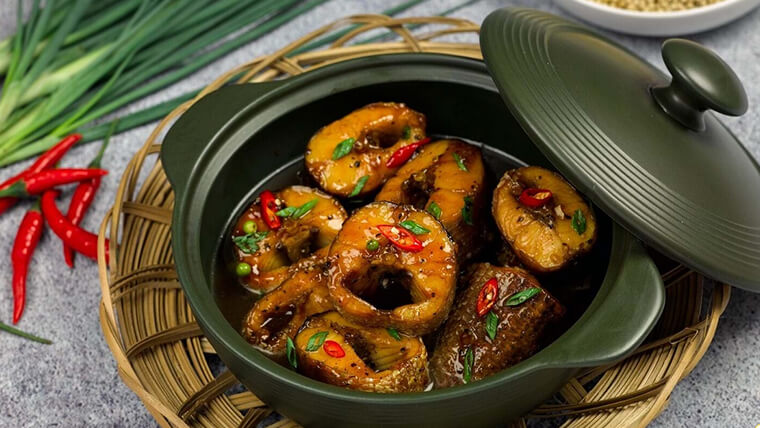 Braised fish is a Vietnamese specialty dish. A special feature of this dish is that it must be used to store fish because it gives the dish a unique taste. The fish will taste richer than normal stock. The children who are far away from home often want to enjoy the fish braised with home flavor.
- Price: 20,000 - 55,000 VND ($2.4)
- Address: 285/11 Cach Mang Thang 8, Ward 12, District 10
3 - Hu tieu (noodle)
This is a dish originating from China. Over time, the hu-tieu gradually has its own flavor that is only available in the Southern region. Saigon hu-tieu, especially in the broth, is made from well stewed pork bone broth. The clear and sweet water combined with the chewy white noodles, add a little dried shrimp, rolls, fish balls,... create a bowl of hu-tieu. The presence of noodle soup makes Saigon foods become richer.
- Price: 25,000 - 60,000 VND / bowl ($1.1 - 2.6)
- Address: No.389 - 391 Vo Van Tan, District 3
4 - Hoa Ma Bread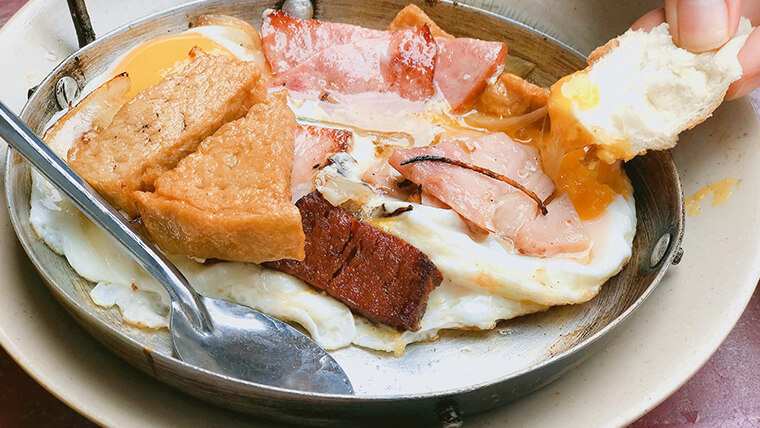 This is one of the oldest bakery shops in Saigon. Although it has been many years, the taste of the cake has not changed. The shop sells two types of bread, which are mixed bread with enough ingredients such as silk rolls, cinnamon rolls, sausages, and salted bacon sandwiched inside a hot, crispy golden bread that was just taken out of the oven. You can eat with the same dish of sour food to not get bored.
- Price: 52,000 VND ($2.2)
- Address: No.53 Cao Thang, District 3
5 - Sour soup with snakehead fish
The south is a famous land for sour snakehead fish soup. Not everywhere can cook a pot of sour soup with snakehead fish with the correct taste of the south. The mildly sour, fragrant broth of pineapple and tamarind combined with a sweet hint of snakehead fish makes it irresistible. This is the main soup in every Southern family. Snakehead fish sour soup not only has a delicious, strange taste, but also helps cool the body in hot weather in the south.
- Price: 30,000 - 60,000 VND / bowl ($2.6).
- Places to enjoy:
+ Quan Bui - 17A Ngo Van Nam, District 1
+ Cuc Gach - 10 Dang Tat, District 1
6 - Saigon crab soup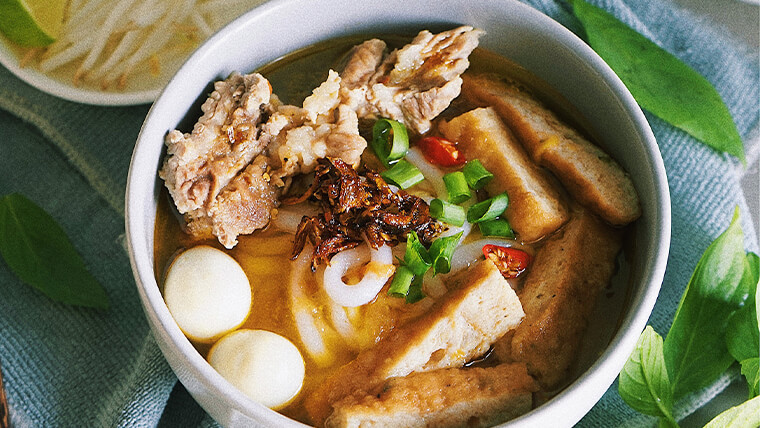 If you are bored of crabs with the usual cooking methods such as steamed, boiled, ... try the famous crab in Saigon cuisine. The sweet and sour taste combined with the soft chewy banh canh, the rich broth, adding a little spicy taste of satay, ... blended together to become an extremely attractive and strange dish.
- Price: 40,000 VND - 70,000 VND / bowl ($1.7 - 3.0)
- Places to enjoy:
+ Ut Le crab soup: 204 - 210 To Hien Thanh, Ward 14, District 10
+ Nguyen Tri Phuong crab soup: 484 Nguyen Tri Phuong, Ward 9, District 10
7 - Trang Bang rice soup
Banh Canh Trang Bang (Trang Bang rice soup) is a dish originating from Tay Ninh. After a period of immigration until now, this is a typical dish of Saigon foods list. Ingredients to make a bowl of Trang Bang banh canh also include meat, pork rolls and banh canh. What makes the difference between Trang Bang banh canh and other bowls of banh canh is that the cake is made from fragrant, sticky rice with a long simmering broth from the bones. All are carefully tested to create a rich flavor of banh canh.
- Price: 30,000 - 60,000 VND / bowl ($1.3 - 2.6)
- Places to enjoy: Trang Bang Banh Canh at 180-182 Ly Thai To, Ward 1, District 3
III - Other best food in Saigon
1 - Fried chicken with fat rice
Tourists coming to Saigon are very interested in the fatty chicken rice dish. This dish has a very different flavor than the usual chicken rice dishes we usually eat. Soft, fragrant rice served with crispy chicken, sweet meat will leave you with an unforgettable aftertaste. Chicken rice is often served with some vegetables, cucumbers,... so that you are not fed up with eating greasy foods.
- Price: 45,000 - 60,000 VND ($1.9 - 2.6)
- Places to enjoy:
+ Lao Huong Than Greasy Chicken Rice: 402 Tran Phu, Ward 7, District 5
+ Su Su's fried chicken rice: 123 Cong Quynh Street, Nguyen Cu Trinh Ward, District 1
2 - Cake dishes
Mixed / grilled rice paper
Starting from salt-shrimp rice paper in Tay Ninh, after being introduced into Saigon cuisine, mixed rice paper becomes a dish that is easier to process with simple ingredients. The sliced ​​rice paper fibers, mixed with dried shrimp, herb, sour mango, peanuts,... All are mixed with sweet tamarind sauce to create an unforgettable taste. This delicate combination makes mixed rice paper an indispensable part of Ho Chi Minh food. This dish is sold throughout the streets of the city, especially at school gates, parks, along pedestrian streets, ...
- Price: 10,000 VND - 20,000 VND ($0.43 - 0.86).
- Places to enjoy:
+ Chu Vien mixed rice paper: 38 Nguyen Thuong Hien, ward 5, District 3
+ Hoa Hao mixed rice paper: Hoa Hao Street, District 10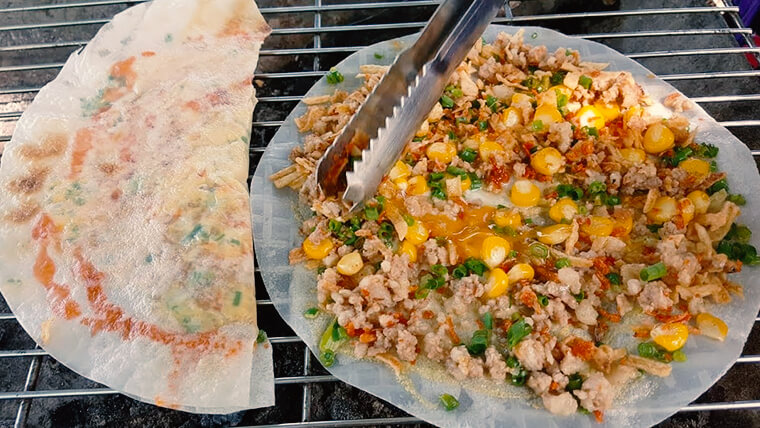 Grilled rice paper
Unlike mixed rice paper, grilled rice paper is more elaborate. It is necessary to bake the cake on a layer of embers. The cake includes ingredients such as sausage, eggs, butter, minced meat and onion fat,... A delicious grilled rice paper must be thoroughly grilled until golden yellow.
- Price: 15,000 VND - 25,000 VND ($0.64 - 1.07).
Address:
- Corner grilled rice paper of Dalat: 386 / 43B Le Van Sy, Ward 14, District 3.
- Hot grilled rice paper: 116 Truong Sa, Binh Thanh District.
- Grilled rice paper C002: C002, apartment 23/49 Dinh Tien Hoang, ward 3, Binh Thanh district.
3 - Other good food in Ho Chi Minh city
Noodles with fish sauce (Bun mam)
The hometown of bun mam is in Cambodia, after the importation process, bun Mam is modified to create a unique taste of the Southerners. Instead of using Bo Hoc fish sauce, the southerners process it with Linh fish sauce or Sat fish. After filtering the fish sauce to get the clear water, adding salt and sugar to make the fragrant broth, people often add pieces of fish, shrimp, and squid to make the bowl more attractive. Bun Mam dish is often served with raw vegetables to add more deliciousness.
- Price: 35,000 - 55,000 VND / bowl ($1.4 - 2.4)
- Places to enjoy:
+ Co Ba bun mam restaurant: 264 Hoa Binh, Hiep Tan ward, Tan Phu District
+ Bac Lieu bun mam restaurant: 78 Tran Nhan Tong, District 10
Pha-lau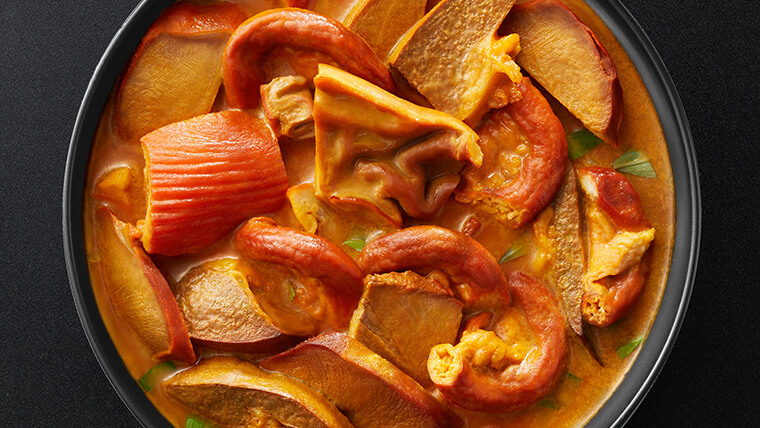 The main ingredient of the dish is the organs of animals. The pot of water is made from spices such as five-spice powder, ramulus cinnamomi, dysosma pleiantha, anise,... and is often boiled directly when serving guests. When you come to eat, the seller will use scissors and tongs to cut the pieces into the bowl, then fill them with water and serve you. Eating with a cup of sweet and sour chili fish sauce or a loaf of bread will be much more rounded for this special local food in Saigon.
- Price: 18,000 VND - 20,000 VND / bowl.
- Place to enjoy: Pha Lau Di Nui: 243/30 Ton Dan, Ward 15, District 4

Spring roll
The main ingredients are rice paper, raw vegetables, noodles, meat and shrimp. A layer of rice paper wrapped inside pork must have both fat and lean, boiled or steamed shrimp, add a little vermicelli, bean sprouts, herbs, ... rolled up, and it's done. Eating spring rolls instead of dinner or eating with family and friends is also reasonable because spring rolls are very filling. Because it is a fairly popular dish, you can easily see stalls selling spring rolls along the road, on the sidewalk, ...
- Price: 3,000 - 9,000 VND
- Places to enjoy:
+ Shrimp and dance spring rolls: 424 Lac Long Quan, Ward 5, District 11
+ Hanh spring roll: 420A Hoa Hao, Ward 5, District 10
+ Ngon Ngon spring rolls: 322/13 An Duong Vuong, Ward 4, District 5

Sweet soup or gruel dishes (che)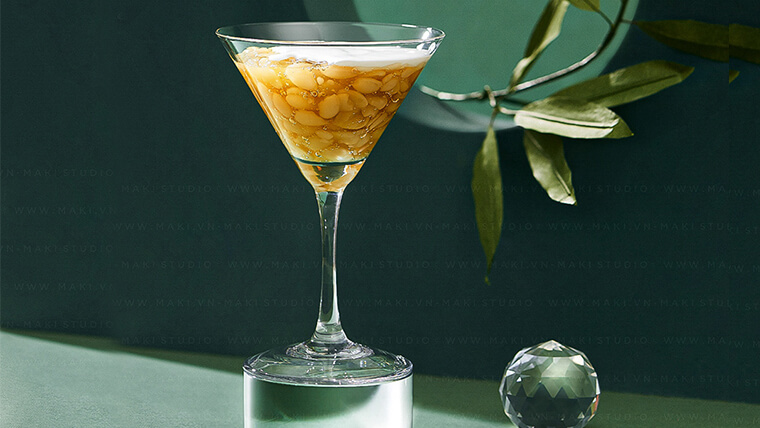 After enjoying the savory dishes, dessert with a cup of che is a good suggestion for you. This is a popular dish in Vietnamese culinary culture. There are many types of che that are processed from many different ingredients such as Che Thai, Che Hue, pomelo gruel, black bean, green bean.
- Price: 15,000 - 25,000 VND ($1.1)
- Place to enjoy:
+ Che Hien Khanh - 718 Nguyen Dinh Chieu, District 3
+ Che restaurant 75 - 75 Tran Huy Lieu, Phu Nhuan District
+ Khanh Vy - 242B Su Van Hanh, District 10.
III - Street food in Saigon
One of the characteristics of Saigon cuisine, every street of the city appears the image of street vendors and familiar advertisements everywhere. It's unsure when the mixed rice paper, spring rolls, broken eggs, quail eggs, fried corn, ... became Saigon's culinary beauty in the eyes of tourists. Street Ho Chi Minh food prices are just around over 1$ to 3$ for one popular dish.
IV - Suggestions for Saigon food tour
The XO Foodie is voted by Forbes Magazine as one of the top 9 culinary tours in the world (Source: Forbes). Tourists will be taken away by guides in traditional ao dai to enjoy many attractive street foods in many districts. In particular, the main means of transportation for a food tour is motorbike, so many visitors will find it very interesting.
- Tour schedule: 5:30 pm - 10:00 pm
- Tour price: 1,825,200 VND ($78)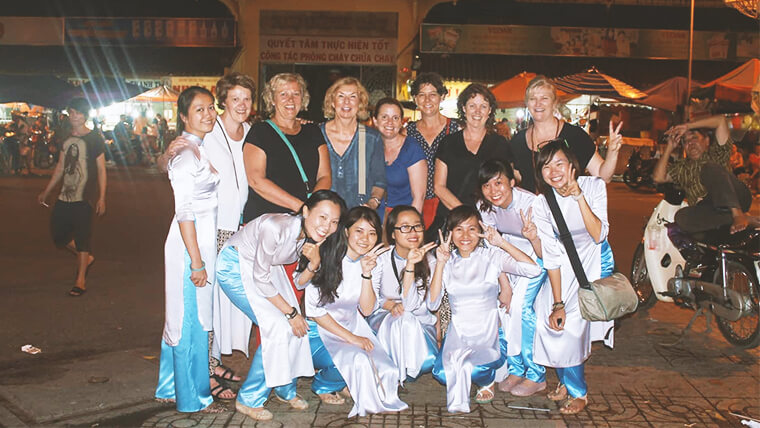 V - Other best food in Ho Chi Minh city
In addition to local specialties in Saigon, visitors can also enjoy dishes made with a combination of many special cultures. There are many restaurants and eateries opened with diverse flavors, serving the culinary needs of visitors with a full range of Asian, European, Japanese, Chinese, and Indian dishes,... With the exchange culture becoming more and more powerful, it is certain that the culinary culture of Saigon will develop more and more.
In short, each region has different culinary colors that are very diverse and attractive. Therefore, it will be flawed if you do not taste the taste of the place once. Wishing you a wonderful and difficult culinary experience when visiting Ho Chi Minh city.