Being considered one of the 10 most famous wholesale markets in Ho Chi Minh city, An Dong market District 5 has diverse sources and types of goods. In addition, it is also a wonderful place for you to understand more about the culture and lifestyle of the local people.
I - The history of An Dong market Ho Chi Minh city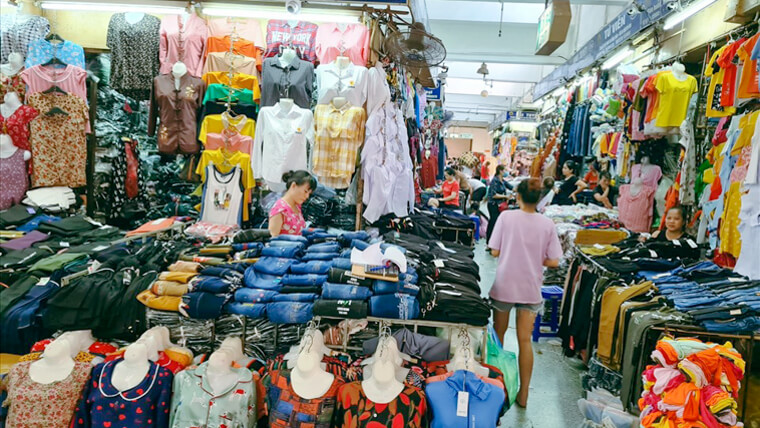 Source: @Nguyễn Thế Giới
This market originally was a traditional market in Ho Chi Minh city, founded in around 1950 and officially put into service in 1954. In 1989, due to the degradation in its infrastructure which seriously affected the business inside the market, the market management board decided to reconstruct the whole work.
In 1991, An Dong market's function was turned into a commercial and service center with the scale of a 6-floor great building. Currently, An Dong is a cluster of 3 businesses including the food court, the An Dong indoor area, and An Dong plaza with an area of 25,000 m2 which is home to 2,718 vendors. A special thing about the market is that it is one of the first ones in Ho Chi Minh city to have a management system meeting ISO 9001-2000.
II - What are there to discover at An Dong market Vietnam?
When entering the building, you are going to be overwhelmed by the bustling and dynamic atmosphere. Not only do the local people seek here to import products for retailing but domestic and foreign visitors also get to sightsee and exchange, especially the Chinese.
1 - What to shop at An Dong market Saigon
An Dong is considered the biggest wholesale market in Saigon and also the clothes provider for fashion stores all over the city. You can find anything to wear here, from top to bottom, clothing, footwear, and accessories. The source of goods is extremely diverse, ranging from internal manufacturers to Japan, Thailand, and especially Guangzhou in China.
The price and quality of clothes at An Dong market are varied, too but probably the target customers are ordinary, lower to the middle class. If you are looking for a high-end item, the suggestion is the An Dong plaza right next to the traditional market.
Because shops at the market often sell in massive amounts, the price is much more reasonable than individual stores along the city street. However, it also gives rise to the question of whether it is possible to buy things in small quantities at An Dong market. The answer is yes but it is quite difficult since not all stores allow it. However, if you can adopt some persuasive skills, nothing is impossible. Aside from garments, the market also features areas such as fresh flowers, handicrafts, and household appliances.
2 - What to eat at An Dong market Vietnam?
The cuisine here is one of the attractions to visitors since it gathers all delicacies of the North, the Central, and the South of Vietnam namely vermicelli sprouting, Quang noodles, hu tieu (noodle soup), Pho,... The food course inside the market and along An Duong Duong street is where people can taste numerous delicious street dishes of Vietnam.
III - Helpful information for your trip to An Dong market Ho Chi Minh city
1 - Where is An Dong market?
Source: @Markus
The trading facility homes at No.34-36 An Duong Vuong street, Ward 9, District 5, Ho Chi Minh city, with Hung Vuong street at its back and Yet Kieu street and Nguyen Duy Phuong street flanking - about 10km from the city center to the Southeast. In this writing, Vietnamtrips is pleased to introduce you to some buses crossing An Dong market District 5: with a ticket price of 7,000 VND / person ($0.3)
- Bus No.06: Cho Lon bus station - Ho Chi Minh University of Agriculture and forestry; frequency: every 10 - 20 minutes from 4:55 a.m to 9 p.m
- Bus No.139: Mien Tay bus station - Phu My Hung resettlement area; frequency: 10-20 minutes from 5a.m to 7 p.m
- Bus No.56: Cho Lon bus station - Ho Chi Minh University of Transportation and Communications; frequency: every 5 - 15 minutes from 5 a.m to 9 p.m
2 - Opening hours of An Dong market
The market regularly meets at 7 a.m and at 6 p.m, some vendors open until 10 p.m. From 9 a.m to 4 p.m is the most ideal time to visit this destination since almost every shop is in service at this time.
3 - Tips when shopping
The amount of commodities in the market is so dramatic that it is impossible for shop owners to remember the price of each and every item. This results in the fact that they sometimes overcharge you. Therefore, don't be embarrassed to bargain. The reference price for clothing sold at An Dong market Saigon is:
- Shirts: 60,000 - 150,000 VND / item ($2.6 - 6.6)
- Skirts: 120,000 - 250,000 VND / item ($5.2 - 11)
- Jeans: 100,000 - 250,000 VND / item ($4.4 - 11)
As a traditional market, transactions within this place are predominantly in cash. Hardly can you find a credit card machine in any kiosk. Not only in An Dong market but also in any market in Ho Chi Minh city in particular and in Vietnam in general, it is highly advisable for tourists to prepare some paper money for more convenience and time-saving. (Current exchange rate: 1 USD = 23,200 VND).
Besides that, imagine how crowded it is where more than 2,000 stores are concentrated in An Dong market. Thousands of people come and go to this destination like a mighty hive of bees. The busy context is a very favorable condition for pickpockets to take action. The hope for the stolen to be returned is very faint. Therefore, the best advice that we can give you is to always keep an eye on your property.
An Dong market Vietnam is not only a place for locals to come but also a wonderful stopover for tourists to enjoy delicious specialties and get an insight into the tradition and lifestyle of the land. And once you have paid it a visit, keep in mind that Ho Chi Minh city features many other markets such as Ben Thanh market, Ba Chieu market, Binh Tay market,... keeping interesting things waiting for you to unwrap.