I - Can Gio beach in Ho Chi Minh City
Can Gio beach - the nearest beach from Ho Chi Minh city, is located 50 kilometers away from the city center. It is considered as "the green oasis" with the immense mangrove forests, luxuriant gardens of fruit trees, and especially it is well-known for its fresh and delicious seafood. There are several interesting places to visit at this beach such as: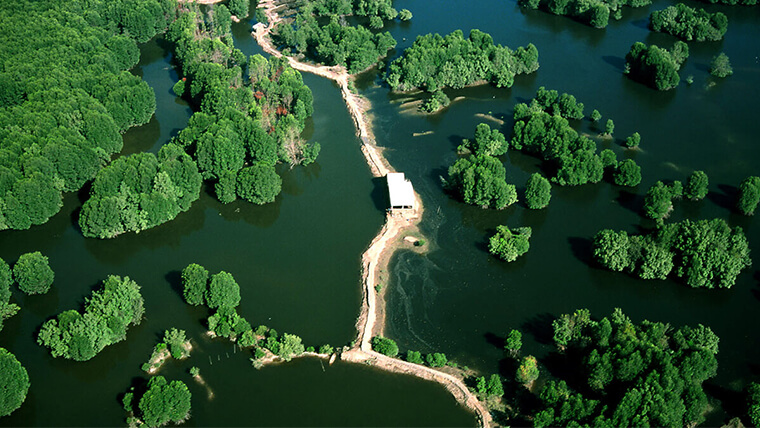 Vam Sat ecological tourist site - Source: Motogo
Vam Sat ecological tourist site
This site is recognized by the World Tourism Organization UNWTO as a sustainable eco-friendly area. Visiting Vam Sat, you will have an opportunity to see wonderful landscapes at Dam Doi. The green river flows in harmony with the white storks creating remarkable scenery.
Monkey Island
Monkeys in Lam Vien tourist site are very friendly without being afraid of humans. In contrast, you should be careful if you don't want to lose your belongings to these funny monkeys. Currently, there are about 2000 monkeys with many different species on this island.
Ham Duong Market
Visiting Ham Duong market, you can get fresh seafood as a gift or you can enjoy it right at the market. You will be served many different dishes such as squid, crab, crab, shrimp, snail ... or you can buy prepared foods to bring to the beach
Ca Ong Temple
There is a whale skeleton which is considered as a sea saint worshipped at Thuy Tuong temple. It is 12scm in length. There is a festival that is held every year to worship the whale on 17th, August.
This is a beautiful beach in Ho Chi Minh City and is the closest one from the city center. From Ho Chi Minh city you two options of getting to:
By motorcycle
You take Huynh Tan Phat street then drive straight to the Binh Khanh ferry. The ticket is 0,2$. Getting off the ferry then go straight towards the Rung Sat direction. It takes about 40 km to get to the beach.
Note:
- The road is quite deserted, so you should fill up the tank before you go.
- You should also bring repair tools, inner tube, pump... and just in case, be prepared to fix your motorbike by yourself on the way.
Although the road is empty, there are still many traffic cop posts, you should drive at a safe speed and prepare all necessary documents
By bus
To get to Binh Khanh ferry, you can take bus 20 with the route: Bus station park 23/9 - Pham Ngu Lao - Yersin - Tran Hung Dao - Ham Nghi - Ton Duc Thang - Khanh Hoi Bridge - Nguyen Tat Thanh - Tan Thuan 2 Bridge - Nguyen Van Linh - Huynh Tan Phat - Nha Be or you can take bus 75 with the route 23/9 Park - Pham Ngu Lao - De Tham - Tran Hung Dao - Ham Nghi - Ton Duc Thang - Nguyen Tat Thanh - Huynh Tan Phat - Rung Sac - Duyen Hai - Giong Ao - Dao Cu (extended) - Le Hung Yen - Dao Cu - Can Thanh Bus Station.
From Binh Khanh ferry, you can catch a taxi to Can Gio beach.
II - Other beaches near Ho Chi Minh City
1 - Vung Tau beach
There is a beautiful beach known by everyone in Vung Tau called Ho Coc beach. It is about 125 km from Ho Chi Minh City and 85 km from Vung Tau City center. The beach is famous for its wild, pristine sea and vast white sand. There is a lush ecological forest with coconut and mangrove trees, creating an extremely airy and fresh environment.
There are different activities that you can participate in such as team building, camping, volleyball, swimming ... You should definitely try to experience the sunset on the beach. The radiance of the fiery sun when it is going down will give you a very special feeling which you can't experience in the crowded city.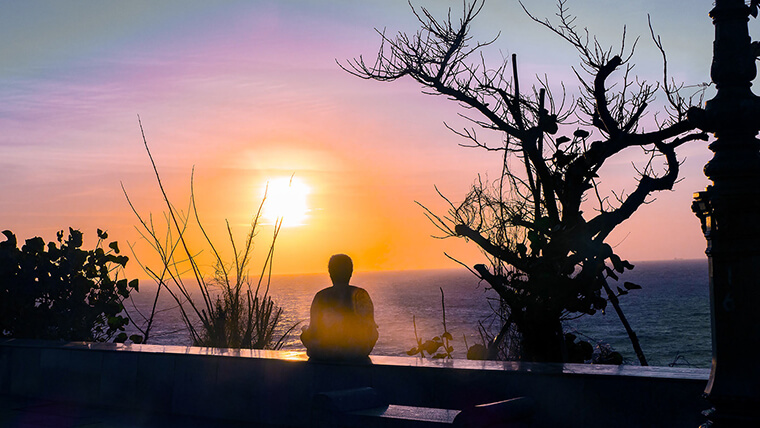 Beach in Vung Tau - Source: Trung Nguyen
Coming to Vung Tau, apart from Ho Coc beach, there are some other choices of nice beaches close to Ho Chi Minh city such as Ho Tram beach, Pineapple beach, Back beach and Front Beach. Those beaches can satisfy you by stunning views and fresh seafood for a perfect trip.
To travel to Vung Tau beach, you can take 2 ways:
By motorcycle or family car
Following the route via Cat Lai ferry or along Highway 51 to get to Ba Ria town. From there, you can drive toward An Ngai - Loc An. When reaching the coastal road, you will see the sign that points to the right Ho Coc beach
By Bus
You can catch a bus to Ba Ria town. From there, take the Binh Chau bus down to Bung Rieng. and then take a motorbike or taxi for about 6km to Ho Coc beach.
2 - Con Dao island
In Con Dao island belongs to Vung Tau province, this island has quite a lot of best beaches near Saigon Vietnam. Visiting Con Dao, you can't miss Dam Trau beach. Famous with the beautiful coastal route immersed in the sunshine and deep blue sea, the beach attracts visitors with its supreme beauty. Dam Trau is only about 15 km from Con Dao which is not too far to reach.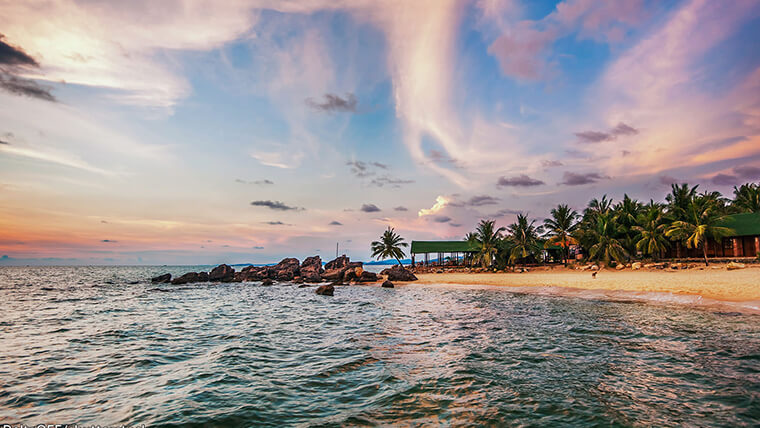 Besides Dam Trau beach, Con Dao is an island of many other beautiful beaches such as Bai Dong beach, An Hai beach. Those are truly worth trying when looking for some hidden beaches near Ho Chi Minh city.
Once in Con Dao you will have a chance to experience many exciting activities that you can't find anywhere
Scuba diving
This is a very interesting experience because Con Dao has the highest density coral reefs in Vietnam. The diving sites have been explored by experts in advance to ensure the safety for visitors.
Fishing
This is another interesting activity that you should experience. After fishing, you can have a great meal with the fish you just catch while surrounded by the deep blue sea and white sand.
Explore the deserted island
There is a bay called Con Son in Tam Dao. This is the marine ecological reserve with coral reefs that is most well known in terms of its diversity and density. Besides that, it has 14 other big and small islands which create majestic scenery in the middle of the sea.
Watching turtles lay eggs: you will see with your eyes the sea turtles named Chelonia Mydas (also known as green turtles) nest and lay eggs on the beach.
Traveling to Dam Trau, you can take a domestic flight or ferry.
By ferry
From Ho Chi Minh city, you take the bus to Vung Tau city, then from there go to Cat Lo port to get the ticket for the ferry here (you should arrive 5 hours in advance to make sure that you can get the ticket which is from 3,7$ to 5,5$ one way for a seat, and 6,5$ to 8,7$ one way for a bed.
By plane
You can take a flight straight from Ho Chi Minh City to Con Dao and it will take 55 minutes to arrive on the island
The places above are the best beaches near Ho Chi Minh city that attract visitors because of their beauty of long-sandy beaches and blue & clear water where beach lovers can come and enjoy a full day.