I - Where is Nguyen Hue Walking Street located?
The walking street is 670m long with a total construction cost of approximately 430 billion VND. It is entirely located on Nguyen Hue Street in Ben Nghe Ward, District 1 - the vein of Ho Chi Minh City. In the daytime, the street is always bustling with passersby and when the sun goes down, it turns into a dynamic, sparkling pedestrian zone. On Saturday nights and Sundays, all vehicles are forbidden to commune here so as to make all space for pedestrians.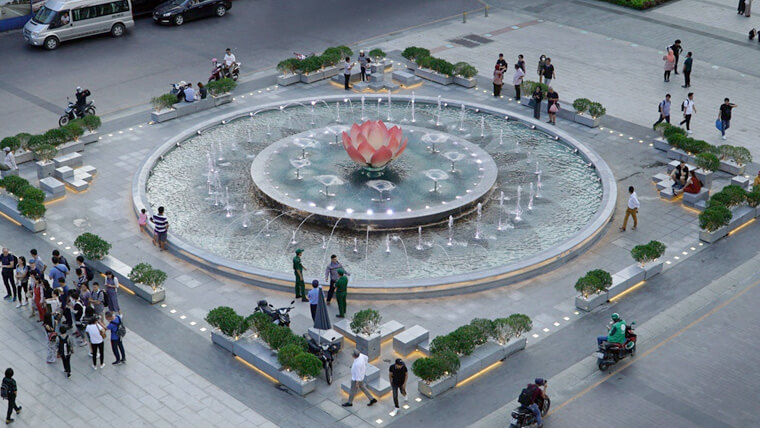 Nguyen Hue Fountain - Source: Internet
II - What to experience on Nguyen Hue Walking Street?
1 - Enjoying street music performance
Every night, especially on weekends, walking along the street, you are likely to come across groups of passionate youths gathering to interact and perform. Their music performances are really diverse with different types of genres, from traditional ones such as don ca tai tu (amateur music), quan ho (love duet) to funky music namely pop, R&B, EDM.
Coming to Nguyen Hue Walking Street at night on big holidays such as Vietnamese Independence Day, Lunar New Year, Christmas,...you can also see decent stages with professional sound and light systems set up right here and the number of audiences is many times as much as that on normal days.
2 - Exploring the ancient apartment block at No.42 Nguyen Hue street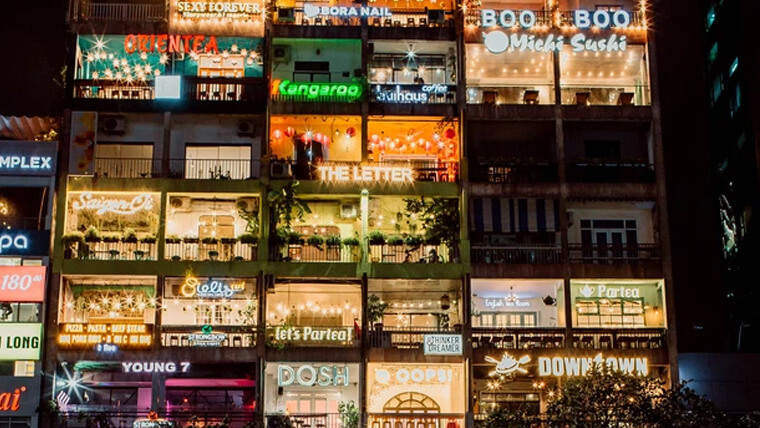 Cafe Apartment at No.42 Nguyen Hue street - Source: Kenh14
This estate is set at No.42 Nguyen Hue Street and was constructed in the early 1960s, bringing to itself an impressively ancient, moss-covered beauty. Although there are still a few households staying, the majority are shops, stores with stunning frontage. From far away, the building looks like an enormous rubric full of colors. However, the interior is a space of nostalgia, completely separate from the noisy Nguyen Hue outside.
This place is also referred to as "a coffee haven", the gathering of coffee shops of good drinks, unique design, and having the view facing the hectic Nguyen Hue Street Saigon, some of which are Biuhaus Coffee, Sai Gon Oi, Boo Coffee, Loft Cafe,…
3 - Visiting Saigon Garden Shopping Mall in Nguyen Hue Walking Street
Saigon Garden is one of the high-end shopping, playing centers. The construction has a green space, the whole is quite small but attractive. Inside is a comfortable shopping center in which its basement is room for coffee, fresh flowers and souvenirs while its second, third and fourth floor is the venue for restaurants with plentiful bars and food and drinks from several cuisines: Japan, Korea, Vietnam and Thailand. All are harmoniously arranged in an airy, colorful area of Saigon Garden.
- Address: No.99 Nguyen Hue Street, District 1, Ho Chi Minh city
- Opening hour: 8am - 10pm
4 - Checking-in on Nguyen Hue Flower Street
When New Year comes, on about December 27th of the lunar calendar, the flower street is officially opened and maintained until January 5th of lunar calendar to welcome people to enjoy flowers and admire scenery. Thanks to the street, the holiday of Saigon people is lit up with thousands of flowers which are uniquely shaped, meticulously decorated and neatly trimmed so that it forms a nice space and truly expresses the theme associated with the zodiac of the year.
5 - Tasting street cuisine on Nguyen Hue Walking Street Saigon
It seems like all the famous snacks in Saigon are assembled here on Nguyen Hue street. Along either of its sides are a myriad of eating houses, coffee shops and food stalls, and vendors selling street foods. Some of the dishes that are recommended to you are:
Pha lau (offal)
Pha lau is a unique Nguyen Hue walking street food having the characteristic flavor of smoke and sold at small street vendors. The main ingredients are tongue, ear, stomach, the intestine of pig, cow, or duck. It is commonly served with vermicelli or bread and a few slices of cucumber, salad and sauce.
- Price: 30,000 - 50,000 VND/portion ($1.3 - 2.17)
Grilled rice paper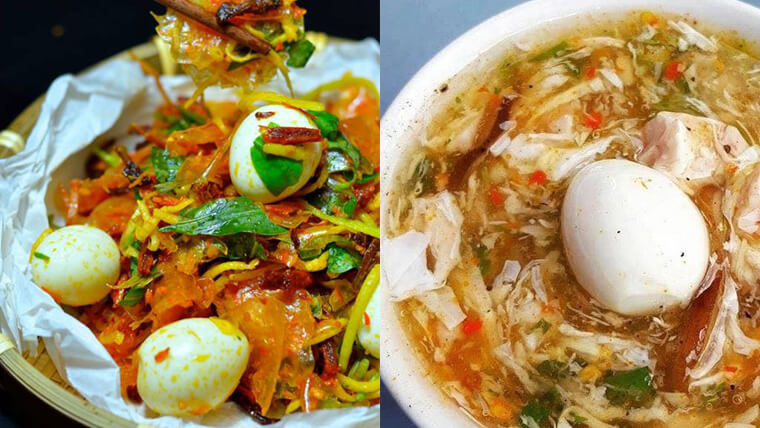 Nguyen Hue Pedestrian Street - Source: Internet
Its culinary recipe is quite simple. Only with easy-to-be-found ingredients like rice paper butter, scallion, minced meat, chicken egg, fried onion and dry shrimp which are grilled, then poured over with sauces, you have a strange but appetizing snack.
- Price: 15,000 - 20,000 VND/portion ($0.65 - 0.87)
Crab soup - a must try Nguyen Hue street food
The dish with the taste of freshness is cooked from chicken broth, shredded chicken, quail egg, chicken egg, imitation crab, and chopped vegetables such as carrot, shitake mushroom,...
- Price: 15,000 - 30,000 VND/portion ($0.65 - 1.3)
Summer rolls
You may run into it anywhere on Saigon's streets. Its filling includes peeled shrimp, lean pork, vermicelli, coriander, garlic chives rolled with a thin rice paper and served with sauce. Each restaurant has their own secret recipe for sauce.
- Price: 15,000 VND/roll ($0.65).
Nguyen Hue Walking Street with a vibrant atmosphere and always packed with people and vehicles passing by has become a part and parcel of a prosperous Ho Chi Minh City. Should you have an occasion to set foot on this land, don't forget to come here. These are some Nguyen Hue walking street reviews from the locals, hope you guys have more time for discovering more interesting places in Saigon Vietnam.