The Walking Street of Nguyen hue is a vibrant and bustling pedestrian street located in the heart of District 1 Ho Chi Minh City. This popular destination is a must-visit for anyone looking to experience the energy and culture of this bustling metropolis. With its wide range of shops, restaurants, and entertainment options, Nguyen Hue Walking Street offers something for everyone.
Inaugurated in 2015, Nguyen Hue Street is 64m wide with the entire square area paved with modern and clean granite. Along this street are rows of green trees, 2 large fountains with a water music control center, modern lighting and clean toilets. In this article, we will take a closer look at this iconic street and explore all that it has to offer.
I - Nguyen Hue Walking Street's best experiences
1 - Enjoying street music performance
Every night, especially on weekends, walking along Nguyen Hue street, you are likely to come across groups of passionate youths gathering to interact and perform. Their music performances are really diverse with different types of genres, from traditional such as don ca tai tu, quan ho to funky music namely pop, R&B, EDM. Coming to Nguyen Hue Walking Street at night on big holidays in Vietnam such as Lunar New Year, Vietnamese Independence Day, Christmas Day,... you can also see more decent stages. They are organized by the authority or big companies with professional sound and light systems, hence the number of audience is many times more than on normal days.
2 - Exploring the ancient apartment block at No.42 Nguyen Hue street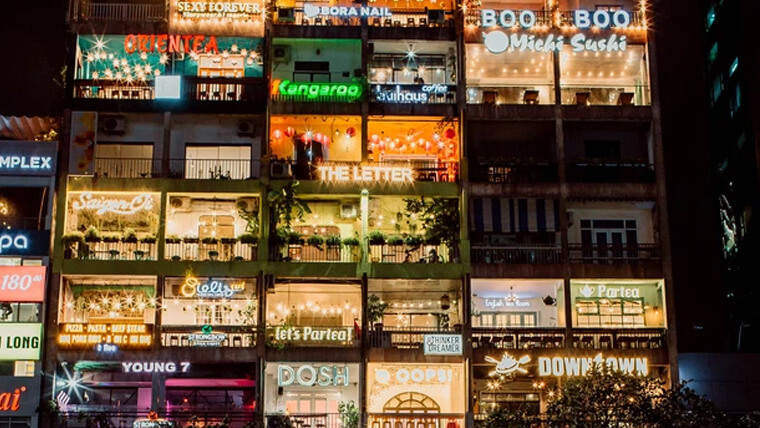 Cafe Apartment at No.42 Nguyen Hue street - Source: Kenh14
This estate at No.42 Nguyen Hue Street was constructed in the early 1960s, bringing to itself an impressively ancient, moss-covered beauty. Although there are still a few households staying, the majority left are shops, stores with stunning frontage making the building look like an enormous rubic full of colors from far away. The interior of it is a space of nostalgia, completely separate from the noisy Nguyen Hue outside.
This place is also referred to as "a coffee haven" by locals, gathering many shops of good drinks, unique design with the view facing the hectic Nguyen Hue Street Saigon, some of which are Biuhaus Coffee, Sai Gon Oi, Boo Coffee, Loft Cafe…
3 - Visiting Saigon Garden Shopping Mall in Nguyen Hue Walking Street
Saigon Garden is one of the most famous shopping malls in Saigon that has a green space, so even though it is quite small, many people still like to visit this place when coming to Nguyen Hue Street. Its basement is room for coffee, fresh flowers and souvenirs while the second, third and fourth floor is the venue for restaurants with plentiful bars and food and drinks from several cuisines: Japan, Korea, Vietnam and Thailand. All of the stores are harmoniously arranged in an airy, colorful area of Saigon Garden.
- Address: No.99 Nguyen Hue Street, District 1, Ho Chi Minh city
- Opening hour: 8am - 10pm
4 - Taking check-in photos at Nguyen Hue Flower Street
When New Year comes, the Nguyen Hue flower street festival is organized and maintained from about December 27th until January 5th of the lunar calendar. Thanks to the street, the holiday of Saigon people is lit up with thousands of flowers which are uniquely organized, meticulously decorated and neatly trimmed. The organizers will create models with beautiful flowers, representing the zodiac animal of that year, carrying special meanings such as famous attractions, congratulatory words,… In this year - 2023, Nguyen Hue flower street also has a special glass bridge 40m long and 1.8m high, an ideal place for you to capture the full view of the colorful flower carpet.
6 - Nguyen Hue book street
Nguyen Hue walking street has long been known as the best place for book lovers in Ho Chi Minh City, with a variety of literature works. You can find all genres here, from love stories, funny and detective stories, to reference or research books, as well as many books for children. There are not only about 20 bookstores, but also display areas and play sites for children that will be a favorite destination for families. Nguyen Hue Book Street is also popular partly because of its extremely preferential prices with discounts, usually only costing 10,000 - 30,000 VND per book ($0.42 - 1.27). This place is often open all week from 8am - 10pm, with many promotions and special offers, as well as many beautiful spaces for you to comfortably check-in with friends.
5 - Tasting the delicious Nguyen Hue walking street food
It seems like all the famous Vietnamese snacks & Saigon foods are assembled here on Nguyen Hue street. Along either of its sides are a myriad of coffee shops, food stalls, and vendors selling street foods. Just walking around, you can find countless attractive snacks such as mixed rice paper, grilled food, animal-shaped ice cream, bingsu, fresh fruit smoothie, mixed fruits,… Some of the dishes that are recommended to you are:
Pha lau (offal)
This is a unique street food having the characteristic flavor of smoke and sold at small street vendors at Nguyen Hue street. The main ingredients are tongue, ear, stomach, intestine of pig, cow or duck, served with vermicelli or bread, salad and sauce.
- Price: 30,000 - 50,000 VND / serving ($1.3 - $2.17)
Grilled rice paper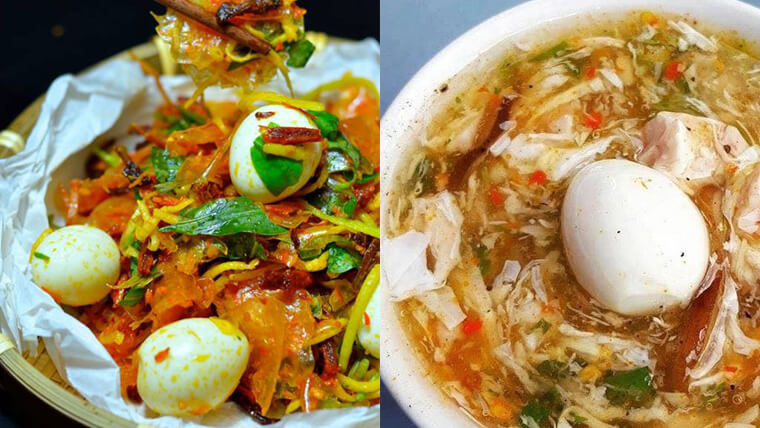 Nguyen Hue Pedestrian Street - Source: Internet
Its culinary recipe is quite simple, using easy-to-find ingredients like rice paper, butter, scallion, minced meat, chicken egg, fried onion and dry shrimp. All of them are grilled together, then poured over with sauces — you have a strange but appetizing snack.
- Price: 15,000 - 20,000 VND / serving ($0.65 - $0.87)
Crab soup
This is another Nguyen Hue walking street food that you shouldn't miss. Crab soup with its refreshness is cooked from chicken broth, shredded chicken, quail and chicken eggs, crab and chopped vegetables such as carrot, shitake mushroom, and so on.
- Price: 15,000 - 30,000 VND / serving ($0.65 - $1.3)
Summer rolls
You may run into this dish anywhere on Saigon's streets, and Nguyen Hue street is no different. Summer rolls filling includes peeled shrimp, lean pork, vermicelli, coriander, garlic chives, rolled with a thin rice paper and served with special sauce.
- Price: 15,000 VND / roll ($0.65)
II - A quick guide to visit Nguyen Hue Walking Street
1 - Where is Nguyen Hue Walking Street located?
This 670m long walking street with a total construction cost of approximately 430 billion VND is entirely located in Ben Nghe Ward of District 1 - the vein of Ho Chi Minh City. The street has two sections: one from Le Thanh Tong street to Le Loi street, and the Nguyen Hue square extending from Le Loi street to Ton Duc Thang street. In the daytime, Nguyen Hue Street is always bustling with passersby, and when the sun goes down, it becomes an even more dynamic and sparkling pedestrian zone, especially on weekends when all vehicles are forbidden to pass through here.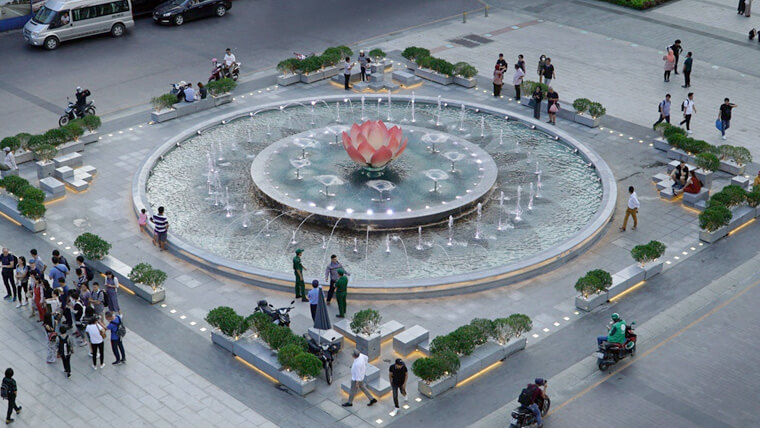 Nguyen Hue Fountain - Source: Internet
2 - Staying in hotels near Nguyen Hue walking street
An Phuc House
Also known as Reddoorz plus near Nguyen Hue walking street, this is a fairly small hotel but has friendly staff, a rooftop swimming pool and a 10th floor sauna.
- Address: No.15/1B Doan Nhu Hai Street, Ward 12, District 4, Ho Chi Minh City
- Price: 356,000 - 517,000 / room / night ($15.2 - 22.1)
- Contact: 1900 638 099
The Reverie Saigon
This is an extremely luxurious hotel, with full facilities including restaurants, bars, gyms, spas, as well as glass wall areas to let you enjoy the panoramic view of the city.
- Address: No.22 Nguyen Hue Street (to no.36), Time Square Building
- Price: from 6,650,000 / room / night ($283.6)
- Contact: 028 3823 6688
3 - Nguyen Hue Street' Top Tourist Spots
Saigon Opera House
Only about 300m from Nguyen Hue walking street , this is one of the outstanding cultural and architectural destinations of District 1 Saigon. Coming here, you can not only see the classic Western style, but also watch special performances. The most prominent are A O Show and Teh Dar Show, 2 performances presenting the cultural traditions of Vietnam's regions, which have been famous and toured around the world.
- Address: No.1 Lam Son Square Street, Ben Nghe Ward, District 1
Ben Thanh Market
This is one of the largest and oldest markets of Ho Chi Minh City, located in Ben Thanh ward, less than 1km from Nguyen Hue walking street. This place not only has ancient and unique architecture, but also nearly 1500 diverse and rich stalls selling all kinds of items. You can shop for necessary personal items, choose souvenirs to bring back as gifts, or enjoy all the Saigon specialties, attractive street food, and so on.
- Address: Le Loi Street, Ben Thanh Ward, District 1
Ho Chi Minh City Museum
If you are a lover of history and culture, you definitely cannot ignore this destination just 700 meters from Nguyen Hue walking street. Ho Chi Minh City Museum has an area of ​​up to 1,700m², designed as a mansion with neoclassical French architecture. Currently, this place is storing and displaying a lot of antiques, artifacts, historical evidence,... divided into many topics for people to easily visit and explore.
- Address: No.65 Ly Tu Trong Street, Ben Nghe Ward, District 1
Saigon Independence Palace
This work is one of the outstanding historical landmarks in Ho Chi Minh City and has been classified by the Government as a special national monument that needs to be preserved. Therefore, although this place is a bit farther from Nguyen Hue pedestrian street than the above points (nearly 1.5km), you should still take the time to visit if possible. Independence Palace was built on an extremely large campus of more than 12ha, inside it still retains many architectures and artifacts from the Vietnam War,...
- Address: No.135 Nam Ky Khoi Nghia Street, Ben Thanh Ward, District 1

Nguyen Hue Walking Street with a vibrant atmosphere and always packed with people and vehicles passing by has become a part and parcel of a prosperous Ho Chi Minh City. Should you have an occasion to set foot on this land, don't forget to come here. Besides the energetic color in the daytime, this Saigon walking street at night also promises to bring you countless memorable experiences of Saigon nightlife.