Adjacent to District 9 and central districts such as District 1 or Binh Thanh, District 2 Ho Chi Minh City has an area of ​​5,020ha, divided into 11 wards. Since 2021, this district has been merged with District 9 and Thu Duc District into Thu Duc City, forming a modern urban area with high quality of life. There are many outstanding places to visit here that you can refer to for more detailed information below.
Thu Thiem Congregation of the Holy Cross Lovers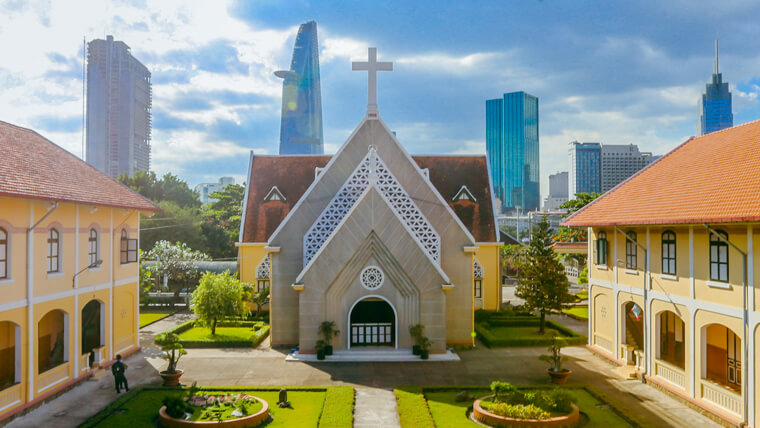 This is one of the best attractions in District 2 Ho Chi Minh City - Source: giothanhle
According to historical documents, Catholics in Vietnam in the 19th century were violently captured and destroyed during the reign of King Minh Mang. Many churches and monasteries were destroyed and left in ruins, causing many priests, religious people and believers to disperse everywhere, among them there are a number of Sisters of the Lovers of the Cross. When they arrived on the Thu Thiem peninsula, they decided to stop and establish a religious house, but it was not until 1859 that the Thu Thiem sect was established.
Formed in 1840 on an area of 4ha, Thu Thiem Congregation of the Holy Cross Lovers in District 2 Ho Chi Minh City was originally just a leaf house, then a wooden house, solidly built in 1956 and expanded as it is today. Right on the premises of this place is a large and open lawn, divided into 4 parts expressing the word "Past Sow Now Reap" (you reap what you sow). There are also many ornamental trees and colorful flowers, highlighting the Easter hill miniature with a statue of Jesus being crucified on the cross, about 5m high. You can even find in Thu Thiem Monastery of the Lovers of the Cross an old tamarind tree, which existed before this religious site.
Currently, living here are more than 300 nuns who, besides praying, also participate in charity activities and social work such as teaching, vocational training, medical treatment or animal husbandry. Coming here, you can admire the scenery and pray, as well as buy anti-mosquito herbs that do not contain chemicals, enjoy fresh cow's milk with authentic whey, etc.
- Address: No.76 Quarter 1, Thu Thiem Ward, District 2 Saigon
Thu Thiem Church - top tourist spots in District 2 Ho Chi Minh City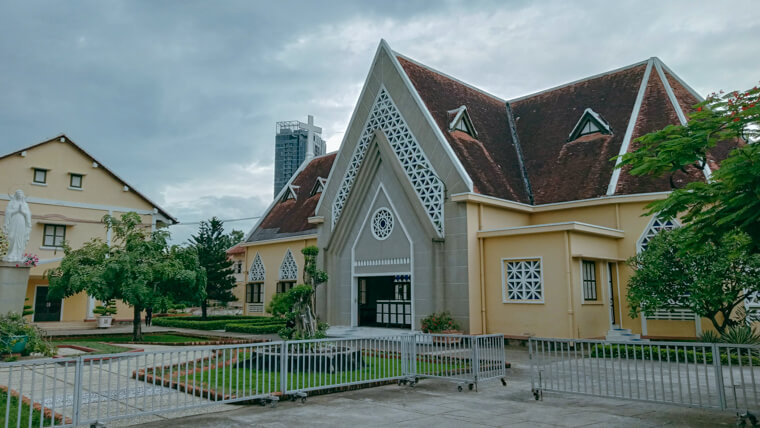 The ancient Thu Thiem Church - Source: Tuan Pham
Located adjacent to the right side of Thu Thiem's ​​Lover of the Cross Monastery, Thu Thiem Church is part of this 180-year-old complex of religious monuments. Built in 1859, the church has similar architecture to other buildings here, filled with French style and East-Asian features. The walls of the building are painted in a characteristic light yellow color, the roof is covered with bright red-orange tiles, with long and wide corridors and wooden windows. Visiting this attraction in District 2 Ho Chi Minh City, you will also see an impressive main building with two large reliefs showing the images of the Last Supper and Jesus teaching children in the sanctuary.
Next to Thu Thiem church is a cluster of other works such as chapels, collective houses, infirmaries, schools, gardens... built in the 20th century. There is also a large bell tower built in 1930, inside there are still 5 bronze bells cast from 1889 to 1892 in a French workshop. The motifs on them are sculpted meticulously, and the bells are still rung daily in the old way using a foot pedal.
- Address: No.58 Quarter 1, Thu Thiem Ward, District 2 Saigon
Hue Nghiem Pagoda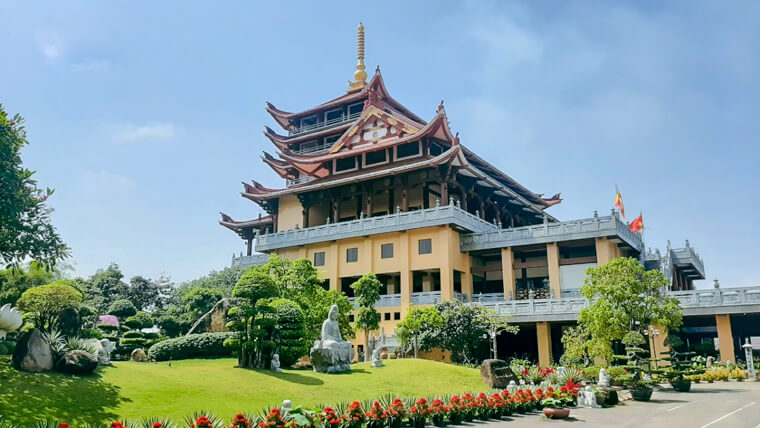 Hue Nghiem Pagoda - Source: vov
It must be a pity if you miss Hue Nghiem pagoda when traveling in District 2 Ho Chi Minh City. Belonging to the Northern sect, Hue Nghiem Pagoda was built in 1975. Covering an area of ​​about 2ha, this garden temple has an elegant beauty, with large stone steles engraved with Buddhism teachings, and many corners, lotus or fish ponds named after the Bodhisattvas and Saints in the Lotus Sutra. In the front yard of the temple, there is a 12m high statue of Bodhisattva Avalokitesvara, made of monolithic granite weighing 60 tons
The main hall of Hue Nghiem pagoda is a combination of traditional Vietnamese cultural features and Japanese architectural style, usually only open on the first and full moon days of the lunar month. Inside the main hall of Hue Nghiem pagoda in District 2 Ho Chi Minh City, there are many statues of Buddhas and Bodhisattvas carved from precious wood, along with 3 Sariras donated by Venerable Thich Giac Hoang in 2000. This place gives two Sundays every month for dedicated Dharma Flower Buddhists to practice, and lets thousands of monks, nuns and Buddhists come and pray on Vesak. The temple welcomes many domestic and foreign tourists every year, planned to be built into one of the most famous temples in Vietnam.
- Address: No.299B Luong Dinh Cua Street, Binh An Ward, District 2 Saigon
Minh Dang Quang Dharma Institute in District 2 Ho Chi Minh City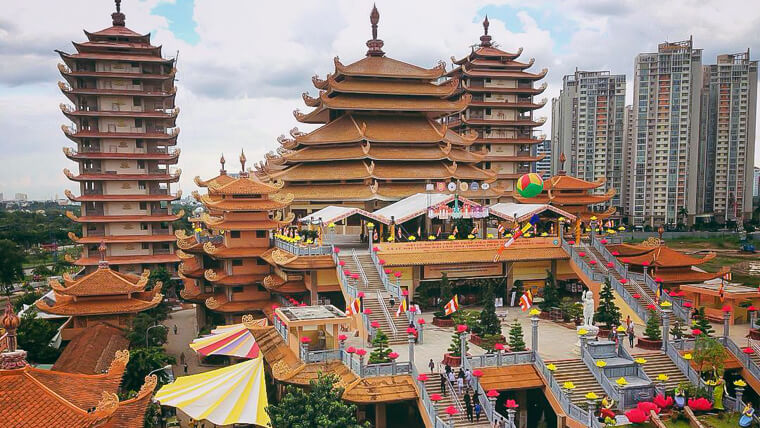 Source: bazantravel
As a Buddhist architectural complex typical of the Southern Mendicant sect, this work was founded in 1968. Minh Dang Quang Dharma Institute stands out in the heart of Saigon with 4 tall stupas surrounding the main hall looking like a flower, imbued with Buddhist cultural identity. The area of ​​the Dharma Institute is 37,490m2, including other buildings such as private retreats of the monks along with the library, the Sangha, and the living quarters of the Buddhists,…
Coming here, you can admire the statues of Bodhisattva Avalokitesvara, Bodhisattva Maitreya, and Patriarch Minh Dang Quang in front of the main hall, surrounded by shady trees. Visiting this attraction in District 2 Ho Chi Minh City, you also have the chance to admire the Bodhi tree extracted from the over 2000-year-old Bodhi tree in Sri Lanka, gifted by the Venerable A.Wajirajothi Maha Thera, and planted on January 27, 2014.
Minh Dang Quang Dharma Institute is the place not only for pilgrims to find peace of mind, but also to exchange with international Buddhism in the midst of globalization. This is also considered a Buddhist school with 60 monks currently residing and studying, monthly participating in lecturing the congregation together with the Abbot. On the campus of the Institute, there is a vegetarian restaurant called Thien Duyen, shaped like a very peaceful Vietnamese 2-storey pagoda, with a capacity of more than 500 guests and a menu of over 60 delicious vegetarian dishes.
- Address: No.505 Mai Chi Tho Street, An Phu Ward, District 2 Saigon
- Opening hours: 8am - 8pm
If the bustling District 5 has a Chinatown and District 1 is filled with skyscrapers, it seems that District 2 Ho Chi Minh City is somewhat quieter. However, that does not mean that this place lacks attractiveness, on the contrary, it is embedded with unique features that are hard to find elsewhere. Especially since District 2 was merged into Thu Duc city, it has been developed strongly towards becoming the economic - cultural - entertainment center of the city.