Ben Thanh market address is in the intersection between the streets of Phan Boi Chau, Phan Chu Trinh, Le Thanh Ton, and Quach Thi Trang Square in Ben Nghe Ward, District 1. The attractiveness of this market is not only based on the diversity of shops and restaurants, but it also steals tourists' hearts by the lifestyle and culture of the locals.
- Address: Ben Thanh Ward, District 1, Ho Chi Minh City
- Opening hours: 7:30
- Closing time: 18:00
- Year of construction: 1912
- Year of open: 1914
- Architectural company: TA Landscape (2022)
- Architect: Le Van Mau (1952)
- Main Contractor: Brossard et Maupin
I - Ben Thanh Market history
The market was founded a very long time ago before the French colonialists invaded Gia Dinh Vietnam (Gia Dinh is an old name of Ho Chi Minh City). At that time, the market was located on the bank of Ben Nghe River, near Gia Dinh Citadel. It used to be a place for immigrants or soldiers to rest. In February 1859, the French occupied the city and burned the market. Afterward, a new Ben Thanh market was rebuilt with bricks, wooden ribs, and thatched roofs.
Through a few times of reconstruction, by 1912 the French had completely rebuilt the market. On March 28th, 29th, and 30th, 1914 the inauguration ceremony of the market took place after nearly 3 years of rebuilding. Since then, the market has become the most famous market in Saigon - a destination that carries the typical beauty of the land and locals.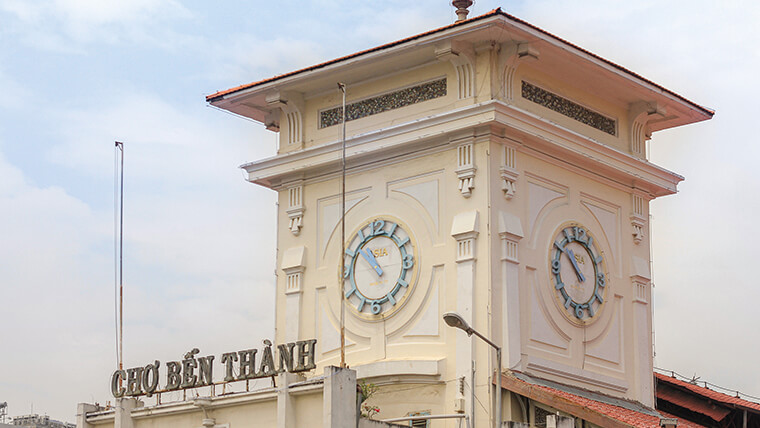 Source: Ngoc Thao
II - Highlights in the architecture of Ben Thanh Market in Saigon
Despite undergoing several renovations and reconstruction, basically, the market still retains its old architecture such as tiled walls, iron truss columns, tile roofs, and clocks. It contains a tower block with four clocks facing the upper four sides of the main gate and 12 secondary doors in four directions. A very interesting feature is that on each gate, there are ceramic reliefs carved by the pottery artists of Bien Hoa in 1952. These reliefs have the image of a cow, a goose, or a bunch of bananas that can be counted as Vietnamese specialties.
III - Explore Ben Thanh Market Saigon district 1
With an area of up to 13,056m² gathering more than 1,400 stalls and 6,000 small traders, this market is considered the largest retail market in Saigon. Inside the market, stalls are arranged methodically.
In particular, the cage house is a place to sell cloth and dry food while the North gate area (on the side of Le Thanh Ton street) is dedicated to the fresh flower and fruit stall. The East gate area (on the side of Phan Boi Chau street) is a place to sell cosmetics and confectionery and the West gate area (on the side of Phan Chu Trinh Street) trades a variety of shoes, handicrafts, or souvenirs.
Ben Thanh market shopping activities are busy all day with a plentiful source of goods. The market is very diverse in the kinds and prices of goods. You can freely choose items from popular to high-end without having to worry about looking far away.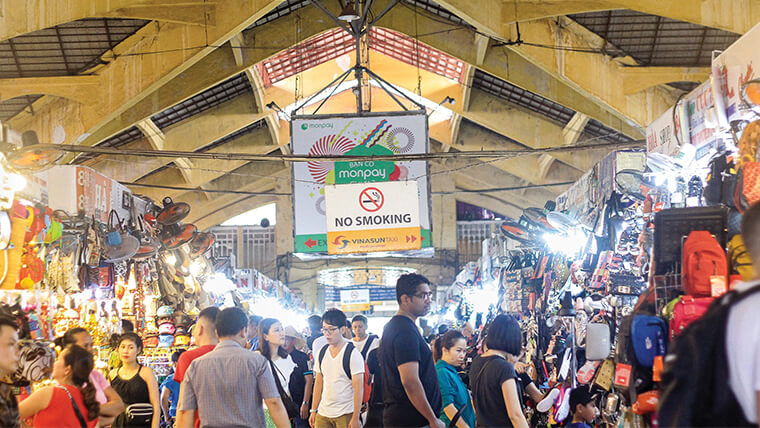 Source: Quynh Lee
1 - Opening hours
The market is open from 6am to 6pm daily for locals to purchase daily goods. This vibrant venue often becomes crowded from 7pm. Shops inside the main market are normally closed to make room for the night market which takes place on the side of the main market.
Ben Thanh Night Market opening hours are from 7pm to 11pm. At night, the market becomes more and more busy and vibrant with lots of young people and tourists who come here to have some food, looking for some goods or just to enjoy free time.
2 - Best food to try
The food court of the market is filled up with famous regional specialties such as noodles, vermicelli, Com Tam, sticky rice, spring rolls, and also Saigon snacks such as mixed rice paper, sweet soup, Vietnamese cakes, snails which are delicious and affordable. The best Ben Thanh market food court:
Bun Rieu:
Bun Rieu is a very familiar dish of Saigon people. The large crab rolls combine with other fresh ingredients creating an excellent flavor that you may never forget.
- Address: Bun Rieu Ganh at 4 Phan Boi Chau Street, Ben Thanh Ward, District 1
- Price: 45.000 VNĐ/1 bowl (~ $1.9)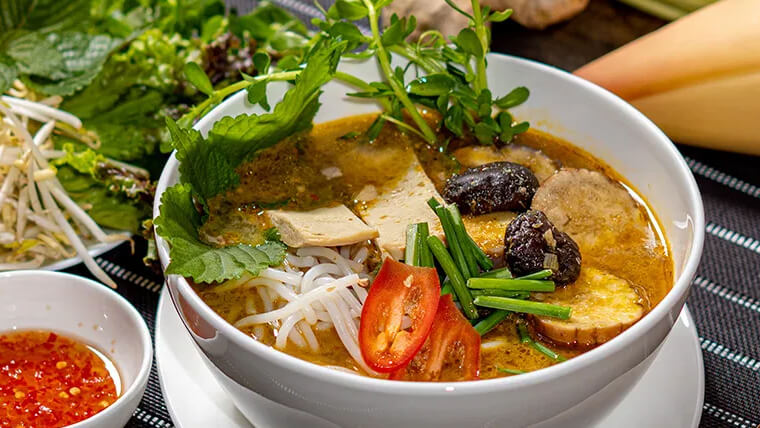 A bowl of Bun Mam (Source: Lukitchen)
Bun Mam (Bún Mắm):
As a specialty originating from the Mekong Delta, Bun Mam gradually becomes a must-try dish in the Ben Thanh street food market. A bowl of vermicelli with a rich flavor, combined with many river specialties such as snakehead fish, shrimp, squid, eggplant, and a little roast pork creating an attractive dish that is hard to resist.
- Address: Phan Boi Chau Street (On the North gate of Ben Thanh)
- Price: 65.000 VND/1 bowl (~ $2.8)
Saigon sweet soup:
A colorful eye-catching cup of sweet soup or Vietnamese che with the green of nuggets, yellow of bananas and corn, the white of coconut milk, purple of taro, red dew of pomegranate seeds might be a perfect dessert or fresh snack for any travelers during hot days.
- Address: Gate 7 in Ben Thanh Market Ho Chi Minh City
- Price from 15,000 - 25,000 VND / cup ($1.07)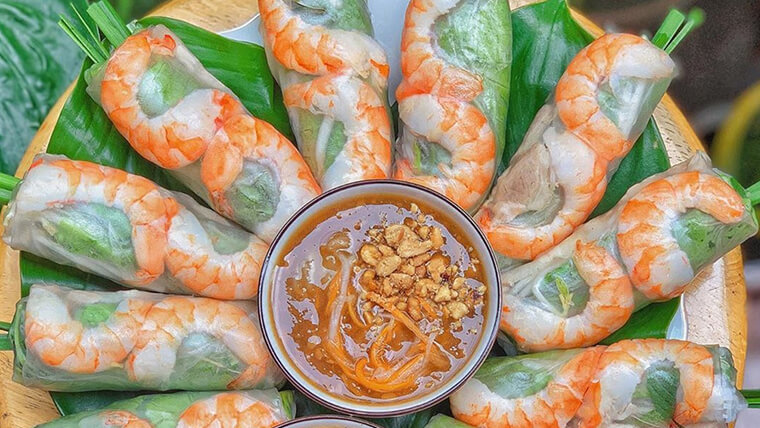 Source: Trangpinkyy
Spring rolls:
Although this dish is quite familiar to Saigon people, the spring rolls in the market have a more special taste. The spring rolls will be stacked, lined underneath with banana leaves, dotted with black soy sauce or chili sauce.
- Address: Gate 7 in the market.
- Price: 6,000 - 10,000 VND / 1 roll ($0.25 - 0.45)
Banh Canh Cua:
In Ben Thanh central market, you can witness hundreds of tasty and colorful dishes, in which, Banh Canh Cua (Vietnamese crab noodle soup) is recommended as a must-try dish. This noodle soup has light sour broth combined with many kinds of toppings such as ground pork rolls, fried tofu, fresh and delicious crab meat.
- Address: booth 1301 in the market
- Price: 40,000 - 60,000 VND / 1 bowl ($1.7 - 2.6)
Bun Suong:
This is a Ben Thanh market best food to try. A bowl of Bun suong consists of shrimp, a piece of pig trotter and fresh noodles. Its ingredients are quite simple, but its flavor is incredibly attractive carrying the taste of snakes combined with a special soy sauce. It is normally served with a variety of raw Vietnamese vegetables.
- Address: Bun Suong Co Mai, booth 1020 in the market
- Price: 30,000 - 35,000 VND / 1 bowl ($1.3 - 1.5)
Bot Chien:
The crispy golden dough served with sweet and sour pickle papaya might surprise you with its unique taste. This dish is quite popular at the Ben Thanh market street food and Saigon as well.
- Address: Corner of the market (on the opposite side of the East Gate)
- Price is about 30,000 VND / dish ($1.3)
Mixed rice paper:
It might be a big loss if you leave Saigon without trying mixed rice paper - a specialty on the sidewalk of the city. To make this dish, rice paper is cut into small strips, mixed with shredded green mango, chopped lettuce and sprinkled with Tay Ninh shrimp salt, squeezed with kumquat and a bit of onion fat with peanuts, roasted shrimp, quail eggs, and dried beef.
- Address: Ut Ngoc, booth 1257, Cua Dong 11, Ben Thanh Market Vietnam.
- The price ranges from 10,000 to 20,000 VND / dish ($0.43 - 0.86).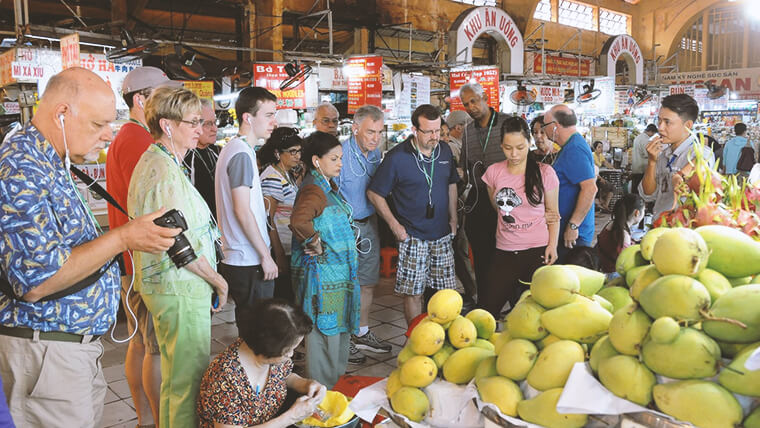 Source: Nguyen Nam
3 - Tips for travelers
- Traffic in Saigon is quite crowded, so travelers need to pay attention while walking.
- The market is very crowded, so pickpocketing and thieves happen easily. You should take care of your own personal belongings and property.
- When shopping in Ben Thanh market, you should learn to bargain for better prices.
- If you have come to the market, do not forget to visit some famous places such as Notre Dame Cathedral in Saigon, Nguyen Hue walking street, Saigon Opera House,... in Ho Chi Minh city.
In general, Ben Thanh market Vietnam is one of the best ideal shopping places in Ho Chi Minh City. With a prime location in the center of district 1, tourists can easily visit to enjoy tons of delicious street food or to explore and buy many kinds of goods such as clothes, shoes, fabrics, souvenirs and dried foods.