Ho Chi Minh City has in its arsenal ample opportunities to ensure that even the most demanding travelers can feel satisfied and its vibrant nightlife can be named as one of them. When the sun goes down, the temperature becomes more favorable and Saigon's manic energy keeps charging along till the early hours which offers a completely different experience than day tours. Especially experiencing the rush of driving down the streets might be a perfect choice for one who knows how to ride a motorbike and wants to discover this city freely.
In general, Vietnam can be named as one of the safest countries in the world because there have been no wars, no terrorism, no riots in this country since the new century began. However, you should pay attention to our "Ho Chi Minh City nightlife tips and notes":
- Pay a little attention to safety while traveling at night
- Some unexpected trouble can come up such as pickpockets, traffic accidents, or having small conflicts with locals while bargaining
- It might be best if visitors explore this city with a local guide or at least you should not travel alone.
I - Exploring Ho Chi Minh City's night foods
1 - Having dinner on Saigon River
Enjoying dinner in an airy spacious floating restaurant with a sparkling view of the city's skyline might be a memorable experience that no travelers wants to miss. All you need to do is feel the river's gentle breeze caressing your skin, relax and enjoy a delicious dinner, and be in the company of a loved one. The boat might slowly float along the Saigon River while you enjoy a cool dinner and delight in the spectacular view of Ho Chi Minh City by night.
And there are some significant restaurants that need to be mentioned for a great nightlife in Ho Chi Minh City: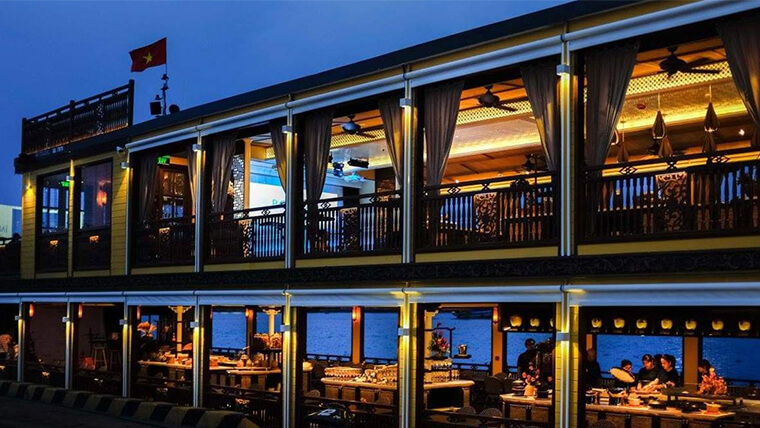 Bonsai Cruise - Source: Klook
Bonsai Cruise
- Departure Point: 5 Nguyen Tat Thanh, Ward 12, District 4, Ho Chi Minh City
- Duration: 1h 45m
- Return Details: Back to the starting point
- Inclusions: Buffet dinner (East-meets-west delicacies and rustic Indochinese signature dishes, prepared fresh & live); Live entertainment (Live performances & entertainment show by in-house artists Cruise); Welcome cocktail
- Exclusions: Drinks (except 1 welcome drink is included); Souvenir (available to purchase); Hotel pickup and drop-off
- Price: from 1.200.000 VND ($51)
ROS Yacht Club - Dining & River Lounge
- Address: 10B Ton Duc Thang Bach Dang Harbor, Ben Nghe, District 1, Ho Chi Minh City (on the bank of Sai Gon River)
- Phone number: 84 90 379 62 36
- Open hour: 10:30 AM - 11:30 PM
- Cuisines: Bar, Asian, European, Pub, Fusion, Vietnamese
- Special diets: Vegan Options
Duong's Restaurant
- Address: 27 Dong Du, Ben Nghe Ward, District 1, Ho Chi Minh City (on the bank of Sai Gon River)
- Open hour: 11:00 AM - 10:00 PM
- Price range: $4 - 50
- Cuisines: International, Asian, Vietnamese
- Special diets: Vegetarian option friendly, gluten-free options
- Feature: Reservations, Sightseeing seating, Highchairs Available, Serves Alcohol, Full Bar, Free Wifi, Table Service
2 - Trying "Bia Hoi" - one of best nightlife in Saigon
Beer culture of Ho Chi Minh City is influenced by traditional European styles as well as embraces unique local tastes. Bia Hoi is so popular with travelers, drinking Bia Hoi on the streets of Ho Chi Minh City is as emblematic as eating pad Thai in Bangkok.
Remaining in its pure form without any additives or preservatives, Bia Hoi of this city is foamy, light with a crisp taste suggesting rice and probably more similar to Bud Light beer. Another distinguishing feature of beer drinking culture in Ho Chi Minh is the social aspect. It is community-oriented, more about sharing than eating and drinking. As a result, you should go with friends or simply just make new friends with other travelers and locals there, drink and share things. Sai Gon 73 (73 Bui Vien Street, Phạm Ngũ Lão, $1 - 0.5/cup) is the most popular one for travelers in the South.
III - Exploring Ho Chi Minh night streets
1 - Bui Vien Street
Widely known as Western Street, Bui Vien Walking Street is a crowded street in District 1. It was also called the backpackers street by the locals because there are not only a number of tourists but it's also where locals chose to relax.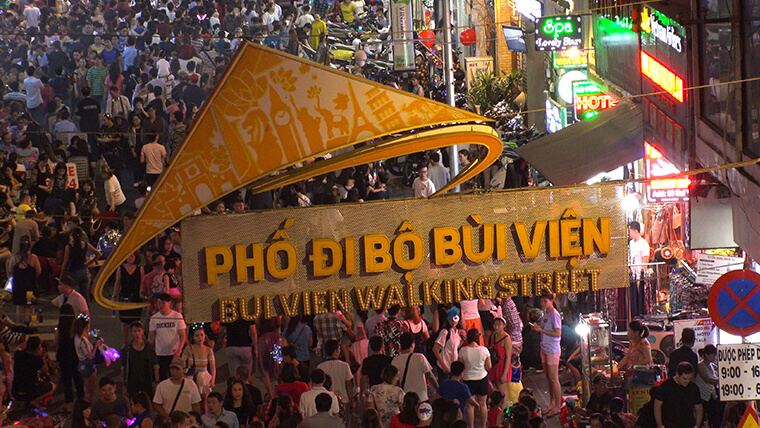 Bui Vien Street is extremely bustling at night - Source: Backofthebiketours
The first reason is that it is a bustling, lively area for drinking and eating in Saigon, with numerous roadside seats where you can get cold beers and local dishes for surprisingly reasonable prices. 50-cent beer and two-dollar cocktails are the keywords while the food usually costs about $1 per dish.
Furthermore, Bui Vien Street will ban vehicles for a length of about 500m, from 7:00 pm to 2:00 am on Saturday and Sunday for entertainment activities such as games, street performances, singing, dancing, and spitting fireballs. Visitors will have the chance to enjoy "four free" including free toilets; free WIFI; free information providing, supporting, and "free smiles". Not only art performances from the sidewalks to the streets but also folk games such as mandarin square capturing (Or O An Quan - a vietnamese folk game), skip rope… also attract the attention of foreign tourists and create a lively atmosphere.
2 - Nguyen Hue Walking Street
Nguyen Hue walking street, an ideal place to fully feel the hustle and bustle of Ho Chi Minh City at night, it is a gathering square and the first walking street of Saigon. As scheduled, all kinds of vehicles are banned on driving here from 6pm to 1am on Saturday and Sunday.
At night, when everything is lit up by the lights, visitors will have the chance to watch one of the most attractive things there - unique and beautiful water music performances. Along with enjoying executed art performances, street festivals, culture exhibitions, visitors also go there for dating, fun, and excellent street food,...
3 - Doing scooter tour around Ho Chi Minh City
If you want to experience a different corner of Ho Chi Minh City, a scooter by night tour is designed for you! Visitors can take a glance at the glory of the paper lanterns in Cho Lon (big market), enjoy the breathtaking scene of Saigon River from Thu Thiem Bridge, experience the rush of flowing along Saigon freeway, view the magnificent Bitexco Tower, crowds of people gathering at many of the sidewalk cafes, biggest flower market, "Beverly hills of Sai Gon" and so on.
The common price ranges from $10/per day due to the type of scooter you choose. Here are some motorbike rental companies suggested for you:
Tigit Motorbikes
- Address: B2-00.01 Sarimi, Sala, 72 Nguyen Co Thach Street, An Loi Dong Ward, District 2, Ho Chi Minh City; 5 km from District 1
- Website: https://www.tigitmotorbikes.com
- Phone number: +84 937 252 509
Flamingo travel
- Address: 30A Do Quang Dau Street, Pham Ngu Lao Ward, District 1
- Website: http://www.flamingotravel.com.vn/rentals/
- Phone number: +84 98 675 1020
Scooter Saigon Rental
- Address: 23 Han Mac Tu, Tan Thanh Ward, Tan Phu District; about 10 km from District 1
- Website: https://saigonscooterrental.com/
- Phone number: +84 937 252 509
4 - Turtle Lake
The Turtle Lake is located in the middle of Pham Ngoc Thach Street. People go there to enjoy coffee, take some nice pictures, hang out and taste street food, namely grilled rice cake, mixed rice paper, grilled cake with quail, stir-fried corn, food on a stick, and so on whose prices are only about $1 or $2. In terms of drink, refreshing beverages such as iced sugarcane juice, iced coconut water with kumquat, iced salted lemonade, and cool coconut water are super tasty and come up with a favorable price ranging from $0.5 to $3.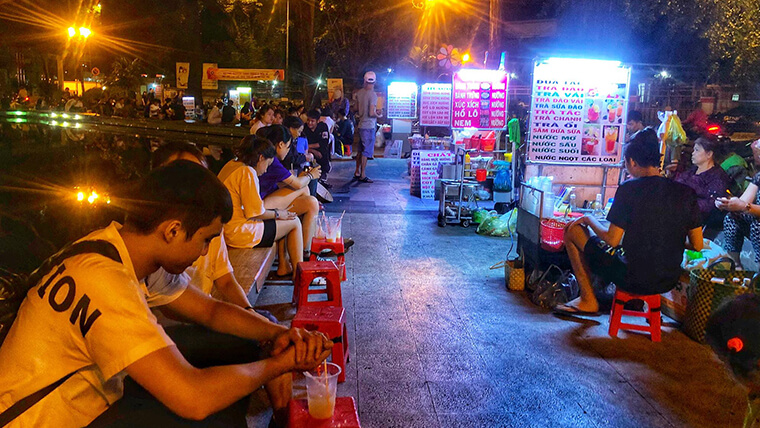 Saigon nightlife - Source: Nld
Besides, there are many universities located around Turtle Lake's neighborhood so that it becomes a favorite place for students and teenagers to wander, sightsee, and relax under the big shadow of old trees. So if you want to chat with youngsters, locals, and taste some local street food while enjoying the refreshing atmosphere at night, Turtle Lake is a perfect choice!
III - Spending a burning nights at bars, nightclubs and pubs
The entertainment industry in Saigon is growing rapidly and the city boasts a number of nightclubs with an extensive list of beers and mixers, impressive DJ playlists, and vibrant atmospheres. Besides, best of all, there is no specified closing time, several clubs, pubs, and bars in the city are open all night, which means you can party until your heart's content. Saigon is drenched with pubs and bars of all kinds and ranges depending on where you are in the city, meaning it has something to offer every person.
For instance, downtown bars in District 1 are normally rooftop bars, high rolling casinos, and smooth jazz bands which can be the choice forms of nightlife entertainment in Saigon. However, if you move a few kilometers west into District 3 and the backpacker street of Pham Ngu Lao, you will see boisterous street bars, cheap eats, and good time vibe which are certainly the places to be when night falls. Furthermore, every nightclub has its own distinct theme ranging from downtown luxurious rooftop establishments to hidden clubs dedicated to young Saigonese, therefore, just choose one and create your own amazing night! This is certainly a good choice to experience Ho Chi Minh nightlife and entertainment.
1 - District 1
Saigon Saigon Rooftop Bar
Saigon Saigon Rooftop Bar on the ninth floor of the Caravelle Saigon, without doubt, the best view of historical Saigon. Its view is still majestic with many of Ho Chi Minh City's most famous sites laid such as Lam Son Square with the ornate Saigon Opera House, and Notre Dame Cathedral. Moreover, the historic atmosphere of Saigon is reinforced with wooden fixtures, sepia photographs, a chequered black, and white marble floor. Small tables and chairs, fairy lights, and plenty of foliage also make it become a private and romantic corner.
There is a daily happy hour from 18:00 to 20:00 that beverages are bought one get one free (about $15 for buy one get one free - 2 drinks total). An excellent live band performing Latino style lounge music from 20:00 adding a lively touch to dinner or a few drinks also takes place every night at Saigon Saigon Rooftop Bar. The cocktail and food menu at Saigon Saigon has an excellent range of western favorites including steaks and burgers in town, bento-box selection of nibbles that includes nuts, dried fruit chips, and small crunchy shrimp.
- Opening Hours: Daily 11:00 – 03:00
- Address: 19 Lam Son Square, Ben Nghe Ward, District 1
- Tel: +84 83 823 4999
Chill Sky Bar Saigon
There is a strictly enforced dress code here, so at least don't wear Birkenstocks or flip-flops if you plan to spend your night there. The bar usually opens at 17:30, and everything seems to liven up around 22:00 when the DJ spins popular hip hop and dance music. One thing has to be noted that drinks here are very expensive. A cocktail, for instance, costs close to US$20 but there is an excellent happy hour from 17:30 to 20:00 when all kinds of beverages including cocktails, long drinks and beers, and some wines and snacks are half price.
- Opening Hours: Monday - Thursday & Sunday 17:30 - 02:00, Friday & Saturday 17:30 - 04:00
- Address: AB Tower Saigon, 76A Le Lai, Ben Thanh Ward, District 1
- Tel: +84 86 253 8888
The View Rooftop Bar


The View Rooftop Bar - Source: The View
This is a cheap place to experience nightlife in Ho Chi Minh City. Located at top one of the tallest buildings on the backpacker street of Bui Vien, The View Rooftop Bar of Duc Vuong Hotel Saigon is a perfect choice for a drink if you're traveling on a modest budget as prices for a beer here start from just VND 20,000 (US$1). Beers for $1 and cocktails for $2 are hardly found at any other rooftop bar in Ho Chi Minh City except this one. Besides, it must be mentioned that the service there is excellent! The staff can speak English fluently and are always happy to chat and guide about where to go in Ho Chi Minh.
- Opening Hours: Daily 10:00 - 01:00
- Address: 195 Bui Vien Street, Pham Ngu Lao Ward, District 1
- Tel: +84 28 3838 6708
Lush Nightclub
Lush is a sleek and fashionable night hub where the young and beautiful party the night away. Each evening, a different style of music will be played. Especially on Fridays and Sundays, Lush will welcome some of the best hip hop DJs in the city and is usually packed by a crowd of locals and foreigners on Saturday night due to 'International funky house'.
In front of the club, there is a small garden where visitors can relax and perhaps grab a bite to eat while behind there is an outdoor bar that people are used to starting the night before moving inside as the party heats up. The club is open at 20:00 seven nights a week and is consistently busy.
- Address: 2 Ly Tu Trong Street, Ben Nghe Ward, District 1
- Tel: +84 (0) 9 1863 0742
2 - District 3
Shri Restaurant & Lounge
Shri Restaurant & Lounge overlooks some of Ho Chi Minh's top attractions such as Reunification Palace, Notre Dame Cathedral, Kumho Plaza, and Lotus Building, or the Phu My Suspension Bridge over Saigon River. Moreover, it is open all day and visitors can savor modern European and Vietnamese fare at the indoor dining area before moving to the rooftop bar and lounge and enjoy the rest of the night there. Its decoration is the modern decor with ample sofas, and a sleek-looking bar serving cocktails, beers, spirits, and wines from France, Italy, Spain, Germany, Australia, New Zealand, and South Africa.
- Opening Hours: Monday – Saturday 10:30am – 00am, Sunday 04:30pm – 00am
- Address: Level 23, Centec Tower, 72-74 Nguyen Thi Minh Khai Street, Ho Chi Minh City
- Tel: +84 28 3827 9631
- Price: from 300.000VND/person (~12USD)
- Website: https://shri.vn/hcm/
Acoustic Bar
Acoustic Bar Ho Chi Minh, one of best nightlife in Ho Chi Minh, is widely known as a popular choice for Vietnam's up and coming rock musicians. This live music bar is the corner where rock never dies and visitors can enjoy amazing renditions of Jimi Hendrix, The Doors, and John Lennon.
Besides, the music in this bar isn't limited to the classic one. A nightly roster of local and international musicians can also play mixes of originals in English and Vietnamese. This bar is somehow a coffee shop too, with plenty of sofas for chilling with a coffee in the early evening and a standing room where live bands play from 21:00.
Beverages are quite pricey compared to almost bars in Saigon, for instance, $4 for a Tiger beer and $5 for cocktails. Nevertheless, ladies can enjoy free beer, cocktails, or soft drinks from 20:30 to 22:00 every Wednesday.
- Opening Hours: Daily 05:00 pm – 00:00 am (live music from 09:00 pm, except on Sunday)
- Address: 6E1 Ð Ngo Thoi Nhiem, District 3, Ho Chi Minh
- Tel: 84 127 677 7773
Yoko Bar
Yoko Bar is a common destination for an assortment of bands playing rock and acoustic jazz-pop with a unique 'lived in' style. This smallish bar is a true live music bar where bands perform every night of the week with a regular crowd of both Ho Chi Minh scenesters and expats. Visitors are free to go up and sing with the band if the feeling grabs you!
- Opening Hours: 07pm – 00am (Live music from 09pm)
- Address: 22A Nguyen Thi Dieu, District 3
- Price: from 30.000VND (~1,2 USD)
- Tel: 84 (0) 8 3933 0577
3 - District 4
Observatory Nightclub
Known as the trendiest place to enjoy the nightlife in Saigon, the club has been frequently visited by music maestros since its inception in 2011. The DJ at this club has managed to make quite an impression for the culture lovers in Saigon with exclusively classical music which can help any soul get carried away completely. Furthermore, there is a dance floor for those who wish to dance until their heart's desire to party non-stop for hours or even the full night together.
- Address: 5, Nguyen Tat Thanh street, District 4,
- Phone number: (84-8) 39 259 415
IV - Night shopping - top things to do in Ho Chi Minh at night
1 - Night market
Situated at the intersection of Le Loi, Ham Nghi, Tan Hung and Le Lai street, in District 1 Ben Thanh Market is a great place to buy local handicrafts, souvenirs and find eating stalls with the taste of hawker-style Vietnamese cuisine.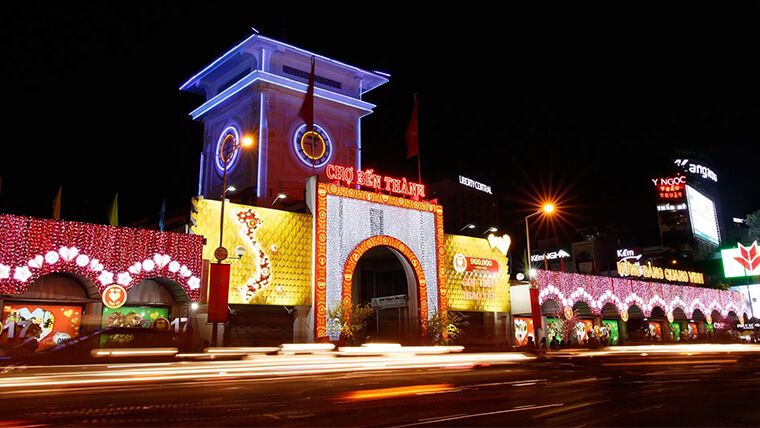 Ben Thanh Night Market - Source: Inspitrip
After the sun goes down, a vibrant street-side scene is created when restaurants around the perimeter of the market open their doors and fill the air with the scents of wok-fried noodles, barbecued fish, and meats. Being one of Saigon's oldest landmarks, this market offers an absolutely authentic Vietnamese where visitors can be served some real street style local food in eateries that surround the market building. Food will be cooked in front of visitors with an endless array of cuisine choices ranging from vegetarian noodles, fresh seafood, crispy rice pancakes to steamed cakes. In terms of shopping, visitors can easily find not only lacquerware ($15~$100), bamboo goods, arts, crafts ($1~$40) but also clothes, textiles, spices, nuts and local fruits that heavily scent the air. Finally, remember to haggle for bargains.
- Opening Hours: Daily 6:00 –24:00
- Address: Le Loi, Ben Thanh, Dis 1
- Tel: +84 83 521 0004
2 - Pham Ngu Lao Street
Located on the western edge of District 1, this crowded area consists of Pham Ngu Lao street, De Tham Street and the surrounding area. It is renowned as the place where most backpacking travelers stay during their holiday in Ho Chi Minh City. There is always something going on in Pham Ngu Lao Street with throngs of street vendors, bia hoi stalls, lively bars, and downtown clubs filling up the lively scene. This area also takes the place of several nightlife entertainment spots namely The View Rooftop Bar, Seventeen Saloon, Go 2 and Crazy Buffalo Nightclub, and a number of smaller pubs that are known for their cheap drinks and happy hour promos. Moreover, if you are looking for souvenirs such as conical hats (the unofficial national symbol), handicrafts, paintings, silk products, tee-shirts, rice paper, tea, coffee, coffee containers, coconut candies and tropical fruits, you should definitely take a glance at Pham Ngu Lao Street once.
V - Other entertainment activities in Ho Chi Minh City at night
1 - Sing at karaoke
No longer served only for special occasions, the microphone can appear anywhere at any given moment these days. It might be a perfect experience for one who is not brave enough for streetside singing just yet. Visitors can exercise their own vocal cords in the safety of a private booth decorated so lavishly as if they are expecting royalty. The room renting cost can range from $30 per group. The service may include drinks, finger food, and hours of loud music! And right below are some recommends for you:
Karaoke Avatar
- Address: 61-63-65 Pham Viet Chanh street, district 1, Ho Chi Minh City,
- Phone number: +842822112233
- Meal service: Lunch, Dinner
- Atmosphere: Nightlife, Modern
- Distinguish feature: funky decor and stylish cocktails
Nnice Karaoke
- Address: 340 Nguyen Thi Minh Khai street, district 3, Ho Chi Minh City
- Phone Number: 842838343784
- Website: http://www.nnice.com.vn/
- Meal service: Lunch, Dinner
- Atmosphere: Family Friendly, Nightlife
- Distinguish feature: belt out the classics, fast and attentive
Kingdom Karaoke
- Address: 67 Pham Viet Chanh Street, District 1, Ho Chi Minh City
- Phone Number: +84938737272
- Website: https://kingdomkaraoke.vn/
- Meal service: Lunch, Dinner
- Atmosphere: Stylish, Nightlife
- Distinguish: the interior resembles a palace, with its chandeliers and faux-marble pillars, an excellent choice for some serious singing
2 - Get luck at a Casino
You can try to hit the roulette table, play some mah-jong, or the slot machines. The two biggest casinos in Saigon which have to be mentioned are located in the Caravelle Hotel (No.19-23 Lam Son Square, Ben Nghe, Dist 1) and Sheraton Saigon Hotel and Towers (No.88 Dong Khoi, Ben Nghe, Dist 1). Casinos in Ho Chi Minh City are operated on a big scale as Las Vegas but some games as hold 'em poker are available on a computer. It is still an enjoyable Saigon nightlife experience.
3 - Massage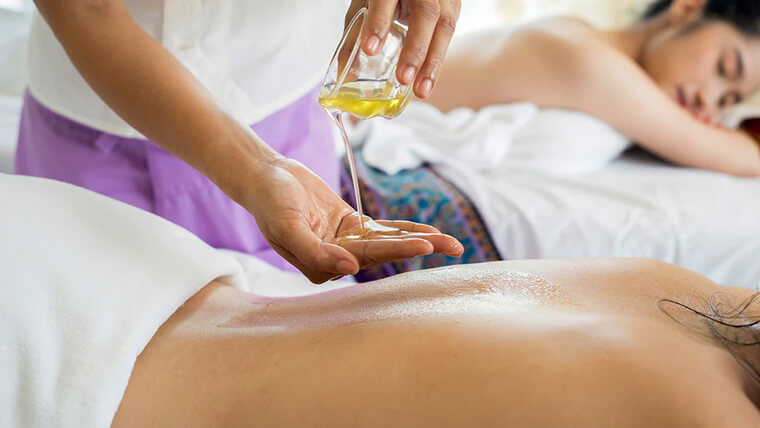 Source: Alan Caishan
Vietnamese massage mainly focuses on hitting pressure points and eliminating any muscle knots to alleviate stress from the body. If you don't really want to try this kind and prefer other styles of massage such as Thai, Korean, Japanese or even Swedish style massage, there are several massage spas that serve these different styles of massage. Most of the best massage in Saigon focuses on the tourist district while spas in District 1 are usually pricier than in other parts of the city. Here are some famous spa you should consider:
Shambhala Spa
- Address: Floor 2-3, 68 Ly Tu Trong Street, Ben Nghe Ward, District 1, Ho Chi Minh City
- Opening hours: 9am to 10pm
- Phone number: (028) 6291 8006
- Price range: 500,000 – 1,000,000 VND
- Service: range from skin treatment to massage, use all imported natural skincare from Japan like oat powder, pearl powder, mix herb powder.
Aya Spa & Skincare
- Address: 94 Nguyen Cong Tru, District 1, Ho Chi Minh City
- Phone number: (028) 7301 8686
- Opening hour: Mon – Fri: 10am to 9pm; Sat, Sun and Public Holiday: 9am to 8pm
- Price range: 300,000 – 2,000,000 VND
- Service: Therapy in Facial and Eyes, Special therapy: Firmin Chest Massage, Body and hot stone Massage, Soda water bath, Special treatment (acne, brightening, rejuvenating, body and face lift (non-invasive)
Sen Spa
- Address: 10B1 Le Thanh Ton, Ben Nghe Ward, District 1, Ho Chi Minh City
- Phone number: 090 795 9395
- Opening hours: 8am – 9pm
- Price range: 100,000 – 6,000,000 VND
- Service: Facial care, Waxing service, Hand, foot and body massage, nail care
In brief, the scene of nightlife in Ho Chi Minh City varies from one district to another and embraces any mood, price point, and style. This bustling southern city has a long reputation for its nightlife and entertainment and still is Vietnam's go-to spot for a fun night out whether you're looking for a high-end party or a street-side brew. Give it a try and explore the lively Saigon at night!