Enjoying coffee becomes a habit of Vietnamese people, especially for Saigonese because it is not always about the taste of the coffee but sometimes the cafe itself has been a quiet place for the soul or simply a get-together for people. This is an overview of Saigon cafes and best coffee shops to visit.
I - Overview of Saigon cafes
1 - Relishing coffee in the culture of Saigonese
In Saigonese daily life, coffee has become a popular and indispensable beverage. Therefore, Saigon people create unique ways of enjoying coffee, which distinguishes them from other regions or countries.
Unlike the North or other Western countries, best coffee in Saigonese's eyes is just a plain drink relished in the pavements along the streets, served by coffee vendors or small café with only 7,000 to 10,000VND ($0.3 - $0.43) for a small cup of delicious iced black or milk coffee. They drink coffee in the morning together with Banh Mi as a unique combo of a fast breakfast.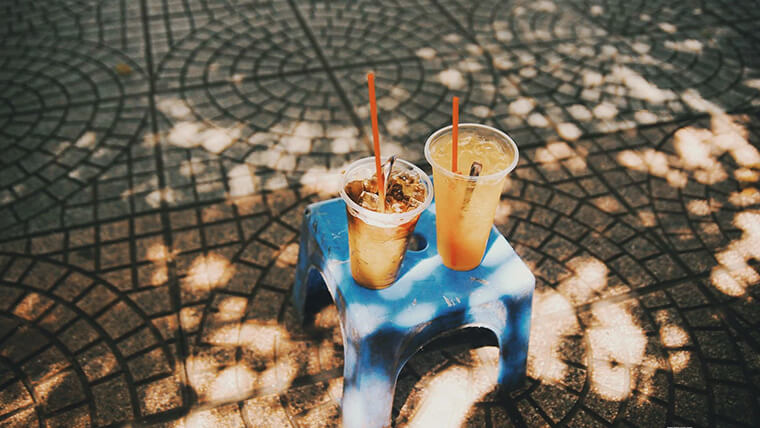 Source: Kenh14
In particular, coffee has had a lot of variations due to the ways of brewing it and having it since it was imported to Saigon in the 1950s. This has become a special trait of Saigon coffee culture that tourists can hardly find in other places.
Among kinds of coffee, black coffee is considered an all - time favorite in Saigon as its taste is delicious, and it is easy to make and the price is reasonable (only 10,000 VND or $0.43 for a cup).
2 - History of formation and development of Saigon coffee culture
Net-filter coffee - 50s (Vợt coffee)
Tourists might know about the street-side coffee, but the indigenous Saigonese are more familiar with the "net-filter coffee" - a constant of Saigon's lives many years ago because it is simple in its brew but its taste is one of a kind.
The "net-filter coffee" originated from its manual method of brewing; coffee makers removed the coffee ground with a special filter which looks like a fish net instead of using filters as today.
The first step of brewing net-filter Saigon coffee is to put ground coffee on a cloth filter and pour boiled water over the net. After a few stirs by a long spoon to absorb coffee evenly from the bottom and avoid being stagnant, coffee dropped for 3 to 5 minutes before being poured into another kettle. The second brew used the extracted coffee water to pour over the sock again then let it drip about 5 to 7 minutes. The coffee in Saigon was served in an earthenware kettle.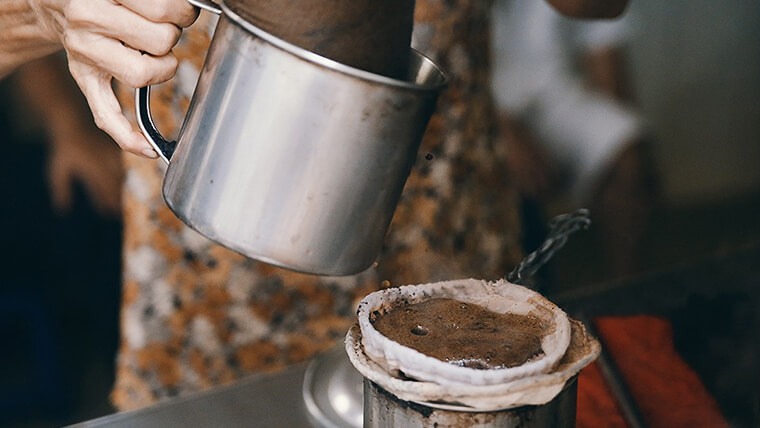 Source: Kenh14
Saigonese were often seen sipping a cup of sock brewing coffee, chattering about old stories to bring back the memories, which made the coffee taste plain, rustic and peaceful. Until today there have been numerous old sock coffee vendors in Saigon which become appealing for dreamers and nostalgic people wishing a return to the old Saigon and enjoying traditional taste.
Western - imported relishing coffee in Saigon style in 1960s
During the war, Vietnamese coffee had undergone positive changes. One of these was the change of a new brewing tool - coffee filter. Filtered coffee taste was enhanced strongly when being roasted and ground. That was the reason for the popularity of coffee in Vietnam culture until today. New kinds of coffee beans had been imported to diversify the menu of coffee served.
Coffee shops were decorated with more luxurious Western -style space as they were gathering places for artists, aristocrats,...
Current context of Saigon coffee
Coffee has been through years of development and become a cultural characteristic in Saigon. Nevertheless, sock brewing coffee still plays an important role and has its own charm among other imported styles. Modern Western coffee shops, along with coffee made from electric coffee maker machines such as Espresso, Cappuccino,...are introduced more and more in Vietnam but filtered coffee shops and street - side coffee vendors still remain in high numbers, explained by its convenience and popularity in daily lives.
II - The best coffee shops in Saigon
1 - The Cafe Apartment: iconic coffee shop in the center of District 1, Saigon
The Cafe Apartment is "dubbed" as the iconic coffee shop in the heart of District 1, Saigon. This is a 9 - storey building, decorated with various cafes suitable for many guests' choices.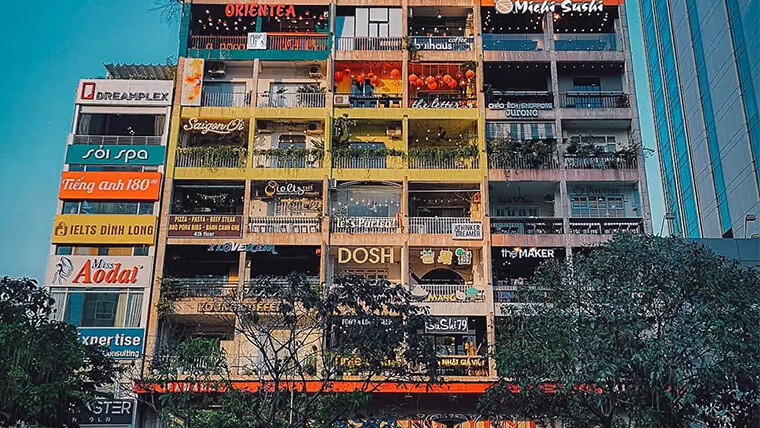 Source: Willflyforfood
The Cafe Apartment is designed quite gently, with a pedestrian view suitable for contemplating the streets. One of the best coffee in Saigon is served with flavors that are unique, tasty.
The Cafe Apartment opens from 8.00 until 22.00 so you can comfortably and fully enjoy coming here.
Address: No.42 Nguyen Hue street, Ben Nghe, District 1, Ho Chi Minh city
2 - Co Ba Sai Gon Rooftop Cafe
This Saigon coffee shop is a nostalgic place reminiscent of Saigon in the 1980s, located at the top floor of a modern and deluxe building in District 1. However, the cafe aims to Vintage style, a combination of the archaic colors and decorations of the old days.
In addition to tasty food and drinks, you can be wowed by the extremely sophisticated and fancy decorations from the tables, chairs, radios, clocks, dishes up to hundreds of years.
Co Ba rooftop cafe Saigon has a beautiful view of Saigon river from above, overlooking Bach Dang wharf and skyscrapers surrounding Dong Khoi, Ton Duc Thang streets. When night falls, you can contemplate the boats in colorful lights, floating on Saigon river. Although the cafe is on the top floor, the green corners with lotuses and purple water lilies blooming freshly in the sun will make you feel at peace in the middle of hectic Saigon.
This old Saigon coffee shop is usually crowded in the evening; therefore, tourists are advised to consider the time carefully to choose their favorite seats. Even though the breakfast served is not really amazing, the view from the top floor and the fresh air in the morning will be an enjoyable experience of a lifetime.
Address: No. 7 Ngo Duc Ke, Ben Nghe, District 1, Ho Chi Minh city
Price: 39.000 - 199.000 VND (~ $1.68 - 8.59)
3 - Sock coffee shop at alley 330 Phan Dinh Phung street, Phu Nhuan District - the old Saigon coffee style
Sock coffee shop is placed in the small alley of Phan Dinh Phung street, existing for over 60 years to be considered as a "witness" recreating the lively and nostalgic Saigon images in the old days. The owner is Mr. Dang Ngoc Con, a 80 year - old, whose coffee shop has passed down 3 generations and become a familiar place for Sai Thanh people.
Source: Kenh14
This Saigon specialty coffee was brewed by the old Sai Thanh people when they used a 25 - centimeter sock with 10 centimeter in diameter instead of a filter. The traditional steps were to pour boiling water into the sock and to boil coffee on a charcoal stove to keep the most original taste of coffee.
This Ho Chi Minh city cafe is mostly crowded in the early morning when guests come over to enjoy a cup of coffee before working or simply to gather to chat about the daily stories. Sock coffee shop is a familiar place not only for the old but also for the ones who love to explore the traditional Saigon culture.
Address: No.330 Phan Đinh Phung, Ward 1, Phu Nhuan District, Ho Chi Minh city
Price: 15.000 - 40.000 VND (~ $0.65 - 1.73)
4 - La Viet Coffee Saigon
The best cafe in Saigon which is popular for the qualified taste and is a pioneer in coffee trending in Saigon.
La Viet Coffee SaiGon was a well - known coffee brand in Dalat a few years ago due to its typical space and qualified beverages. La Viet Coffee was first placed in a little alley in Hai Ba Trung street, District 3, Ho Chi Minh city. The cafe has 3 storeys, each of which is designed with different looks and decoration arrangement to serve distinct types of guests.
La Viet Coffee SaiGon still retains the industrial style in design like the one in Dalat. The interior of this coffee shop in Ho Chi Minh has a coffee bar and cement floor, together with table and chair arrangement inspired by working space, creating a special atmosphere for visitors.
La Viet Coffee is a Vietnamese coffee brand, in addition to flavour - mixed coffee, its menu focuses on coffee made from machines, traditional filters and dripping. This Ho Chi Minh cafe also creates a special trait that is worth your visiting.
Address: 57A Tu Xuong, Ward 7, District 3, Ho Chi Minh city
Price: 30.000 - 55.000 VND (~ $1.29 - 2.37)
Besides cafes such as La Viet Coffee, Sock coffee shop, Ca Ba Sai Gon Cafe Rooftop,...Saigon also has other unique coffee shops like Blank Lounge, Du Mien Garden Coffee…
III - Saigon coffee roastery for taking away
When you come to Saigon, you can find the take - away places to buy roasted coffee, mink coffee as souvenirs for family and friends. Some recommended places are: Trung Nguyen Legend, La Viet Coffee, Runam Cafe,...
1 - Trung Nguyen Legend - Famous cafe in Vietnam
There are numerous types of coffee here such as roasted - ground coffee, coffee beans, filtered coffee, squirrel coffee, etc. Trung Nguyen is one of the best coffee in Saigon and Vietnam as well, so having a Trung Nguyen roasted coffee in your Vietnamese souvenir list is a nice idea.
Coffee types and prices are available at: best coffee in saigon
https://trungnguyencoffeevn.com/
2 - La Viet Coffee in Saigon - Coffee carefully selected with very high standards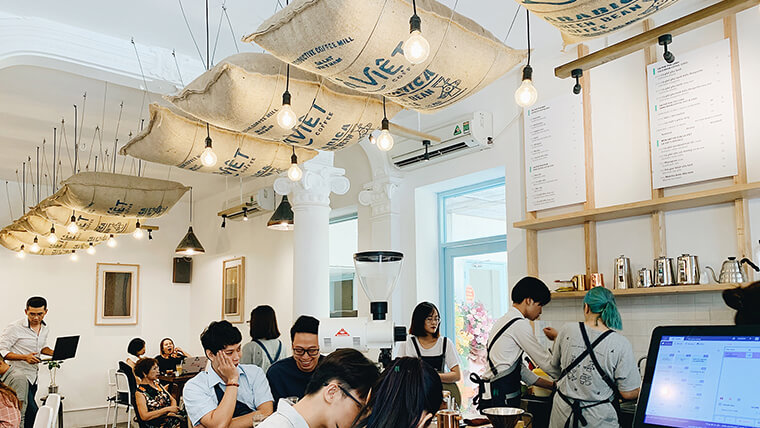 Source: Kenh14
Coffee in La Viet Coffee is carefully chosen, every ripe coffee bean is manually picked and produced daily to create the best quality. Each batch of coffee is meticulously processed by skillful workers to respect the taste of customers. La Viet Coffee has a variety of coffee such as whole bean coffee, filter coffee, powdered coffee,..
Coffee types and prices are available at: https://laviet.coffee/
3 - Runam Cafe - artone of the most istic and superior Saigon cafes
Coffee in Runam Cafe is selected from finest Arabica and Robusta coffee beans from Midland farms of Vietnam. Runam coffee is ground and roasted based on both modern technology and traditional experience of Italian coffee masters.
Runam Saigon coffee is always 100 % guaranteed pure coffee without using any additives. The perfect combination from finest coffee beans will create the most special and delicate flavour of a cup of coffee.
Coffee types and prices are available at: https://caferunam.com/
Thus, it can be seen that coffee appeared a long time ago and is embedded in our daily lives. Coffee is processed in many ways to keep the most original tastes or to create other new special flavors. Coming to Saigon, tourists will see lots of coffee vendors serving workers to take away or find some best Saigon cafes to enjoy a cup of coffee and experience the bustling streets out there. Wake up early in the morning and enjoy your breakfast with a fragrant and tasty cup of coffee while contemplating the early morning scenes. It is such a worthy experience that you should not miss.