Amongst 5 national cities of Vietnam, Ho Chi Minh city is the largest with an area of 2,063 km2 and a population of 8,837,544 people (by July, 2021). In terms of administration, there are 22 districts in Saigon, in which there is 1 city, 16 urban districts and 5 suburban districts. If you are planning to travel to this vibrant city and want to know if there is anything in each district, in which area should they find accommodation, take a look at this article to find the answer yourself.
I - Districts in Saigon's central area
1 - District 1 - the heart of the city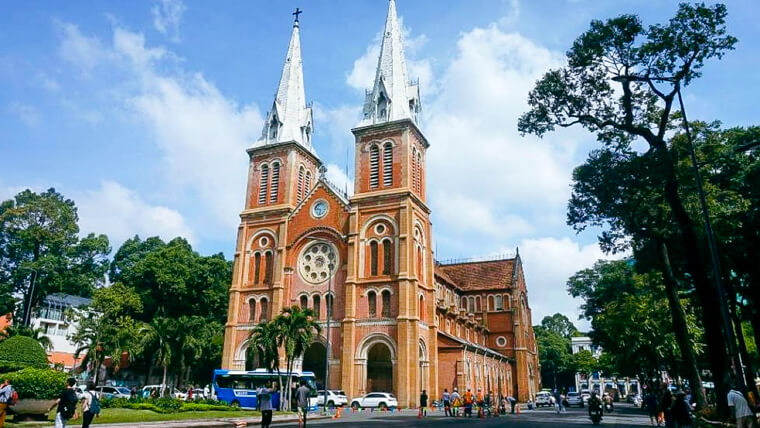 Notre Dame Cathedral of Saigon District 1 - Source: truyenhinhdulich
District 1 is the center of Ho Chi Minh city. This is the venue of official agencies, consulates of other countries and skyscrapers (the most outstanding one is the iconic Bitexco Financial Tower_the 4th highest building in Vietnam and also the symbol of the city). Besides, there are several famous tourist destinations such as Ben Thanh market, Notre Dame Cathedral of Saigon, Cafe Apartments, Independence Palace,... District 1 is well-known as the most livable and the place with highest living standard in the city named after the founding father of this country. Every movement and scenery here is always full of energy, which can be a special appeal to those with unique characteristics. The closer it gets to the night, the more hectic it becomes. Hence, it has another name which is the sleepless land.
2 - District 3
Among the most vibrant districts in Saigon, District 3 is very teeming with a wide range of activities such as trading, business and service, no less than District 1. It possesses a handful of blood streets of the city. Hence, from here, you can easily travel to other districts in Ho Chi Minh city and a variety of popular tourist attractions. There are several ancient architectural works, especially those dating back to the French colonial time, namely the old villas on Tran Quoc Thao street, Ba Huyen Thanh Quan street, Tu Xuong street or the Consulate buildings of Japan, India, Germany. The beauty of the district is the convergence between the local and the international culture, or in other word "Integration without assimilation". Updatedly, District 3 in Ho Chi Minh city appeared in the list of the 50 coolest neighborhoods in the world by Time Out Magazine. ...
3 - District 4 - one of the smallest districts in Saigon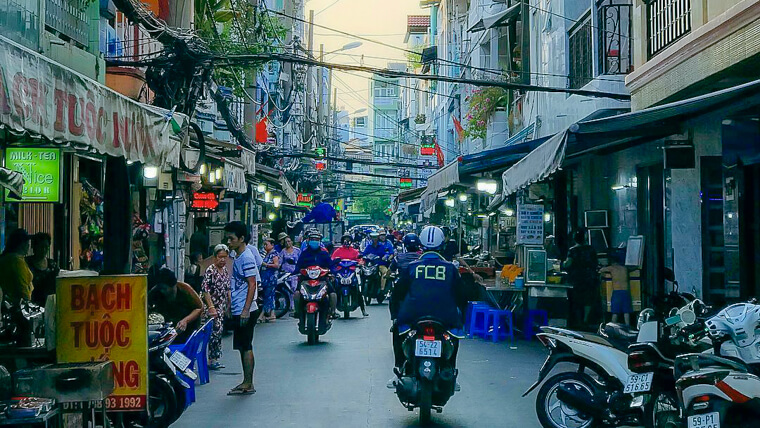 District 4 Saigon - Source: vhttdlvinhphuc
District 4 is the smallest district in Ho Chi Minh city with an area of about 4 km2 divided into 15 wards. Surrounded by tributaries of the Saigon River, the district is like a triangle island when viewed from the height. Tiny as it is, the area is characterized by a remarkable number of bridges internally and externally. Probably, the impression of District 4 on the mind of the majority of visitors is the image of twisted alleys, many roads intersecting and the crowded working-class neighborhoods.
Because the component is predominantly manual laborers, the language and the attitude of the people here are not as formal as that in luxurious urban areas. There is no surprise to overheard the sound of shouting and arguing but the paradox is you can find pagodas and temples on almost every street here. Some temples lie deep in small alleys and lanes. Besides, this land still features some outing addresses such as Nha Trong Port, Ceramic street, Mong bridge, Saigon railway station,...
4 - District 5 - top districts in Saigon for food-hunters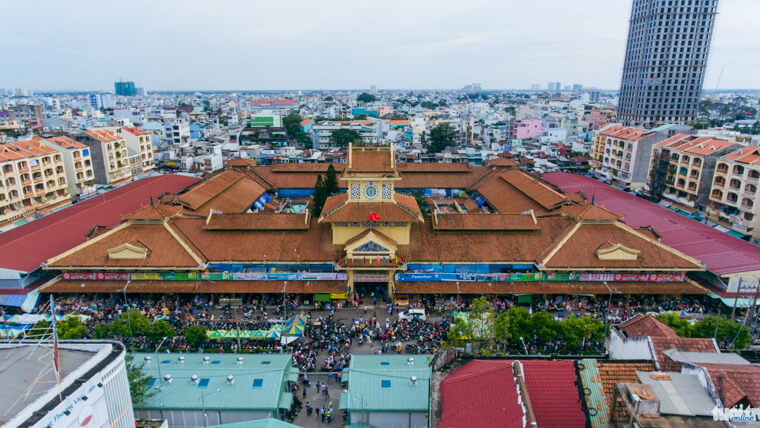 Big market - Source: baotuoitre
District 5 is associated with the formation and development of Cholon Chinatown Market and the 300 year history of Saigon. The district makes a great contribution to the economic growth of the city because almost every major artery connecting the North with the South, the East to the West of Ho Chi Minh city crosses this locality. It is also known as the gathering place of many educational institutions such as: High School for the Gifted, Le Hong Phong High School for the Gifted, Vietnam National University - University of Science, Saigon University,... Regarding this area, the picture of Chinatown may pop up in the mind of many people since this is the residence of a significant number of Chinese folks. Therefore, the lifestyle of the locals somehow is affected by this culture, typically the lantern street Luong Nhu Hoc.
5 - District 6 - one of the most unique Districts in Saigon
Saigon people have one saying "Hongkong in the hip of Cholon Market" which can be understood as the area where the Chinese concentrate most is in the flank of this large market (District 6). Indeed, the locality has the highest number of Chinese people in 22 districts in Ho Chi Minh city. You can find the characteristics of China in almost every old building along the streets here. Some attractive stopovers in this district you should not skip are Binh Tay Market, Tuyen Lam ancient pagoda,... This is also an ideal address for you to enjoy Chinese food at budget food courts.
6 - District 8
The district has an area of 19,11 km2 with a thin and long shape in the Northeast - Southwest direction. The name District 8 has just appeared for half a century. That's why compared to other districts in Saigon, it is probably less outstanding. The most bustling time in this area is probably Tet holiday when people flock to Binh Dong Wharf to purchase trees and flowers to decorate their home. Recently, the district is mentioned more frequently due to the Pegasuite apartments. With the architecture resembling street corners in Europe, the residence engages the young to come and check-in everyday.
7 - District 10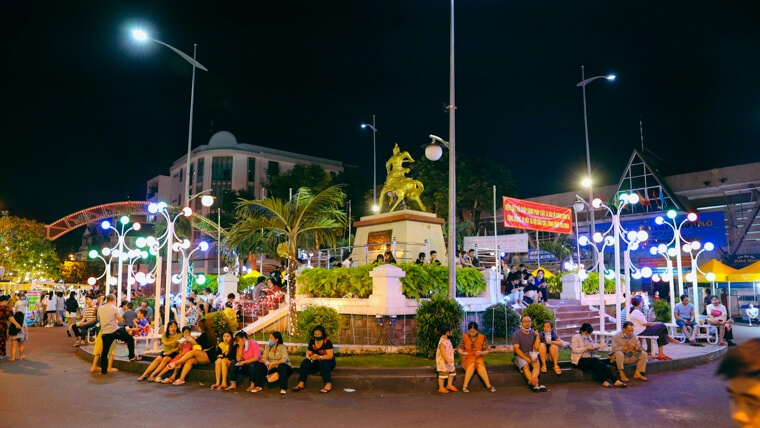 District 10 - Source: afamily
Previously, this was a vacant land located between the old Saigon and Cholon area. However, due to its favorable position, it quickly attracts people to come and reside. With an area of just less than 6km2, District 10 is a "notorious" factor on the map of recreational districts in Saigon. Wax statues of Vietnamese artists on show, White Rabbit Amusement Park, Van Hanh shopping mall, Ky Dai Quang Trung night walking streets are some of the destinations that can take you a whole day to hang out and explore. Besides, facilities and services in this area are considered as excellent and modern. In terms of healthcare, there are a number of top-notch hospitals namely Children's Hospital No.1, The People's Hospital 115,... Regarding education, this is the location of prestigious universities in Vietnam like Ho Chi Minh City University of Technology, National Academy of Public Administration, University of Economics Ho Chi Minh City,...
8 - District 11
District 11 has a hopeful growing speed. The district is located in the Southwest of the city, bordering other districts in Saigon (District 5, District 10, Tan Binh district and Tan Phu district). The locality covers an area of 5 km2 including 15 wards. It is popularly known for Dam Sen Water Park_ a entertainment center of the citizens for a long time. Besides, sport events of the city are frequently held here because it has Phu Tho Sports Center. Moreover, there are many swimming pools, horse racing stadiums and other activities that can be found in this area.
9 - Tan Phu district
Tan Phu district which encompassed an area of approximately 16km2 was officially established in 2003. After nearly 20 year, it is developing very fast. The district has a complete transportation system with key routes which have high value to the connection with other districts in Saigon. Remarkably, the Luy Ban Bich route is built with an underground grid net, creating a beautiful landscape for the streets. Besides, Metro 6 - the urban railway road stretching from District 6 to this area - helps reduce congestion. Industrial manufacturing is the strength of the economy of Tan Phu district. The territory of the district has the presence of Tan Binh industrial zone, which provides work for a considerable quantity of dwellers. If you are searching for a modern playground, Tan Phu district can give you several options namely Aeon Mall Tan Phu, Pandora city, TiniWorld,...
10 - Tan Binh district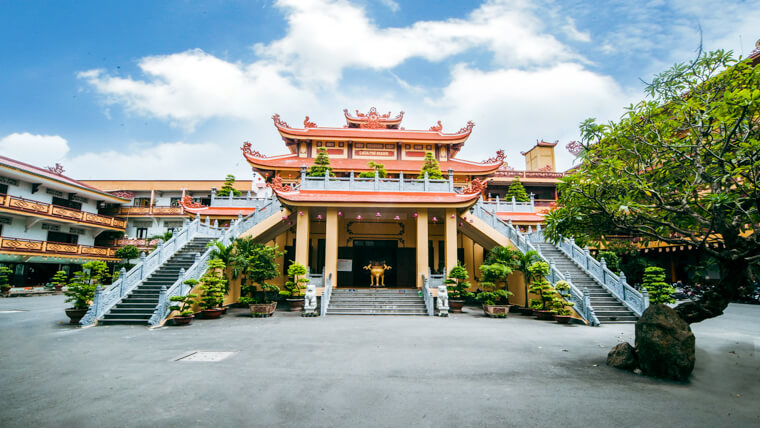 Tan Binh district - Source: Internet
The district is situated to the Northwest of the city, to the West of the Saigon river. Transportation is a highlight of this place with 2 important gateways which are Tan Son Nhat International Airport and National Highway No.22 leading to Tay Ninh province and Cambodia. Among the list of 22 districts in Saigon, Tan Binh district is regarded as the concentration of historic and religious sites, temples and pagodas, for example Hoang Van Thu Park, Giac Vien Pagoda, Pho Quang Pagoda, Phuoc Hanh Pagoda, Bu Lam Tinh Uyn Pagoda,... Plus, you can visit several museums where war artifacts are preserved namely War Remnants Museum, Ton Duc Thang Museum,...
11 - Go Vap district
Since the 1980s, Go Vap has been referred to as a district of rapid industrialization. This process makes the district become one of the 3 districts with the highest population growth in Ho Chi Minh city. The result is that there is a diversity in the resident composition in which 8 different nations in the community of Vietnamese nations are found in this area. They live in peace and harmony with each other. Go Vap district is also an ideal destination for those who are in quest of stopovers to play and go sightseeing but are not too crowded. A few prime examples are Gia Dinh Park, Emart supermarket, Phu Chau temple (Mieu Noi), Hanh Thong Tay Market,...
12 - Binh Thanh district - top worth-living districts in Saigon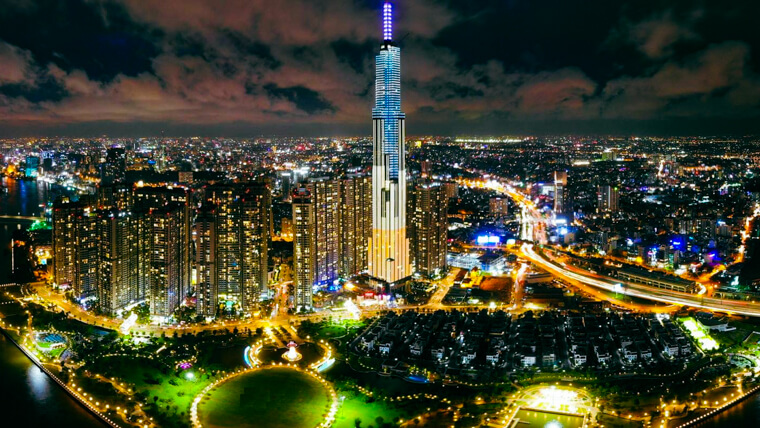 Binh Thanh district - Source: batdongsan
Time Out Magazine once rated Binh Thanh District as one of the 40 coolest neighborhoods in the world. This place is featured by food streets dotted with luxury restaurants. Because of the boundary with District 1, the dynamism and vibrancy here is no less than the "neighborhood". Another special thing is that Binh Thanh is a paradise of beautiful cafes, where young people are always looking for check-in points with millions of likes. Famous coffee shops that must be mentioned are Oz Coffee House, Co Cafe, Ca Lem Co Ba Sai Gon, Tron Bisco, Coffee Wander,... What's more, this district also possesses several amusement spots which can make you "forget the way back home" like Van Thanh Tourist Area, Binh Quoi 1 Tourist Area, Tan Cang Tourist Area, Ba Chieu Market, Vinhomes Central Park,...
13 - Phu Nhuan district - home to Saigonese
Compared to other districts in Saigon, Phu Nhuan district has a long history and is home to many original Saigon people. This land is also diverse in terms of ethnicity as well as religion, especially, this is one of the most crowded Muslim places in Saigon. If you are curious about this religion, let's pay a visit to the Jamiyah Islamic Mosque on Nguyen Van Troi Street and stroll around the Huynh Van Banh Street area to see the Muslims in traditional costumes. Phu Nhuan district is said to be the venue of the most historical sites in the city. Many large pagodas - the religious rendezvous of believers such as Hue Nghiem pagoda, Dai Giac pagoda, Quan The Am temple… assemble here. Without too many amusement centers, Phu Nhuan district is famous as an eating paradise, where "you can get whatever you want". Phan Xich Long food court, Gia Dinh park are two favorite destinations of those who always have an empty stomach.
II - Districts in Saigon's north area
1 - Cu Chi district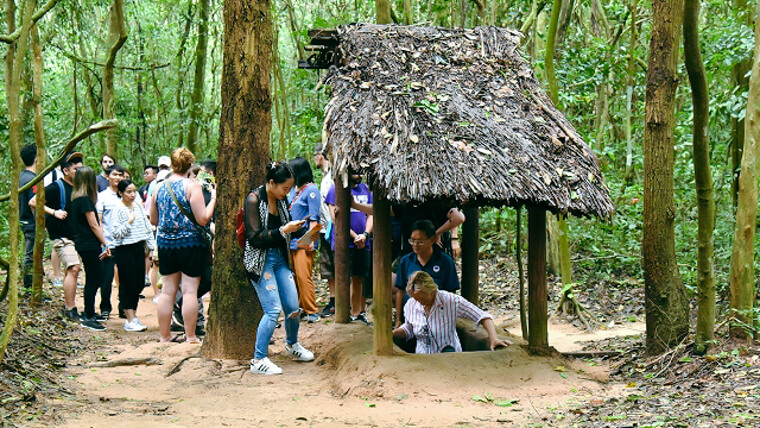 Cu Chi tunnels - Source: nhandan
The district is about 33 km from the city center. Known as the land of history, up until now, it still preserves wartime images, especially Cu Chi tunnels. Cu Chi district is not adjacent to the Central districts of Saigon, so the daily hustle and bustle is not for this place. In return, it has fresh air with many green trees and surrounding canals, making it cooler and more comfortable than anywhere else in the city. Therefore, many people flock here on weekends to enjoy the cozy atmosphere and recharge their batteries while students come here for extracurricular activities. Interesting places in Cu Chi are Cu Chi Tunnels, Green Noen Farm, Fosaco Eco-village, Binh My Ecotourism Area, Cu Chi Wildlife Rescue Station, Trung An Orchard, …
2 - Hoc Mon district - one of the most famous districts in Saigon's suburban
Hoc Mon is a suburban district located to the northwest of Ho Chi Minh City, 20 km from the city center. This is the gateway to the city, where there is strength in transportation as well as industrial development. Thanks to being far from the city center, the people here maintain a very simple lifestyle, the landscape still takes on characteristics of the Vietnamese countryside in the past. When Saigon people want to find peace and gentleness in the countryside, Hoc Mon is the first priority. The places to visit in this locality are mainly temples, museums, relics or parks… Some suggestions are: Rin Rin Park - Japanese Koi Fish Park, Villa H2O Resort, Nga Ba Giong Relic, Hoang Phap Pagoda, Giac Hoang Pagoda, Phap Buu Pagoda, Xuan Thoi Dong Relic House, Vinh Phuoc Pagoda, Hoc Mon District Museum...
3 - District 12 - top populated districts in Saigon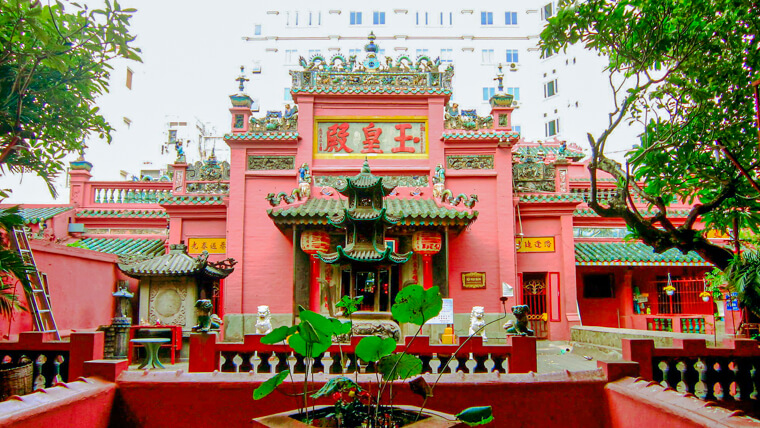 Ngoc Hoang pagoda in District 12 - Source: wikipedia
District 12 is also one of the districts with great potential for development with a dense population. Because it is located near the inner city, it is not difficult for people to travel to other Saigon districts. District 12 is heavily invested in developing industrialization and modernization along with services and tourism. Often coming here, adults will choose outdoor entertainment spots, tourist areas suitable for those going in groups while students in Saigon often take this area as a picnic spot. Tourist attractions in the district includes Ben Xua tourist area, 2-color coconut garden, Tu Rau - sport fishing, Thien Van Pagoda, Quang Duc Pagoda, Crocodile Village, Vinh Nghiem Pagoda, Jade Emperor Pagoda (Phuoc Hai Pagoda)…
III - Districts in Saigon's South
1 - Nha Be district
Nha Be district is about 12km from the city center. This is considered the most potential locality in Saigon when it owns a favorable location, endowed nature as well as full of factors for economic, cultural and social development. As soon as the trend of choosing beautiful and quiet places to stay is on the throne, Nha Be is becoming more and more popular. This fact urges many investors to come here and build luxury resorts. If you are taking care of where to visit and discover the Nha Be district, here are some recommendations: Thap Nga (Binh Xuyen 2) ecological food court, Phap Vo Ancient Pagoda, Nha Be Garden, Thien Thanh Water Park,...
2 - District 7 - one of the most modern districts in Ho Chi Minh city
District 7 is one of the districts in Saigon with a large area, as well as a strategic position for the exploitation and development of waterway and land transport. Therefore, this place is always famous for large export processing zones, and the level of urbanization is very high as well. Recently, more and more luxurious apartment complexes have been constructed in the area. The most noteworthy one is Phu My Hung which is often referred to as the most livable mega-city.
For young people, District 7 is a paradise for taking selfies with bustling entertainment areas and unique restaurants. Even if you go all day, you will not be able to discover all the interesting things here. Extremely "hot" places to have fun in District 7 are SC Vivocity Shopping Center, Artinus 3D Painting Museum, Starlight Bridge, Phu My Bridge, 2-storey waterfall swimming pool, Lawrensting Park, Vietopia Amusement Park, the Saigon Polar Expo…
3 - Can Gio district - one of the best districts in Saigon for traveling in one day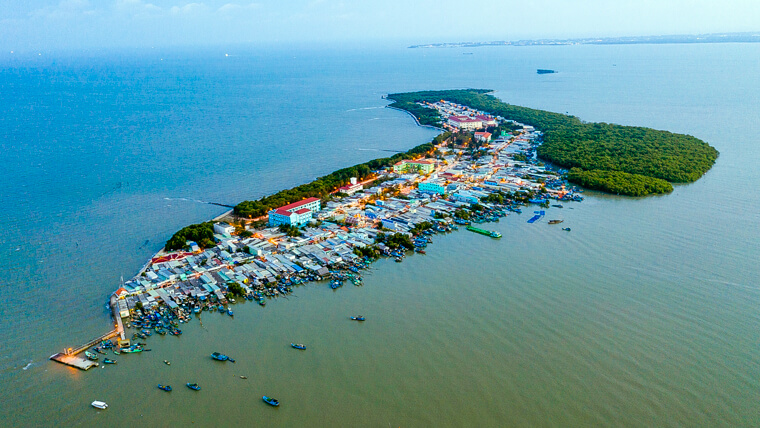 Can Gio district - Source: vnexpress
Can Gio is a suburban district of Ho Chi Minh City, lying about 50km from the center, bordering Vung Tau, Long An, Tien Giang and Dong Nai provinces. This is the only locality of Saigon bordering the sea. Can Gio has a diverse nature manifested by long canals, islands and an extensive mangrove forest system which is recognized by UNESCO as a world biosphere reserve. Due to its prime location and fresh atmosphere, this is a destination chosen by Saigon people or neighboring provinces to take a short trip on weekends or holidays. Taking advantage of its strengths, Tourism in Can Gio is moving toward the direction of exploring and relaxing. If you are about to travel to this place, please jot down the following names: Can Gio Ecotourism Area, Thanh An Island, Phuong Nam Marine Ecotourism Area, 30/4 Beach, Monkey Island, Vam Sat Tourist Area,...
IV - Thu Duc city - one of top districts in Saigon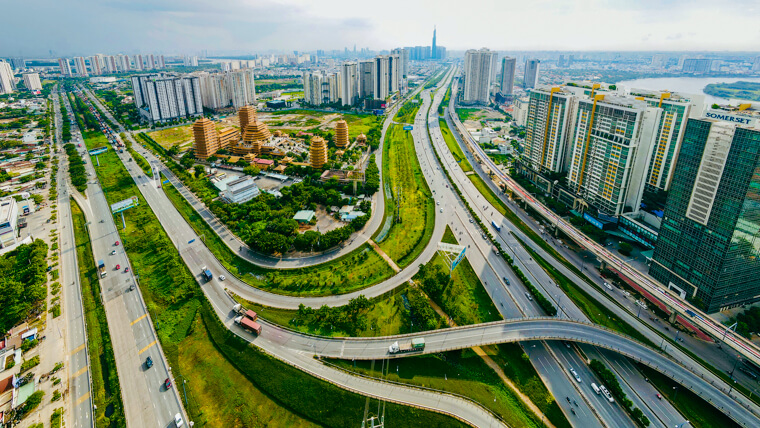 Thu Duc city - Source: vneconomy
At the end of 2020, the Standing Committee of the National Assembly of Vietnam signed a decision to establish Thu Duc city on the basis of merging 3 old Saigon districts which are District 2, District 9 and Thu Duc district.To date, Thu Duc is the first and only city in Vietnam in the form of city under municipality directly under the central government. The establishment of Thu Duc city is aimed at building a smart city with high quality of life, based on the foundation of institutions, economic advantages, and existing infrastructure, including Hi-tech park (District 9), university village with more than 80,000 students and lecturers (Thu Duc district), Thu Thiem financial center (District 2). Stretching over a large area with a high degree of urbanization, Thu Duc city is promising to make it "matter" in the future. In terms of tourism, Thu Duc is a paradise of playing and nightlife for young people. This place is a collection of dozens of interesting places worth-visiting in 3 old districts of Ho Chi Minh City, such as Suoi Tien Cultural Tourist Area, The BCR Tourist Area, Giga Mall, Thu Thiem Tunnel Park, Sala Urban Park, Snow Town Saigon, Buu Long Pagoda, Tam Da Lotus Pond, Vuon Co picnic area, Family Garden,...
V - Districts in Saigon's west area
1 - Binh Tan district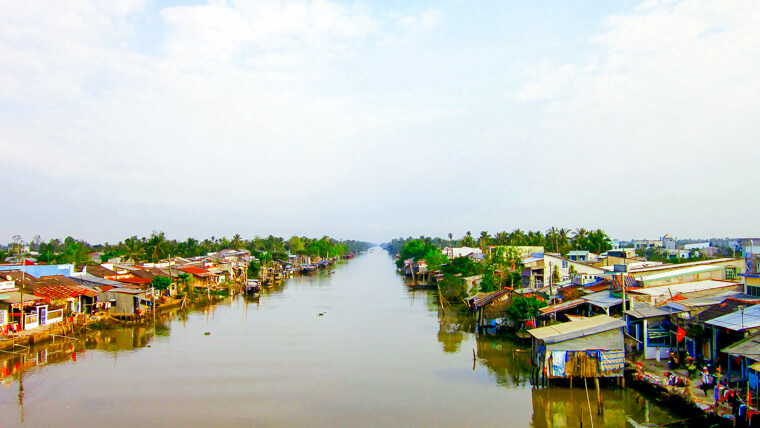 Binh Tan district - Source: wikipedia
Seeming to be a "young member", Binh Tan is the most populous district in Saigon in particular and amongst districts of municipalities directly under the central government in general. Binh Tan area has many ethnic groups living and working. The majority is Kinh people while the rest are Khmer, Cham, Tay, Muong, Nung and even foreigners. Not only are they distinct in language but they also varies in religions encompassing Buddha Religion, Christianity, Protestantism, Cao Dai, Islam… It is thanks to this cultural feature that this place promises to bring you many fascinating experiences. Tourist attractions in Binh Tan district are Stella Vo Van Kiet area, Binh Tan Aeon Mall, Ut Phuong fishing area, Hue Nghiem Pagoda, Binh An Pagoda, Tu Hanh Pagoda...
2 - Binh Chanh district
On the list of 22 districts in Saigon, Binh Chanh district has been long known as a brave land with a tradition of patriotism during wartime. Gifted with very good geographical connectivity, it is increasingly focused on investment and development in all aspects. Above all, real estate prices here are "softer" than in many other places, magnetizing migrants from other districts in Ho Chi Minh city and adjacent regions to come and settle down. Binh Chanh has quite a lot of recreational places, most of which are either historical relics or have high cultural value, for example, Lonely Buddha Pagoda (Bat Buu Phat Dai), Gia Hoa Flower Field, Lang Le Bau Co historical relic site, Xuan Huong Sports fishing, ecological cuisine,…
Ho Chi Minh city is one of the most dynamic cities and also the largest city of the country. Tourism here is prosperously thriving with many iconic destinations such as Bitexco Financial Tower, Ben Thank Market, Independence Palace,... Providing you the general information about districts in Saigon mentioned above, we hope that you can have a clear vision in planning your itinerary to explore this place.