An Giang Vietnam possesses more than 2,500km of waterway with numerous large rivers surrounding charming islands and famous canals. In addition, a system of majestic mountains are bestowed on this province, creating attractive landscapes, namely Sam mountain, Cam mountain, Co To mountain, and Sap mountain, etc. An Giang province is also home to plenty of ethnic minorities, which leads to the rich culture and customs. All of these mentioned factors are fundamental for the strong tourism development in the locality, which catches the attention of a number of domestic and international tourists.
Where is An Giang Vietnam located?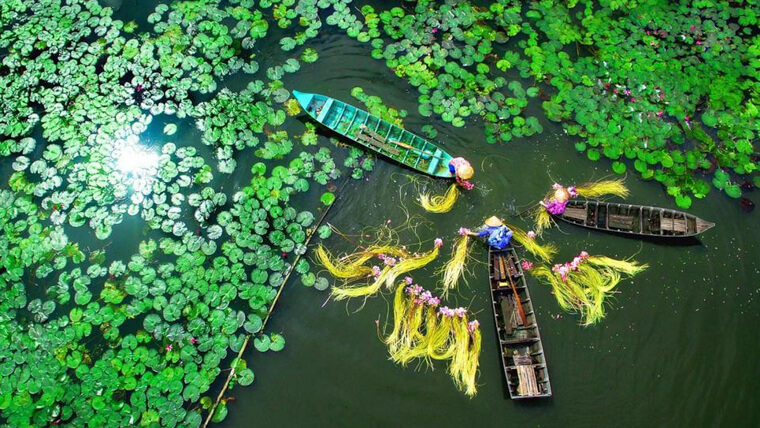 Stunning landscape - Source: visitourvietnam
This province belongs to the Mekong Delta with a total area of 3,536.8km2, sharing a border with Cambodia to the northwest, Kien Giang province to the Southwest, Can Tho city to the South and Dong Thap province to the East - about 230km from Ho Chi Minh city.
- An Giang postal code: 90000
- Administrative units: 2 cities (Long Xuyen, Chau Doc), 1 district-level town (Tan Chau), and 8 districts (An Phu, Tinh Bien, Tri Ton, Chau Phu, Chau Thanh, Thoai Son, Cho Moi, and Phu Tan), There are totally 156 commune-level administrative units, including 21 wards, 16 towns, 119 communes.
- The nearest airport: Can Tho International Airport - No.179B Le Hong Phong street, Tra An ward, Binh Thuy district, Can Tho city; IATA code: VCA; ICAO code: VVCT
9+ best tourist attractions in An Giang Vietnam
#1 Tra Su cajuput forest in An Giang province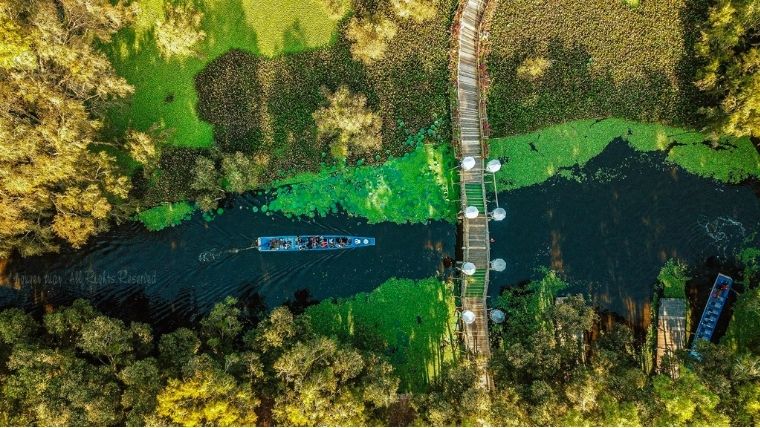 Tra Su cajuput forest - Source: angiangvn
Tra Su cajuput forest is a special-use forest, which can be exploited for ecotourism such as: sightseeing, relaxation, scientific research about the cajuput forest, discovery of natural resources and traditional customs of locality. Besides the magnificent natural beauty, Tra Su cajuput forest in An Giang also possesses stunning man-made works, typically "Thousand step bamboo bridge" across the forest, made by all types of bamboo along Vietnam. The bridge set the Guiness record of "the longest bamboo bridge in Vietnam" on January the 1st, 2020. Near the forest are homes to the Khmer people and the King people, famous for their unique handicraft villages such as Khmer silk weaving, brocade, and honey beekeeping villages, etc.
Tra Su cajuput forest is really an outstanding highlight of An Giang tourism where you can embark on the boat along the waterway route to admire the extraordinary natural landscapes of stunning lotus, mosquito fern lagoons, rows of green cajuput trees on both sides and watch rare, precious birds flying in the vast space in the forest. Standing on the observatory would give you a panoramic vista of spectacular scenes of majestic mountains and 33.6m high Maitreya Buddha statue.
- Location: Van Giao commune, Tinh Bien district
- Entrance fee: 100,000 VND/ person ($4.4)
#2 Ta Pa paddy field in An Giang Vietnam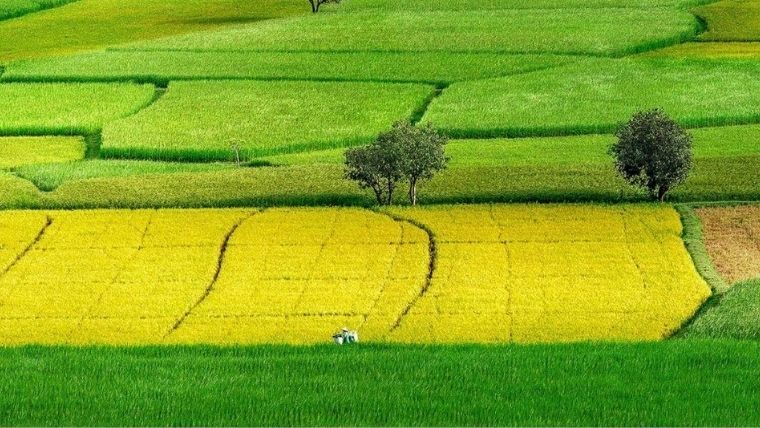 Ta Pa rice field - Source: Huỳnh Phúc Hậu
The fields of Ta Pa are distinctive thanks to their special cultivation method of the locals that farmers concentrate to cultivate together in one field, then another. Therefore, in the harvest season, the whole field boasts a vibrant blend of bright green and light yellow colors, creating breathtaking scenery. Surrounding the field are the tall borassus trees - the symbol of An Giang province, adorning the vivid and dreamy picture of the peaceful countryside. It would be a wonderful experience for you to climb up the Ta Pa mountain peak to have a panoramic stunning view of vast fields and immense landscape, feeling the soothing moments amidst the magical natural scenery.
- Location: the foot of Ta Pa and To Co mountains, in Nui To commune, Tri Ton An Giang Vietnam
#3 Sam mountain tourist area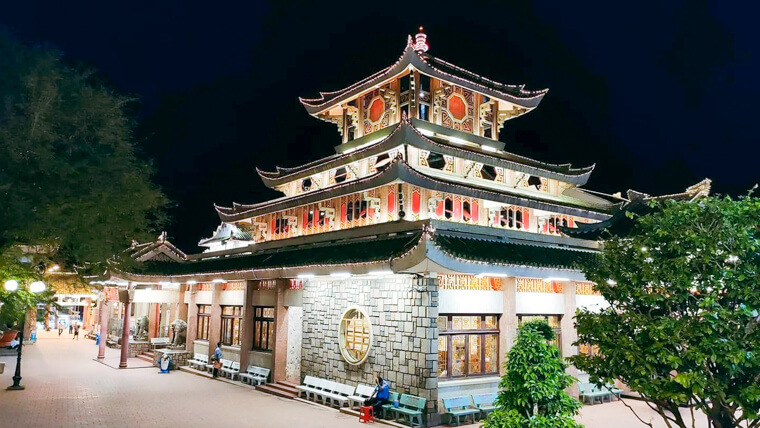 Ba Chua Xu temple - Source: angiangvn
Sam mountain tourist area has a total area of 1,500ha, including many stunning, impressive natural landscapes together with a complex of historical & cultural relics such as Ba Chua Xu temple, Thoai Ngoc Hau mausoleum, Tay An pagoda, Hang pagoda,... This is considered the largest spiritual cultural tourism center in the Mekong Delta and the entire city.
Ba Chua Xu temple
The temple is situated at the foot of the Sam mountain, Nui Sam ward, Chau Doc city, An Giang province Vietnam. It was constructed according to the Chinese "quốc" character (meaning "nation") with the blooming lotus shape, featuring a three-storey roof, tilled with blue pipes, the corner of the roof curving like the bow of a sailing boat. The interior of the temple is decorated and designed following Indian art with sophisticatedly carved doors, many gilded poles and diaphragms. The highlight of the temple is the Ba Chua Xu statue in the center of the main hall and the green shades of ancient trees in the surroundings.
Ba Chua Xu temple in An Giang Vietnam appears more glorious at night with the shimmering system at night. Visiting the temple on lunar April 23rd to the 27th, you can join in the traditional Ba Chua Xu temple festival, the biggest folk festival of the South of Vietnam. During the festival, people touch the Ba Chua Xu statue to pray for health, good luck and prosperity.
(Note: near the temple, there are a lot of restaurants and food stalls where you can relax and savor food there to "recharge" your energy for the next sites).
Hang pagoda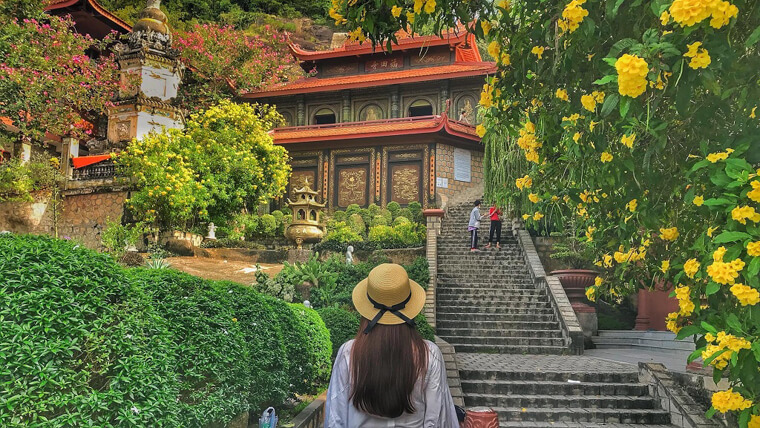 Hang pagoda is one of the most beautiful sites on An Giang map - Source: langthangangiang
Hang pagoda, also known as Phuoc Dien Tu (meaning "the land of good things"), is situated on the top of Sam mountain, about 200m above sea level. From the pagoda, you have a broad view of lush green trees and the vast fields below. The constructions in the pagoda are a harmonious combination of reddish brown color of tiles, columns, elaborate carved roofs, and paved walkways. In the campus of Hang pagoda in An Giang province, there is a system of elaborately carved statues. There are also lying statues placed in the heart of the mountain, which creates a pure, dignified ambiance.
Thoai Ngoc Hau mausoleum
This is a typical ancient architectural work of the feudal period and is a national-ranked historical relic. This mausoleum is dedicated to Mr. Thoai Ngoc Hau, who expanded the Mekong Delta in general and Chau Doc city, An Giang province in particular. The mausoleum is a quite massive architectural work. Its campus is large, surrounded by high walls and a thick cast-iron gate with a semicircular shape. Inside the mausoleum is decorated elaborately, consisting of the statue of Mr. Thoai Ngoc Hau. Next to the mausoleum is a gallery preserving his rare, ancient artifacts with various valuable objects.
Tay An pagoda
Tay An pagoda is one of the most famous Buddhist pagodas in An Giang Vietnam. Constructed in 1847 at the foot of Sam mountain, this pagoda has critical value in terms of history and architecture. The most outstanding feature of the pagoda is its facade featuring three onion-shaped round roofs, harmonious in colors. The combination of the Indian art style with the ancient architecture of Vietnam's pagodas creates the unique characteristics of the entire pagoda. Surrounding Tay An pagoda are many rare species of flowers, adorning the poetic and peaceful scenery.
#4 Ong Ho island in An Giang province Vietnam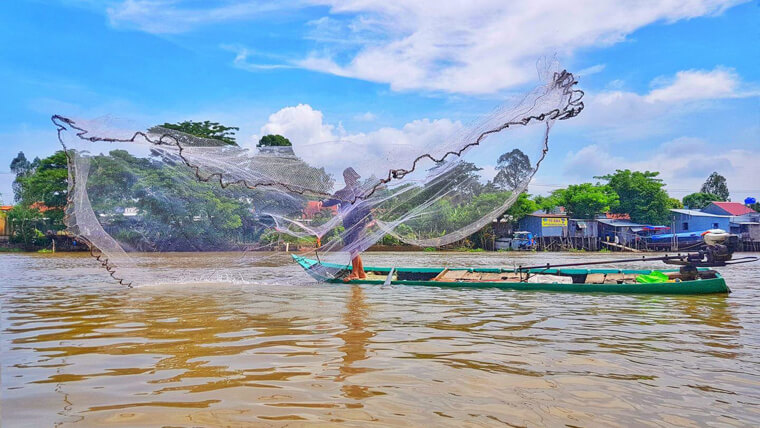 Ong Ho islet - Source: idulic.vn
The system of canals on the island is incredibly dense with many floating fishing villages and floating restaurants as well as fruit gardens. Once traveling to Ong Ho island, you can drop by fruitful orchards, pay a visit to the memorial of President Ton Duc Thang (Bac Ton), Ong Ho pagoda, and the villages of blacksmithing, carpentry, or weaving mats, etc. The Memorial zone of president Ton Duc Thang in An Giang Vietnam, recognized by the Ministry of Culture, Sports, and Tourism as a National Historic Site is a should-not-miss place on the island, where you can better your understanding about Bac Ton through pictures, artifacts, documents and vivid videos in the exhibition area. In addition, you can have a chance to experience as a "true local" by joining their daily life and enjoy scrumptious indegenous specialities.
- Location: My Hoa Hung commune, Long Xuyen city
#5 Cam mountain tourist area in An Giang province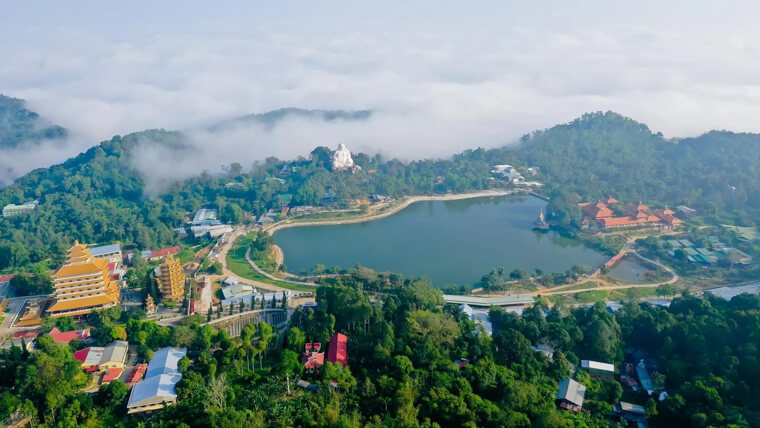 Cam mountain tourist site - Source: angiangvn
Cam mountain, also known as Thien Cam Son is located about 710m above sea level. This is the highest one in the area, and on the top are numerous spiritual architectural works such as the 33.6m-high Maitraya Buddha statue, Van Linh pagoda, Phat Lon pagoda, etc. Here, there are many other fascinating sites on An Giang tourist map, namely Thanh Long spring, Fairy spring, the palaces of Cay Que, Tam Thanh, Ong The, Ong Ho cave, and Bac Vat Lang cave, etc. Visitors coming to the tourist area have an opportunity to not only immerse in the majesty of mountains, extraordinary natural landscape, cool weather but also visit impressive spiritual architectural works. There is a system of cable cars put into service in 2015 with a high capacity, providing you a panoramic view of beautiful An Giang Vietnam from a height.
- Location: An Hao commune, Tinh Bien district
#6 Gieng island (Cu Lao Gieng)
Gieng island or Cu Lao Gieng covers an area in three communes of Tan My, My Hiep and Binh Phuoc Xuan in Cho Moi district. It features a number of ancient architectural works, of which the most impressive one must be Cu Lao Gieng Cathedral, well-known as the most magnificent ancient cathedral in the Mekong Delta. Constructed from 1875 to 1887, the cathedral is typical of the Roman architectural style in An Giang province and has been still intact after a long course of history. Besides, a wealth of beautiful pagodas on the island can be mentioned as Ba Le, Thanh Hoa, Phuoc Minh, and the most gorgeous Phuoc Thanh pagoda. There is also a shrine worshiping the Nguyen upper-class family, including sophisticatedly carved wooden altars, and worshiping items.
#7 Phan Nam farm
Phan nam farm is an agricultural tourism model aiming at taking local advantages and characteristics and promoting the strengths of the local agriculture. With a total area of 4ha, the farm is a complex of the playground, food court, high-tech garden, flower garden, orchard, etc. to meet all needs of guests of different ages. Coming to Phan Nam farm in An Giang Vietnam, you can let your mind wander around the poetic flower gardens like a miniature of Da Lat city and a system of membrane houses growing various species of plants and fruits. The highlight of this model is the tour " working as the farmer in one day at Phan Nam Farm", that provides visitors an opportunity to explore the orchards, harvest vegetables and fruit by themselves, go boating, cycle and partake in games and other production activities, etc.
- Address: No.181 Lien Xa street, My Khanh commune, Long Xuyen city
- Ticket: 30,000 VND/ adult ($3.31); 10,000 VND/ kid ($0.44)
- Contact: +84 888 367 788
#8 Xa Ton pagoda - an outstanding spot on An Giang map
The pagoda is an outstanding representative of the spiritual culture of the Khmer ethnic minority over 300 years. It has a consistency in layout and architecture of a Khmer pagoda such as: gates, fences, main hall, and towers, etc. The value of architectural art is mainly concentrated in the main hall, built in the center of the campus and its foundation is higher than that of other constructions. The main hall is meticulously decorated with frescoes representing the life of Shakyamuni Buddha, many statues in different postures on the altar.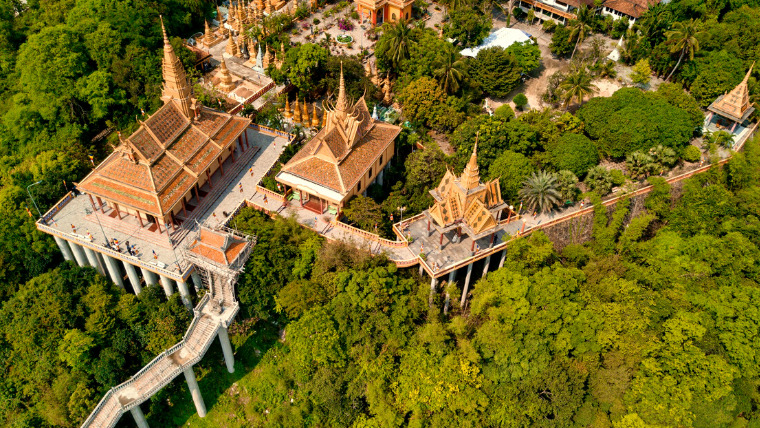 Xa Ton pagoda in An Giang Vietnam - Source: Đông Giang
Surrounding the main hall are small, beautiful auxiliary towers. In front of the pagoda is a large lake, creating the balance in the campus. This pagoda also preserves more than 100 sets of scriptures, a rare and precious treasure of cultural and artistic values of the Khmer people in the Mekong Delta. Xa Ton pagoda is regarded as the unique spiritual symbol of the Khmer ethic group, recognized by the Ministry of Culture, Sports and Tourism as a National architectural and artistic relic.
Location: Tri Ton town, Tri Ton district
#9 Ta Pa pagoda in An Giang province
Ta Pa pagoda is a Khmer Buddhist one with ancient and majestic features, represented through sophisticated carved patterns, typical of the Khmer architecture in the South. The main hall is the most outstanding construction with the brilliant colors of red and yellow, featuring big cement pillars inspired from the life of the Buddha and daily life of the Khmer people. Ta Pa pagoda in An Giang is intricately carved and sculpted, many reliefs depicting the images of the Bird God Garuda, the Snake God Naga and the statue of "No" trees. Apart from the main hall, there are many other auxiliary constructions such as towers, Hoa Tan Vieng, stupas, etc. The pagoda is surrounded by lush green trees, amidst majestic, wild forests, which looks like picturesque scenery, making it an ideal destination for visitors to find a subtle quiet place and unwind their mind in a tranquil atmosphere.
- Address: Nui To commune, Tri Ton district
Other information for tourists to An Giang Vietnam
What is the weather in An Giang province like?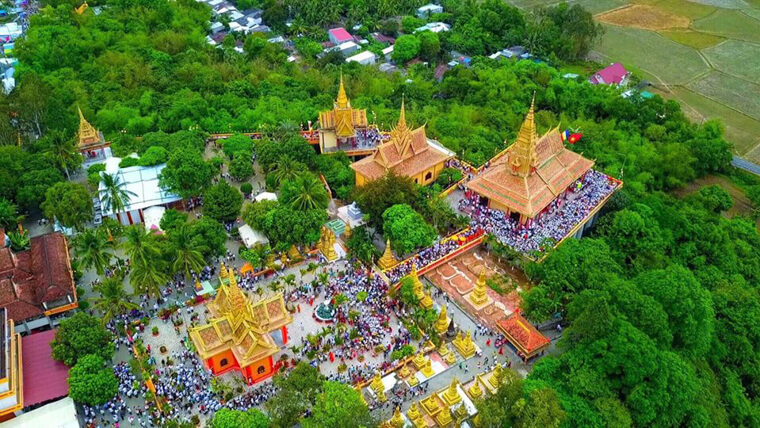 Source: angiang.dcs
The province is influenced by the Southwest monsoon and the Northeast monsoon, it has two distinct seasons: the dry season from December to April next year with a little rain and the rainy season from May November with high rainfall, especially in July, August, September and October. However, the province is rarely affected by extreme weather conditions like storms or tornadoes, which is the favorable condition for An Giang tourism development and the construction of tourism products.
The most suitable time to come here is from September to November, when you can admire the stunning natural scenery. However, lunar April or August is the best time for those who want to indulge in the festive atmosphere, typically the Ba Chua Xu temple festival and the Bull racing festival. It is advisable not to visit the province in April and May to avoid being negatively affected by the intense heat of around 35-36°C.
Getting around in An Giang Vietnam
The most popular means of transportation are taxis, motorbikes and boats.
Here are several prestigious taxi brands for reference:
- Mai Linh taxi: +84 296 3922 266 or +84 296 3838 3838
- Saigon Hoang Long taxi: +84 296 3688 688
- Long Xuyen Taxi: +84 296 3858 788
- Duc Thanh Taxi: +84 0296 3852 403
The two biggest cities in An Giang province Vietnam are Chau Doc and Long Xuyen cities where there are many tourist attractions. Therefore, these are normally the first destinations when you travel to this province.
Below are a couple of motorbike rentals in An Giang:
- Chau Doc motorbike for rent: +84 913 972 367
- Chua Ba Chau Doc motorbike for rent: +84 974 555 475
- Long Xuyen motorbike for rent: +84 965 579 406
- Nguyen Vu motorbike for rent: +84 296 3 859 242
Tourist ferries in An Giang:
Chau Giang ferry
- Location: Le Loi street, Chau Phu B ward, Chau Doc city
- Route: Chau Doc city - Tan Chau town
Thuan Giang ferry
- Location: Hamlet 2, Phu My town, Phu Tan district
- Route: Phu Tan district - Cho Moi district
O Moi ferry
- Location: Phan Huy Chu street, My Long ward, Long Xuyen city
- Route: Long Xuyen city - Ho island (Cu Lao Ho)
An Giang Vietnam during flood season
Floating season - Source: vnexpress
The flood season in this province takes place in lunar August, when the province boasts its utmost beauty. All areas and streets are immersed in water, the surface looks like a giant emerald mirror reflecting the images of blue sky, seas of white clouds and deep green Melaleuca and borassuses. The flood season brings about not only plenty of alluvium from the upstream, fertilizing crops next year but also a huge source of squids and fish. Coming to An Giang province Vietnam this time, you can easily see the lively, vibrant pace of life of fishermen throwing cast nets with great joy.
The flood season in this province is not intense and destructive as in other regions in the North of Vietnam. The water level increases gradually day after day, overfloứ into the fields, lakes and canals, creating a peaceful and poetic scenery. An Giang tourism has taken advantage of this special nature feature in recent years to exploit tourist services such as sightseeing tours on the vast water fields, experiencing a day of a "true" farmer, boating through stilt houses like floating ones on water surface, etc. For those who are nature lovers, this is a should-not-miss opportunity to admire the special beauty of this charming province.
An Giang map
An Giang Vietnam luckily possesses rich and unique natural landscape, mild climate, special customs-practices, and long-standing historical relics, which are potentials for tourism development. With reasonable policies from the government, tourism would become a spearhead economic sector of the whole Mekong Delta region in general and An Giang province in particular.