About 350km from Ho Chi Minh City, Ca Mau Vietnam has a natural area of 5331.6km2, with 3 sides adjacent to the sea and a long coastline of nearly 254 km, home to a population of 1,194,476 people (April 1, 2019). This province has 9 district-level administrative units, including Ca Mau City and 8 districts of Ngoc Hien, Dam Doi, U Minh, Tran Van Thoi, Cai Nuoc, Phu Tan, Thoi Binh and Nam Can. Ca Mau Airport is located at no.93 Ly Thuong Kiet Street, Ward 6, Ca Mau City, about 10km from the city center.
I - How is Ca Mau weather all year round?
Belonging to the sub-equatorial monsoon tropical climate, this province has 2 distinct seasons: rainy season (from May to November) and dry season (from December to April). The dry season has much higher evaporation and low humidity, while the rainy season is rainy and windy, with occasional thunderstorms or tornadoes up to level 7 - 8.
Ca Mau Vietnam is characterized by a medium temperature background compared to other provinces in the Mekong Delta, with an average temperature of 26.5°C and fluctuation of 2.7°C in a year. This province has an average of 165 rainy days/year, an annual rainfall of 2,360 mm and humidity of 85.6%.
You can visit Ca Mau Province all year round, but the best time is the dry season from December to April every year. At this time, the weather is sunny, you will easily participate in many activities as well as visit more places, having the best experiences in your trip. However, if you come to this province in the rainy season, you will be able to cruise on a boat and enjoy seafood dishes, unique local specialties that are only available at this time.
II - What are the best attractions in Ca Mau Vietnam?
Coming here, you should not miss the most outstanding tourist spots such as Ca Mau Cape, Hon Khoai Island, U Minh Forest, Floating Market, Dam Doi Bird Sanctuary, Quan Am Ancient Temple, Ca Mau Market, Hon Da Bac Island
1 - Ca Mau Cape
This is a piece of land protruding at the southernmost point of Vietnam and has a peaceful and poetic scenery of forests and rivers, as well as a diverse and rich mangrove ecosystem, with Mam being the pioneer tree species to encroach on the sea.
Known as the most famous attraction of Ngoc Hien District, this cape is also considered a symbol of Ca Mau tourism, where the landmark of Vietnam's Southernmost point is located. Coming here, you can explore the whole National park area and the cultural - tourist park area, along with the model of the forest village during the Ca Mau Vietnam war. This is also the only place in the country where you can watch the sun rise in the East and set in the West. Do not forget to admire the scenery and enjoy the fresh seafood dishes typical of this Cape.
Location: Mui Hamlet, Dat Mui Commune, Ngoc Hien District - about 12km from Ca Mau City Center
2 - Hon Khoai Island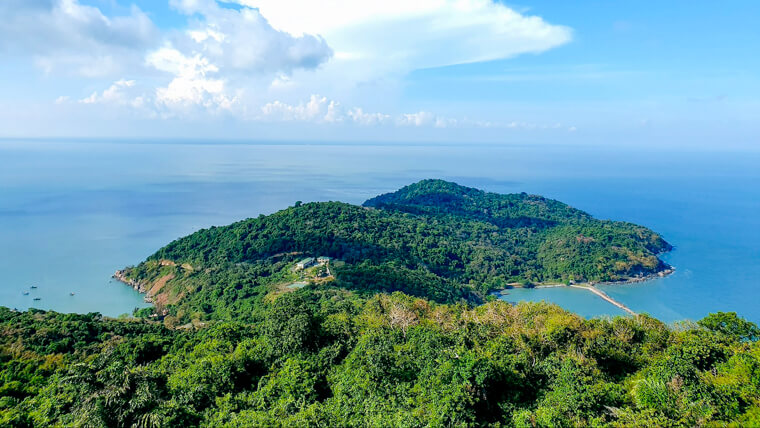 Hon Khoai Island - Source: thamhiemmekong
Also known as Giang Tien Island or Doc Lap Island, Hon Khoai Island is located 14.6km from the mainland, belonging to Tan An Commune, Ngoc Hien District. With an area of ​​about 4km2, this is the main island of the archipelago of the same name, along with 4 other islands of Hon Doi Moi, Dao Khoai, Hon Da Le and Hon Tuong.
From the mainland of Ca Mau Vietnam, to go to the island, currently, you can only choose between canoes, border guard ships or fishing boats because Hon Khoai Island is still wild, and has not been exploited to develop professional tourist piers.
First, you should go to Nam Can Town and then continue to Khai Long Gate, from which you hire or catch a boat of the Border Guard, or a fisherman's boat. Another option is to go by speedboat from Ca Mau City to Rach Goc Town, Ngoc Hien District, then continue to change to a smaller boat to cross the sea to Hon Khoai Island.
Coming here, you can admire a wonderful picture of nature with year-round green forests, clear blue beaches and fine white sand. Hon Khoai has 2 main sandy beaches including Big Beach (Bai Lon) in the East - South and Small Beach (Bai Nho) in the North, where you can walk to enjoy the scenery and breathe in the fresh air when the tide is low and the waves are calm. (Bai Lon and Bai Nho are also the best beaches in Ca Mau Province Vietnam). There is a main road about 3km extending from Big Beach to the top of the island (318m above sea level), where Hon Khoai Lighthouse Tower is located. This is one of the earliest lighthouse works in Vietnam's waters, having existed for nearly 100 years with the architecture still quite intact.
3 - U Minh Forest - top attractions in Ca Mau Vietnam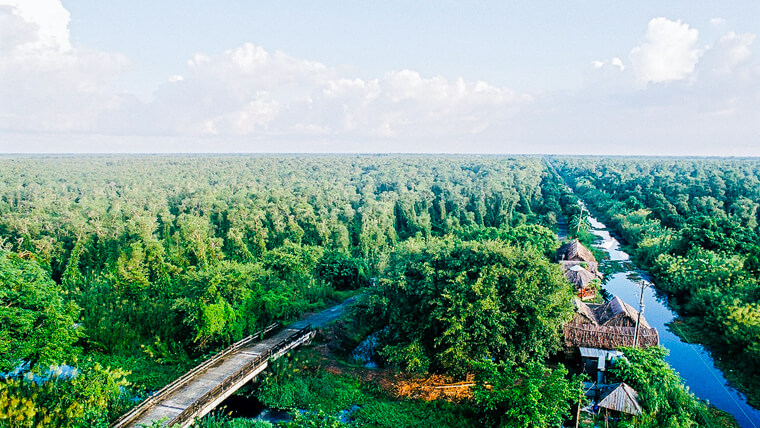 U Minh Forest - Source: thamhiemmekong.com
With a total area of about 2000km², U Minh Forest including U Minh Ha Forest and U Minh Thuong Forest stretches across two provinces of Kien Giang and Ca Mau, divided by the Trem river. U Minh Ha Forest in Ca Mau Province has a total area of about 350km², of which 82.86km² is recognized as a National Park of the same name. U Minh Ha National Park belongs to Khanh Lam Commune & Khanh An Commune of U Minh District and Tran Hoi commune and Khanh Binh commune of Tran Van Thoi District.
As one of the three core zones of the world biosphere reserve, U Minh Ha Forest in Ca Mau Vietnam is covered mostly by Melaleuca trees, home to many species of animals and more than 60 species of fish. In particular, this is also the home of a large number of bees, annually producing a large output of honey, which can be bought as a natural medicine or as a gift for relatives. Coming here in the bee-eating season, you will be able to follow the workers into the forest to collect honey, and enjoy the fresh young bees dipping in sweet honey. You can also participate in exploring the forest, fishing, picking wild vegetables, plucking water lilies and so on, as well as enjoying many specialties of Ca Mau Province.
- Entrance ticket: 10,000 VND / person ($0.44)
- Boat ticket: 300,000 VND / 8 people ($13.2)
4 - Dam Doi Bird Sanctuary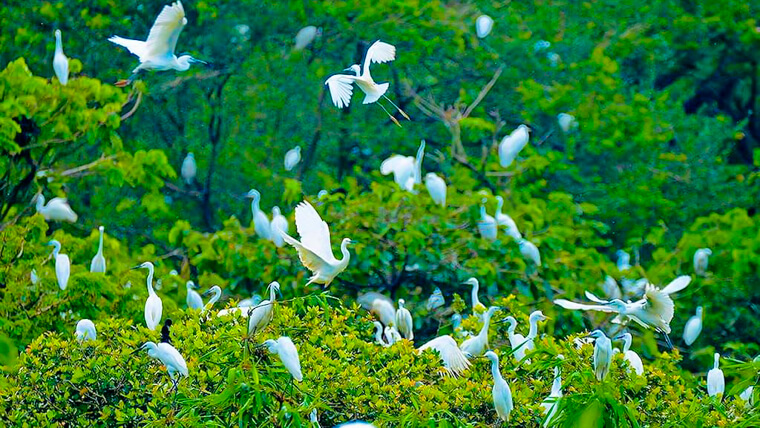 Dam Doi Bird Sanctuary - Source: nem.vn
Dam Doi Bird Sanctuary belongs to Tan Dan Commune, Dam Doi District with a total area of ​​132ha. This is the habitat and breeding ground for many species of plants and animals, including 116 species of birds, especially storks. Dam Doi Bird Sanctuary in Ca Mau Vietnam possesses the scenery of a peaceful village with fields stretching to the distance, filled with mangrove trees stretching and covering the lake surface.
Coming to Dam Doi Bird Sanctuary, you will have the opportunity to immerse in a fresh atmosphere, listen to the sounds of birds, and explore their daily life. This is also a great opportunity for you to film and take photos from different angles to get unique and precious pictures.
5 - Floating market in Cau Mau Vietnam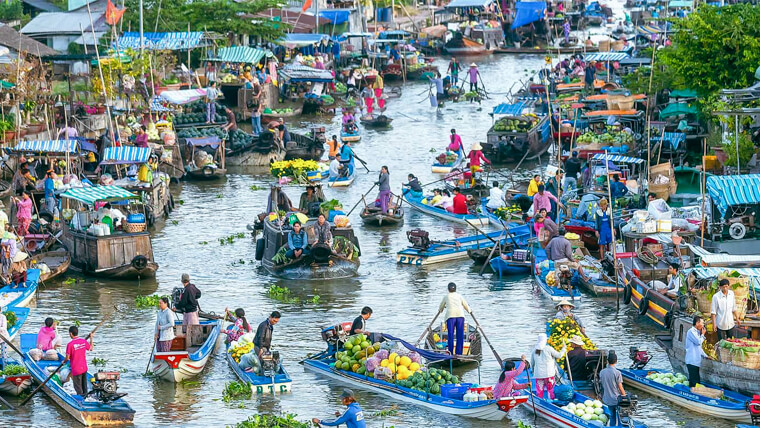 A corner of the floating market - Source: rongchoi.vn
Belonging to Ward 8 of Ca Mau City, the floating market is located on the beautiful Ganh Hao River, where people every day are busy trading agricultural products and goods on very unique boats. In addition to selling and trading basic household items, fresh agricultural products and vegetables, this is also a place to learn about Southern culinary specialties.
Ca Mau Floating Market is located on the river, so you also have to take a canoe or boat, giving you the unique feeling of floating on the river, listening to the folk songs and immersing in the busy life here. In addition to admiring the beautiful sunrise and sunset, you also should not forget to enjoy fresh fruits and other local specialties such as crab noodle soup, bun thit nuong (vermicelli with grilled meat), banh canh,…
6 - Hon Da Bac Island in Ca Mau Vietnam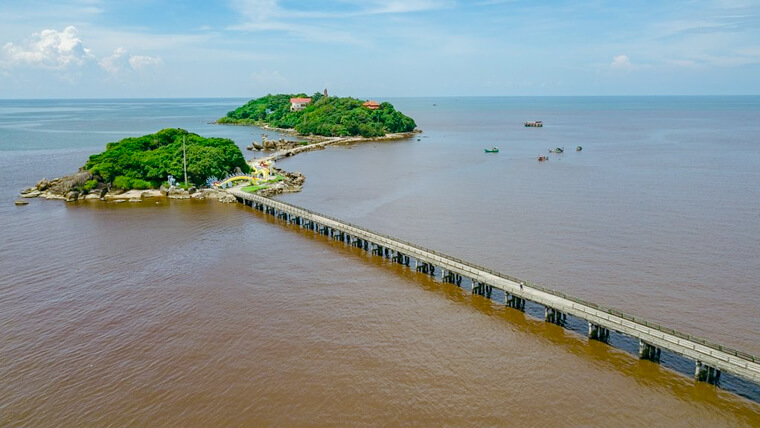 Hon Da Bac Island - Source: ipec.com.vn
Hon Da Bac Island (Silver Stone Island) with an area of ​​6.34ha, belongs to Kinh Hon Hamlet, Khanh Binh Tay Commune, Tran Van Thoi District. Hon Da Bac Island was also recognized as a National Historic - Cultural Relic on June 22, 2009.
Around the island, thousands of granite stones of all sizes lie on top of each other to form many shapes as if they were arranged by humans. On Hon Da Bac Island, Ca Mau Province, there are a few unique tourist attractions related to fairies, as well as small pagodas such as Hang Pagoda, Tinh Do Pagoda, and some monument sites built by the The Ministry of Public Security. Located on the highest peak of Hon Da Bac, Ong Nam Hai Temple is an extremely sacred place to worship the 13m-long skeleton of Ong Fish (Whale). Coming here, you can also relax by fishing, manually chiseling oysters to make dishes for yourself.
7 - Quan Am Ancient Temple - a large temple in Ca Mau City
Quan Am Temple, also known as Phat To Pagoda, is a large temple both in terms of scale and artistic architecture. The temple was built in 1840, bearing bold ancient architecture of the 19th century, harmoniously combining the modern and traditional features of Vietnamese temples and pagodas. The temple campus is arranged neatly, with a giant open-air statue of Quan The Am standing on a lotus, holding a vase, wearing a gentle facial expression looking at the main hall.
This temple is a famous tourist destination in Ca Mau Vietnam that you must definitely visit, to worship and discover about the lives of the people here.Every year, on the full moon days of January and July, Quan Am Temple holds huge Nguyen Tieu and Vu Lan festivals, when people from all over the place come to admire and worship.
Location: Hamlet 2, Ward 4
8 - Ca Mau Market
Running along 6A, 6B & Phan Boi Chau Streets in the city center, the market starts to sell goods from about 4pm to 10pm with bustling sellers and buyers. You can easily find items from high-end to affordable, from clothes and shoes to jewelry and souvenirs… Besides, you can also easily come across food and beverage outlets, serving fast food and refreshment needs, as well as various specialities of Ca Mau Province. At the end of the year, the number of tourists coming here to visit and shop increases greatly, making the scene here even more bustling.
III - What to eat in Ca Mau Vietnam?
1 - Top 6 local specialties
Grilled Vop clams with salt and pepper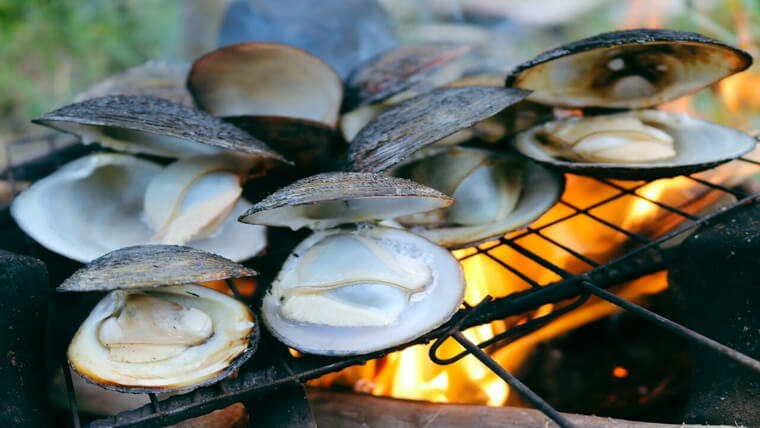 Grilled Vop clams with salt and pepper is a must-try Ca Mau seafood - Source: vneconomy.vn
The mangrove forest of this province has a unique and diverse ecosystem, in which there is a species of clam which is a rare specialty and can be processed into many delicious dishes, but the most delicious one is grilled Vop clams with salt, pepper, and lemon. The Vop clams about 3 - 4 cm large, are washed, drained and then grilled on a charcoal grill, adding seasonings such as salt, pepper, lemon, and monosodium glutamate. Ca Mau people also often add a little onion fat, peanuts to enhance the taste, and vegetables including laksa leaves, herbs, and basil.
When eating, you will feel the sweetness of the clam, the freshness of the vegetables, the sourness and saltiness blending in with the characteristic scent of charcoal … This delicious and unique dish offers the taste of the forest and the sea, attracting any visitor coming to Ca Mau Province.
U Minh fish sauce hot pot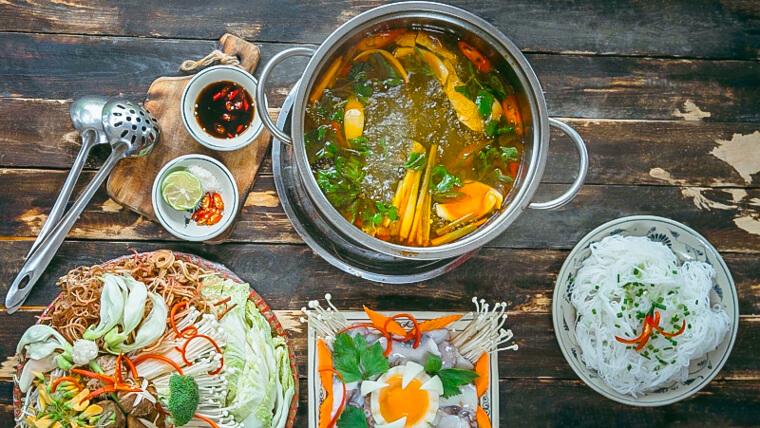 U Minh fish sauce hot pot - Source: rcc.vn
Fish sauce hot pot, in general, is inherently a characteristic of the Mekong Delta, in which U Minh hot pot is considered a famous brand of Ca Mau Vietnam. This dish is very sophisticatedly processed to each spice, including many materials such as choke fish, snakehead fish, eel, shrimp, water lily, and so on. U Minh fish sauce hot pot conquers all your senses, from the sweet and aromatic taste of various kinds of fish, the salty taste of fish sauce, and the unique flavors from the typical vegetables of Ca Mau.
Salt-roasted rock crab
Stone crab is one of the valuable specialties in this province, but you must go to the right shops to be able to enjoy this delicious dish. They are not as big as sea crabs, the largest one is only a fist but hard as a rock and must be broken with a pestle or pliers. Stone crabs can in Ca Mau Vietnam be used to process many dishes, but the most attractive is still salted roasted rock crab, served with laksa leaves and dipped with salt, pepper and lemon. After roasting, the meat is white and fragrant, soft, slightly chewy and sweet, particularly the meat of female rock crab is firmer, fleshier and fattier.
Cha trung muc (Grilled squid egg bars)
Grilled squid eggs have a unique sea flavor and unique features that come from the choice of ingredients. While making cha trung muc, squid eggs are sprinkled with a little seasonings such as spice, pepper, salt, sometimes adding meat, duck eggs or pork liver. The grilled squid eggs of Ca Mau Vietnam are hot and golden yellow, with a characteristic aroma, and a greasy taste, and must be eaten with fish sauce, some raw vegetables and a few slices of rice paper. Everything blends gently but also clearly, strange but delicious, making this a delicious specialty of Ca Mau Province.
Grilled snakehead fish
Grilled snakehead fish is a specialty that should not be missed, especially if it has to be grilled with straw, the fish meat will be fragrant and delicious. After the straw is burned, the fish is taken out and scraped off the burnt black scales on the outside to get a fresh and hot golden grilled meat, with a distinctive aroma that is hard to resist. According to our Ca Mau travel tip, grilled snakehead fish is wrapped in rice paper with some vermicelli, lettuce, herbs, ... and must be dipped with thick tamarind fish sauce or fish sauce mixed with garlic, lemon, chili, sugar, etc. All these salty, sweet, sour, spicy and fleshy flavors of fish meat plus the pungent taste of a glass of alcohol are unmatched.
Grilled mudskipper fish
Grilled mudskippers with salt and pepper is a famous delicacy in the land of Ca Mau Cape. Despite its ugly appearance, the meat is very firm, sweet, fragrant and not fishy, and can be made into many delicious dishes that make diners praise nonstop. The fresh fishes are washed to clear the mud, marinated with a little salt and pepper, then placed on a charcoal grill over medium heat until the skin turns yellow and smells fragrant. Eating grilled mudskippers with salt and pepper is indispensable with the right dipping sauce to increase the delicious taste, served with vermicelli, rice paper and vegetables such as broccoli, salad, herbs, sour star fruit...
2 - Top 3 Ca Mau restaurants
The above dishes can be enjoyed at the following restaurants in the city center:
Cua Thu Thiet Restaurant
- Address: No.57 Ngo Gia Tu Street, Block 5, Ward 5
- Price range: 39,000 - 499,000 VND / dish ($1.7 - 21.94)
- Opening hours: 2pm - 11pm
Quat Mo Seafood Restaurant
- Address: No.14 - 16 Bui Thi Truong Street, Ward 5
- Price range: 10,000 - 450,000 VND / dish ($0.44 - 19.78)
- Opening hours: 3pm - 12am
Hai Yen Restaurant
- Address: No.210 Tran Hung Dao Street, Ward 5
- Price range: 30,000 - 100,000 VND / dish ($1.32 - 4.4)
- Opening hours: 3pm - 12am
IV - #4 best hotels in Ca Mau Vietnam
1 - Muong Thanh Hotel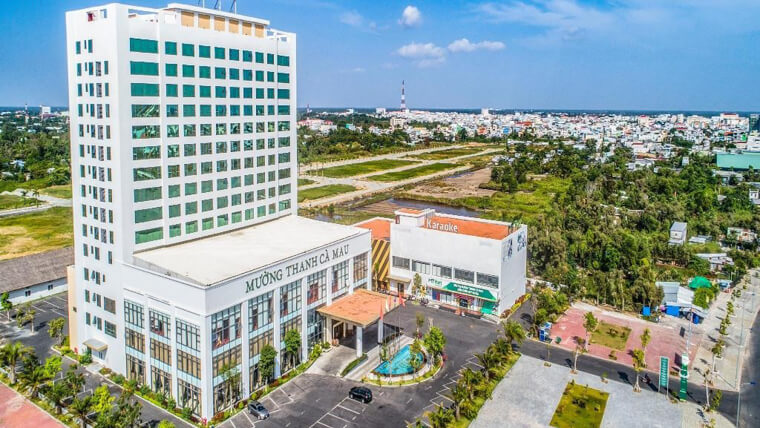 Muong Thanh Hotel - Source: agoda
Muong Thanh is one of the leading luxury hotels in Vietnam's Mekong Delta, with a convenient location to access the city center and typical tourist attractions. Muong Thanh hotel consists of 177 rooms, as well as recreational facilities such as hot tub, gym, sauna, outdoor swimming pool, spa and so on
- Address: Lot C3A - Ca Mau Administrative and Political Center Area, Ward 9, Ca Mau City
- Room rates: 1,006,200 - 2,322,000 VND / room / night ($44.24 - 102.1)
- Contact: 0290 2228 888
- Website: www.luxurycamau.muongthanh.com
2 - Phu Cuong Hotel
Only about 3km from the airport, Phu Cuong Hotel has 91 rooms that are meticulously designed to every detail. Along with a variety of service facilities including a bar system, a restaurant, … the enthusiastic reception of the staff will help make the experience of your trip more complete.
- Address: No.81 Phan Ngoc Hien Street, Ward 4, Ca Mau City Vietnam
- Room rates: 1,377,200 - 3,807,000 VND / room / night ($60.55 - 167.38)
- Contact: 0826 889 088
- Website: https://www.facebook.com/phucuonghotel
3 - Song Hung Hotel
Having a scale of 30 extremely clean and beautiful rooms, Song Hung Hotel is full of amenities, with a full hot and cold system, free wifi and a terrace in each room. The hotel's staff is extremely professional, always trying to serve all the needs of customers, which made this hotel rated as the best value for money in the area.
- Address: No.28 Phan Ngoc Hien Street, Ward 4, Ca Mau City
- Room rates: 295,455 - 477,273 VND / room / night ($13 - 21)
- Contact: 0290 3822 822
4 - Anh Nguyet Hotel
Bringing a relaxing and comfortable stay, Anh Nguyet Hotel offers 128 beautiful rooms, many of which are equipped with flat screen television, linens, mirror, needle set and so on. The hotel also has other services such as an open-air swimming pool, spa treatments, a 24-hour front desk and a restaurant with special local cuisines.
- Address: No.207 Phan Ngoc Hien Street, Ward 6, Ca Mau City
- Room rates: 977,273 - 1,136,364 VND / room / night ($43 - 50)
- Contact: 0290 3567 666 - 0983 567 545
- Website: http://www.anhnguyethotel.com/
V - Ca Mau Vietnam map
Ca Mau Province is known as the end of the country and is always a tourist destination in the Mekong Delta that you must definitely visit when coming to Vietnam. This land exudes a poetic and lyrical, peaceful and rustic beauty that captivates the hearts of visitors, giving you the opportunity to admire the breathtaking sunset in the vast sky and sea. Hopefully, the information provided in the article above will help you have an interesting trip to Ca Mau Vietnam.