Saigon is long known as the leading dynamic, bustling and developing city in Vietnam. One of the most worth trying experiences here is shopping as Saigon is likened as the number one city of vibrant commerce in this country. Not only can you try the traditional exchange at famous markets like Ben Thanh market, Ba Chieu market, but there is also a range of high-class and luxury shopping centers such as Takashimaya Viet Nam, Bitexco, Aeon Mall Binh Tan,... which will surely ideal options for both foreign and native shopaholics. Let's check out top 10 best shopping malls in Ho Chi Minh city in the article below:
Vincom Center Landmark 81 - one of the biggest shopping malls in Saigon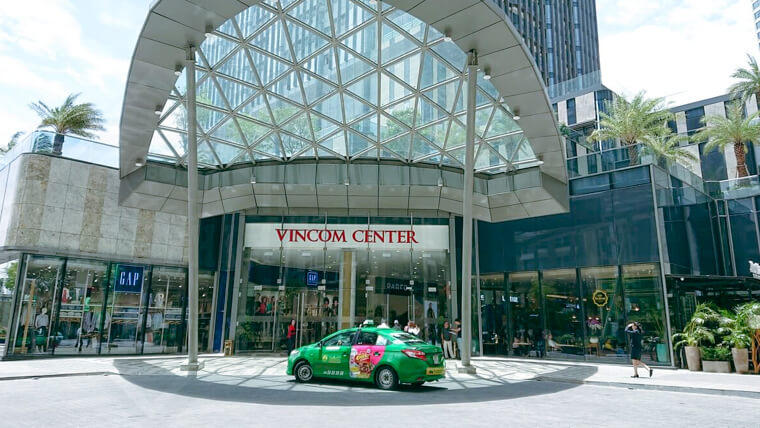 Vincom Centre Landmark 81 - Source: khenphim
With a total area of 59,000 m2, and a variety of outlets of nearly 100 top companies, brands in the country and abroad of different sectors like fashion, cuisine, entertainment, accessories,… this place will bring you royal and classy shopping, and playing experiences.
Lying in the highest skyscraper of Vietnam and also an attractive destination, Vincom Center Landmark 81 stretches from the B1 floor to the fifth floor of the Landmark 81 building. It amazes customers with a series of the most, for instance: the cinema with the largest Imax display of Vietnam, the largest ice rink of Vietnam, the biggest Adidas shoes showroom in Vietnam,...
This is one of the best shopping malls in Saigon that fashion fans should not miss. The shopping mall is also integrated with abundant of stalls to cater for the need of fans of fashion, with a range of big brands such as Nike, Lacoste, versace Jeans, Calvin Klein, Armani Exchange, Tommy Hilfiger, Lacoste, FCUK, Banana Republic,..cosmetics with Kiehl's, Whoo, BVLGARI, Sisley, Ohui, Clarins, L'Occitane, Innisfree,... entertainment, for example CGV, Vincom Ice Rink,... and cuisine from Western to Asian.
- Location: No.772 Dien Bien Phu street, Ward 22, Binh Thanh district
- Opening hours: Monday to Sunday at 10am to 9:30pm
- Buses to get there: 104, 30, 56, 60-3
Bitexco Financial Tower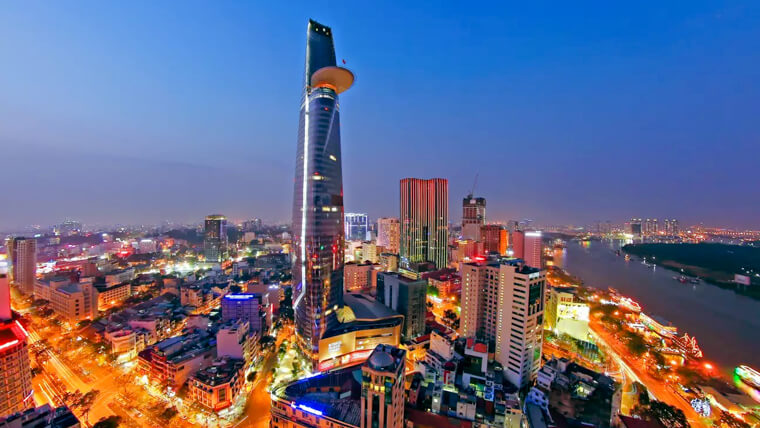 Bitexco Financial Tower - Source: kinhdoanhvaphattrien
Bitexco Financial Tower, an icon of Ho Chi Minh city, is certainly one of the top must-visit Saigon malls. Bitexco is the top modern and luxurious leisure complex combining eating, shopping and playing.
Inaugurated on October, 31st, 2010, with the design inspired by the image of a lotus rising to reach the sky, the building is symbolized for the national ambition of growth, a representation of a modern but full national identity in Vietnam.
Once stepping into the building, you will be surprised by the space of the Icon68 shopping center. All the big brand names such as Adidas, Topshop, Pedro, Topshop Topman, Warehouse, Charles & Keith,… can be found at this Ho Chi Minh shopping mall.
Coming up next is the fourth floor which is the eatery area where you can taste more than 500 dishes from Asian to Western cuisine as well as different types of fast foods, desserts and drinks. The Food Creative area is always appealing to customers due to its resourceful menu, open kitchen. However, the most special place in Bitexco is Saigon Skydeck where you can capture the whole view of Ho Chi Minh city into your vision at the height of 178 m on the 49th floor of the tower. This is a position that the shade and the pace of the most hectic city in Vietnam can be clearly observed.
- Location: No.2 Hai Trieu street, Ben Nghe ward, District 1, Ho Chi Minh city
- Buses to get there: Bus 01, 03, 19,56, 88, 93
Saigon Square - top shopping malls in Saigon
Saigon Square, "the shopping heaven", is known as a "matrix of fashion" because of the remarkable number of fashion stores. Saigon Square will make you tired of walking in order not to skip any booths, any corners to hunt for unique items. Besides, the dominance in quantity, the diversity in clothes and the hospitality of shopkeepers are the explanations for the prosperity of the place.
This shopping mall in Ho Chi Minh city is outstanding as the gathering of "Made in Vietnam" products, giving clients the sense of security about the quality of the goods. The merchandise are various in models, trendy and resilient, fit for all body shapes and ages but the price is reasonable. If you are a chic individual, and are questing for cool stuff, you should put the name Saigon Square in your shopping list.
- Location: No.77-89 Nam Ky Khoi Nghia street, Ben Thanh ward, District 1
- Opening hours: 9am - 10:30pm
- How to get there: Bus 20, 75
Saigon Centre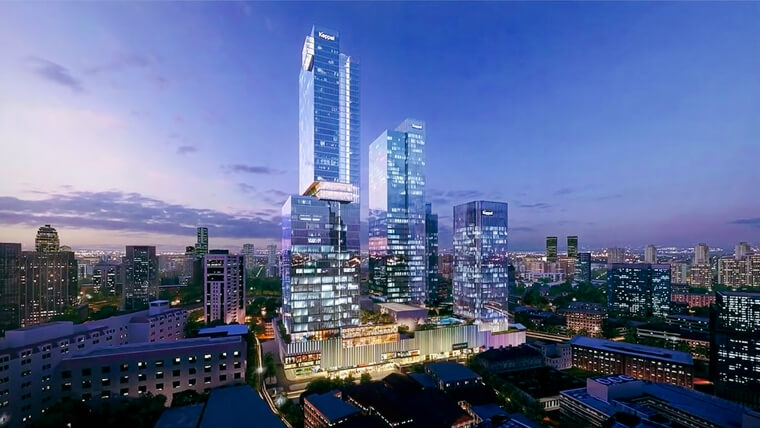 Saigon Centre - Source: reic
One of the most typical things about this mall is its creative design which is modern, suitably arranged and brings comfort to customers. Like other shopping malls in Saigon, coming to Saigon Center, you are always overwhelmed with a myriad of extravagant brand names that not anyone can afford such as Valentino, MontBlanc, Moschino, Versace, Tommy Hilfiger, Valentino, Kenzo…; recreational experiences like cinema, playground and food court with dishes from countries all around the world. Apart from that, it is the uniqueness of Saigon Centra's architecture that makes it a good destination for teenagers to check-in.
- Location: No.65 Le Loi street, Ben Nghe ward, District 1, Ho Chi Minh city
- Opening hours: 9:30 am - 9:30 pm
- Buses to get there: Bus 04, 18, 19, 35, 36,...
Parkson Saigon Tourist Plaza
This is one of the most luxurious shopping malls in Saigon, at which you can buy exclusive items from famous brands and sparkling accessories. For a long time, the mall has been known as a reliable destination for shopaholics. At Parkson Plaza, you can have chances to pick and choose the finest costumes, cosmetics and jewels from the top brands like Lacoste, Esprit và Timberland. On the topmost floor is Citimart which includes a vast furniture area with fancy housewares and the zones selling quality Asian culinary ingredients.
Taking a look around at Parkson Plaza may help you stay up to date with the latest trends in the world. Besides, dinners, luxurious restaurants and takeaway stores can also be spotted in shopping malls in Saigon. From Vietnamese traditional dishes to burgers, pizza or Western cuisine are all served here.
- Location: No.35-45 Le Thanh Ton street, Ben Nghe ward, District 1
- Opening hours: 9:30 am - 9:30 pm
- How to get there: Bus 44, 149
Takashimaya Vietnam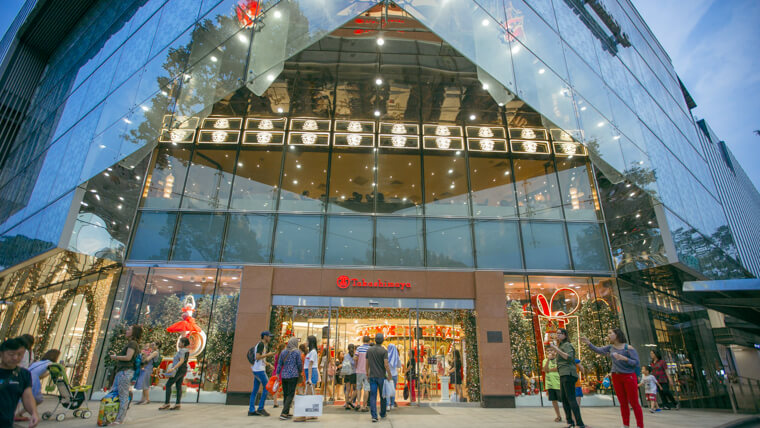 Takashimaya Vietnam - Source: ktg.com.vn
Entering service just on July 30th, 2016, Takashimaya has left a deep mark on the public's heart as a leading young, modern, utilized and extravagant commercial center. It is likened as a heaven for shopping, eating and entertaining and a place for youngsters to catch the flow.
Takashimaya Vietnam possesses a wide space with modern design yet still showing meticulousness and delicacy to the smallest detail. This is a nice Japanese-style shopping mall in Saigon that maintains its home style which is manifested by its architecture and the interior amenities.
Those who have passion about fashion are going to be satisfied with hundreds of prominent brands when coming to this address. Besides, the building is also integrated with an exhibition space which resembles a miniature museum to serve as a place for cultural activities.
- Location: No.92-94 Nam Ky Khoi Nghia street, Ben Nghe ward, District 1
- Opening hours: Monday to Thursday: 9:30 am - 9:30 pm and Friday, Saturday and Sunday: 9:30am - 10pm
- Buses to get there: Bus 03, 04, 152, 19, 42, 56, 93,...
Diamond Plaza - one of the oldest shopping malls in Saigon
Built in 1999, this building is right at the center of the city, with the Notre-Dame Cathedral at its back. Diamond Plaza gathers hundreds of world renowned brands in fashion and accessories with top-class items that are beautiful in both outlook and quality.
The building is 22 floors tall and is divided into 2 parts: the Shopping mall and the Diamond Plaza tower used for multiple purposes such as office, hospital, entertainment. The shopping mall stretches from the basement to the fourth floor. Like other shopping malls in Saigon, it is a complex of eating, playing and public healthcare. The Foodcourt is situated right at the 4th floor with a variety of food choices for you to make. Up above 1 floor is the playground with different forms of entertainment like games and cinema. At Diamond Plaza, there is a fitness center on the 13th floor, swimming pool on the 14th floor and the rooftop is where helicopters can land.
- Location: in Ben Nghe ward, District 1, Ho Chi Minh city
- Opening hours: 9:30am - 9pm
- Buses to get there: Bus 18, 42
Aeon Mall Bình Tan - biggest shopping mall in Saigon offering everything at good price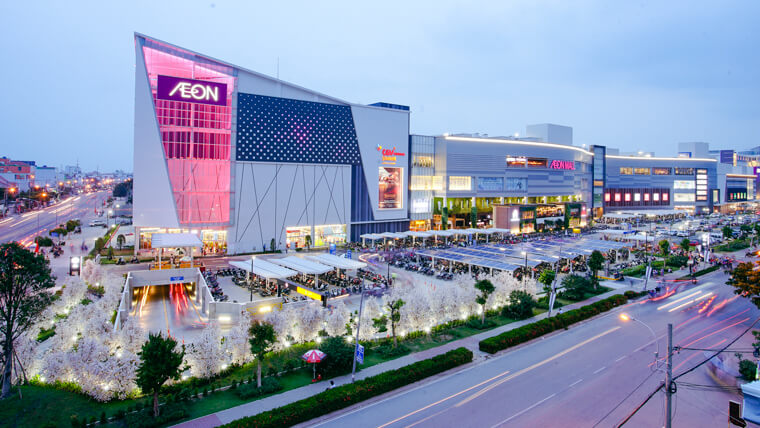 Aeon Mall Binh Tan - Source: aeonmall-vietnam
With a total area of 110,000m2 this is the complex of "everything is available, everything is affordable". Aeon Mall Binh Tan is designed to become an entertainment complex integrated with many activities such as shopping, playing, eating, healthcare, educating,... Each area, each corner in the building is carefully decorated so that you can't take your eyes off it. Besides, even though it is a high-class trade center, the price of goods here is very pocket-friendly, which is the reason why it is always crowded.
Same as the other shopping malls in Saigon, Aeon Mall Binh Tan is a collection of popular local & famous international fashion brands such as Adidas, Bata, Celio, Canifa, Converse,... Aeon Mall is also a haven for eateries. Food space here surely will fill your empty stomach. From Vietnamese regional cuisines to worldwide famous dishes are all assembled here.
Do not miss discovering the Dream Games or tiNiWorld, the top amusement playgrounds with cutting-edge equipment and exciting sports, and the Ghost House. On holidays, Aeon Mall Binh Tan holds many interesting events that you should not miss.
- Location: No.1 Street 17A, Binh Tri Dong B ward, Binh Tan district
- Opening hours: 10am - 10pm on Monday to Friday and 9am - 10pm on Saturday and Sunday.
- Buses to get there: Bus 25, 61-8
SC Vivocity - top shopping malls in Saigon for technology fans
Launched in 2015, SC VivoCity is a part of the 4.4ha complex of Saigon South Place, including office buildings, high-class apartments by international standards. SC VivoCity is the paradise to meet all the desires of customers from shopping, entertainment, to healthcare.
SC Vivocity includes many outlets with a large area and spacious space scattered in 1 basement and 5 floors. The highlights of SC Vivocity are fashion and accessories with several big names. You will also have the opportunity to explore a culinary world with more than 100 famous restaurants, cinema, fitness center and kids club. SC VivoCity over the past few years has organized performances, cultural festivals, or art shows,...
- Location: No.1058 Nguyen Van Linh street, Tan Phong ward, District 7
- Opening hours: 10am - 10pm
- Buses to get there: Bus 102, 34


Van Hanh mall in Saigon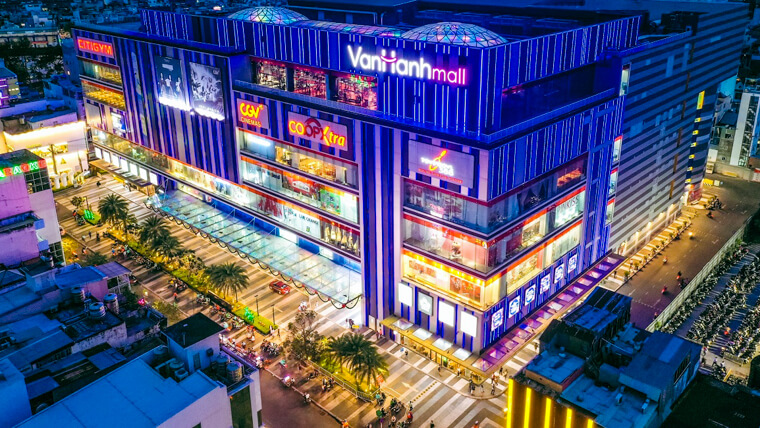 Vạn Hạnh mall - Source: vnexpress
Van Hanh Mall, with an area of 50,000m2 is a compound of various types of entertainment and shopping. Van Hanh Mall can diversely and completely meet the majority of customers' shopping needs from fashion, cosmetics, furniture, home appliances, to the demand for food, education and entertainment. Van Hanh Mall has 1 basement, 7 commercial floors.
The construction is integrated with areas such as PowerBowl with many new and popular games, the shopping area featured with Co.opXtra supermarket and more than 50 culinary and restaurant brands. Having a unique architecture with a dome symbol inspired by legendary Oriental culture, Van Hanh shopping mall in Saigon has created an ideal shopping space for customers, a perfect place for families to hang out and relax every weekend and above all, a destination for young people to gather, chat and entertain.
- Location: No.11 Su Van Hanh street, Ward 12, District 10, Ho Chi Minh City
- Opening hours: 9:30 am - 10 pm
- Buses to get there: Bus 02, 07, .91
Therefore, do not hesitate to make a list of shopping malls in Saigon that you are impressed by and want to discover right away.