Vietnamese markets are not only a place of trade, exchange or sale of goods or to satisfy shopping needs; the market is also a place to meet, exchange and connect the community. Each region will have a different cultural agenda, preserving its culture & traditions.
I - Types of Vietnamese markets
Visiting Vietnamese local markets is an amazing experience for you to try local foods and specialties, buy local handicraft products and many little gifts. The most interesting thing when visiting those markets is having a chance to understand deeper about the local lifestyle and culture. Here are a few reasons why you should have a trip to "dip into" local market in Vietnam:
- Firstly, many items: small shops selling diverse items from food to clothing.
- Secondly, many delicious foods: diverse food shops serve tons of specialty dishes of the region that are extremely attractive.
- Third, reasonable prices: The local Vietnamese markets are not only great places for shopping a lot of goods and delicious Vietnamese food, the prices of products are also very cheap. If you know how to bargain, the price is better.
- Fourth, experience the life of the Vietnamese people: come here you will be immersed in the busy trading atmosphere of the people. You'll see how they sell, how to pay off.


Types of popular markets:
1 - Wet markets in Vietnam
This is also called a daily market or food market - an extremely popular & oldest market model in Vietnam. It is established to supply all goods and products to the needs of the people such as food, meat & vegetable, clothing and daily necessities.
2 - Fair market
The fair market of the ethnic minorities is one of the best markets in Vietnam which are opened on certain days of the month or even a day of the year. Some well-known markets such as Bac Ha market near Sapa, Khau Vai Love market in Ha Giang, Vieng Market (Nam Dinh)...
3 - Specialized markets
Seafood and fish markets located along the coastline and islands, love markets in mountainous villages or flower markets in Tet holidays and fruit markets in Mekong river delta.
4 - Night market in Vietnam
As the name suggests, this type of market takes place in exchange for night trading activities. Some famous night markets that should be visited include Sapa Night Market, Hanoi Night Market, Hoi An Night Market, Dalat night market…
5 - Floating market
This is the most special Vietnamese market which is popular in the Mekong delta area. Top floating markets in Vietnam are Cai Rang floating market (Can Tho city), Long Xuyen Floating Market (An Giang province),...
In addition, there are several other types of market such as street market, food market, fruit market, fish and seafood market, etc. that you can easily see in the big or tourism city along Vietnam from North to South.
II - Best Vietnamese markets to visit
1 - In Sapa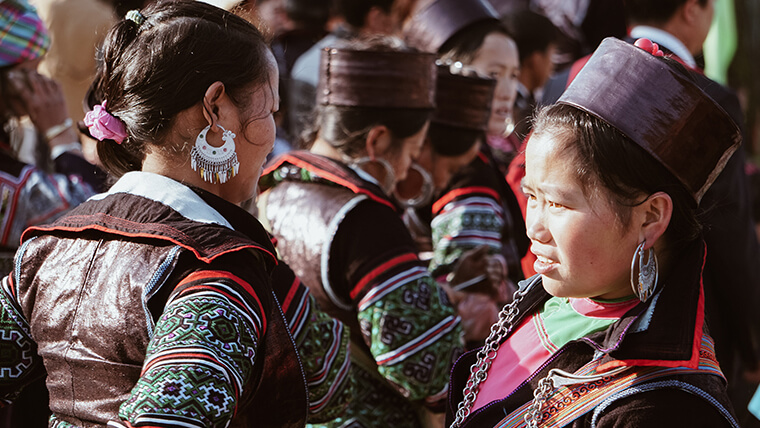 Local Market:
The Sapa local market is not only the place for ethnic minority people to exchange goods, this is well known as a hub of cultural exchange where young men and women come, meet and have a date.
- Address: Sapa town, Lao Cai province
- Operating hours: every Sunday
Love Market:
Love Market in Vietnam is a cultural feature of Sapa town. Every Saturday evening, young male and females are together and immerse in melodies of flute and trumpet, dance and chat creating a bustling atmosphere.
- Address: Sapa Stone Church Square, Sapa town, Lao Cai
- Operating hours: every Saturday, from 9:30pm to late night
2 - In Hanoi
Dong Xuan market:
Located in the Old Quarter of Hanoi, the east is the alley of Dong Xuan market, the south is Cau Dong Street and the north is Hang Khoai street. This is the top wholesale market in Vietnam which offers a variety of items such as fabrics, clothes, shoes and foods...
- Operating hours:
+ 6am - 6pm everyday for day market activities
+ 6pm -10pm on Friday, Saturday and Sunday evening for night market activities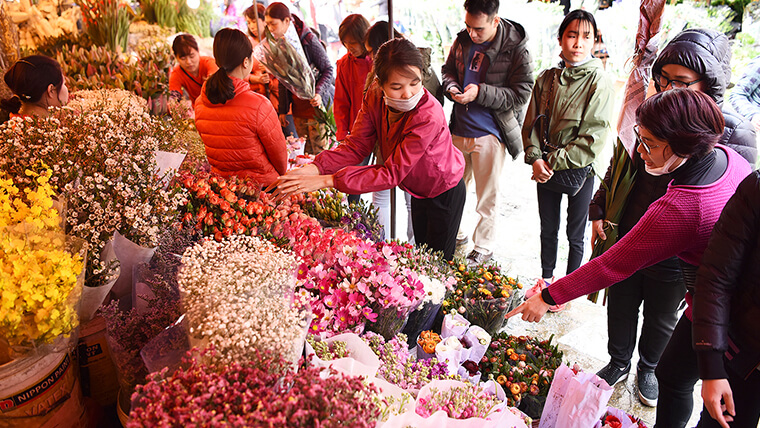 Quang Ba flower market:
As the most famous flower wholesale market in Hanoi, here you will be overwhelmed by the hundred types of flowers. Quang Ba flower market is also one of the best nightlife in Hanoi.
- Address: No.236 - 238 Au Co street, Tay Ho, Hanoi
- Operating hours: 2am - 5am
Hanoi Old Quarter Night Market:
Coming to the Vietnam night market of Hanoi Old Quarter, you can not only shop and visit the scenery of Hanoi at night, but also enjoy many famous delicious dishes such as chè, cakes ...
- Address: Stretching from Hang Dao street to the gate of Dong Xuan market
- Operating hours: 6pm - 11pm Friday, Saturday, Sunday every week.
3 - In Hue
Visiting Dong Ba market - a typical Vietnamese fish market, you can see a lot of things from fabrics to foods and enjoy famous Hue cuisine, especially seafood & fishes..
- Address: No.13 Tran Hung Dao street, Hue city
- Operating hours: 4am – 8:30pm
Nguyen Dinh Chieu night market is a dynamic, colorful and vibrant night place where you should come for delicious local foods, handicraft souvenirs and gifts.
- Address: Nguyen Dinh Chieu street, Hue city
- Operating hours: 4pm - 10pm
4 - Vietnamese markets in Hoi An
Hoi An Market: Coming to Hoi An market, you feel lost in the culinary paradise with extremely famous dishes such as Hoi An bread, Cao Lau, Quang noodles. This is definitely one of the best markets in Hoi An.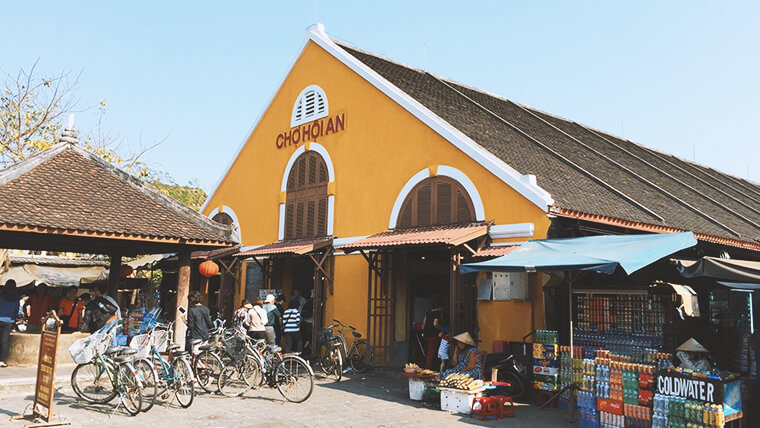 - Address: No.19 Tran Phu Street, Minh An Ward, Hoi An City
- Operating hours: 6am - 6pm
Nguyen Hoang night market: You will be surprised by the vibrant lantern colors and the vibrant atmosphere. The Vietnamese markets in Hoi An are top recommended for shopping or enjoying delicious Hoi An food.
- Address: Nguyen Hoang street, Hoi An
- Operating hours: 5pm - 11pm
5 - Vietnamese markets in Nha Trang
Dam Market: This place is an amazing place for you to explore and savor the seafood and local specialties with a reasonable price in Nha Trang City.
- Address: Van Thach ward, Nha Trang city
- Operating hours: 5:30am - 6:30pm
Nha Trang night market in Vietnam: This is one of the top Vietnamese food markets in Nha Trang, at which you can try many foods from traditional dishes, seafood dishes, snacks and desserts.
- Address: Tran Phu street, Loc Tho ward, Nha Trang city
- Operating hours: 2pm - 11:30pm
6 - In Ho Chi Minh City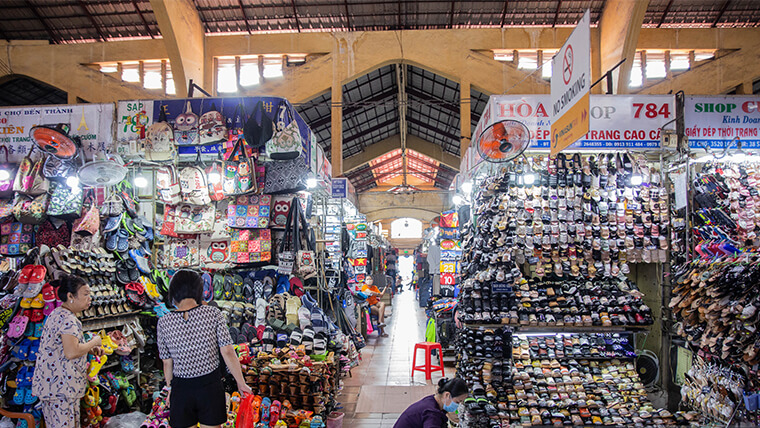 Ben Thanh market: This is one of the best wholesale markets in Vietnam that annually welcomes millions of domestic and foreign tourists to visit and shop. Entering here, you will not want to leave because of the delicious regional specialties. This is also a divine check-in place.
- Address: Le Loi street, Ben Thanh ward, district 1, Ho Chi Minh city
- Operating hours: 6am - 5pm
Ho Thi Ky flower market: If you are a fan of flowers, you cannot miss the Ho Thi Ky wholesale flower Vietnamese market in Ho Chi Minh City. Flowers from all over the region are sold here, ranging from common flowers to rare flowers.
- Address: Alley 52, Ho Thi Ky, ward 1, district 10, Ho Chi Minh city
- Operating hours: 5am -11pm
Ky Hoa night market: With 250 stalls selling all kinds of goods, Ky Hoa night market has attracted a lot of tourists because of the "affordable" price but many diverse items and good dishes are very suitable to roam at night.
- Address: Extended Cao Thang street, District 10, Ho Chi Minh city
- Operating hours: 5pm - 2am
7 - Floating markets in Vietnam
Cai Rang floating market
Cai Rang floating market is considered as the symbol of Can Tho city. Famous for fruit trading in the Southern region, going here you will see boats filled with fresh and delicious fruits such as pomelo, durian, watermelon,..
- Address: On Can Tho river, near Cai Rang bridge
- Operating hours: 4am - 9am
Cai Be Floating market
This famous local market in Vietnam is just one of the most fantastic sites to visit in Tien Giang. This place operates all day from dawn to late evening. Here they sell a lot of fresh fruit and local foods.
- Address: Along Tan Phong islet on Tien Giang river
- Operating hours: 3am - 8pm


Nga Nam floating market in Vietnam: People here sell most of the region's agricultural and aquatic products, from rice to vegetables to fruits, vegetables, crabs, fish.... If you want to visit this place, you need to go early because 8am is closing time.
- Address: Located at the intersection of five rivers Ca Mau, Vinh Quoi, Long My, Thanh Tri and Phung Hiep
- Operating hours: 3am - 8am
8 - Vietnamese market in Phu Quoc Island
Duong Dong market: For those who are passionate about seafood, Duong Dong is the place that you must go. Because this is the largest seafood market in Phu Quoc, it not only sells fresh or dried seafood but also dishes made from seafood that are very attractive such as eggs of horseshoe crab, salted and chili snails, seafood vermicelli...
- Address: No.21 Tran Phu street, Duong Dong town, Phu Quoc island
- Operating hours: 5am - 7pm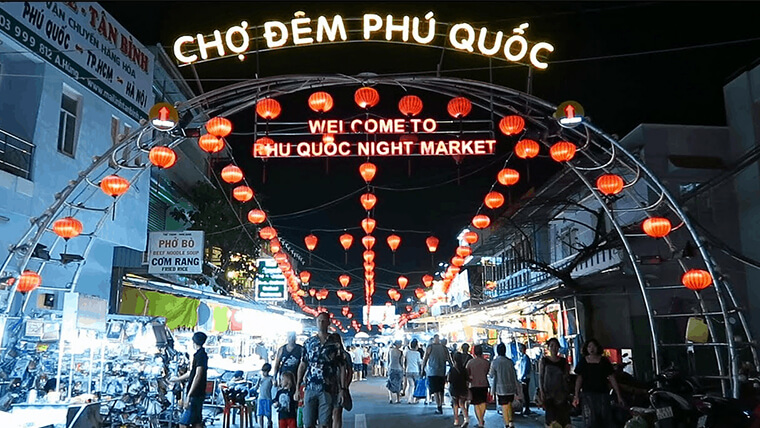 Phu Quoc Vietnam night market: Including 2 areas: a souvenir shop and a food court. After visiting the market and buying your favorite item, stop by a few food stalls, enjoy fresh seafood from Phu Quoc Island.
- Address: The intersection of Bach Dang street and 30/4 street, Quarter 1, Phu Quoc island
- Operating hours: 4pm - 11pm
III - Tips when visiting market in Vietnam
For best experiences, you should be aware of the following points:
- Firstly, price bargaining skills: price negotiating is a pretty special purchase form in Vietnam. You can bargain product prices to get better prices when do shopping.
- Secondly, be careful with private property: In some local Vietnamesee markets, security is not so good.To ensure safety, please keep your wallet and phone carefully.
- Thirdly, if you are the first purchaser of the day, especially on the 1st lunar calendar, you are recommended to buy something to bring luck and wealth to the sellers. Vietnamese merchants take it seriously on the 1st of every lunar month because in the belief, the beginning of the month is smooth, the whole month will be lucky.
As can be seen, the culture of the Vietnamese markets is very unique where you can learn about the cultural life of the people of that region. In some areas, you can find other interesting types of market such as Vietnam train market, meat market or fruit market.