Vietnam is an amazing country for travelers coming for sightseeing and experiencing the culture. If you are wondering what are the top places for visiting, this list of top 7 best natural wonders of Vietnam is hoped to be helpful.
1 - Top 7 natural wonders of Vietnam - Ma Pi Leng Pass
Ma Pi Leng Pass is known as one of the "Four Great Passes of the Northwest Region in Vietnam". This majestic pass belongs to the Dong Van Geopark, Ha Giang Province. Coming here you are amazed by the majestic beauty of Vietnam's mesmerizing natural landscape.
"Ma Pi Leng" means horse-nose bridge. Ma Pi Leng is 20km long but 2000m high, one side is a deep hole - one side is a steep cliff, making it the most astonishing mountain road in Vietnam according to the evaluation of a myriad of visitors. Conquering this Vietnam wonder is really a risky experience, but worth it for the stunning and immense scenery that nature bestows on Ha Giang.
On the way through Ma Pi Leng Pass, you have a chance to admire not only endless limestone mountain ranges and splendid views of the sky but also the Tu Son Canyon and the stream of Nho Que River from high above. When reaching the end of the pass near Meo Vac Town, you see Trang Huong Bridge, then approach Nho Que boat station, where you are able to enjoy boat riding and kayaking on the river, which is also a very exhilarating experience.
Location: NH4C, Commune Pa Lung and Pa vi, Meo Vac District, Ha Giang Province.
2 - Ban Gioc Waterfall - top natural wonders of Vietnam
Ban Gioc Waterfall is the largest and most beautiful waterfall in Vietnam. It has a relatively special location, located between Vietnam (80m wide) and China (120m wide). Ban Gioc Waterfall is a combination of multiple large and small layers flowing down powerfully from a height of 60m, fed by the Quay Son River. Diverse terraces together with surrounding scenery make any visitors wow when admiring this waterfall. Karst peaks and verdant valleys are scattered in the area as the emphasis for this natural wonder in Vietnam, making it a picturesque scene.
Some interesting activities that you can try when coming here include: watching, taking pictures of ripe rice fields, participating in hand-harvesting rice, experiencing crossing wooden bridges, and riding horses,... It is much more enjoyable if you get downstream by a bamboo raft, which just takes you about 10 minutes. All you need is a small amount of money ($2.50) and pay attention to warning signs for the height level of water and sharp stones. There are some interesting places to visit nearby this natural wonder of Vietnam such as Pac Bo Cave - Le Nin Stream, Nguom Ngao Cave, Thang Hen Lake, etc.
The best time to come here is between September and November when the weather is dry with less rain and locals are busy getting the harvest in. However, Ban Gioc represents its unique beauty in each season and each period. During the dry season from October to May, you can admire the sparkling, gentle and charming waterfall while enjoying the fast flow with the cloud-like foam splashes during the rainy season from June to September.
To get to this Vietnam wonder, you can rent motorbikes from some hotels with the price of approximately 200,000 VND ($10) each day. Otherwise, you can take a coach from Hanoi's My Dinh Bus Station which takes about 8 hours to get to the destination. The price for a ticket varies from 190,000 VND to 210,00 VND. Another way is by motor taxi which is available in the city center at a reasonable price.
Location: TL21, Dam Thuy commune, Trung Khanh district, Cao Bang province.
3 - Top 7 natural wonders of Vietnam: Halong Bay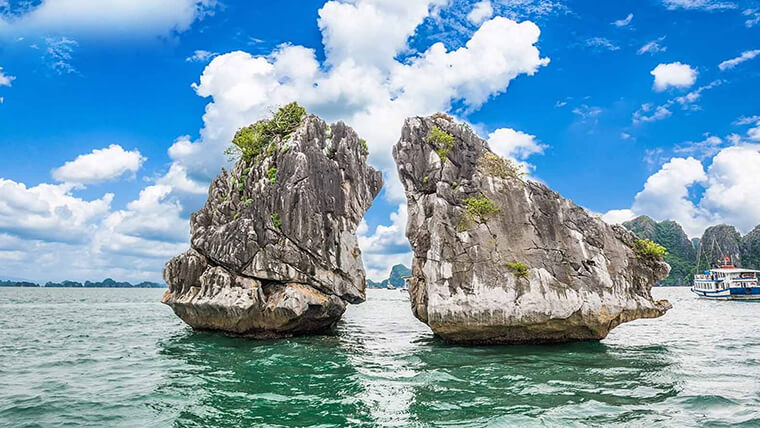 Halong Bay is a famous natural wonder that has been twice recognized by UNESCO as a world natural heritage. Halong Bay covers an area of more than 43,000 hectares including 1969 large and small islands and islets of which the most famous ones are: Lu Huong, Ga Choi, Canh Buom, Mam Xoi, Ngoc Vung, TiTop, Tuan Chau,...
Like other natural wonders in Vietnam, Halong Bay has a breathtaking beauty. It is diverse with the textures and colors of the island and mountains, blending with the clear blue sky and sea, creating magnificent scenery. The most outstanding feature of the Bay is spectacular - pillars - like limestone karsts combined with arches and caves, which form a majestic natural scenery.
Rocky islands in Halong Bay feature unique shapes. Some islands gather and are stacked on one another while there are places where islands lie in alternate positions, forming a 10-kilometer line like a wall. This Vietnam wonder of the world is also the home of numerous species of which have 14 plants and more than 60 endemic animals.
There are various activities when coming to Halong Bay such as doing kayak in Bai Tu Long Bay, discovering culture in Cua Van Fishing Village, Tien Ong Cave, Me Cung Cave, immersing in Halong Bay's cool water, admiring Titop Island, and enjoying wine feast inside Trong Cave, etc.
4 - Top 7 natural wonders of Vietnam - Trang An Landscape Complex
Located in Ninh Binh - one of top well-known travel destinations in Vietnam, Trang An Landscape Complex is recognized as World Culture and Natural Heritage, attracting a huge number of tourists domestically and globally. This is the harmonious combination of three well-protected areas in terms of culture and nature, including the Trang An - Tam Coc - Bich Dong Scenic Landscape, the Hoa Lu Ancient Capital, and the Hoa Lu Special-Use Forest. This natural wonder in Vietnam has an area of more than 6,000 hectares, most of which is covered by rice paddy fields.
Trang An is internationally well-known for owning extremely charming and attractive tower-karst landscapes, which is the combination of various classical karst cones and towers, and subterranean waterways. The harmonious blends of rocks, rivers, forests and the sky in Trang An creates picturesque and lively scenery. In Particular, you can find several gorgeous caves in Hoa Lu such as Thien Ha Cave, Vai Gioi Cave, Tien Ca Cave, Sinh Duoc Cave, etc.
In recent years, Trang An Landscape Complex is one of the most famous natural wonders of Vietnam that has attracted millions of visitors. Any visitor who arrives here is overwhelmed by the majestic mountains and poetic transparent water. Sitting on a wooden boat down the Trang An stream, visitors will have an opportunity to discover beautiful caves and peaceful rice fields. Besides, you can come to Bai Dinh Pagoda for spiritual activities, visit Thung Nham Bird Park, Mua Cave, Thien Ha Cave, etc.
From Hanoi, you can take a bus (200,000 VND/person) or rent a motorbike for self-driving (150,000 VND/motorbike/day) to get to Trang An.
Entrance fee: 250,000 VND / adult; 120,000 VND / child
5 - Top natural wonders of Vietnam - Son Doong Cave
Located in the heart of Phong Nha - Ke Bang National Park in Quang Binh Province, Son Doong Cave is the world's largest natural cave. The three-million-year-old Son Doong Cave is situated in a limestone area, 9 kilometers long with two big dolines allowing sunlight to go into the cave, which makes trees and other vegetation develop strongly. The cave's main passage is also well-known for being the largest one in the world with 5km long, 200m high, and 150m wide. This Vietnam wonder features dried pools and the largest stalagmite which is 80m tall (262 feet). The ecosystem inside Son Doong Cave is unique, characterizing its own localized weather.
To reach Son Doong Cave you actually need plenty of patience and a sense of durability as you will trek through the intense jungle, cross a river and finally get to the entrance. Once you go inside the cave, you have to continue climbing, crawling, or even swimming through underground rivers to reach the end of the cave. However, it is definitely a rewarding experience for those who are looking for a totally unique expedition.
Until now, Oxalis Adventure is the only traveling operator setting tours to the Son Doong Cave with the price of about $3000 per person for a 4-day-3-night tour.
6 - Can Gio Mangrove Forest - top best natural wonders of Vietnam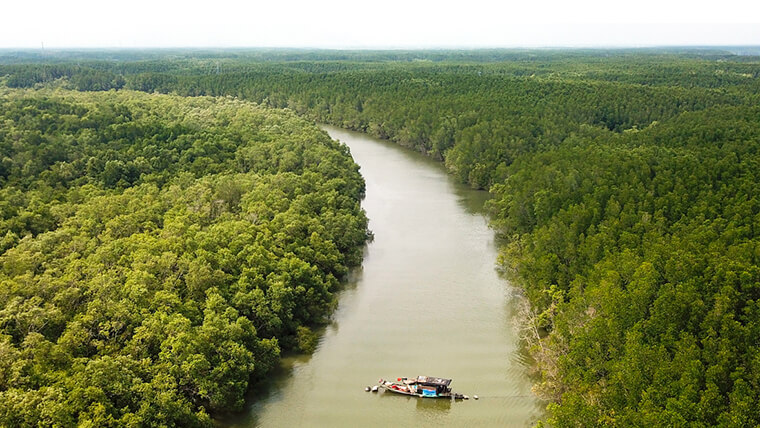 Can Gio mangrove forest belong to Can Gio Biosphere Reserve, also known as Can Gio Monkey Island or Can Gio forest park, located in Can Gio District, 40km southeast of Ho Chi Minh City Center. This forest is recognized by UNESCO as a world biosphere reserve. After more than 40 years of reclamation after the Vietnam War in the 20th century, this forest has been covered with more than 31 thousand hectares with around 170 different plants that belong to 76 families, diverse fauna from invertebrates, reptiles to different birds and animals, which make this wonder in Vietnam the "green lungs" of Ho Chi Minh City.
There are two ways to discover the forest including on the road and on boats. You can walk along the winding roads covered by numerous mangroves, or you can sit on a small boat following the canal to explore every corner of the forest.
For a one-day tour, you can get to Dan Xay Bridge and stop to enjoy sugarcane juice, then arrive at Lam Vien - Can Gio Island to admire immense green mangrove forests and immerse yourself in nature's beauty of this Vietnam wonder. You can canoe to the Sac Forest Revolution Base and have a free bath in the swimming pool, take a stroll, or take photos on Can Gio beach. At the same time, you get to sample seafood at seafood restaurants along the coast.
The price for a one-day tour to Can Gio Mangrove forest (last in 6 to 7 hours) is from $46.16/person.
7 - Tra Su indigo forest
This natural wonder of Vietnam is a flooded forest located in An Giang Province, which is considered as one of the most worthwhile places when visiting the Southern part of Vietnam. The forest stands out with its wild beauty and diverse vegetation. The best time to visit Tra Su forest is during the flooding season which is from September to November. At that time, the whole forest will be bright with vigorous shades of green.
Like other Vietnam natural wonders, you are overwhelmed by magnificent scenery covered by the color of green forest, creating cool and fresh air when stepping here. To discover the indigo forest, you need to buy a ticket and hire "tắc ráng" (a kind of vehicle like canoes or automatic boats). The marina with a uniquely designed pigeon nest background is an ideal place to take excellent photos. Then, you go through the creeks, watching locals harvesting melaleuca honey. Next, you get to Tra Su Indigo Forest, enjoying stunning green surroundings and exploring every corner of the forest, simultaneously admiring bright yellow flowers and the range of green melaleuca, which creates a picturesque natural scenery for this Vietnam wonder.
Besides, you also have a chance to witness animals and rare birds, visit local villages which specialize in silk and brocade weaving, producing melaleuca oils or honey. Another highlight here is a long love bridge that weaves inside the quiet and green forest, attracting a large number of couples when coming to the Tra Su indigo forest.
Those are the top natural wonders of Vietnam that are highly recommended for you, which will definitely make you wow. Vietnamtrips do hope you a have a great trip to Vietnam!