I - Traveling to Vietnam in December - Northern region
1 - How is the weather in the North in December?
In December, the North of Vietnam enters the middle of winter, so the temperature drops deeply. The average temperature reaches 18.6°C, the rainfall is quite low, about 36.5mm. In particular, the temperature in high mountain areas such as Sapa Town, Ha Giang can even drop below 14°C, and sometimes there is snow.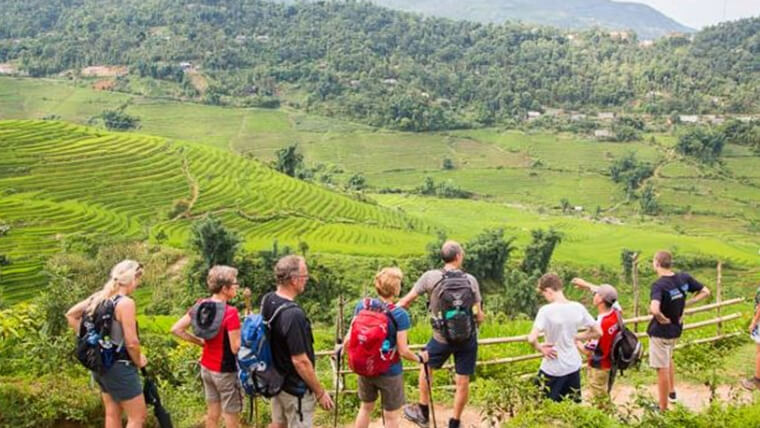 Weather in Vietnam in December is suitable for trekking - Source: Vietvisiontravel
Due to the influence of the northeast monsoon which is dry & cold, the North has low temperatures in the early morning or late night, combined with dew creating cold weather in the early morning and dry weather in the afternoon. There is nearly no rain in December so it is very suitable for sightseeing, climbing or trekking activities.
2 - Must-visit attractions in Northern Vietnam in December
Visiting Northern Vietnam this month, you can have an experienced journey through these top tourist attractions:
Visiting Sapa Town for a trekking tour
Located at an altitude of about 1,500 - 1,800m above sea level, Sapa Town has a typically temperate climate with an average annual temperature of 15 - 18°C. Sapa is well-known as the home to many ethnic minorities with unique cultural features.
Having a plan for holidays in Vietnam in December, Sapa is an ideal destination. Visiting Sapa in December, you have a chance to immerse in a misty mountainous paradise, explore the lives of the locals by visiting their villages such as Cat Cat, Lao Chai, Ta Phin, Ta Van, conquer Fansipan peak - "the roof of Indochina" at an altitude of 3,143m by cable car or hiking is highly recommended.
Ha Giang final-frontier in northern Vietnam for a loop motorbike tour
Ha Giang is also one of the best places to visit in Vietnam in December. Being known widely as the most majestic natural attraction in Vietnam, Ha Giang province is a perfect place to explore for adventurers. The M-shaped roads, sleeve bends, and tough roads along Ma Pi Leng Pass which is considered as the backbone of a dinosaur, and breathtaking sceneries of a dangerous pass, deep abyss, and high mountain ranges are the best things for an adventure trip for all backpackers.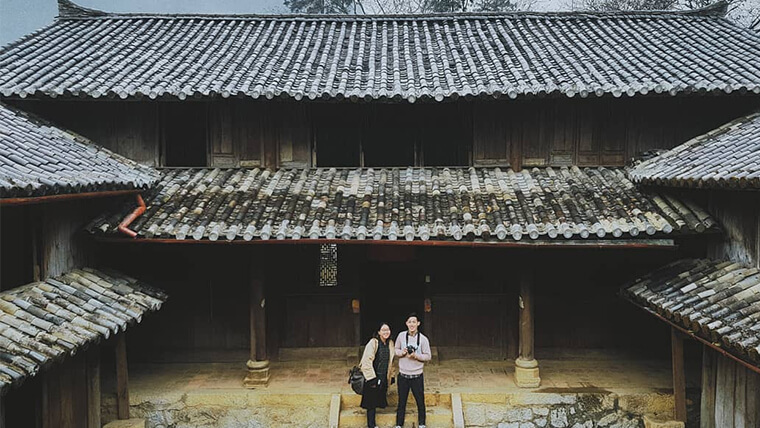 Where to go in Vietnam in December? - Vuong family palace - Source: Intenet
You can also visit Dong Van rocky plateau with unspoiled rocky mountains, visit Vuong Family Mansion - an over 100-year of age residence featured by the unique architecture of Hmong people, conquer Lung Cu Flag Pole - 2km from the northernmost point of Vietnam, take a boat trip on Nho Que river through Tu San abyss - the deepest alley in Southeast Asia alley. December is also the time when the field of buckwheat flowers in Ha Giang is in full bloom.
II - Vietnam in December - Central region
1 - Weather information
In Central Vietnam, the climate in December is characterized by cold and wet weather due to the impact of the northeast monsoon and steam from the ocean. The average temperature in December is about 19°C, the average monthly rainfall is 74mm.
The North Central region of Vietnam is mainly influenced by monsoons and Foehn winds, along with the different patterns of terrains creating a complex climate zone.
In Vietnam in December, the South Central region and the Central Highlands located behind the Bach Ma Range are not affected by cold winter winds, so the weather is known for two distinct seasons including the rainy & dry seasons. December is the time coinciding with the rainy season here so the average rainfall is relatively high from 153 - 216mm. The average temperature is about 24.4°C. In general, the weather is quite cool in December, so you can participate in a number of amazing sea tourism or sightseeing activities.
2 - Where to go in Central Vietnam in December
Exploring the Central Highlands
At the pristine Central Highlands, you will be impressed by the unique indigenous cultures expressed via communal houses with soaring roofs, Gong culture space - a human intangible cultural masterpiece and oral culture, Cần wine - a famous Central highland's rice wine using a tube instead of cups to drink and are served on special occasions such as weddings, traditional festivals or harvest feasts.
Experiencing sea tourism activities
Sea tourism activities are the best things to do in Vietnam in December. You can consider some islands with pristine scenery in the Central region such as Ky Co Island in Quy Nhon Province, Diep Son Island in Khanh Hoa Province, Ly Son Island in Quang Ngai Province,... You can experience more attractive marine tourism activities such as scuba diving, watching coral, surfing, participating in daily activities with local fishermen, visiting the craft village, and so on.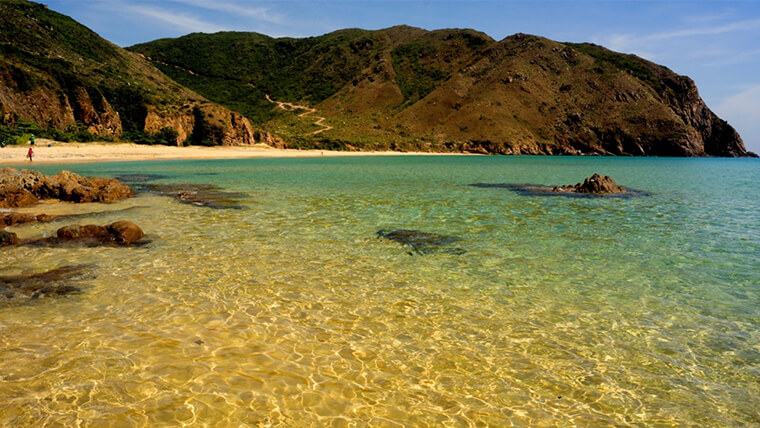 Ky Co island - Source: Nhi Nguyen
In Vietnam in December, you can also spend time participating in many attractive cultural festivals such as Dalat Flower Festival in Dalat, Ba Na buffalo-stabbing festival, E De ethnic wharf worshiping ceremony, and celebration ceremony in Rong houses. December is also the coffee harvest time in the Central Highlands region and you can visit the coffee farms to harvest and learn more about Vietnamese coffee.
Visiting Phong Nha - Ke Bang National Park
For those who love nature-friendly activities such as trekking or cave exploring, Phong Nha Ke Bang National Park is a must-visit destination when you visit Vietnam in December. You can see many wildlife species in a diverse fauna & flora system.
The most outstanding experiences are riding boats on Son River, exploring Phong Nha cave by kayak, watching the beautiful stalactite system in Thien Duong cave, and enjoying the green space at Nuoc Mooc stream.
Immersing in colorful Hoi An ancient town
Hoi An is the convergence of unique Vietnamese - Japanese - Chinese cultures. This ancient town is a rich cuisine center in Vietnam with many delicious dishes such as Bread, Cao Lau noodle, Banh Canh - rice noodle soup, Vietnamese pancake,...which make it an indispensable part of your Vietnam in December itinerary.
The stunning beaches, the old houses and many other tourist attractions in Hoi An are the best places to explore and experience. Hoi An is also considered the garment capital of Vietnam, famous for its diversity of silk & fabric, clothing, and fast tailoring services.
III - Visiting South Vietnam in December
1 - How is the weather in the South region?
Being affected by the tropical equatorial climate with high temperatures nearly all year round. December is the beginning of the dry season in South of Vietnam with low rainfall of less than 100mm, while the temperatures range from 25°C to 26°C, very suitable for outdoor activities.
2 - What is there to do in the South region in December?
Floating market in Mekong Delta
The floating market is a unique type of market in the Mekong Delta in Vietnam. The image of boats lined up with fruits, fabrics, souvenirs, food, dried seafood,... is full of color and sound.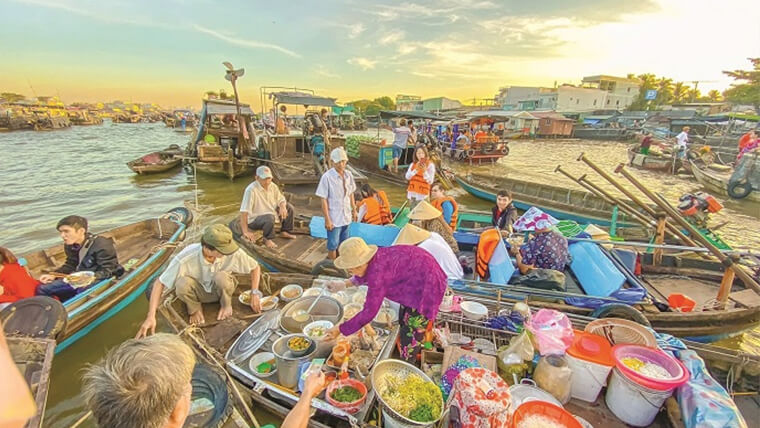 Floating markets are the best places to visit in Vietnam in December - Source: Eatnmore
In addition to the floating market, while visiting the Mekong Delta area, do not forget to visit the fruit gardens and experience one day of being a gardener.
Phu Quoc island
The weather of Phu Quoc island in December is very pleasant, super suitable for marine activities such as diving to see the coral reefs, and experiencing squid fishing tours at night. In addition, Phu Quoc cuisine is also very attractive and outstanding with a diversity of seafood dishes.
December is the peak season of tourism in Vietnam at which you can travel through the country and experience all types of tourism. However, if you want to explore the North of Vietnam in December, remember to keep your body warm with a coat and jacket. Because during this time, the North enters winter, the temperature drops sharply, especially in the high mountains due to the influence of the northeast monsoon and high mountainous terrain. Hope that the above suggestions from Localtravelidea is helpful!