July in Vietnam is the peak of the hot season in all regions. At this time, sightseeing activities are not a great choice. Instead, tourists should opt for beach vacations or explore the life of highland ethnic villages.
I - What is the weather in Vietnam in July like?
In Vietnam, the average temperature in July is 27.6°C, in which the North and Northern Central are the hottest areas in all countries' regions.
The average temperature in the North is about 28.5°C and it is different among places. In crowded cities in the North of Vietnam in July for example Hanoi, due to the greenhouse effect and gas emissions of transportation the extreme heat causes lots of trouble and impact on daily life and activities of locals. The temperature in Hanoi in July can reach up to 40°C, Halong Bay has a lower temperature, about 38°C and other places like Sapa, Moc Chau, Mai Chau,... get a more pleasant temperature of 30°C.
The average temperature in Central Vietnam in July is about 27.2°C. Average temperatures in some famous destinations like Dalat, Quang Binh, Hue are relatively 19°C, 31°C, 35°C, and others like Da Nang, Hoi An, Mui Ne are relatively 30°C, 30°C, and 28°C,...
The average temperature in South Vietnam is about 27°C. In particular: Ho Chi Minh City (28°C), Vung Tau (28°C), Phu Quoc Island (27.5°C)...
In July in Vietnam, the whole country experiences the period of the rainy season with a high number of showers. The average rainfall in the month is approximately 269.06mm, mainly distributed in the North (294.8mm) and the South (354.7mm).
II - #4 Beach tourism activities in Vietnam in July
1 - Ly Son Island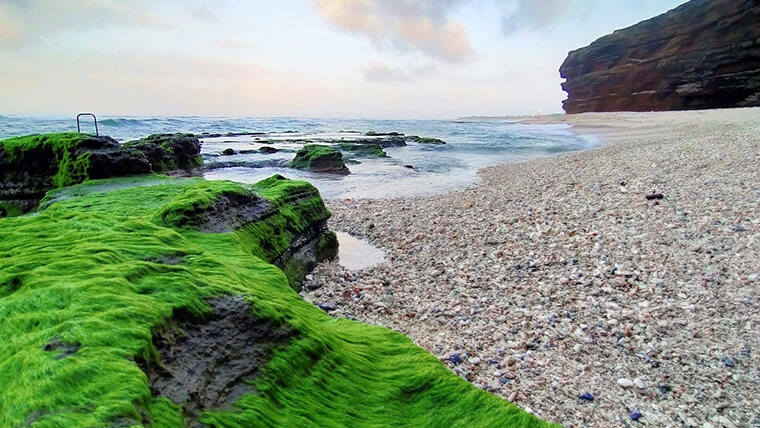 Ly Son Island - Source: Chi Tam
Belonging to Quang Ngai province - a province in Central Vietnam, Ly Son Island has a distinctive red basaltic terrain, preferably called "Jeju Island of Vietnam". The stunning beaches on the island attract tourists with crystal clear blue water and white sand. Visiting the pristine Ly Son Island, you can see lots of the rocky fields - remnants of volcanic eruptions, admire the sunset, and enjoy the panoramic view of the peaceful and majestic Ly Son Island district from the top of Thoi Loi Peak - the highest mountain on the island.
Ly Son not only possesses the best beaches in Vietnam in July but it also makes you wow thanks to a wealth of many other hidden things. Other best things to do on this pristine island are exploring the archways, fishing caves, spiritual & cultural sites, or joining in garlic planting and harvesting with the locals. You need to pack long-sleeved shirts, sunscreen, hats, and more water when going out on these summer days.
Location: Ly Son island district, Quang Ngai province.
2 - Beaches in Danang - the best beaches in Vietnam in July
Danang city is considered as the most famous beach paradise in central Vietnam which is famous for the long white sandy beaches including Non Nuoc beach, My Khe beach, Son Tra beach,...
In general, the climate and weather in Danang city in July are relatively pleasant and stable with remarkable sunshine hours and little rain. Exploring the scenery in the unspoiled island and mountains will surely be one of the best things to do in Vietnam in July. Traveling to Danang, you can freely immerse in dozens of sea sports such as surfing, paragliding, diving, snorkeling, walking on the sea, going fishing, or night squid fishing.
3 - Charming beaches in Ninh Thuan province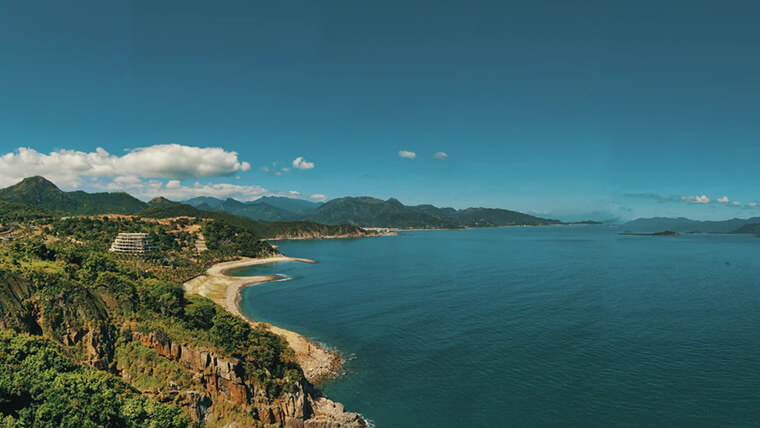 A corner of Ninh Thuan beach - Source: Arvydas Arnasius
Ninh Thuan is located in Central Vietnam. This place is a new paradise of tourism in Vietnam with incredibly pristine beaches, sand dunes, local farms, and unspoiled sceneries. In July, Ninh Thuan is mainly characterized by hot and dry weather with long sunny hours during the day.
Traveling to Vietnam in July, it must be a great pity if you miss a trip to Ninh Thuan province, where you can join many special festivals such as wine festival, Kate festival of Champa people, visiting ripe vineyards and enjoy delicious dishes and local fruits such as grapes. Ninh Thuan beaches are the best choice for a summer vacation in central Vietnam because of the nice weather with sunshine and cool sea breezes.
4 - Con Dao island - an ideal Vietnam in July travel destination
Con Dao island district belonging to Ba Ria - Vung Tau province, is famous for its beautiful beaches and diverse and rich marine and forest ecosystems. Also, popular beach activities such as swimming, diving, sunbathing,... Visiting Con Dao in July, you can experience releasing baby turtles into the sea (a unique activity that cannot be found anywhere else in Vietnam), crab catching, squid fishing,... Con Dao island is really really one of the best places to visit in Vietnam in July.
There are plenty of rare animals to discover in Con Dao National Park such as Con Dao long-tailed monkey, Finlayson's squirrel, Con Dao black giant squirrel, Con Dao kukri snake, Con Dao round-eyed gecko,...In addition, you can visit the memorial service heroes and martyrs at Hang Duong cemetery as well as visit Con Dao prison.
III - #2 Sightseeing activities in Vietnam in July
1 - Dalat city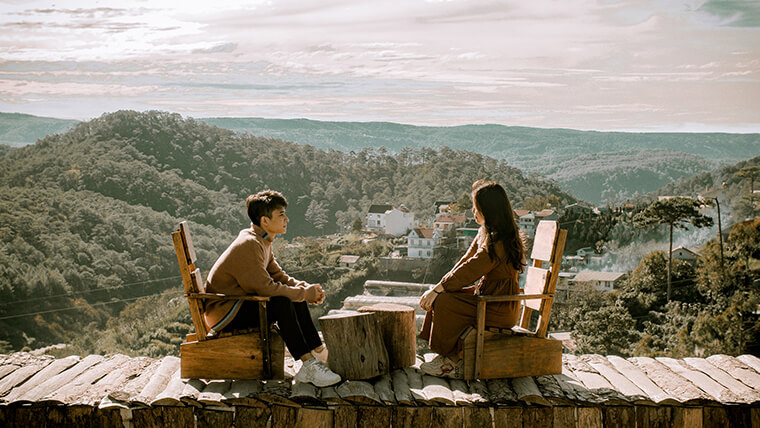 Da Lat city - Source: Ant Nguyen Duc
If you are looking for a peaceful destination surrounded by mountain and pine forest, beautiful farms, pleasant weather, nice food, and great people, then Dalat is the most ideal choice. Dalat city belonging to Lam Dong province is considered as the most romantic and serene city in the Central Highlands of Vietnam.
This place is highly recommended for a leisure trip when you visit Vietnam in July. Because of being located at an altitude of 1,500m above sea level, Dalat's weather is cool all year round, suitable for planting and cultivating many kinds of vegetables & flowers.
In July, Dalat also begins to enter the rainy season which makes the scenery and nature become more fresh and beautiful. You can visit the immensely purple gardens of blooming lavender flowers, have a cloud-hunt trip, and explore Cau Dat tea hill. Like visiting several other places in Vietnam in July, you should remember to prepare yourself an umbrella or a raincoat to avoid sudden showers.
2 - Mai Chau valley
Mai Chau is a small but peaceful valley in Mai Chau district, Hoa Binh province - about 135km from Hanoi city center. Compared with the 37oC in Hanoi, Mai Chau is really a suitable place to escape the heat. Having a trek or local culture experience in this mountainous area are the best things to do in Vietnam in July. You can explore and experience the daily life of the local ethnic through harvesting activities or handicraft making. You should not miss trekking, cycling around the local villages, visiting the cow farms, and experiencing boat trips on Hoa Binh Lake.
Location: Mai Chau district, Hoa Binh province
IV - #2 Eco-destinations in July in Vietnam
1 - Ba Be National Park
Ba Be national park belongs to Ba Be district, Bac Kan province - about 250km from Hanoi city center to the north. July is also an ideal time to experience ecotourism activities, and Ba Be National Park is one of the most impressive but less-touristy destinations in Northern Vietnam. The highlight of this national park is Ba Be Lake - 1 of the 100 largest freshwater lakes in the World (water surface area of ​​about 650ha) formed over 200 million years ago. This is one of the best places to visit in Vietnam in July where you can experience boat sailing on the fresh lake, fish catching, and enjoying meals on a boat.
There are lots of unique caves with spectacular stalagmites systems in Ba Be national park such as Hua Ma cave, Puong cave, etc. Other places such as Dau Dang waterfall, Fairy pond, and Silver waterfall of Vang village make you feel at one in nature. Travelers should pack swimwear, sunscreen, and a thin coat to have the most favorable trip in Ba Be Lake.
2 - Vinh Long fruit garden - an ideal place for visiting Vietnam in July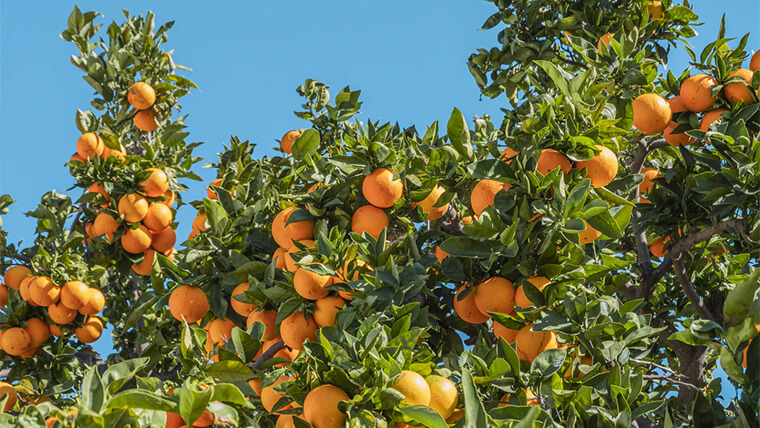 Vinh Long orchard - Source: Philippe Gauthier
July is the time when the fruit gardens in Vinh Long enter the harvesting season. Tourists can spend all day wandering in the orchards, enjoying the finest fresh fruits right at the garden and seeing the harvesting activities of local people.
Other things to do in Vietnam in July include raising fishing lines, spreading nets, rafting & catching fish,.. or learning how to cook simple local dishes such as: Sour fish soup, sizzling pancakes,...You can also visit traditional craft villages and take home some cute souvenirs & gifts such as bonsai trees, coconut candy. For an enjoyable trip, you should prepare low-heeled shoes or sports shoes, sunscreen, hat, long-sleeved shirt, mosquito & insect repellent.
Location: Vinh Long city, Vinh Long province
Traveling to Vietnam in July may not be the best time, however, there are still dozens of interesting activities from North to South waiting to be explored. Hopefully, with the information provided above from Localtravelidea, you can choose the most ideal destinations in July in Vietnam.