September in Vietnam coincides with the rainy season in Central Vietnam (August - October every year). Therefore, to ensure that the trip is not interrupted by extreme weather, you should monitor the weather forecast before arrival; storms mainly affecting coastal regions of Vietnam.
I - How is the weather in Vietnam in September?
1 - Northern and Northern central Vietnam
September is the beginning of autumn in northern Vietnam. The weather is so nice & comfortable. The average temperature is about 27.1oC; the average monthly rainfall is 267.8mm. Sometimes the weather is affected by storms. Traveling in North Vietnam in September, do remember to bring umbrellas and pay attention to the weather forecast before having a trip.
2 - Southern Central and Southern Vietnam
September is when the rainy season in southern Vietnam reaches the peak. The rainfall in September accounts for 315.7mm. The average daily temperature is about 26.7oC.
Southern central Vietnam is strongly affected by storms and tropical depression. Heavy rains last for days, strong wind and floods, causing serious damage to people's lives and fishing activities, and sea tourism.
II - Where to go & what to do in Vietnam in September?
1 - Experiencing Hanoi autumn
In September, Hanoi - the capital of Vietnam, is an attractive cultural & historical destination with many impressive attractions and unique things to do. , such as enjoying Vong village nuggets (green rice) – a typical dish of Hanoi.
The weather of Hanoi in September is quite pleasant for strolling on the streets and exploring the long-standing beauty of Hanoi Old Quarter with 36 streets; visiting famous craft villages such as Bat Trang Pottery Village, Van Phuc Silk Village,... Visiting Vietnam in September, you can also take a tour of Hanoi's favourite cultural and historical sites such as the Imperial Citadel of Thang Long, Tran Quoc Pagoda, Temple of Literature,...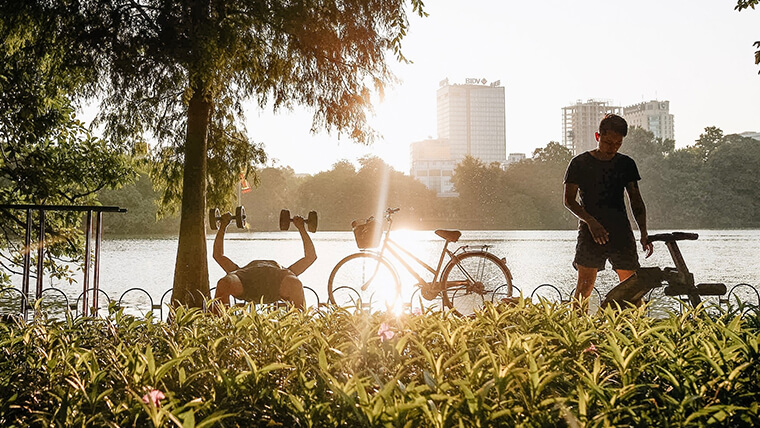 Hanoi in Autumn morning - Source: Kenh14
Along with that, you should not miss to experience the hundreds of exciting night activities in Hanoi such as walking around Hoan Kiem lake, Dong Xuan night market, Ta Hien beer street,... September in Hanoi is also an opportunity for you to immerse yourself in the city's National Day atmosphere with many activities such as a parade, visit Ho Chi Minh Mausoleum, watch the water puppet shows,...
2 - Admiring flower season in Dalat - top things to do in Vietnam in September
Visiting Dalat in September, you have the opportunity to admire the blooming rose fields, enjoy the mountainous roads filled with yellow wildflowers. Dalat is attractive with many other things such as the Valley of Love, amusement parks, and Am Phu night market. September is also the beginning of the foggy season in Da Lat. you can feel the very romantic early morning mist. The hidden scenery is like a fairyland.
3 - Seeing the rippen season terraced fields in the Northwest region
Travelling to Vietnam in September, the Northwest Mountain Area is a must-visit for breathtaking landscapes. The nature and local culture are perfectly harmonized here. If lucky, you can experience the rice harvesting festival and enjoy the local dishes such as five-color sticky rice, stewed horse meat, buffalo meat, corn wine,....
The ideal places are suitable for viewing the best terraced fields in Vietnam such as Mu Cang Chai in Mu Cang Chai District, Yen Bai Province; Hoang Su Phi in Ha Giang Province; Mai Chau Valley in Mai Chau District, Hoa Binh Province.
4 - Visit Ban Gioc Waterfall - top best places to visit in Vietnam in September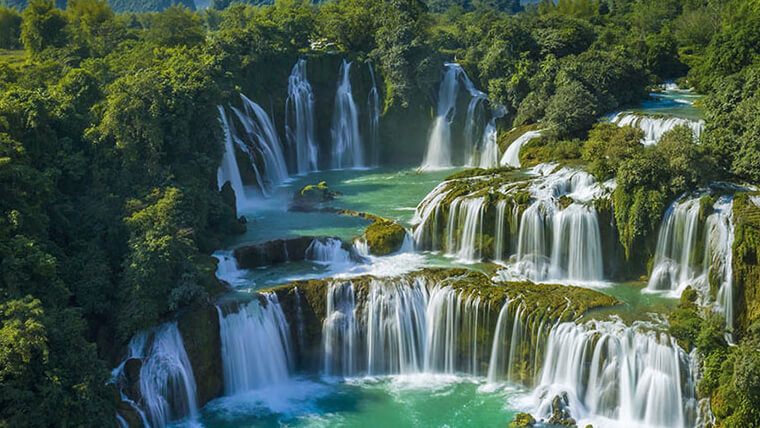 Ban Gioc Waterfall - Source: VnExpress
September is also the best time for you to visit the Ban Gioc Waterfall - the most beautiful waterfall in Vietnam. You can continue your journey by visiting other nearby tourist attractions, such as Phat Tich Truc Lam Pagoda (500m), Nguom Ngao Cave - a limestone cave of 2,114m in length with three doors and millions of years old stalactite systems; dwelling the Pac Bo Relic and Thang Hen Lake,...
Location: Dam Thuy Commune, Trung Khanh District, Cao Bang Province
5 - Visit the fruit gardens in Mekong Delta
The Mekong Delta may be the best answer for the question "Where to go in Vietnam in September". From June to September is the main harvest of many kinds of fruits here like rambutan, mangosteen, mango, jackfruit, durian,...The Mekong River Delta is a land of rivers, canals and boats. A boat tour to explore the scenery and local culture is a must-do. You will be lost at this amazing food paradise with hundreds of delicious dishes and specialties.
6 - Experiencing Mid-Autumn Festival
September usually coincides with the Mid-Autumn Festival - a prominent cultural event in Vietnam. Therefore, you have the opportunity to immerse yourselves in a unique cultural space, watch the street flooded with lights, visit the streets specializing in selling moon products, enjoy mooncakes,...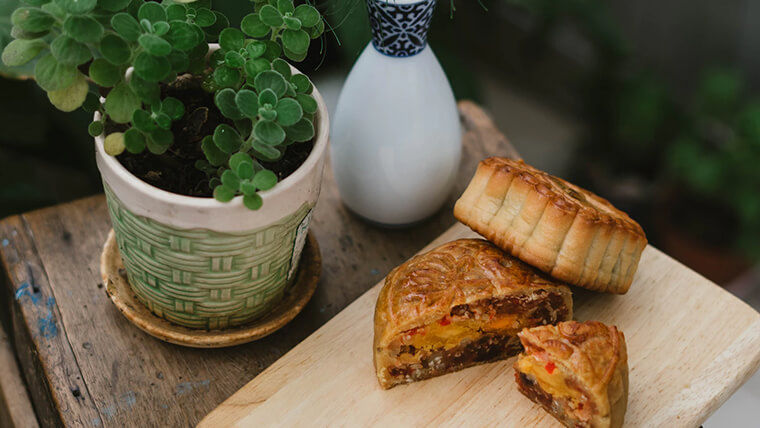 Mid-Autumn Festival is an important event in Vietnam in September - Source: Chinh Le Duc
On August 15th of the lunar calendar, you can participate in special activities such as lion dancing, lantern parading, moon watching - deal out a mid-autumn festival cake and fruit,... From there, you may understand more about the traditional cultural beauty that Vietnamese people always preserve and aim for.
- The year 2021: September 21, 2021 of the solar calendar
- The year 2022: September 10, 2022 of the solar calendar
7 - Boat tour to explore Thung Nham Bird Garden
Travelling to Vietnam in September, you should take a boat tour to explore Thung Nham Bird Park, one of the most beautiful ecotourism areas in Ninh Binh Province. This is home to many birds such as storks, bitterns, magpie robins, lesser whistling ducks, flamingos,...
Along with that, you can experience other exciting tourist destinations here, such as But Cave - a natural stone cave with a length of 500m with many beautiful stalactites, significantly they will change colour or shine every time you visit; Vai Gioi Cave - a cave with 03 floors (Hell, World, Heaven) which is about 5,000m2 wide with many stalagmites with unique shapes.
In terms of weather, festivals, natural conditions,...it can be seen that Vietnam in September is the ideal time for tourism.