With the low cost of living and a variety of favorable social factors, Vietnam is becoming an appealing destination for retirees to spend the rest of their life. However, there are still many issues making it difficult for the foreign retired to approach the country and decide to relocate here. This article will provide you with pros and cons as well as suggest some of the best places for retiring in Vietnam.
I - Pros & cons of retirement in Vietnam
1 - Pros of retirement in Vietnam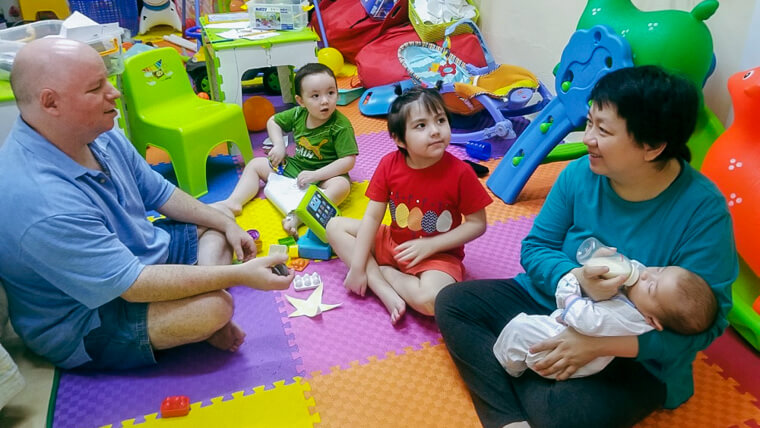 Source: hanhphuchospital.com
Vietnam appears in the rank of top 10 livable places for foreigners (according to a report of the Expat Insider 2021 conducted by InterNations) with high satisfaction of cost of living, stable society and politics, friendly people, beautiful landscape, good foods,...
Low cost of living
The low cost of living is an advantage of retirement in Vietnam. According to Numbeo - the world's largest cost of the living database, the cost of living in Vietnam ranks 90th in 135 countries in 2020. Specifically, the cost of living for a single person to live in a month in Vietnam is 10,347,068.02 VND ($446) without rent (the index is updated in December 2021). Ho Chi Minh city is considered the most expensive place. However, no matter where it is, Ho Chi Minh city or other provinces, staying in Vietnam is still affordable as compared to other countries.
If you are thinking of spending your retirement in Vietnam, you can refer to the following examples. "Every month, I spend about $1.200 on accommodation and other expenses. I am not extravagant but with my current income and spending, I am having a nice life. I used to live in the US and France, with just $1.200 for a month, I couldn't do anything. The reason I chose Vietnam as a long-term workplace is that I love this country, the culture, and the people here" said Mr. Jay Reeves, an American, now working in the business field in Saigon.
In line with Mr. Jay Reeves, Mr.Hale Song (an expat having the intention of retiring in Vietnam from Australia, having more than 10 years living in big cities such as Ho Chi Minh, Hanoi, Hai Phong) comments that Vietnam has a good price and reasonable rental fee. "In general, I love Vietnam and love all the things that it supplies me, particularly, I am used to the facilities at a low cost of the country. But this lifestyle is so different from that of Australia that when coming back home, I always have to make some modifications".
The ease of traveling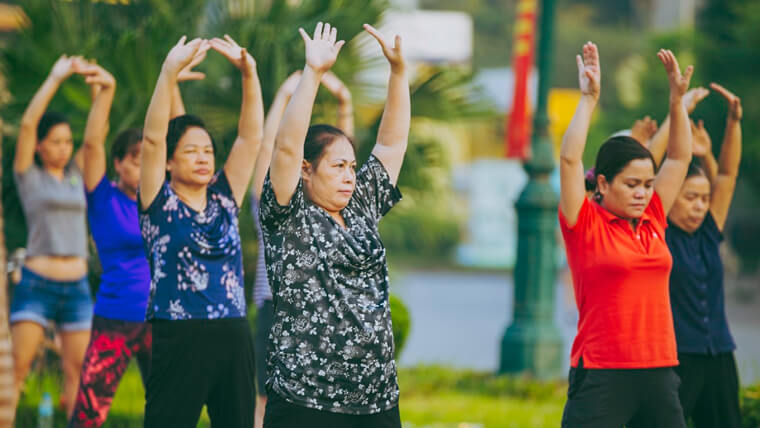 The elderly are doing exercise around Hoan Kiem Lake in Hanoi - Source: vnexpress
The second pro of retirement in Vietnam is the ease of traveling. Vietnam has a strategic position that you can easily travel to. So far, transportation in this region, not only by land but also by air, by sea, has strongly developed, making the fee for traveling significantly reduced. For example, one straight flight from Hanoi to Singapore just takes you 3 and half an hour and $240 while departing from Saigon charges you only $180 for a 2-hour flight.
Unique cuisine
Unique cuisine is an advantage of retirement in Vietnam. Visitors who once set foot in Vietnam all send nice compliments to the culinary art. Many Vietnamese dishes such as Banh mi, Bun cha, Pho… have become legends, even appearing in the Oxford Dictionary. Foods in Vietnam have characteristic flavors defined by ingredients and condiments that are nowhere else to be found. Vietnamese cuisine is especially diverse, which means everywhere you go, there are interesting specialties for you to explore and sample. Talking about Hanoi, people instantly think of Bun cha, Pho, green glutinous rice,... Coming to Hoi An, folks must try Banh mi, Quang noodles,... while Sapa is associated with Thang Co (horse meat hot pot), salmon hot pot,... If you devote your time to retiring in Vietnam, probably eating will never be a problem.
The indigenous people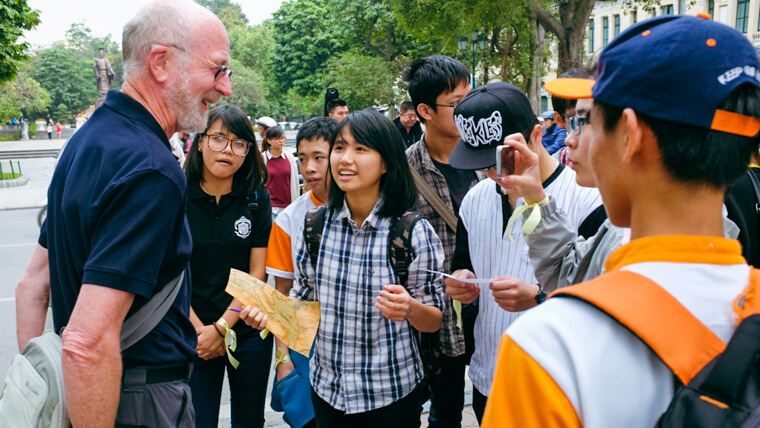 Vietnamese people are extremely friendly - Source: english4u.com.vn
The indigenous people are also an advantage of retirement in Vietnam. As far as people are concerned, Vietnam is one of the safest countries in the world. Thanks to stable politics, hardly have you witnessed a strike or been a victim of terrorism. Owning a gun or weapon is illegal in this country. The security here is also regarded as the best in the world. The nation went through a long history of wars and liberalization to get life today. The Vietnamese love and cherish peace and harmony more than anyone. Therefore, when deciding to retire in Vietnam, you are promisingly welcomed by friendly and candid neighbors who are always ready to offer help even when you don't ask for it.
Climate and weather
The pleasant weather is another pro of retirement in Vietnam. The S-shaped country of Vietnam is located in the tropical zone, hence, the temperature here is quite high as compared to others. But, don't picture a frying pan like one of those in Africa because it is surrounded by the vast water of the South China Sea. Thanks to this, the climate in Vietnam is judged as mild and suitable for human health. The snowbirds from the Western will be super excited to be here since they can get away from the numb winter filled with snow and frost.
In addition, the possibility that earthquakes, tidal waves, and volcano eruptions happen in this area is extremely rare. Therefore, climate can be counted as a strong point making retiring in Vietnam so attractive to the expats.
The potential development
Last but not least, potential development is an important factor for retirement in Vietnam. Although Vietnam is currently a developing country, its growth is one of the quickest in the world. The average GDP growth speed of Vietnam reaches 7%/year in the post-pandemic stage while it is expected to be 6-6.5% in 2022. The upgrade in the economy is manifested by the increase in the living standard of the people: people get higher education, have higher salaries, live in more beautiful houses, higher-quality hospitals, and health care services are established, shopping malls and supermarkets are found everywhere,... These are firm foundations for the belief in a future of retiring in Vietnam.
2 - Cons of retirement in Vietnam
Much as favorable it is, there are still a handful of matters that hinder the decision-making of exotic retirees.
Horrible traffic - a big challenge for retiring in Vietnam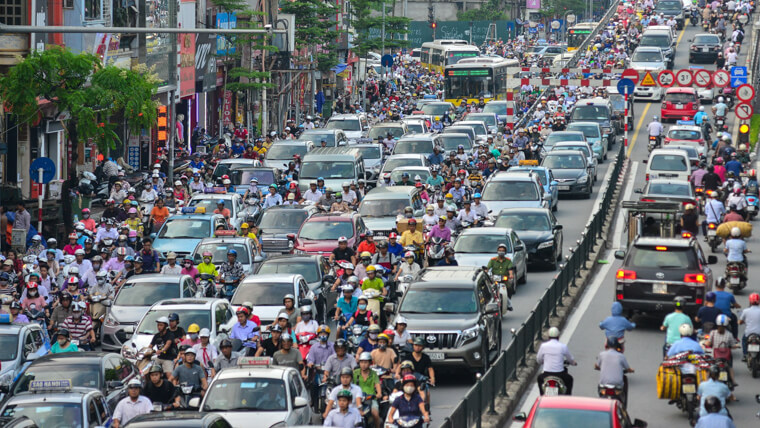 The horrible traffic jam in Hanoi - Source: vietnamplus
The horrible traffic is the first thing you are likely to face when you retire in Vietnam. Hardly have a place where you can find so many motorbikes as on the roads of Vietnam. In rush hours like in the early morning or late afternoon, it seems like all the vehicles are doing the exercise of filling in the gap. If you want to go somewhere, maybe you should avoid this period, or else it will take you hours to "crawl" on the street.
Crossing the street is also an experience that several tourists refer to as "facing the Death", having them think twice about retirement in Vietnam. In other places, pedestrians only get to the other side of the road at the cross, which is not a popular thing in Vietnam. The residents here will cross the road wherever and whenever they want. Facing the millions of machines moving like shooting arrows, the people faithfully move forward like brave heroes. And magically, almost all of them get the "target" without a scratch.
It looks like it must be years before the transportation system in Vietnam can be improved. Not sure if you can have enough time to get familiar with this style of movement once you get that old.
Hard-to-learn language
The next con of retirement in Vietnam is language. Vietnamese sounds good but hard to learn. It is the assertion of many foreigners when they try to communicate with this local language. The language has a system of accents that can change the total meaning of a word if the speaker changes the pronunciation slightly. Moreover, learning grammar can make people hesitate about retiring in Vietnam. A sentence in Vietnamese can be used and understood flexibly which makes the language interesting but very hard for the non-native learners to get the gist of.
Air pollution
Air pollution is another disadvantage of retirement in Vietnam. The quality of air in Vietnam in recent years is getting worse and worse due to industrial activities, transportation,... According to the annual report of the Environmental Performance Index (EPI) by the U.S Environmental Protection Agency, Vietnam is one of 10 leading air polluted countries in Asia. Of all areas in the country, Hanoi and Ho Chi Minh city are where the situation is the worst. There is high content of PM 2.5 (the type of microscopic dust with a diameter of less than or equal to 2.5 μm), forming a blanket of obscure fog on the sky of the cities, making it hard for people to breathe.
II - "Havens" for retirement in Vietnam
1 - Retiring in Nha Trang Vietnam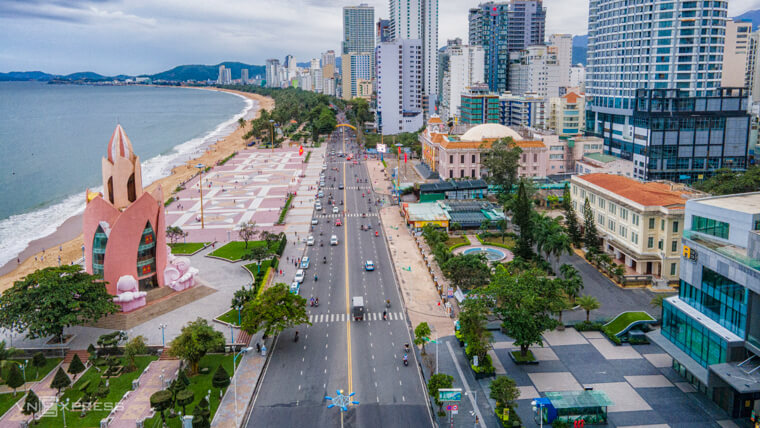 Nha Trang is a lovely beach city in central Vietnam - Source: vnexpress
Nha Trang is always voted as one of the livable cities in Vietnam, there is no doubt about its presence on this list. Featuring the most stunning beaches of the country, the place gathers a diversity of topographic components such as mountain, island, bay, village, and field,... Besides, the climate here is regarded as cool and sunny all year round, pretty suitable for the health of the elder.
2 - Danang City - the best place for retirement in Vietnam
For a long time, people have known Danang for its brand name and identities in several aspects. It is very difficult for you to find a tourist city where you can wander along the beach or street without being annoyed by groups of tourist hunters or fake beggars. Above all, what magnetizes people to the city is the cleanliness, from grand roads to small alleys, there is no sight of litter, let alone garbage dumps.
3 - Retiring in Dalat Vietnam
Retirees often search for a place with a temperate climate and magnificent scenery as the ideal accommodation for their last chunk of life. All of these criteria can be found in Dalat. The beauty of the city is unarguable that it is given with any fancy names such as the land of flowers, the city of love, the city of fog,... Dalat is obviously an ideal place for retirement in Vietnam.
4 - Retiring in Hoi An Vietnam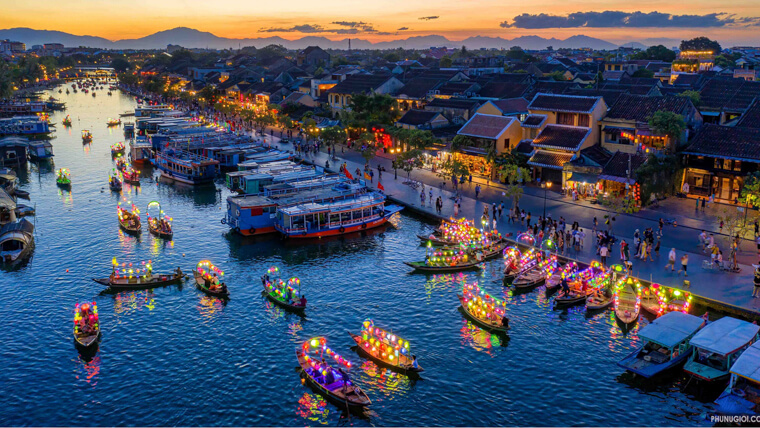 Hoi An is a peaceful city in Vietnam - Source: phunugioi.com
The ancient town of Hoi An which possesses a typical tranquil atmosphere and a series of tourist sites makes it one of the best destinations for retiring in Vietnam. Despite being a famous tourist city, Hoi An never looks hectic but is always elegant and safe and sound. Choosing to live here, the retired can not only get away from the heavy traffic and noise of modern urban life but also feel the peace of their soul.
5 - Retiring in Hue Vietnam
With a benign and slow lifestyle, Hue is determined as a long-term settlement by many visitors. The ancient capital of Vietnam has a quiet but unique beauty featured by picturesque nature and romantic landscape, which can mesmerize the eyes of numerous people, especially those who have retired.
III - Good to know: Retiring in Vietnam visa
Expats with the intention of spending their retirement in Vietnam should be aware of the fact that a retirement visa is unavailable in this country. Instead, if you would like to spend a period after ceasing work on staying in Vietnam, you should refer to the following way:
(1) Asking for a tourist visa: A tourist visa is allocated to visitors to Vietnam, for a term of a maximum of 30 days. You can apply for the document directly at the embassy of Vietnam in foreign countries or enroll online to be provided with a Vietnam Visa Approval Letter and receive a visa after landing at an airport in Vietnam (Visa On Arrival). The fee for asking for a tourist visa face to face varies amongst embassies while that for the Visa On Arrival is from $21 to $55. Besides, you are additionally charged with a fixed stamping fee of $25 or $50.
(2) Another choice for a visa when you are planning to spend your retirement in Vietnam is to apply for a 5-year visa. If your husband/wife or child is a Vietnamese citizen or Vietnamese person who settled down in a foreign country, you can apply for a 5-year visa (also known as Vietnam Visa Exemption) which allows you to stay in the country for a maximum of 5 years. The application fee depends on the regulation of the issuing agency.
Overall, Vietnam has many advantages to make it favorable for the retired to enjoy their cushy time. However, to some extent, there are still a few inconveniences in terms of procedure and environment. To make sure whether it is suitable for your retirement in Vietnam, why don't you come to visit some of the above-recommended destinations to experience for a short time beforehand?