Sapa town is a majestic picture of mountains and forests, imbued with wild but equally poetic beauty, cared for by rustic and hospitable highland locals. For that reason, this misty land is a promising destination for many tourists, particularly those who want to learn about the highland culture. One of the most obvious manifestations is the markets in Sapa, where locals meet up, trade traditional products and introduce local cuisine. Sapa market opening hours are normally on weekends, besides some typical ones are held on special holidays focusing on cultural & traditional events.
1 - Sapa love market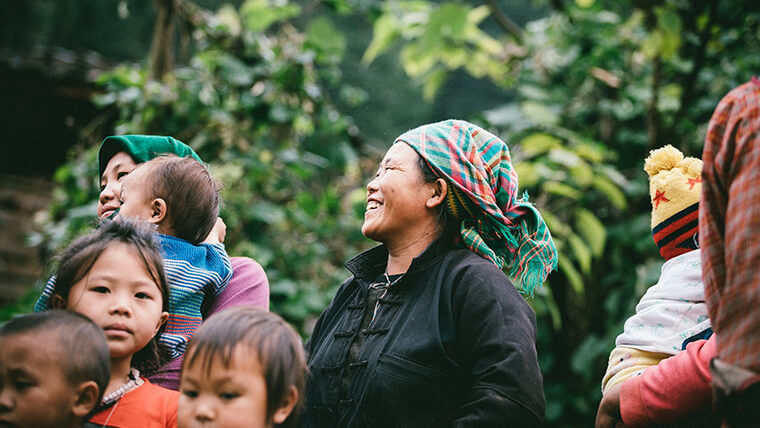 Love Market - Source: Nhatlongtravel
Among top markets in Sapa, the love market is one of the most interesting things to see and participate in. Hosted only once a year in a variety of locations in the past, the Sapa love market is currently held every Saturday night at the Stone Church Square. It is now much easier to access, and you can easily have fun with a low budget, while experiencing the bustling atmosphere of local gatherings. This has developed into a unique social space that offers opportunities for locals to exchange goods, and for ethnic adolescents to meet their love. Despite being called a "market," Sapa love market is unlike other markets in Sapa as it serves as a venue for "feelings" to bloom, rather than a place for exchanging goods & foods.
The Sapa love market is one of the most distinctive social components of ethnic community here, infused with the spirit of Vietnam's northern region. Visiting, you will see ethnic young people wearing the most exquisite clothing, adornments, and accessories, who use music and dance to express affection. During the Sapa love market, the boys will play the khen trumpet, the girls dance and if they like someone, they will give that boy a token like a wrist band. For tourists, you can still go for a walk, feel the bustling atmosphere, enjoy highland specialties and buy souvenirs.
2 - Night markets in Sapa - vibrant spots to come at night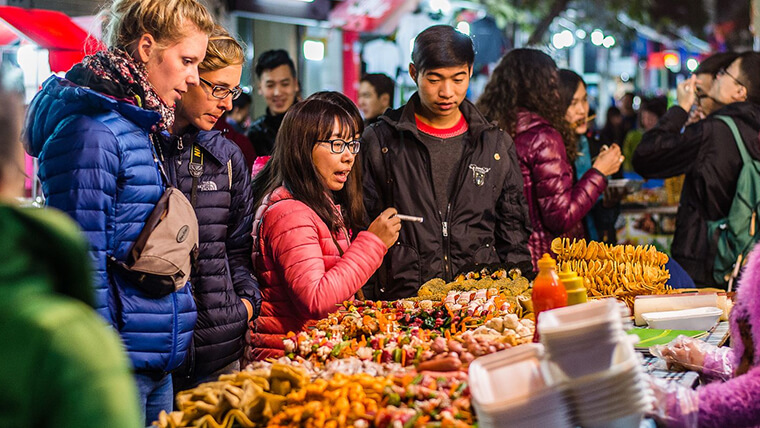 Night market food - Source: Pinterest
Sapa night market location is at no.02 of Fansipan Street, organized at the campus of Lao Cai Tourist Promotion and Information Center from 4pm to 10pm on Friday - Sunday. As one of the cultural treasures of the north of Vietnam, this event is not only for bustling purchasing demands, but also for locals to interact emotionally and share cultures. About 15 minutes from the Stone Church, this Sapa market is particularly noticeable with its massive and colorful welcoming entrance. Visiting local markets in Sapa, you should explore the culinary space with extremely attractive dishes such as barbecue, quail, salmon hotpot,... filled with the distinctive flavors of the rugged Sapa food.
Not too different from most Sapa markets, this one offers a wide selection of intriguing and distinctive goods that you are free to purchase to bring back as gifts. The Red Dao ethnic group, which is renowned for both traditional remedies and healthy natural products, opens a lot of stores selling medicinal leaves in Sapa night market. Additionally, there are stalls offering economical, high-quality brocade goods that reflect the Hmong culture, such as caps, bags, and colorful ornamental things.
3 - Bac Ha market - top markets to visit in Sapa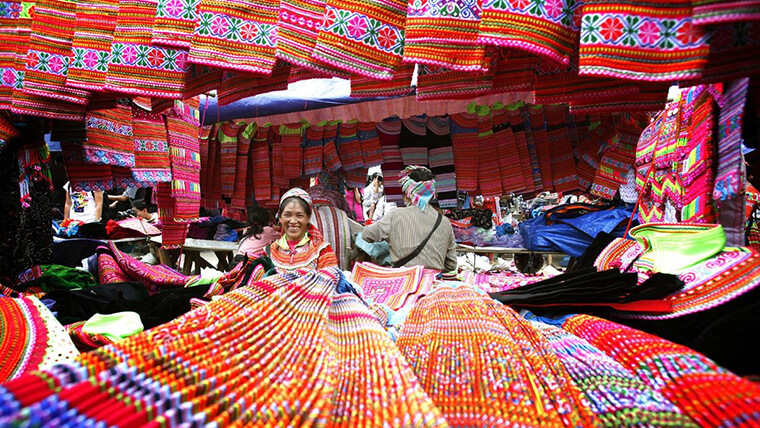 Bac Ha Market - Source: Focusasiatravel
On the top of the must-visit markets in Sapa list, Bac Ha market is absolutely one of them. Bac Ha Market is about 100km away from Sapa town (takes about 4 hours to move by motorbike), usually opens on the weekends from early morning to 2pm. Like in other reputable markets, the main selling items here are the handmade products of ethnic people, as well as farmed veggies, poultry, livestock, etc. In addition to essential goods for daily life, this Sapa Sunday market Vietnam also has about 20 food stalls selling famous specialties of the land here. You can freely have a taste of stew horse's meat and offal (a typical dish of ethnic people in northern Vietnam called "thang co"), five-color sticky rice, or corn wine, and purchase some dry goods. This is definitely one of the best places to visit in Sapa that is so famous to all tourists.
4 - Can Cau buffalo market - one of the most unique markets in Sapa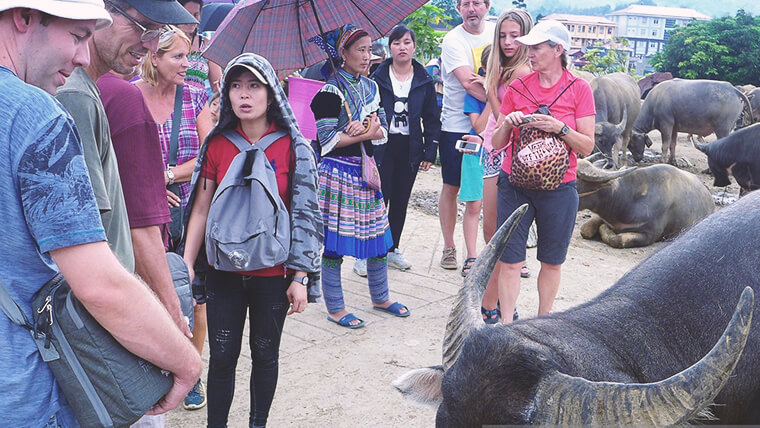 Can Cau Market - Source: Gettyimages
About 120km from town center, Can Cau buffalo market is the most touristic market in Sapa, held for the purpose of buying and selling buffaloes for the locals. This event takes place every Saturday, public holidays and New Year, from early morning until noon, at Can Chu Su slope in Can Cau commune, Si Ma Cai district. This Sapa market is notably busy after each harvest season, serving as a hub for agricultural trade between the Hmong, Dao, and Giay communities of Sapa and Lao Cai Province.
Every time the markets in Sapa are held, hundreds of buffaloes, carefully selected from the villages of Bac Ha and Si Ma Cai, are led here so that buyers can choose as they please. In addition, the market also has a number of stalls selling other cattles such as cows and pigs, as well as traditional handicrafts, herbs, vegetables, Sapa food & specialties. Can Cau market is emerging as a distinctive aspect of Northern Vietnam tourism, preserving exquisite examples of typical ethnic cultural beauty.
5 - Cao Son market in Sapa
About 90.9 km from Sapa town is Cao Son market, which is the meeting place for the Hmong, Phu La, Dao and Han Black ethnic minorities living in Muong Khuong district. The market usually meets only once a week on Wednesdays, which is an opportunity for visitors to exchange, chat and learn more about the daily life of ethnic minorities. The is one of the most unspoiled markets in Sapa, selling cultivation and agriculture items such as vegetables, herbs, mushrooms, wine, jewelry,... Among them, the most prominent are exquisite brocade products with colorful and vivid motifs, showing the skillful talents from flax cultivation, weaving, dyeing to embroidery of ethnic women.
Cao Son market also has an area to sell cattle and poultry including buffaloes, cows, pigs, chickens, dogs, horses… The sound of animals mixed with the human sound creates an extremely crowded atmosphere. And of course, the fair is also indispensable for a booth with unique dishes such as Thang Co, aromatic wines like corn wine, Coc Ngu,... In the bustling atmosphere of this Sapa market, you definitely have to stop, sit down, chat with the ethnic people and enjoy their cuisine.
6 - Central market in Sapa
Sapa Central Market is located on Luong Dinh Cua street, held on weekends or special holidays of the year, considered one of the biggest markets in Sapa. This market often sells products made by the locals from agricultural products (livestock, cattle,...) and handicraft products (brocade fabric, wood comb,…). According to several visitors who have been here, you should take a stroll through Central market to check out and compare different stalls before making a purchase. Leaving the buying till the end of the session, you won't have to carry a lot of things while walking and sightseeing, and you can also choose the item most suitable and affordable for you.
You will also have a chance to enjoy the specialties of the Sapa mountainous region such as Thang Co, corn wine, and cat apple cider made in accordance with traditional recipes. The space of most eateries in this Sapa market is rustic, but because all of the dishes are really delicious and cheap, it is often crowded with customers.
7 - Coc Ly market - one of top famous tribal markets in Sapa
Coc Ly market - Source: @Lê Huy Hoàng Hải
This Sapa market is a small but well-known market located in Bac Ha district, about 90km from Sapa town, taking place every Tuesday. Coc Ly market has a scene like a vivid picture of daily life, adorned by a flowing river, unspoiled Northwest mountains and forests glimpsed by a thin mist. This is not only a place to exchange goods, but also a gathering place of ethnic minorities like Hmong people, Black Dao poeple, Nung people,... Coming here, you can immerse yourself in the shopping space and find self suitable souvenirs to bring back such as brocade towels, shirts or bags, hats and handkerchiefs. In addition, likened to most Sapa markets, Coc Ly offers a unique mountainous culinary space with specialties such as sour pho, men men, stewed horse's meat,...
8 - Muong Hum market
One of the most bustling markets in Sapa that tourists should not miss is Muong Hum market, which is about 45km from Lao Cai city. The market usually takes place on Sunday, from 7am to 1pm. Muong Hum market is located in a small valley next to a stream, so you can feel the harmony between beautiful nature and diverse tribal people in Sapa. You will see the image of horses leisurely grazing by the stream, the suspension bridge, the girls - boys in traditional costumes. There are lots of traditional dishes such as corn wine, traditional rice noodle, traditional noodle soup,...The typical flavors such as pepper, cocoon,... and unique processing methods certainly makes you extremely excited.
Notes: In order to have a truly interesting travel experience when visiting local markets in Sapa, you need to pay attention to the following:
- Learn carefully about the market location, opening time - closing time, date of the market and what are the characteristics of each market.
- When shopping for souvenirs, food,... you should bargain for reasonable prices.
- You also do not forget to enjoy the unique dishes of the ethnic people here, from which to understand more about the culinary culture and life here.
Along with its spectacular grandeur, Sapa town is noted for its unique highland markets, which feature a wide variety of unusual goods and exciting cultural activities. In addition to allowing you to freely take images to save your own memories, each of them offers intriguing and distinctive experiences in this misty area. Above is the information about the top 8 most famous local markets in Sapa that you need to check out, pocketing it to prepare for your future trips to this amazing land.