1 - Sapa night market - a colorful Vietnam night market
One of the distinctive features when visiting ethnic minority areas is handicraft products which are embroidered and woven elaborately and meticulously, and those in Sapa are not an exception. You can easily purchase sophisticated colorful scarves, bags, or hats as gifts for your beloved at a very reasonable price. You can also find delectable dishes and local specialties in many corners of the night market such as Cap Nach pork (pig held by armpits), chestnuts, dried buffalo meat, wild vegetables as well as many other types of Vietnamese herbs, etc.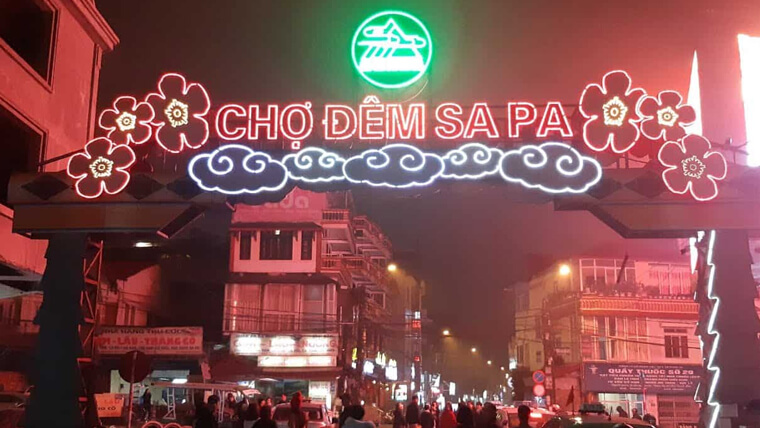 Sapa night market is one of the best night markets in Vietnam - Source: Mia
Apart from an array of food and diverse local items, the night market in Sapa is also captivating with traditional cultural activities. You will have a chance to enjoy local dances together with the sound of the trumpet, flute, and leaf horn brilliantly performed by young Sapa people, which is absolutely attractive and fascinating.
- Location: the campus of Lao Cai Tourism Information and Promotion Center, No.02 Fansipan Street, Sapa Town
- Opening hours: 4pm - 10pm on every Friday, Saturday, and Sunday
2 - Dong Xuan Night Market - a long-standing Vietnam night market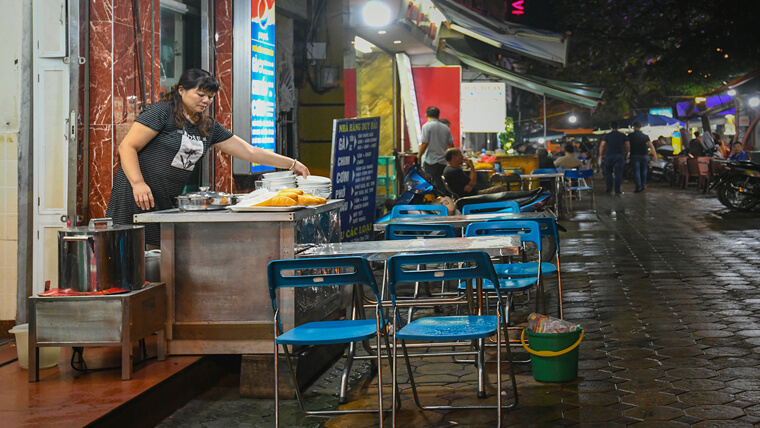 Dong Xuan night market - Source: VnExpress
Dong Xuan Night Market stretches from Dong Xuan Street, Hang Duong Street, Hang Ngang Street, to Hang Dao Street. An array of stalls display many items from clothes, shoes, toys, accessories, souvenirs products, and houseware, etc. along the streets. This is especially like a paradise of street food where you can enjoy traditional Vietnamese dishes and many other dishes from Korea, China, or even Europe. It may take you all night to discover the stalls here.
Visiting this Vietnamese night market, you have the chance to enjoy "Hát xẩm", Hát xẩm, a genre of Vietnamese folk music is usually performed every Saturday night to serve people's music taste, which is also a very distinctive feature in the culture of the capital city. Besides, there are also fabulous musical performances from Asia to Western countries, catching the attention of many young people.
Location: Dong Xuan Ward, Hoan Kiem District, Hanoi
Opening hours: 6pm - 11pm every Friday, Saturday, and Sunday
3 - Halong night market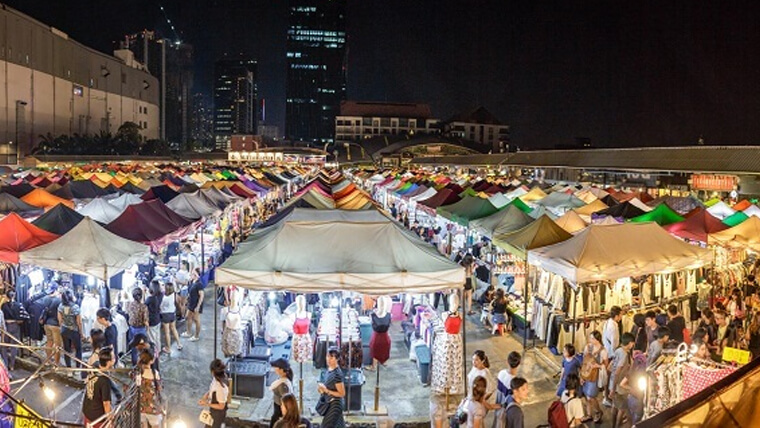 Halong night market - Source: Internet
Halong night market or Bai Chay night market is located in the commercial and entertainment complex of Halong Marine Plaza. This Vietnam night market is a great destination for people who love nightlife to discover appetizing food and pick up a couple of souvenirs for family and friends. The market has an area of up to 5,000m2, including 335 stalls selling a variety of products from goods, eateries, souvenirs, bags, and toys, etc. The first floor is a trading area with handicrafts, jewelry, and traditional items such as lacquer paintings, shell wind chimes, pearl bracelets, etc. which are sophisticatedly and meticulously made by skilled artisans. The second sell cuisine includes all kinds of seafood, Vietnamese coffee, and snacks. It is highly recommended for you to sample specialties like steamed rice rolls served with dried squid paste, bubble yogurt, seafood noodle soup, and the list goes on. The best time to visit this night market in Vietnam is from 9pm to 11pm .
Location: Hoang Quoc Viet Street, Hung Thang Ward, Halong City, Quang Ninh Province
Opening hours: 5pm-11pm every Friday, Saturday, and Sunday
4 - Dalat night market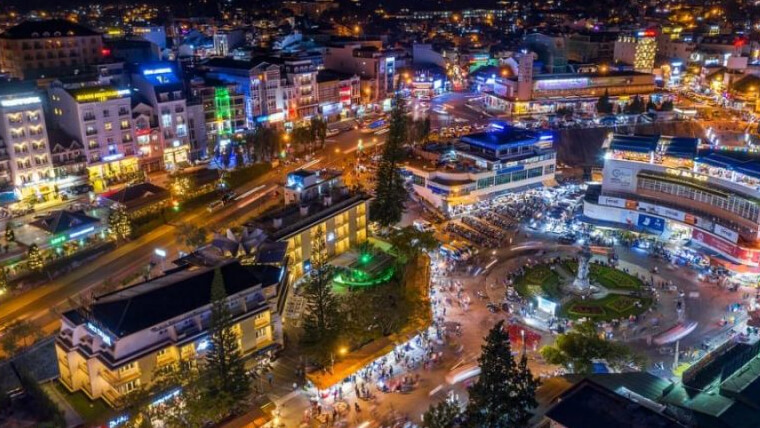 Dalat night market - Source: Motogo
Dalat night market or Am Phu market is a bustling place, which is completely contrastive with the gentle beauty of Dalat itself. The market becomes significantly more vibrant after 5pm. It is also well-known as the food paradise in Dalat with a steaming bowl of chicken soup, Dalat grilled rice paper with egg (Bánh tráng nướng Đà Lạt), Soya bean milk, boiling corn, boiling potatoes, or grilled squid, etc. If you want to buy a present for families and friends, tea leaves and jam are great suggestions.
This Vietnamese night market also displays an array of items from clothes, scarves, souvenirs, handicrafts, etc. which are sold at a reasonable price. Along the street, you can experience street art by watching artists who skillfully sketch pencil portraits in just 15 to 20 minutes. Besides the trading area, it is advisable for you to check-in in several zones such as stairs from the Hoa Binh center area down the market, and the slope of the Dalat market.
Location: Nguyen Thi Minh Khai Street, Ward 1, Dalat City
Opening hours: 4pm - 0am
5 - Nguyen Hoang night market - a peaceful Vietnam night market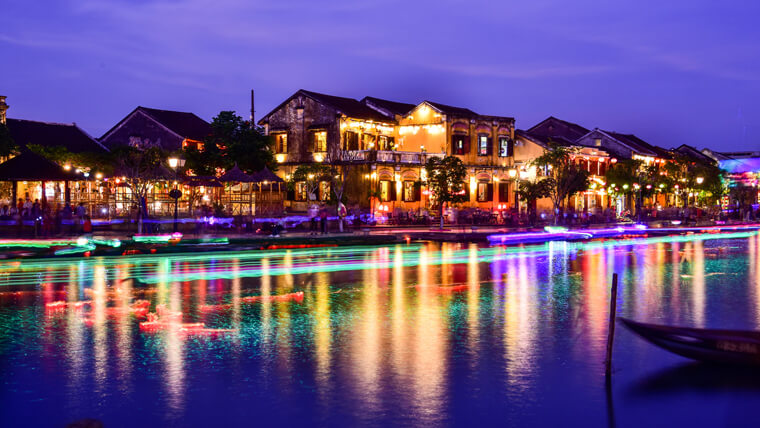 Nguyen Hoang night market - Source: Patrick Pellegrini
Nguyen Hoang night market is one of the best markets in central regions in general and Hoi An in particular. It is about 300m long beside Thu Bon river, featuring more than 50 stalls stretching along the street, selling a myriad of products such as traditional apparel, silk products, paper lanterns, clothes, etc.
When strolling through all the stalls, you must be hungry. Let's drop by restaurants and street hawkers to enjoy delicious street food or local cuisines which are Quang noodles, Banh Xeo (crispy Vietnamese Pancake), Banh Mi, Hoi An chicken rice, Cao Lau noodles, etc. Visiting this night market in Vietnam is an extremely interesting experience when enjoying both food and traditional musical performances of Hoi An's people, which helps you get more insight into the spiritual life of locals.
Location: Nguyen Hoang Street, Minh An Ward, Hoi An City
Opening hours: 5pm - 11pm
6 - Helio night market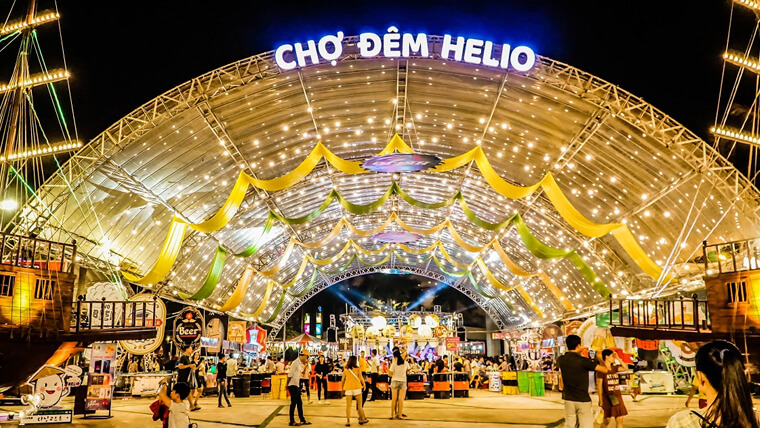 Helio night market - Source: Internet
Helio night market is the largest local market in Danang, divided into 4 main zones including a food court, seafood area, shopping area, and unique space for drinking beer. In the food court, there are 150 busy food stalls, featuring a variety of Western-Eastern dishes and delicacies from many countries globally. There is an array of detectable dishes and traditional cuisines such as Banh Xeo (crispy Vietnamese Pancake), Quang noodles, etc. in the food court of this Vietnam night market. Seafood zone is the largest display of seafood processing in Danang where you can buy fresh seafood and enjoy it right in place.
In the beer-drinking space, there are about 70 types of beer and a wide variety of snacks, which satisfies you in a lively space of vibrant live shows. In the shopping area, there are nearly 100 stalls where you can find clothes, accessories, cosmetics, and adorable hand-made items. At night, the Helio market becomes more shimmering with an LED system and colorful lanterns, so you can choose multiple impressive corners for check-in.
Location: Street 2/9, Nam Cuong Ward, Hai Chau District, Danang City
Opening hours: 5pm - 10:30pm
7 - Ben Thanh night market - an incredibly bustling Vietnam night market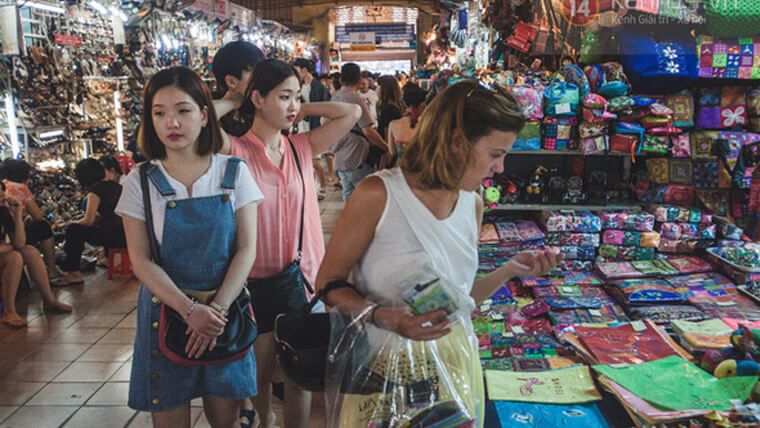 Ben Thanh market - Source: Kenh14
Ben Thanh market has long been the symbol of Ho Chi Minh City with an area of above 13ha, featuring 4 main gates North - South - West - East, and 12 auxiliary gates. It is the business center of thousands of traders with approximately 1500 stalls, which welcome about 10 thousand tourists to come shopping and strolling around.
The market is divided into various areas, each of which displays different items and products from lacquer wares, crafts, jewelry, brocade, housewares, food, to clothes, which seem to catch the attraction of most people coming to this night market in Vietnam thanks to diverse products many of which can be used as nice gifts for the beloved, especially Vietnamese traditional products such as conical hat, ceramics, etc. It would be a huge shortcoming if visit Ben Thanh market without enjoying the paradise of street food with a myriad of food stalls selling scrumptious dishes, such as Nam Vang noodle soup, Trang Bang noodle soup, Ninh Hoa grilled pork sausage, etc.
Location: The intersection between Phan Boi Chau Street, Phan Chu Trinh, Le Thanh Ton, and Quach Thi Trang Square, Ben Nghe Ward, District 1, Ho Chi Minh city
Opening hours: 6am - 6pm
8 - Grand World Phu Quoc night market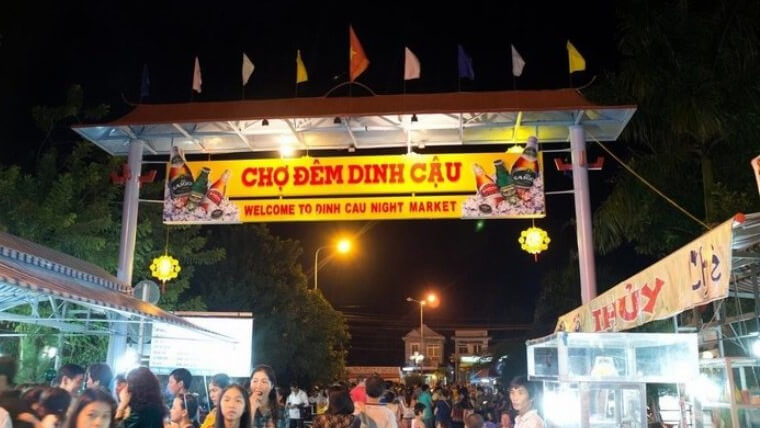 Phu Quoc Grand World night market - Source: Internet
This Vietnam night market, belonging to Corona Resort & Casino Phu Quoc complex and next to the largest theme park in Vietnam - Vinwonders, is the most modern night market in Phu Quoc island. The luxurious, high-end market can meet all your needs from entertainment, shopping, to dining.
There are 134 stalls selling 3 principal groups of food which are local cuisines, souvenirs, essentials, and fashionable items. The market serves all specialties in Phu Quoc and sophisticated handmade gifts from pearls, shells, or local products such as sweet pepper, myrtle wine, Phu Quoc fish sauce, etc. The highlight of this Vietnamese night market is fresh seafood like Ham Ninh crab, sea urchin, horn scallop, squid, etc. Besides traditional dishes, you can find an array of snacks from Thailand, Japan, China, and Korea. The top beverages here can be named as Napili coffee, Pizza Tea, and Hokkaido Baked Cheese Tart.
Other interesting experiences in this market are the Bikini model performances and the fascinating Carnival parade.
Location: Indochine Quarter, Grand World, Bai Dai Beach, Ganh Dau Commune, Phu Quoc City, Kien Giang Province
Working hours: 5pm - 2am
9 - Tay Do night market - best Vietnam night market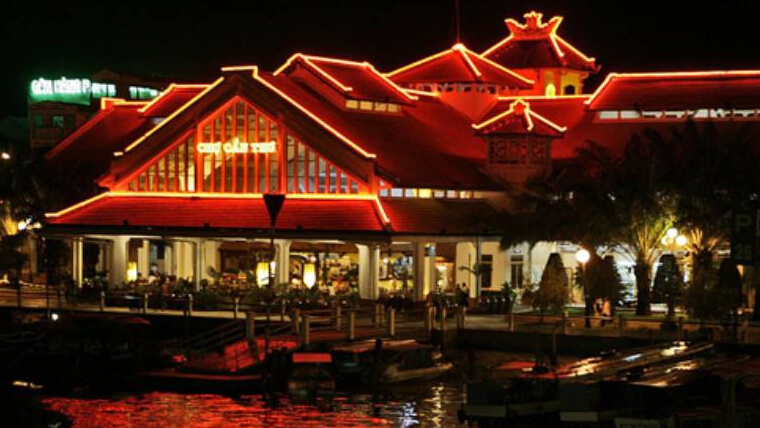 Tay Do night market - Source: Internet
Tay Do, which is also called Can Tho night market or Can Tho ancient market, is the topmost prominent market in Can Tho City, about 1km from Ninh Kieu wharf. It has Southeast Asian architecture with curved roofs in many layers. In nightfall, the whole market is sparkling with hundreds of lights, which look like a colorful and splendid picture.
Like many other night markets in Vietnam, Tay Do features a diversity of stalls that exhibit items. Particularly, handicrafts are extremely appealing to tourists thanks to the sophistication and creativity to make the products which are conical hats, lanterns, and áo bà ba, a traditional southern Vietnamese garment.
The most captivating places are food stalls serving scrumptious cuisines in the South of Vietnam such as grilled snakehead fish (cá lóc nướng trui), Vietnamese donuts (bánh cam), Vietnamese Mini Savory Pancakes (bánh khọt), Fermented Fish Noodle Soup (bún mắm), etc.
Location: Hai Ba Trung Street, Ninh Kieu District, Can Tho City
Opening hours: 5pm - 11pm
It is apparent that the Vietnam night market has become a common image in Vietnamese daily life, which reflects the cultural beauty and also distinctive features of each province or region along the beautiful S-shaped country of Vietnam.