Located at the coast and adjacent to the East Sea, Nha Trang is known as a natural gem. The relatively mild savanna tropical climate, combined with a long & rich coastline, and dense rivers are suitable for living and fishing. Over the centuries, the Nha Trang markets have formed and developed to be a vibrant hub of culture and trading.
Visiting the local markets are amazing ways of getting to know more about a unique local culture, along with tons of interesting things to do such as enjoying the bustling atmosphere, sampling delicious street food, and experiencing the local life.
I - Dam market - most famous amongst Nha Trang markets
Dam market is located 2km from the center of Nha Trang city. Named "Dam Market" because previously the land to build the market was a lagoon (in Vietnamese it is called Dam). The market covers an area of about 7ha, connecting to the Nha Trang river estuary.

Nha Trang Dam Market - Source: Medium
- Location: Van Thanh, Nha Trang City, Khanh Hoa
- Dam market Nha Trang opening hours: 5am - 6:30pm
The market is built in the shape of a lotus flower with a diameter of 66.5m and a scarf-shaped floor. The area of both the ground floor and the first floor is up to 5270m2, with a capacity of up to 3000 persons. The back area of the market has been re-built, but the Dam market still retains its ancient classic.
Things to explore at one of the biggest Nha Trang markets:
- On the left side: Selling a variety of fresh seafood to dried foods with prices from 15,000 - 50,000 VND ($0.65 - 2.16).
- On the right side: A variety of local specialties such as rice paper, green chili salt, fish cake, fish sauce, and so on.
- The central area: Essential items for local people and some fine art gifts.
- The back area: Local dishes such as Banh Canh, beef noodle soup, seafood noodles, and many cafés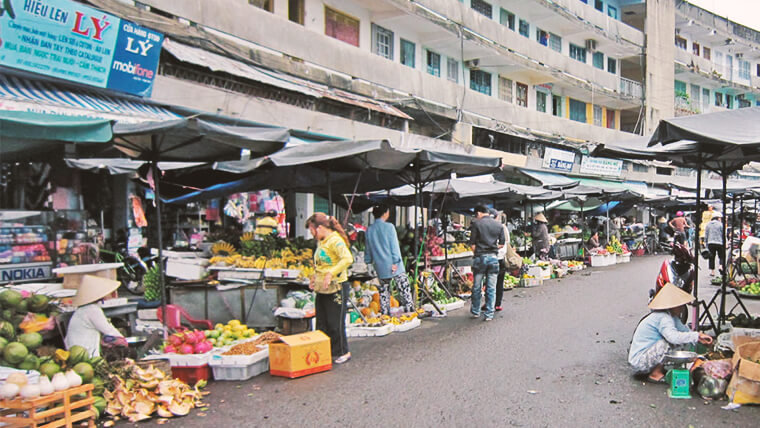 Shopping activities at Dam market - Source: Dianajosey
Food near Dam market in Nha Trang
- Jellyfish noodle: Quan Nam Beo - Lot B2, Cho Dam Apartment, Phan Boi Chau, Xuong Huan (near Dam Market).
- Banh Can (a southern specialty consisting of small pancakes made with quail eggs, cooked in small clay pans): Co Nho, behind Dam market
- Pot simmered Squid: No.09 Apartment B, Dam market
II - Nha Trang night markets
1 - Tran Phu night market
Plenty of must-try local foods from fine seafood (grilled lobster, fish balls, fried squid, shrimp, and sea snails) to desserts and drinks are enough for a night food tour at the most famous night market Nha Trang.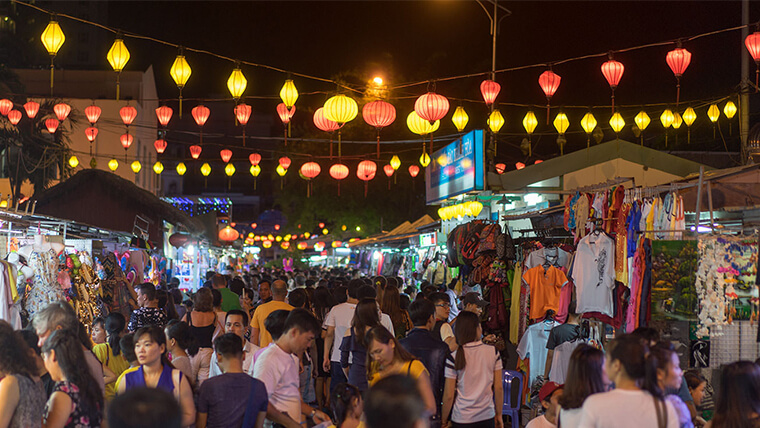 Tran Phu Nha Trang Night Market (Source: Vietnam Guide)
You can see lots of pretty things and souvenirs like handicraft bags, jewelry, and paintings displayed along with the same stalls. Other exciting things to do are street portrait drawing and calligraphy writing.
- Location: No.46 Tran Phu street, Nha Trang city
- Tran Phu Nha Trang night market time: 2pm - 11:30pm
2 - Tue Tinh night market
There are countless delicacies and local specialties that seemingly fully cover your eyes. The bustling and vibrant atmosphere created by hundreds of sellers and buyers.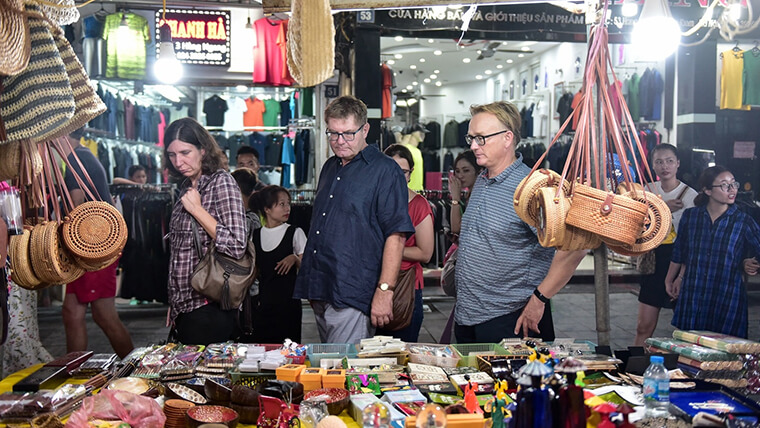 Tue Tinh night market Nha Trang (Source: Internet)
Top experiences to do at this night market in Nha Trang include strolling around, picking some favorable items, savoring the local tastes and learning how to negotiate for a good deal. And, you no need to worry about the language barrier because the stall owners are quite fluent in English, Chinese, Russian and Korean.
- Location: No.78 Tue Tinh street, Loc Tho ward, Nha Trang city.
- Opening time: 5pm - 10:30pm
More about the nightlife in Nha Trang
III - Seafood Nha Trang markets
1 - Xom Moi market
Located in the city center, Xom Moi market is a familiar place to the locals. Having been built in the 60s of the last century, this market has an old retro beauty. There are up to 1200 booths, including 16 different categories.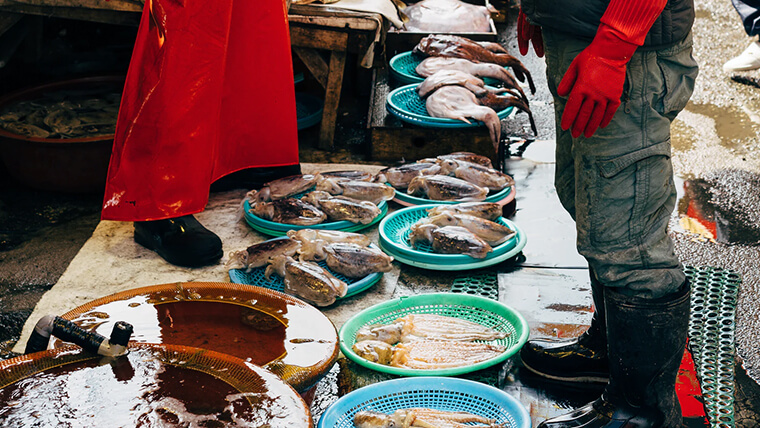 Nha Trang Xom Moi market (Source: Markus Winkler)
There are a number of stalls selling fresh & dried seafood including fish, shrimp, squid, snails, and oysters. The best time to visit this Nha Trang fish market is in the early morning when you can fill your stomach with hot soup and street food and witness how the locals meet their life.
- Location: No.49 Ngo Gia Tu street, Tan Lap, Nha Trang City
- Opening time: 6am - 5pm
2 - Vinh Luong port Nha Trang market
About 15km north of Nha Trang city, Vinh Luong is a large fishing port supplying a large amount of seafood to Khanh Hoa and neighboring provinces.
The salty taste of the sea has always been the hallmark of this Nha Trang market. Enjoying the finest fresh seafood from the port market at super reasonable prices is a definitely distinctive experience in your trip to Nha Trang beaches.
- Location: National Road 1A, Vinh Luong, Nha Trang city
- Opening time: 5:30am - 7pm
3 - Binh Tan Nha Trang seafood market
Binh Tan market is far from the city center to the South. Like Vinh Luong port market, Binh Tan market is a great place for buying all kinds of fresh seafood at cheap prices sold directly from the fishermen right on the streets to the market.
- Location: located on Phuoc Trung street, Phuoc Dong ward, Nha Trang city
- Opening time: 4:30am - 7pm
4 - Hon Ro market


Hon Ro Market (Source: Duangphorn Wiriya)
Hon Ro market is one the largest seafood Nha Trang markets and in the South Central Coast as well, which is so famous for its great seafood quality. It is a nice place for visiting, enjoying food, and experiencing the rustic & peaceful life of the locals.
- Location: Hon Ro, Nha Trang city
- Opening time: 6am - 6pm
The markets in Nha Trang are an indispensable cultural feature when visiting this city. Each market will bring beautiful scenery and culinary discovery experience, as well as listening to the stories of local people that will make visitors have an interesting trip.