There are many beautiful islands to visit in Vietnam, each with their own unique attractions. The best islands in Vietnam to visit include: Phu Quoc island, Hon Tre island, Cat Ba island, Con Dao island, Cham island,... These islands are considered to be some of the best in Vietnam, but other islands also have their own unique charm and are worth a visit. It's best to research and choose an island based on your interests and plan your trip accordingly.
I - Why to visit the best islands in Vietnam?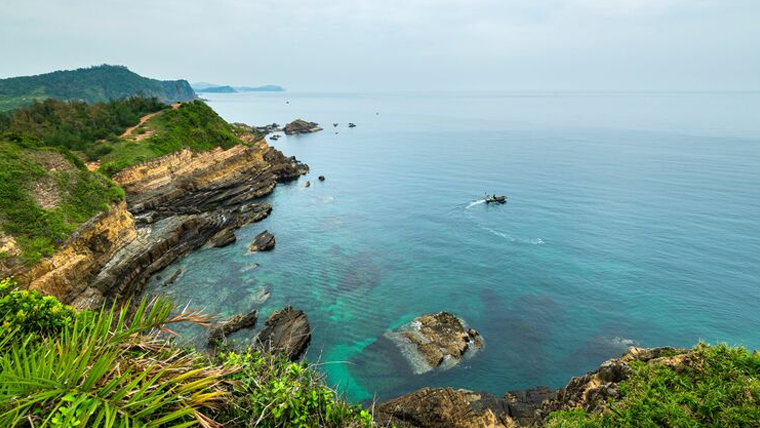 Co To Island - Source: Linh Hai Nguyen
With a large sea area and a long coastline, Vietnam currently possesses more than 3,000 islands, both large and small, and two large islands, Hoang Sa and Truong Sa, along with about 1,000 reefs. The system of the best islands to visit in Vietnam is divided into two main parts:
- The system of coastal islands includes about 2,800 different large and small islands, mainly distributed in four provinces: Kien Giang, Quang Ninh, Khanh Hoa and Hai Phong.
- The offshore island system has more than 2,000 islands, large and small, scattered in the East Sea.
The best islands in Vietnam are great destinations for going to the beach, swimming and diving. Each sea or island brings a distinctive feature from the majestic, youthful, natural beauty to hospitable people. Picking up a Vietnam famous island to visit, you can enjoy the scenery, participate in abundant water activities but also have the opportunity to experience the life of fishermen in the islands. The lifestyle and culture of a Vietnamese community are attached to the sea all year round.
Enjoying seafood is one of the reasons why an island tour is more and more desirable. Seafood in Vietnam is extremely diverse, rich with different ways of processing, making the trip even more attractive.
II - Top 7 best islands in Vietnam to visit
Phu Quy Island - Source: Fantasea
Sea islands are one of the topics that cannot be ignored by foreign tourists when coming to Vietnam - a beautiful country with a long coastline of 3260k and thousands of islands scattered from north to south. Here are some of the most beautiful and suitable islands for travel and experience.
1 - Cat Ba Island - beautiful islands in northern Vietnam
Blessed by nature with many pristine beaches, primeval forests, diverse ecosystems, and temperate climate, Cat Ba Island is the most beautiful island in Vietnam's northern sea. Formed by successive limestone mountains, looking down from above, Cat Ba appears majestic with the scenery of the sea and green mountains, hundreds of which with strange shapes connected and intertwined with mysterious caves.
Located about 60 km from Hai Phong city center, this island belongs to Cat Hai island district and is one of the best islands in Vietnam should be on your summer bucket list. The weather is pleasant and the air is fresh all year round, so you can almost come here at any time, especially in the summer from April to September, to avoid the sweltering heat.
Beside visiting Cat Ba National Park, Trung Trang Cave, Cai Beo ancient fishing village, you should not miss:
- Discovering Lan Ha Bay
If you want to feel the full beauty of the bay, you can rent a kayak yourself to get closer to the limestone islands and water caves hidden in the rocky mountains. For convenience of sightseeing, experience, and dining, you should find a cruise tour.
- Spending time on Monkey Island
Monkey Island is home to more than 20 cute and brave monkeys that you can randomly meet on the roadside, feed and play with them. Cat Dua beach, with clear blue water and few waves is a point to visit, rest and swim.
- Visiting Cannon Fort
Cannon Fort or Peak 177 is a historical site left over from the two wars against France and America, with large cannons and a system of tunnels and military trenches. In addition to knowing more about history, you can also experience looking through a telescope to see the whole beautiful town of Cat Ba from above and the sunset.
2 - Top best islands in Vietnam: Ly Son Island
Known as a paradise in the middle of the vast ocean, Ly Son Island is the only island district of Quang Ngai province, 15 nautical miles from the mainland (about 27 km). The charm of Ly Son island lies in the illustrious historical feat, in the kind and sincere coastal people and in the wild and magical picture of nature with true sense of blue sea, white sand, and golden sunshine.
The weather in Ly Son is quite nice and sunny from June to September, very suitable for going to the beach. If you want to participate in special activities, the garlic season lasts from September to December, and the Hoang Sa Soldier Ceremony takes place from March 18 to 20 (lunar calendar). Check out top points of visit in Ly Son Vietnam island:
- To Vo Gate
About 2.5m high with European-style architecture, this is the most beautiful natural lava rock arch in Vietnam, a product of millions of years old of mother nature. Looking to the south from To Vo Gate is a prosperous fishing village of fishermen on the island. One of the interesting experiences there is catching the sunset, which you cannot miss when visiting Ly Son island in central Vietnam.
- Thoi Loi Mountain
This is the highest mountain (149m) of the five mountains is evidence for the eruption of volcanoes on this island. On the top of the mountain, there is a flagpole fluttering the national flag. There is also Hang Pagoda (Cave Pagoda), clinging to the edge of the sea, led by many stone steps that have been carved by human hands. Entering the temple to light a stick of incense, pray to Buddha in the fragrant smoke, you will feel like they are falling into a fairy cave.
- Garlic field
Ly Son Island is also known as the "garlic kingdom", so you should not miss visiting the garlic fields on the island - due to the soil, garlic here is different from others. Walking among the fragrant garlic plants in the air and watching how people take care of the garlic plants is a wonderful experience.
3 - Cham Island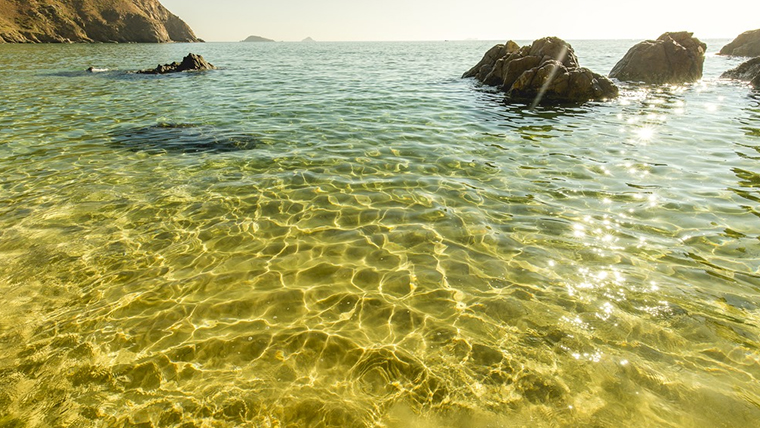 Source: Shutterstock
On the list of the best islands in Vietnam, Cham island, recognized by UNESCO as a world biosphere reserve, is a must visit one. In March - August every year, the weather is warm, sunny, clear and the sea is calm, which is a suitable time for you to pay a visit. You can also choose to go on festival occasions such as: Cau Ngu Festival on April 3-4, or the Yen Craftsman Memorial on March 9-10, both of the lunar calendar. Top point of interest to visit in Cham island:
- Cham Ancient Well
Also known as Gieng Xom Cam, this 200-year-old well has a characteristic structure similar to many other types of Cham wells in Hoi An such as: round tubular shape, round well walls, etc. With four sides of the sea, this is the only source of freshwater on the island and the water never runs dry, even in the driest season, which is the unique feature of this well.
- Eo Gio (Wind Corner)
Surrounded by green mountains and vast, endless sea and sky, this is a destination that visitors can hardly ignore if they want to find a place to catch the sunrise or watch the sunset.
- Sea trekking to see the coral reefs
This is definitely one of the most favorite activities of tourists when they come to Cham Island. The best time of day to go diving is around noon, when the sun is high and shines down to the bottom of the sea, showing the marine kingdom of seaweed, coral, sea creatures,...
4 - Hon Tre Island - one of the best islands in Vietnam for a leisure trip
Located about 5km east of Nha Trang city center, Hon Tre is a rather isolated location and is known as the green pearl of Nha Trang Bay. Hon Tre Island has a mild climate, few storms combined with charming natural scenery, having the most beautiful natural beach in Vietnam, reasonable tourism, making this place a famous attraction of Nha Trang city.
The most ideal time for you to explore this beautiful island in Vietnam is from January to August, especially July - August, which is the peak tourist season in Hon Tre. You should not come here in October to November in case of storms and heavy rain.
Currently, Hon Tre Island of Vietnam has tourist destinations such as Vinpearl Land, Hon Tre cultural park, Se Tre tourist resort, Dam Bay eco-tourism area and so on.
- WinWonders Nha Trang (Vinpearl Land)
Dubbed as an entertainment paradise in Nha Trang, Vinpearl Land is a famous tourist area with large-scale projects including hotels, resorts, amusement parks and shopping malls. Especially, coming here, you will have a chance to experience the longest sea-crossing cable car route in Vietnam (up to 3320m) with 9 pillars, connecting VinPearl tourist area with Vinh Nguyen Cau Da port of Nha Trang. With many interesting games and attractions such as the Aquarium or water music concerts, this is the place no one can ignore when coming here.
- Bai Tru (Tru Beach)
Located in the north of Hon Tre island, Bai Tru has a beautiful natural beach, with fine white sand and clear blue water to see the bottom. In addition, not far from there are small fishing villages that you can visit, learn and experience the daily life as well as the customs of the people here.
- Con Se Tre tourist resort
Designed with items made entirely of bamboo, Se Tre tourist resort offers a peaceful and rustic village setting, a blue stretch of coastline, and professional service activities. There are also other diverse water entertainment activities such as swimming, scuba diving, sea fishing, water moto riding,... that you should try.
5 - Nam Du Island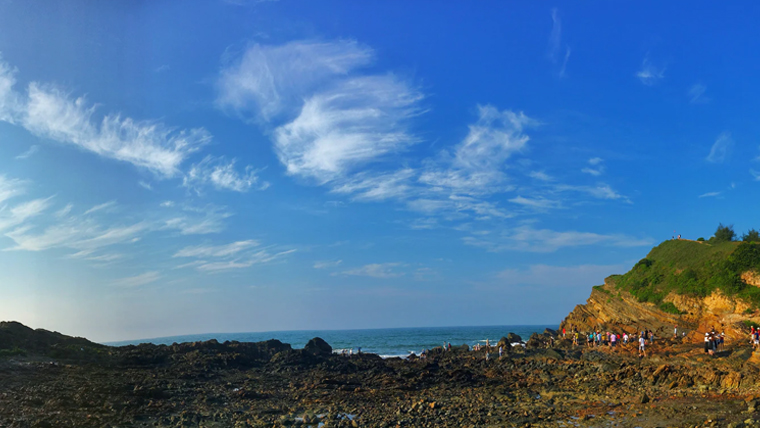 Nam Du Island - Source: Oanh MJ
Nam Du archipelago, among the best islands in Vietnam to visit, is located southeast of Phu Quoc Island, 65 nautical miles from the coast of Rach Gia. Famous for its blue coastline, white sand, coconut groves, extremely attractive rocky beaches, Nam Du Island still has a wild look but contains many interesting things.
You can go here any time in a year, but from December to March, the sea in Nam Du Island in Vietnam is quite calm and clear, so you can freely travel by boat even if you suffer from seasickness. Meanwhile, April - November is not a very good time, as this is a stormy season, you should bring raincoats and umbrellas in case of heavy rain.
Tourists can visit Hon Lon, Ngu beach, Thien Lanh ghost hill and many other places here.
- Thien Lanh ghost hill
This hill preserves many legends that every resident here knows, including the story that fairies often descend on the top of the mountain, called the fairy yard. On the way to Thien Lanh Ghost Hill, there is still a Buddha statue and many traces of the ancients recorded on the rock.
- Bai Chet
Chet beach impresses tourists with all kinds of fresh seafood sold in department stores, restaurants, coffee shops, karaoke, motels... The beach has a wild look, with a long stretch of fine white sand, surrounded by mountains so the sea is calm. This is also the place where the seafood market takes place in the morning, so you can buy fresh and cheap seafood and then order a restaurant or host to cook it.
- Hon Lon
This is considered the most beautiful beach in Nam Du Island with clear and cool sea water. Coming here, you can dive to catch fish or see colorful corals and also catch snails on the rocks along the beach. Walking on the fine white sand, swimming under the clear blue water, all your sorrows of life seem to fade away with the waves.
6 - Con Dao Island - best islands in Vietnam for a more private vacation
Located off the southern coast of Ba Ria - Vung Tau province, this place is not only one of the best Vietnam islands to visit with its serene beauty, it is also a part of Vietnamese blood and tear history. Coming here, you will feel the most authentic emotions about history at the old French colonial prison, which marked a period of heroic and tragic struggle of the nation.
About 97 nautical miles from Vung Tau, 40 nautical miles from Soc Trang, Con Dao is an island district in Ba Ria - Vung Tau province. Similar to many other best islands in Vietnam, Con Island's climate in March - September is the most "easy" with cool weather, clear sky, little rain and calm sea. That is also the time when sea turtles focus on laying eggs in Con Dao so don't miss your chance to see this amazing occasion.
Con Dao is one of 21 national tourist areas of Vietnam, is considered a paradise of relaxation and nature discovery, with tourist attractions you should not miss as follows:
- Con Dao Prison
One of the famous tourist attractions not to be missed here is Con Dao Prison, which exiles mainly political prisoners with the famous tiger cage system. Any visitor coming here cannot help but shudder by the narrow rooms, lack of light, air, creating a feeling of suffocation, forms of hard labor, the most macabre torture instruments … Coming here, you will have the chance to understand the war crimes of the colonizers and the great sacrifices of Vietnamese ancestors in exchange for independence for the nation.
- Dam Trau Beach
Different from other beaches in Con Dao, Dam Trau beach stands out with its beautiful natural landscape, golden sand color and the clear blue water, which is 10 times more brilliant under the sun.
- Con Dao National Park
Covering a total area of 15,043 hectares, Con Dao National Park is one of the important wetland terrains with rare and colorful vegetation, proving its multi-dimensional beauty. This is a "common home" gathering 30 species of wonderful orchids, 200 rare herbs, along with hundreds of rare animals from red toad, white cork to nematodes, flower slices...
Photo 4: Phu Quoc Island (Source: Vietnam-guide)
7 - Phu Quoc Island - top largest & best islands in Vietnam for visiting
Phu Quoc Island - Source: Vietnam-guide
Known as the hidden and mysterious heaven among Vietnam's sea, Phu Quoc island keeps an unbelievable primitive and alluring appearance with the turquoise sea along with the long strips of golden and white sand meandering the coastlines.
Because the average temperature of Phu Quoc Vietnam Island is about 28oC, you can safely travel to Phu Quoc at any time of the year. Usually, April to September is the most crowded time for tourism, while the dry season (from October to March next year) is the best time to visit Phu Quoc. You should keep an eye on the weather forecast to avoid random stormy days.
Possessing the most beautiful beaches in the world such as Sao beach, Dai beach and dozens of other pristine beaches, Phu Quoc Island is the paradise for water activities.
- Sao beach (Star beach)
This place has not been put into tourism as much as other beaches in Phu Quoc, so it still retains the inherent wild features with the clear water, smooth white sand beach. The name Star Beach comes from the interesting fact that every night when night falls, tens of thousands of starfish move to the white sand, covering the entire area. In the summer, unlike most beaches in Phu Quoc, Sao beach's waves are very calm, the sea here is clear, there are not many shops, a strangely peaceful scene.
- Vinpearl Safari and Vinpearl Land (VinWonders)
Vinpearl Safari is one of the most famous attractions in Phu Quoc, where more than 3,000 birds, mammals and reptiles of 175 species are cared for. Coming here, you can not only watch the caged animals from afar like at the zoo, but also personally experience the wild world with rare animals freely roaming everywhere. Nearby is the entertainment paradise VinWonders, which owns a collection of up to hundreds of games, outdoor entertainment areas, colorful water parks and aquariums suitable for both children and adults.
+ Vinpearl Safari: 650,000 VND / ticket ($28.5)
+ VinWonders: 750,000 VND / ticket ($33)
+ Combo Vinpearl Safari & VinWonders: 1,000,000 VND / ticket / day ($44)
- Dinh Cau Cape
As a famous landscape in Phu Quoc, Dinh Cau cape is not only a spiritual destination, watching the sunset and the scenery here is also something that you should not miss. Located in a very beautiful location on a rocky cliff with a strange shape facing the sea, an ancient temple with mossy tiled roofs standing tall in front of big waves. Every year, on the 15th and 16th of October (lunar calendar), locals hold a big festival that you can choose this time to join the people.
The best islands in Vietnam feature turquoise waters, coral reefs, and stunning beaches. They also offer outdoor activities, cultural attractions, and a variety of seafood. A vacation on one of these islands is a must for those looking for a unique experience.