June in Vietnam is one of the most ideal months of the year to have a wonderful summer vacation on long sandy beaches or in the cooling mountainous resorts.
I - How is the weather in Vietnam in June?
The average temperature all over the country is around 27.75oC; the average precipitation measured during a month in regions is approximately 226mm; however, the rainfall duration is quite short therefore won't affect tourists' experiences of tourism activities.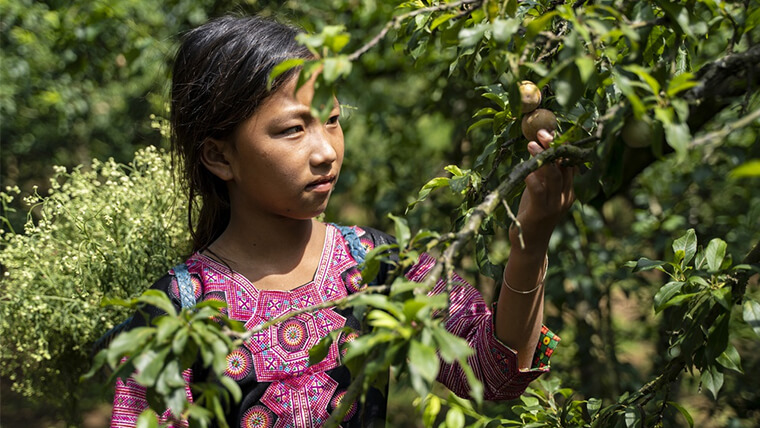 Source: Zing
The Northern region
During June in Vietnam, the Northern region reaches its temperature peak in summer. The average temperature of the whole region at this time is around 29°C, except for some places reaching even higher heat levels of more than 40°C such as Hanoi, Ha Giang,... Other attractions like Sapa, Moc Chau, Halong Bay,... remain at a lower temperature of 30°C on average.
Central Vietnam in June
The central region of Vietnam is influenced by the oceanic climate, so the temperature decreases slightly, about 27.4°C on average; rainfall is 152.5mm, except for Central Highlands where the measured rainfall is relatively high at 344mm. You should actively watch the weather forecast to prepare raincoats and umbrellas. It is highly noted that the North Central region is affected by the hot and dry wind from Laos to make the temperature higher and drier.
The Southern region
Meanwhile, the South of Vietnam is entering the high rainy season with the rainfall measured being about 314,2mm while temperature reaching approximately 27.5°C.
II - The best places to visit in Vietnam in June
1 - Leisure tourism in mountainous areas
Pu Luong nature reserve
Pu Luong is located in the district of Quan Hoa and Ba Thuoc of Thanh Hoa province with a total area of ​​17,600 ha. Not only possessing cool and fresh air, but it also possesses many pristine tourist attractions such as Kho Muong village, a water wheel to help get stream water, Kho Muong cave, Hieu waterfall, Muon waterfall. Standing from the top of Pu Luong mountain, you will "touch" the gently floating clouds. Pu Luong, along with Mai Chau are the best places for trekking tours that you should not miss when traveling to Vietnam in June.
Dalat - city of flowers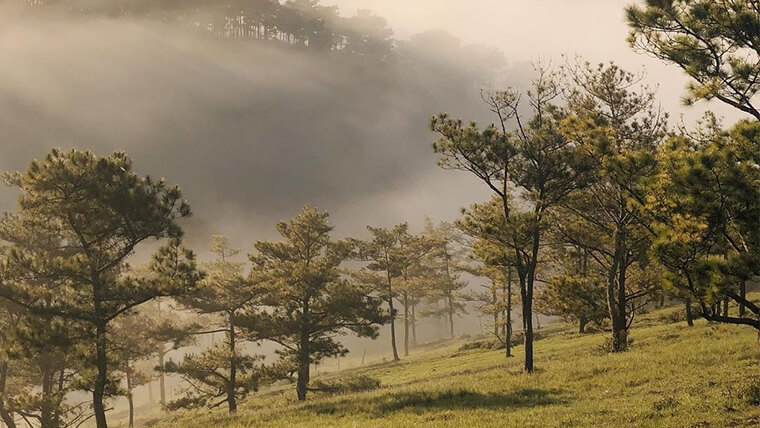 Source: Muoibaa.oi
Dalat is known as a city of flowers, which is cool all year round because it is located at an altitude of 1,50m above sea level. Coming to Dalat in June, you can freely explore the beautiful farms, sunflower fields, hydrangea gardens... Along with that, visitors can spend time exploring the majestic beauty of this land when visiting places such as Prenn waterfall, Datanla waterfall, Cam Ly waterfall, Elephant waterfall, Xuan Huong lake, Da Nhim lake, Tuyen Lam lake, Love valley, Langbiang Mountain,...
>> Top most beautiful waterfalls in Vietnam
2 - Beach tourism in Vietnam in June
The hot weather in June facilitates the development of beach tourism activities in Vietnam. Some of the best places to visit for great beach holidays are:
Cat Ba Island
Cat Ba Island owns many beautiful clear blue water beaches suitable for swimming, the one which is the most prominent is Cat Co beach,... Other interesting tourist activities that you can experience when coming to Cat Ba include kayaking, visiting Cat Ba national park, visiting Cai Beo fishing village, visiting Monkey Island, visiting Light caves - dark caves, enjoying local seafood,...
Danang City
The beaches in Danang City are definitely the best beaches in Vietnam in June. Some must-visited beaches in Danang in June are My Khe Beach, Non Nuoc Beach, Pham Van Dong Beach, Van Village Beach,... Danang City is famous as the most "worth living city" in Vietnam because of its cool, pleasant year-round climate, warm people, and diverse cuisine. In addition, the Marble Mountains complex, Son Tra peninsula, Ba Na hills,...are also worth a visit.
Con Dao Island
Con Dao is the most sea turtle-protected place in Vietnam. June in Vietnam is the time when turtles come ashore to dig burrows and lay eggs, so visitors coming here this time can experience the activity of watching turtles lay eggs in the evening and release turtles to the sea in the morning, which is extremely interesting. Other amazing things to do at Con Dao island are visiting famous places such as Con Dao National Park, Con Dao Prison, Hang Duong Cemetery, Bay Canh island, Tai island,...
Phu Quoc Island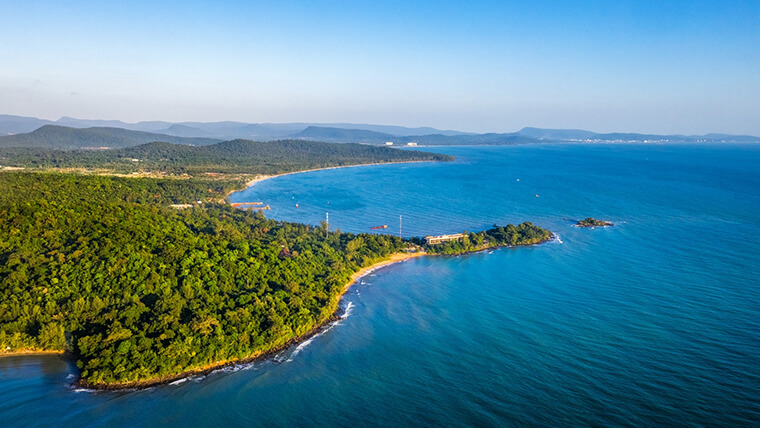 Source: Quang Ngoc
Visiting Phu Quoc island in June, you can unleash "immersion" in the beauty of the sea with attractive activities such as sunbathing, swimming, diving to contemplate coral reefs, kayaking,... You can also explore the lives of fishing villagers, visit Phu Quoc National Park, climb mountains, visit Safari Park, try your best with attractive games at Vinpearl Land,...
III - Tips when traveling to Vietnam in June
Please note that June is the peak tourist season for domestic tourists, especially beach tourism due to hot weather and this period of the year also coincides with the summer vacation for Vietnamese students. Hence, you may experience overload at some tourist destinations.
In terms of packing for Vietnam in June, you need to bring sunscreen and insect repellent. A pair of sandals or slippers and an umbrella should be on your packing list.
The high heat and humidity can easily make you exhausted, you should not go out or partake in outdoor activities from 11am to 3pm.
June has many attractive tourist destinations worth being explored. Hopefully, this information about the climate, weather, as well as suggestions on the ideal tourist destinations from Localtravelidea will help you have a favorable vacation in Vietnam in June.