Vietnam has the advantage of a long coastline and 125 beaches, many of which appear on the list of the most beautiful and attractive beaches on the planet. Besides, the country is also one of the 12 countries boasting the most beautiful bays in the world. Over the years, sea tourism has always been the strength of its tourism industry. Taking advantage of the strengths, many beach cities in Vietnam have exploited and invested in tourism and resort services around the beaches to attract tourists both internally and externally. Thanks to that, local and national tourism is more popularly known. Some coastal cities in Vietnam have even entered the rankings of prestigious magazines in the world.
1 - Top 7 beach cities in Vietnam: Ha Long City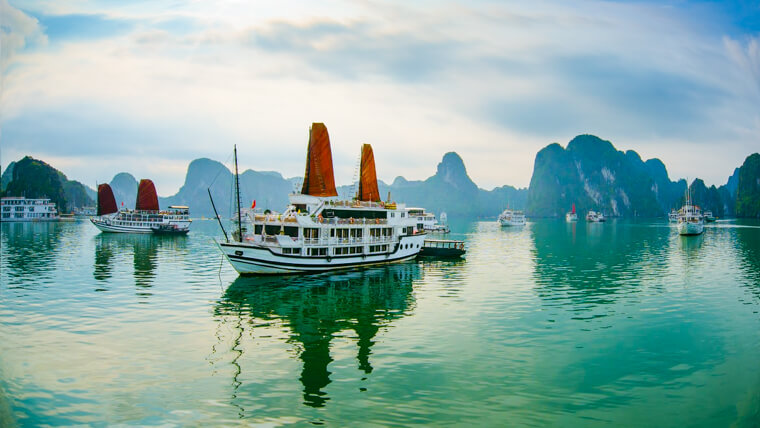 Halong Bay is the most famous bay in Vietnam - Source: unsplash.com
Right from the beginning of Vietnam's tourism development, Ha Long has been the most chosen name for visits of agencies, organizations, and corporations; and Ha Long tours are countless. This beach city in Vietnam takes its name thanks to Halong Bay which has been recognized by UNESCO as a world natural heritage twice: the first time was in 1994 for aesthetic landscape; the second was in 2000 for geomorphology.
Halong Bay has an area of ​​1553 km2, including 1969 large and small islands, which are said to have a geological tectonic age of from 250 to 280 million years. This is an absolutely enclosed bay possessing many beautiful islands such as Ti Top Island, Tuan Chau Island, and Lu Huong Island,... Ga Troi Island or Trong Mai Island is one of the most outstanding masterpieces of nature. As one of the most famous beach cities in Vietnam, Halong owns an amazing system of limestone caves in Halong Bay which is always spoken highly of by visitors. The most beautiful, shimmering, and fanciful caves are Dau Go Cave, Trinh Nu Cave, Sung Sot Cave, and Thien Cung Cave,...
With hundreds of rocky islands, large and small caves, and masterpieces from nature hidden in the blue water, Halong Bay has brought a great reputation to Halong City - one of the best beach towns in Vietnam, helping the city's tourism develop strongly. Parallel to the fame of Halong Bay is the emergence of modern constructions, amusement parks, and resorts constantly springing up in this city. Along with the clean and smooth white sand beach, there are numerous glamorous constructions, such as Queen cable car which holds 2 world records, the Sun Wheel rotation, the Sun World Halong Complex where tourists can try a diversity of games, the 13-hectare Sun Carnival Plaza - expected to become the largest and most modern square in the North, the 5-star resort complex Sun Premier Village Ha Long Bay,...
2 - Phan Thiet City - top beach cities in Vietnam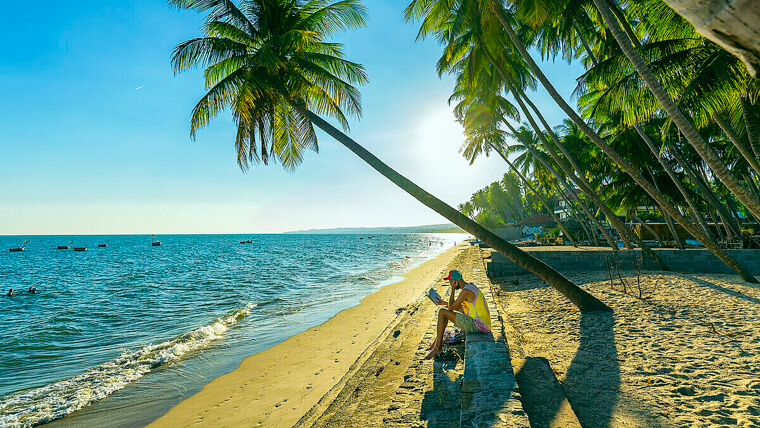 Source: vnexpress
The famous Phan Thiet City is blessed with a coastline of 57.4km with blue beaches with large and small islands, unspoiled natural landscapes and huge sand dunes stretching endlessly such as the Red and White Sand Dune of Mui Ne, Bau Trang,... Once setting foot here, you will be impressed by ravishing roads with long strips of sand on one side and turquoise beach on the other. The land of this coastal city in Vietnam is also home to historical sites such as Duc Thanh (Youth Education) School, Poshanu Tower Cluster of ChamPa people,...
The climate is also an advantage for this coastal city. Because it is located in the South Central region, featured by an oceanic and tropical monsoon climate, the weather and temperature here are very cool, comfortable and less affected by storms.
Bustling festivals are important factors that make Phan Thiet one of the worth-visit beach cities in Vietnam. Some major ones are the Mid-Autumn Lantern Festival, Nghinh Ong Festival, Kate Festival (Mbang Kate), Cau Ngu Festival, Boat racing festival on the Lunar New Year. These festivals are imbued with the local cultural identity, expressing the people's beliefs and aspirations for a peaceful and happy life. In addition to the natural and cultural factors, Phan Thiet is also very popular with tourists because of famous specialties such as "Cha Ca", "Banh Canh", "Banh Can", white sardine salad, and Phan Thiet fish sauce.
3 - Nha Trang City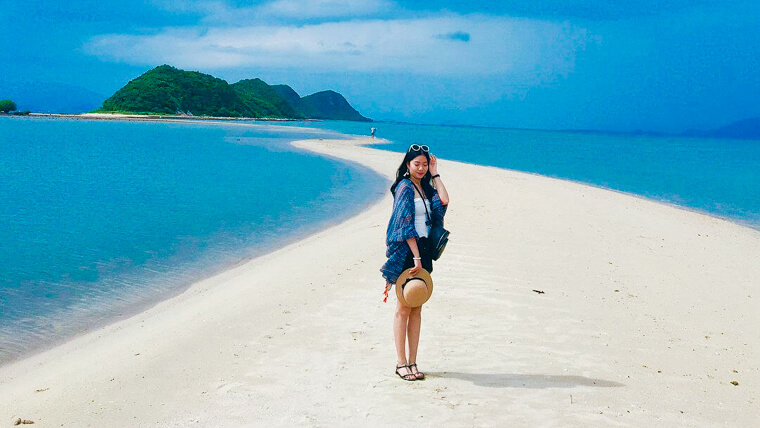 The charming Nha Trang City - Source: @ducquy
Referring to the coastal cities in Vietnam, Nha Trang is a name that can't be ignored. For two consecutive years, Nha Trang Bay was voted by Travel and Leisure travel magazine as one of the 29 most beautiful bays in the world. The authorities of this Vietnam beach city have been excellently exploiting the available advantages to achieve the strong development today.
In terms of nature, as many other beach cities in Vietnam, Nha Trang has many beaches, clear water, soothing sand, no fierce fish or underground eddies. One of the unique things is that the sea here has many coral reefs with different colors and shapes, so it is very suitable for diving activities.
Nha Trang is located in the heart of a valley, surrounded by mountains and sea, so the landscape is extremely charming. In front of the city is the immense South China Sea with 19 scattered islands, of which Hon Tre is the largest one. An activity that excites visitors to this city so much is the mud bath. Nha Trang is one of very few locales in Vietnam having a natural mud source that contains a lot of components good for human health.
Nha Trang is one of a few Vietnam coastal cities which is known as the home of swiftlets. Tens of thousands of swiftlets belonging to the Salagane group have chosen the craggy cliffs on the islands to make nests. This has great significance in terms of conserving the bird as well as bringing tourism and economic value to the locality.
Cultural tourism is also the factor that makes the name of Nha Trang Khanh Hoa tourism. The land has many monuments such as Ponagar Tower, A. Yersin's Memorial Monument, Hon Chong Island, Long Son Pagoda,... The tourism potential of Nha Trang is partly shown through special festivals: Ponagar Thap Ba Festival, Cau Ngu Festival, Salanganes Nest Festival, Sea Festival...
4 - Danang City - top beach cities in Vietnam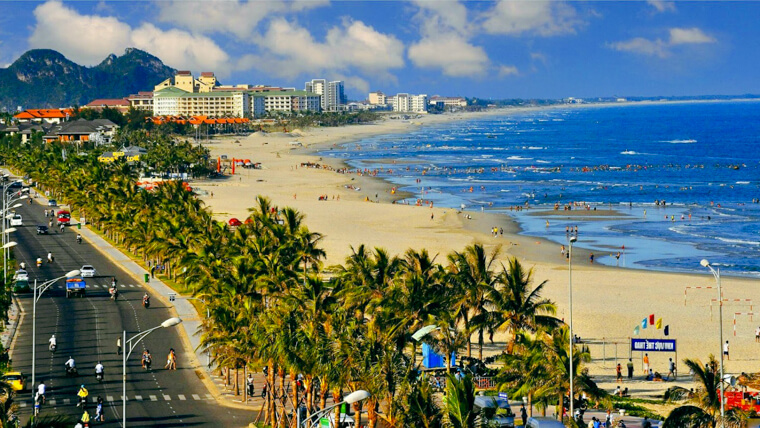 My Khe is definitely one of the most gorgeous beaches in Vietnam - Source: danangsensetravel.com
One of the great advantages of Danang City is its 90km long coastline with many fine white sands, mild waves, warm water all year round, not too deep and having high safety beaches. Some of the most outstanding beaches in this coastal city in Vietnam can be mentioned as My Khe Beach (one of the 6 most beautiful beaches on the planet voted by Forbes Magazine), Pham Van Dong Beach, Non Nuoc Beach, etc., all of which are integrated with many types of beach games.
If you are a nature lover, you will definitely want to experience the fresh air at Son Tra Peninsula, which is likened to the "green lung" of Danang, with should-not-miss stopovers such as Ban Co Peak, Giant Banyan tree, Linh Ung Pagoda, Dong Dinh Museum, Man Thai Fishing Village,...
Especially with the determination to turn this Vietnam beach city into a "Resort Paradise", "Safe and friendly destination", the city has ordered organizations and individuals doing tourism business to strictly comply with the regulations as well as publicize tourism service prices. At the same time, Phone numbers of the Quick Response Team (0511.3550111 or 0919247009) are broadcasted to everyone with a view to ensuring safety, security and order in tourism activities. As many popular beach cities in Vietnam, in Danang, there is a Visitor Center where you can find an interpreter who can help you understand the native language. Thanks to the beautiful natural landscape along with professional services, Danang always receives a satisfied smile from every visitor when they leave. Currently, DaNang is always leading in the list of livable cities in Vietnam.
Da Nang Visitor Center
- Address: No. 108 Bach Dang Street, Hai Chau District, Danang City
- Contact: 02363550111
- Email: visitorcenter@danang.gov.vn
5 - Vung Tau City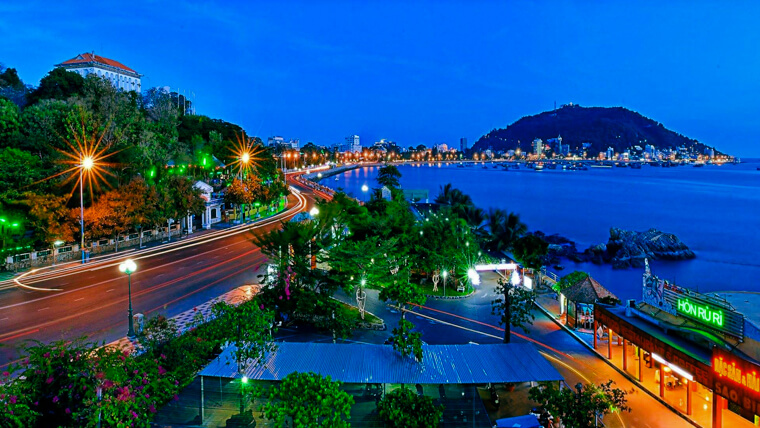 Source: outdoorviet.com
Vung Tau City is situated in the Southeast region of Vietnam which is featured by a tropical monsoon climate with 2 distinct seasons: The rainy season (May - October) & the dry season (November - April). The coast of Vung Tau city stretches for more than 40 km, with gentle sandy beaches, clear blue sea which is very favorable to develop beaches and luxurious resorts.
Like other beach cities in Vietnam, the historical and cultural relic of Vung Tau is suitable for developing spiritual tourism. Historical sites like Long Phuoc, Kim Long tunnels, Loc An associated with Ho Chi Minh road on the sea,... are famous landmarks serving sightseeing tourism. Besides, there are festivals imbued with traditional culture of the people in the coastal area, such as: Nghinh Ong festival, Le Co festival, Via Ong festival, and Trung Cuu Festivals.
Along with that, the facilities for tourism in the area are basically modern, which partly makes Vung Tau one of the best beach towns in Vietnam. The whole city of Vung Tau currently has about 1,235 accommodations with 26,754 rooms in total, of which 170 accommodations have been rated from 1 to 5 star (statistics in December, 2021). In addition, there are hundreds of restaurants and eateries scattered in this city. They are increasingly focused and improved in terms of facilities and service, especially in constantly creating dishes made from seafood. Vung Tau's famous specialty is "Banh Khot", which is one of the 12 Vietnamese dishes that have set an Asian record.
6 - Top 7 beach cities in Vietnam: Phu Quoc City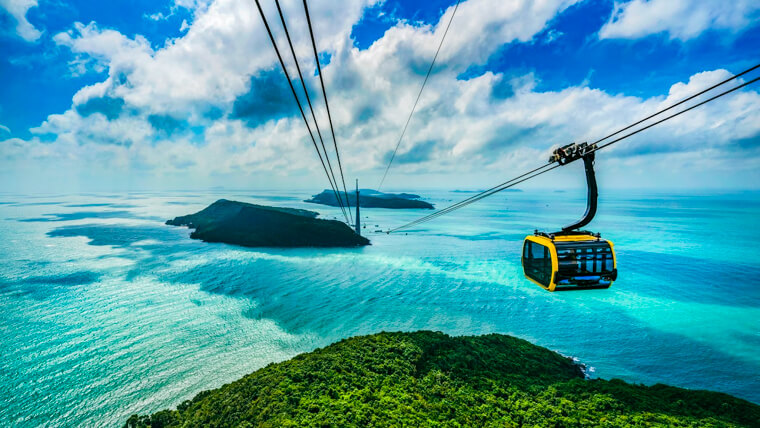 Phu Quoc is a promising destination for your holiday - Source: vnexpress
Phu Quoc is the largest tourist island in Vietnam with a huge potential for sea tourism. In terms of nature, this Vietnam beach city is located in the Gulf of Thailand, which means saying no to storms. The south of the island has 12 different large and small islands, belonging to the An Thoi Archipelago and the north of the island, with Mong Tay Island, Doi Moi Island... are ideal places for yachting, fishing, snorkeling and coral viewing, picnic, and exploring the wild island. Besides, the city possesses a series of the most beautiful beaches in Vietnam and the world. Places such as Ham Ninh Fishing Village, Bai Vong Beach, Bai Dai Beach, Bai Sao Beach, Ganh Dau Beach,... always leave a deep mark in the hearts of tourists when saying goodbye to Phu Quoc.
The sea route and airway connecting the island to the mainland have been upgraded to ensure the ease of transportation, safety and convenience for passengers. In particular, it just takes only 1 hour to fly from Ho Chi Minh City to Phu Quoc Island, 2 hours to fly from major economic centers in the region and Asia. In addition, the city has introduced many policies to promote tourism such as VAT exemption for tourists at Phu Quoc Airport, visa exemption for foreign visitors to Phu Quoc within 30 days, etc.
7 - Quy Nhon City - top beach cities in Vietnam
As one of the most famous Vietnam beach cities, Quy Nhon was honored as one of the best tourist destinations in 2020 according to the ranking of Hostelworld website (USA), recognized as "ASEAN Tourist Cities 2020" and entered the top 7 safe places to go after the pandemic as voted by CNBC. Previously, the city had been honored as the top 3 new destinations in Southeast Asia (according to Rough Guides - a British Travel Magazine).
One of the reasons why tourists prefer to come to Quy Nhon is because unlike the vast majority of other tourist destinations in Vietnam that have been exploited a lot, Quy Nhon is one of the rare places that still preserves its natural, wild and rustic attractiveness. Many beautiful tourist sites around Quy Nhon city have created a fever among young travelers such as: Ky Co Beach, Trung Luong Beach, Hon Kho Island, Cu Lao Xanh Island...
Besides, this beach city in Vietnam is also highly appreciated for its cleanliness and fresh air. The city government had to make a comprehensive urban planning plan to exploit the tourism potential but still keep the green, clean and beautiful space for people to enjoy. Although it has only been focused on developing sea tourism in recent years, the city has done very well in infrastructure planning. Phu Cat Airport, the closest airport to Quy Nhon, is only about 30km from the city center. Every day, the airport welcomes many domestic and international flights to the locality. Besides, traveling by train or car is also chosen by many visitors who want to visit and relax here. These forms of traffic all have continuous and fast routes,so tourists can approach the city anytime, anywhere.
The beach cities in Vietnam mentioned above are those highly judged by visitors both domestically and internationally. Each city has its own advantages and different ways to move forward. However, the common between them is that they all own stunning beaches and seas. So, if you are looking for a place for your vacation, don't forget this list.